Disclaimer -This post may contain affiliate links. When a purchase is made through our links, The Naked Diabetic may receive a commission, at no cost to you.
This creamy delicious Sugar-Free Blueberry Cheesecake recipe is perfect for any diabetic-friendly dessert. It is guilt-free and so easy to make. Find the ingredients in your diabetic-friendly pantry and get started on this fab dessert.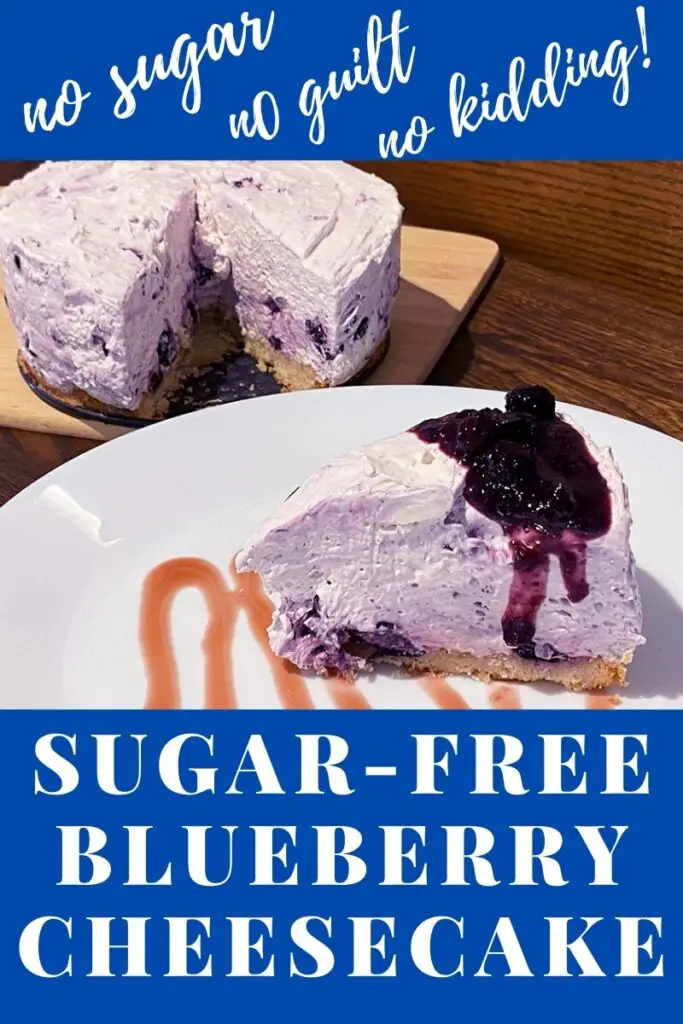 Cheesecake is one of the most versatile desserts. You can easily make a diabetic friendly version of a family favourite recipe. We have made Sugar-Free Chocolate cheesecake, Sugar-free Rhubarb Cheesecake, and even Sugar-free Key Lime cheesecake. All of our cheesecakes are sugar-free, diabetic-friendly and taste fabulous.
The Wilton non-stick springform pan is by far our favourite. We have them in multiple sizes and just love them. The size is embossed on the latch, which makes it easy to always get the right one.
Kitchen supplies needed to make this Sugar-Free Blueberry Cheesecake recipe
stand mixer or handheld electric mixer
mixing bowls
measuring cups
measuring spoons
silicone spatula
Shopping List
butter
cream cheese
cool whip ( or sugar-free whipped topping of your choice)
blueberries

How to choose the freshest Blueberries when shopping
When shopping for blueberries, here are a few helpful tips, that can help you choose the best Blueberries there are.
If you have a local farmers market or blueberry farm near you, by all means, make that your first stop. You are almost always guaranteed to get the best blueberries from your local farmer and it is always good to support your local community.
I have access to a local blueberry farm and there is no comparison to a store-bought blueberry. The farm-grown blueberries are sweeter and definitely more flavourful.
When in your local supermarket or grocery store use the following checklist, when looking for the best blueberries.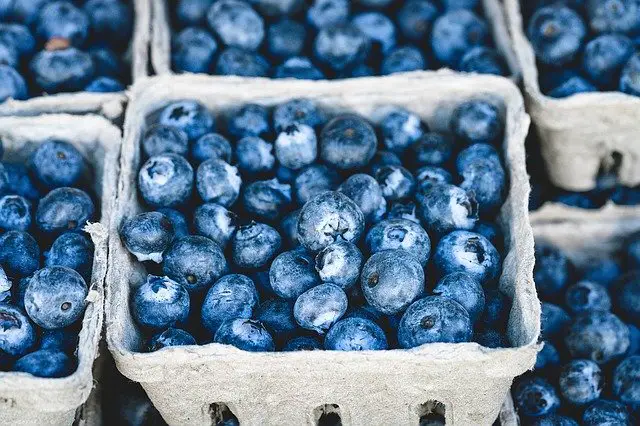 COLOUR: Look for blueberries that are a deep blue colour. Avoid any that have white soft spots or green tinges. T(he white chalky appearance is natural)
SKIN: Look for blueberries that have smooth skin and that are blemish-free. Wrinkles on the skin mean that the berries are old and either drying out or will turn mouldy.
The waxy, cloudy coating on the blueberry is called Bloom and it is 100 percent natural. It is actually a naturally occurring protective layer on the berry. The more the berries are handled the more the bloom is removed, but the bloom is a good sign of freshness.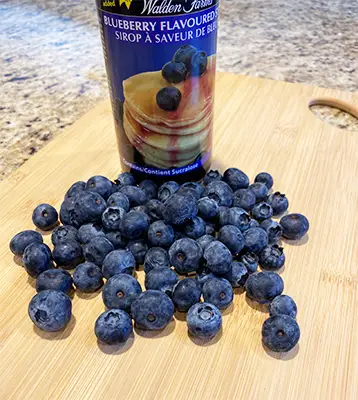 If you are putting a few berries on top of your cheesecake (for presentation purposes, just polish the berry with a clean towel, after washing. The deep blue colour of the blueberry will be revealed.
SIZE: The size of the blueberry doesn't mean a whole lot, but typically, if the berries are tiny or small, they will be a little bitter. A nice plump blueberry is what I usually look for.
Easily freeze blueberries on a sheet pan. in our post on freezing strawberries, we talked about The easy no-fuss way to freeze strawberries. Use the same method when freezing blueberries and use them whenever you want.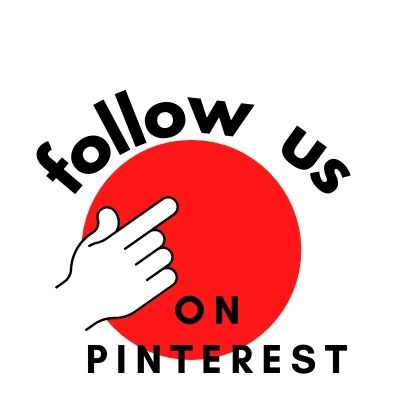 Making the Crust
Using the Almond crust recipe is a big factor in reducing the carbs in all of our cheesecake recipes. It is super easy to make. We always use a pastry blender, when mixing our crust. I find that it makes the perfect crumble and mixing goes pretty quickly.
Preheat your oven to 350 °F *( 175°C)a small mixing bowl combine the almond flour, melted butter and the sweetener, and blend until you have a crumble. Pour the mixture into your springform pan and spread it evenly across the bottom of the pan. Press the crust mixture into the bottom of the pan.
Bake in the centre of the oven for 10 minutes.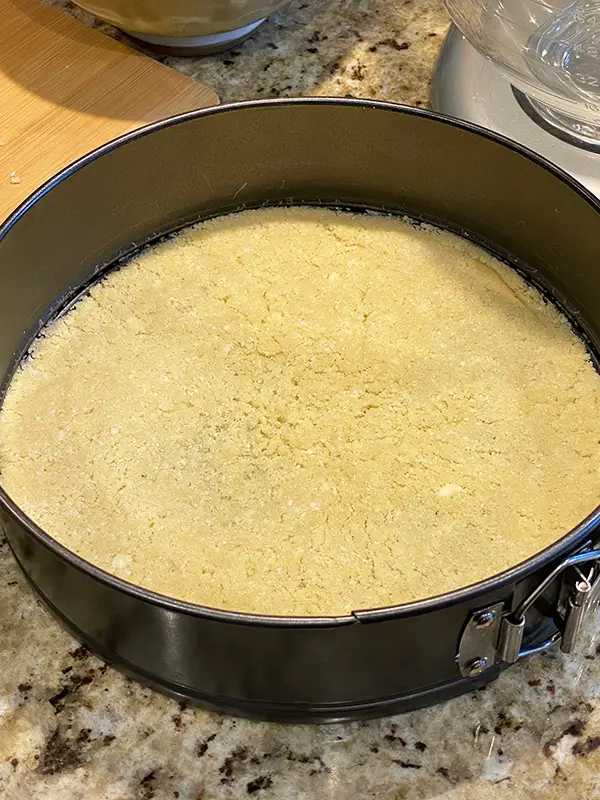 Set aside and let cool while you work on the result of the recipe.
Making the cheesecake filling
There are a couple of tips that will ensure that your batter is smooth and mixing is seamless.
Make sure that the cream cheese is soft, at room temperature.
I find using a stand mixer works best, but you can use a handheld mixer as well. Add the liquid sweetener into the cream cheese and mix, until smooth. Be sure and scrape down the sides of the bowls a couple of times during mixing, to make sure you get everything well combined.
I use liquid Stevia, but if you have a favourite sweetener, feel free to swap it out.
Mix in a small amount (specified in the recipe) of cool whip or your whipped cream into the cream cheese mixture and continue mixing with the mixer.
You should notice the mixture getting softer (not runny). This is the ideal time to fold in the remaining whipped topping (cool whip)
I always use a silicone spatula and gently fold in the whipped topping. Don't use an electric stand or handheld mixer for this step. Folding will help keep the air in the filling mixture, making it nice and fluffy.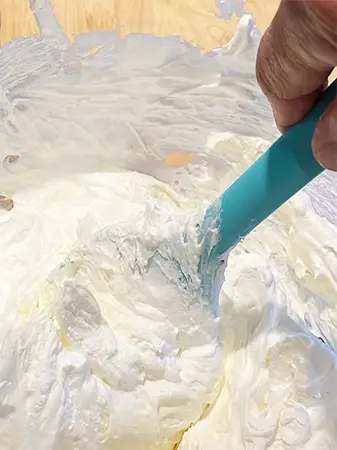 The last additive to the filling will be the blueberry sauce. Make certain that the sauce is completely cooled. Adding hot or warm sauce can make the whipped topping turn runny.
If you want your cheesecake to have a swirl appearance, gently fold in the sauce until you have the desired appearance. For fewer swirls and more of a blue appearance, keep gently folding over.
Once you have achieved the desired colour, pour the filling batter into the springform pan, over the cooled crust. Smooth the top of the cheesecake with a clean silicone spatula or cake smoother.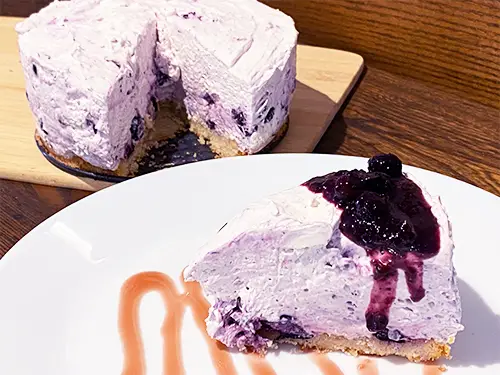 Making the Blueberry Sauce
This homemade blueberry sauce, that we add to this recipe can also be used as a stand-alone sauce. It of perfect over ice cream, on pancakes or even mixed into yogurt.
For the sauce you need
In a small saucepan, add the syrup and the blueberries and bring to a simmer. Using a potato masher, crush the blueberries. Add the package of unflavored gelatin and whisk it in until it is mixed well, and there are no lumps of gelatin. Let cool.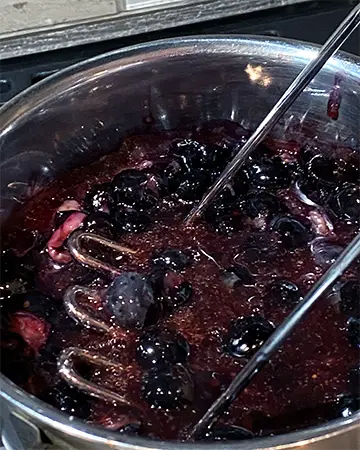 Use the sauce in the recipe as directed and the remainder when serving, over the cheesecake as shown below.
Plating your cheesecake
Whenever I am serving or plating desserts, I like to serve them on a large white plate (or appropriate colour for the dessert). I frequently used a chocolate drizzler or food syringe to decorate the plate before placing the cheesecake on top of the plate.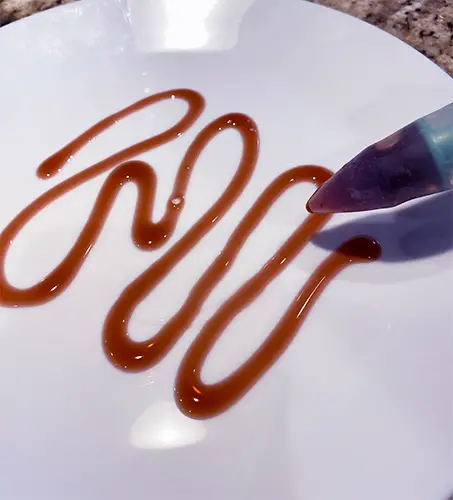 In the image above, I am using the pampered chef drizzled with Walden farms Blueberry Syrup. Simply put some syrup into a small cup and use the drizzle like a syringe. Easy Peasy!
My pampered chef drizzler is a handy little kitchen tool that adds just the right touch of class when plating your desserts, especially cheesecake.
How to store our Sugar-Free Blueberry Cheesecake
Storing in a Refrigerator
This cheesecake stores well for approximately 3 to 4 days. To store our cheesecake, cover with plastic wrap or use an air-tight container and refrigerate.
Freezing this Cheesecake
This cheesecake recipe can be frozen. When freezing, wrap with plastic wrap and ensure there is no air getting onto the cake surface.
Be advised that this sugar-free blueberry cheesecake recipe is best served after it has been chilled. Freezing can add moisture to the cheesecake, especially when thawing.
You can also freeze individual slices. Follow the same directions, by making sure that each piece is covered in plastic wrap.
Freeze the sauce separately and thaw and top with sauce.
Using Frozen Blueberries in this recipe
I was asked by a friend if frozen blueberries could be used in this recipe. the answer is an absolute yes. Just make sure that they have been thawed completely and drain off any liquid or moisture from them before adding them to the sauce.
No Springform pan?
If you don't have a springform pan or are using your springform pan on another dessert, you can also make this recipe into squares. Instead of making the crust in a springform pan, use an 8-inch square baking dish. Press the crust onto the bottom and bake, as directed and then follow the filling and sauce instructions.
Chill for 2 hours before serving.
A note about the Springform pan size
The nutritional value listed below is based on 12 pieces in a 9-inch springform pan. You can easily use a different size of the pan if desired. Keep in mind that the nutritional value will be different. For a smaller springform pan, such as a 6-inch, you will get a nice tall cheesecake, but of course less [ieces.
Diabetic Sugar-Free Blueberry Cheesecake recipe
Diabetic Sugar-Free Blueberry Cheesecake Recipe
An easy to make diabetic-friendly dessert. So yummy, you will definitely want more!
Ingredients  
Crust
1

cup

almond flour

1/3

cup

butter – melted

1/2

cup

granulated Splenda sweetener
Filling
2

packages

cream cheese – (softened) total 16 ounces

4 1/4

cup

Cool Whip – sugar-free ( 1L tub cool whip)

1 1/2

tbsp

liquid stevia
Blueberry Sauce
2

cups

fresh Blueberries

1

cup

Walden farms blueberry sauce

1

package

Knox unflavoured gelatin
Instructions 
Crust
Preheat oven to 350°F (175°C)

In a small mixing bowl. combine the crust ingredients.

Using a pastry blender, mix thoroughly until the mixture tut=rns into a crumble.

Press the crumble into the bottom of an ungreased springform pan.

Bake in the oven for 10 minutes.
Blueberry Sauce
In a small saucepan add blueberries and the Walden Farms syrup.

Over medium to high heat bring it to a simmer and remove from heat.

Using a potato masher, crush the blueberries and then stir.

Add the unflavoured gelatin powder and whisk until thotoughly mixed.
Filling
Using a stand mixer (or handheld) beat the cream cheese until it is smooth.

Add the liquid stevia and beat until well mixed.

Add 1/2 cup of the whipped topping and beat until the mixture is soft and smooth.

Fold in the remainder of the whipped topping and gently mix.

Add 1 cup of the cooled blueberry sauce and stir, gently.

Pour into a 9 -nch springform pan, and smooth out the top.

Chill for at least 2 hours before serving.
Serve
When serving, add remaining blueberry sauce on top of the cheesecake pieces.
YOU MIGHT ALSO LIKE
Nutritional Information for this Sugar-Free Blueberry Cheesecake Recipe
Each serving is 199 Calories and 9 grams of net carbs.
NOTE – the nutritional value is for a 9-inch springform pan cut into 12 slices, with the blueberry sauce topping.
Thank you for visiting The Naked Diabetic.
Disclaimer -This post may contain affiliate links. When a purchase is made through our links, The Naked Diabetic may receive a commission, at no cost to you.