Disclaimer -This post may contain affiliate links. When a purchase is made through our links, The Naked Diabetic may receive a commission, at no cost to you.
My family always looks forward to fresh peaches towards the end of summer. Sugar-free Peach pie, sugar-free peach muffins, Sugar-Free Peach Cheesecake and sugar-free peach cobbler are always a must whenever fresh peaches are around. Our diabetic Sugar-free peach cobbler recipe tastes so good that you will never know it is a sugar-free version.
Many of the ingredients that we use in our diabetic Sugar-Free Peach Cobbler recipe are found in our diabetic-friendly pantry. It always makes cooking easy when you have diabetic-friendly ingredients on hand.
A couple of things will help you pick out the best peaches for recipes when you are shopping. Many recipes call for sliced peaches and it helps a great deal to get the right peaches.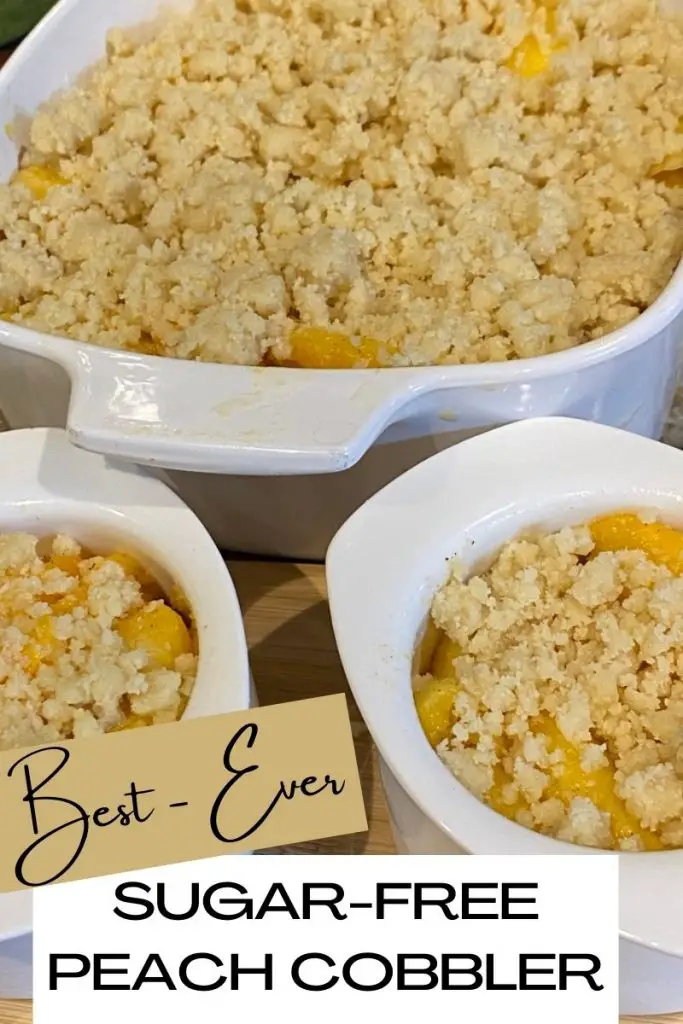 In this post, I will provide a list of recommended kitchen tools needed to make this recipe, a shopping list of ingredients, the Diabetic Sugar-Free Peach Cobbler Recipe, and tips for buying, peeling and ripening peaches as well as the nutritional information per serving.
What kind of peaches is the best for Peach cobblers?
There are three types of peaches, Freestone, Clingstone and semi-freestone.
Freestone peaches are the best peaches to use in this recipe as well as in many recipes that call for sliced peaches.
Freestone, just means that the peach doesn't cling to the pit (the stone)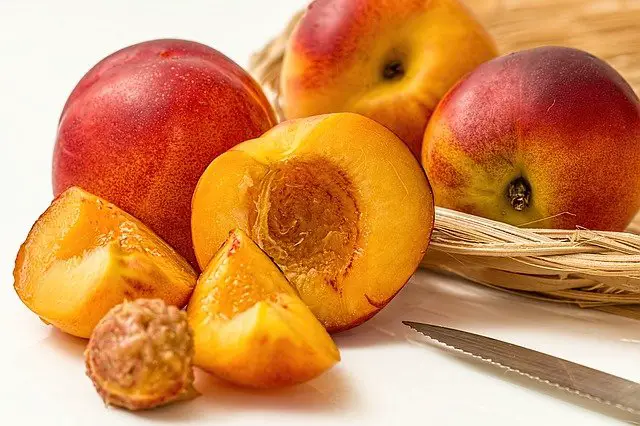 The term freestone of clingstone refers to whether the fruit sticks to the pit or not. The pit is also known as the stone of the peach. If it is a freestone, that means the pit can be easily removed while maintaining the integrity of the fruit.
A clingstone peach will be harder to remove from the pit, simply because the pit clings to the fruit. It doesn't make a nice smooth slice and can be difficult to remove the slices from the pit.
In grocery stores and markets, the most commonly seen peaches are yellow and white.
The yellow peach has a redder skin colour and is usually available at the end of summer. They are usually sweeter and juicier. These are our favourites, as they have more flavour and are nice in most recipes.
Our favourite peach is the Red Haven – free-stone peach. It is sweet, juicy and has a full-bodied peach taste. The fruit comes easily off of the pit and it slices beautifully.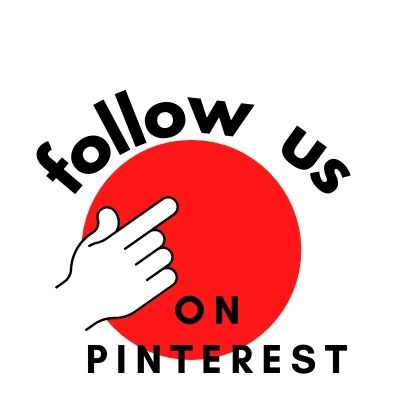 How to easily peel peaches.
No one likes feeling peaches (that I know of). It can be messy and the skin can be difficult to get off, without damaging the fruit. The peaches need to be ripe. This doesn't work well on hard unripened peaches.
This EASY way to peel peaches is a game changer!
Follow these easy steps.
In a medium-sized saucepan bring water to a boil. ( have enough water in the pan to cover the peaches)
Place peaches into the boiling water. Do not pile them on top of each other. (you may have to do them a few at a time) Using a slotted spoon works best for placing the peaches into the boiling water.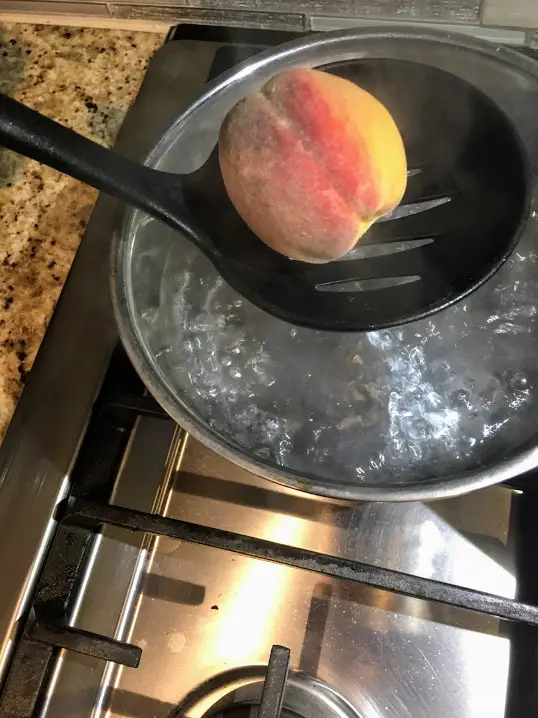 Let the peaches sit in the boiling water for approximately 30 seconds.
Remove them from the boiling water, using a slotted spoon.
Immediately submerge the peaches into an ice bath (bowl of ice water)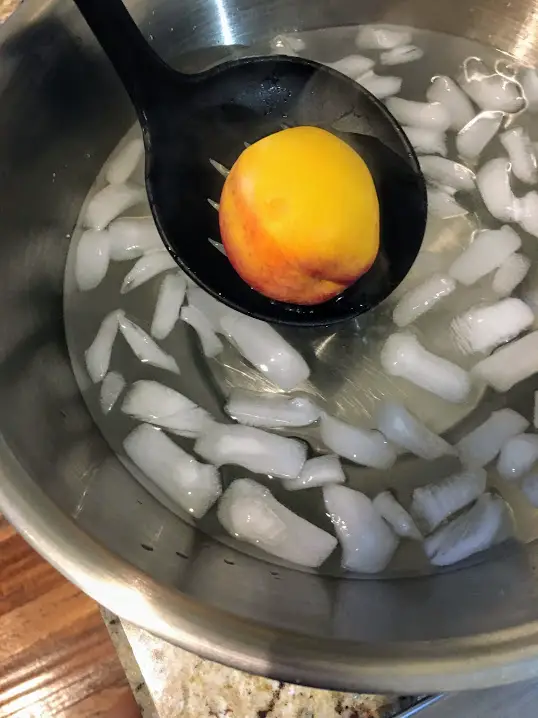 After 5 to 10 seconds remove one peach at a time. The skin should easily slide off of the peach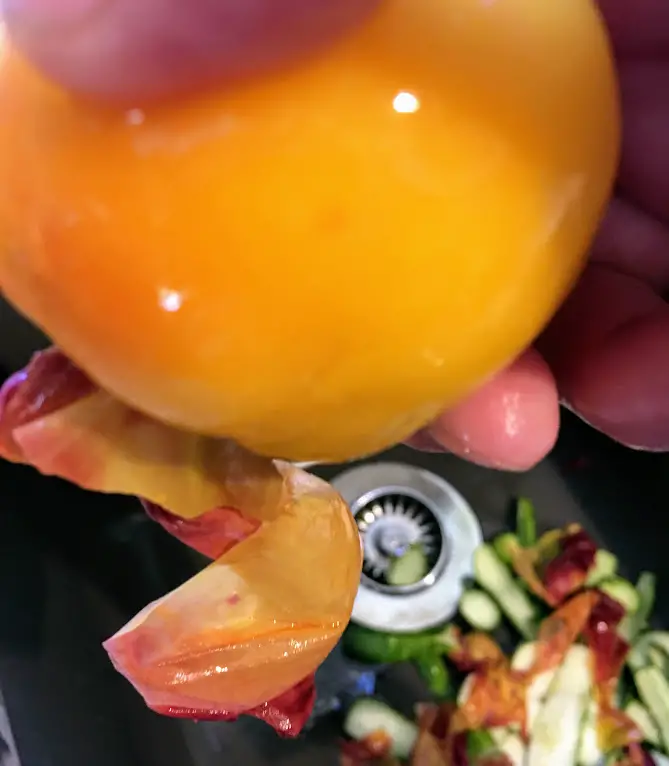 How to soften (ripen) hard peaches.
Some fruit can be ripened further in the kitchen.
For this recipe, and many other recipes, a soft ripe peach will give you the best peach flavour and be juicy enough to provide moisture to your recipe. Sometimes the peaches will be just too hard to use, but the peaches can easily be softened.
Place them in a bowl, paper bag, or in a fruit ripener (like the one pictured below)
To use a paper bag to ripen your peaches, place them on the counter in the paper bag. Add a banana or an apple to the bag. Close the bag and let it sit for a day. Check after a day passes for ripeness. Once the peaches are the ripeness that you desire, remove them from the bag.
If you have them ripened and can't use them right away, store them in the refrigerator. This will slow the ripening down immensely.
Supplies needed to make this diabetic Sugar-Free Peach Cobbler recipe
medium saucepan
slotted ladle
mixing bowls
measuring cups
measuring spoons
cutting board
Need kitchen Supplies?

Shopping List of Ingredients for this recipe
Peaches (preferably fresh)
butter
ground cinnamon
sugar-twin brown granulated sweetener or brown sugar substitute
Need Diabetic Friendly Ingredients?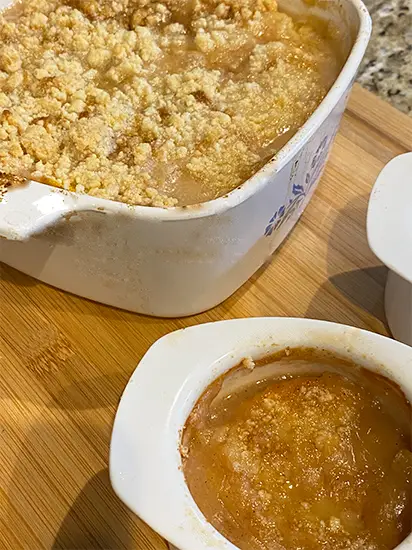 Making the Filling
Can I use frozen or canned peaches for this recipe?
You sure can, For frozen peaches make certain that the peaches are well-thawed and allowed to drain. Remove as much juice as you can and consider adding 1/2 tablespoon extra of the tapioca pearls to reduce the amount of liquid in the recipe.
For canned peaches, make sure that they are sliced and then allow the juice to completely drain. (save the juice and make a peach sauce for ice cream, pancakes or cheesecake toppings.
How to thicken sugar-free peach cobbler.
Many traditional peach cobbler recipes and peach crisp recipes use sugar and/or cornstarch as a thickener in the recipe. Since we are avoiding sugar and carbs, we use tapioca pearls. Use small tapioca pearls (not large ones). The tapioca pearls thicken the filling when baking. If the pearls are too large, they will not break down as quickly as the tiny pearls and you may get uncooked bits.
Tapioca pearls are a must-have ingredient used in my diabetic-friendly pantry. I use them in many recipes as a thickener.
Freezing our Sugar-Free Peach Cobbler
This diabetic Sugar-Free Peach Cobbler recipe freezes very well. Once your baked peach cobbler is fully cooled, cover it tightly with a couple of layers of cling wrap. Make sure you make it as air-tight as possible. It is best if it isn't left in the freezer for more than a month. The longer you leave the peach cobbler in the freezer, the more moisture you will have during the thawing process.
Diabetic Sugar-Free Peach Cobbler Recipe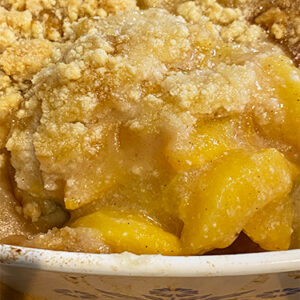 Diabetic Sugar-Free Peach Cobbler
An easy to make Diabetic -friendly recipe for Sugar-Free Peach Cobbler. It's so delicious, no one will know it's sugar-free.
Ingredients  
6

cups

peaches – peeled, pitted and sliced

3/4

cup

Splenda/ Stevia granulated sweetener

1 1/2

tbsp

Tapioca pearls

1/4

tsp

ground cinnamon
Topping
1

cup

Almond flour

1/4

Cup

butter – melted

1/2

cup

Sugar-Twin brown sweetener ( or 0 calorie brown sugar substitute)
Instructions 
Preheat oven to 375° F (190° C)

Place sliced peaches into a large mixing bowl.

Add the Splenda, cinnamon and tapioca pearls.

Pour into a casserole dish or divide up between 6 ramekin single servings.
Topping
Add topping ingredients into a medium-sized mixing bowl.

Use a pastry blender and thoroughly combine.

Pour the topping over the top of the cobbler and spread to cover.

Bake for 45 minutes (or until the crumble topping is golden brown and peach filling is bubbling. (For ramekin single servings, check after 30 minutes)

Remove from the oven and let sit for 1 hour before serving. (serving immediately is optional but it will be runny)
Serve and Enjoy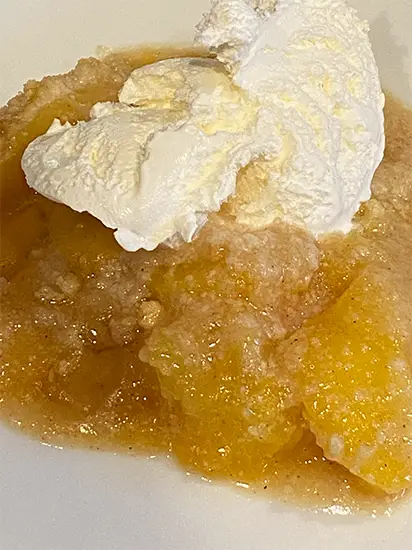 Nutritional Information for the Diabetic Sugar-Free Peach Cobbler Recipe
Thank You for visiting The Naked Diabetic.
Disclaimer -This post may contain affiliate links. When a purchase is made through our links, The Naked Diabetic may receive a commission, at no cost to you.