Disclaimer -This post may contain affiliate links. When a purchase is made through our links, The Naked Diabetic may receive a commission, at no cost to you.
Cornbread is an old southern favourite and commonly referred to as Johnnycake. It can come in sticks, muffins or a loaf. This recipe for Low Carb cornbread is best suited for sticks, a loaf or squares, and it is one of the best recipes for cornbread for diabetics. This awesome cornbread goes perfectly with our Diabetic Friendly Chili Recipe.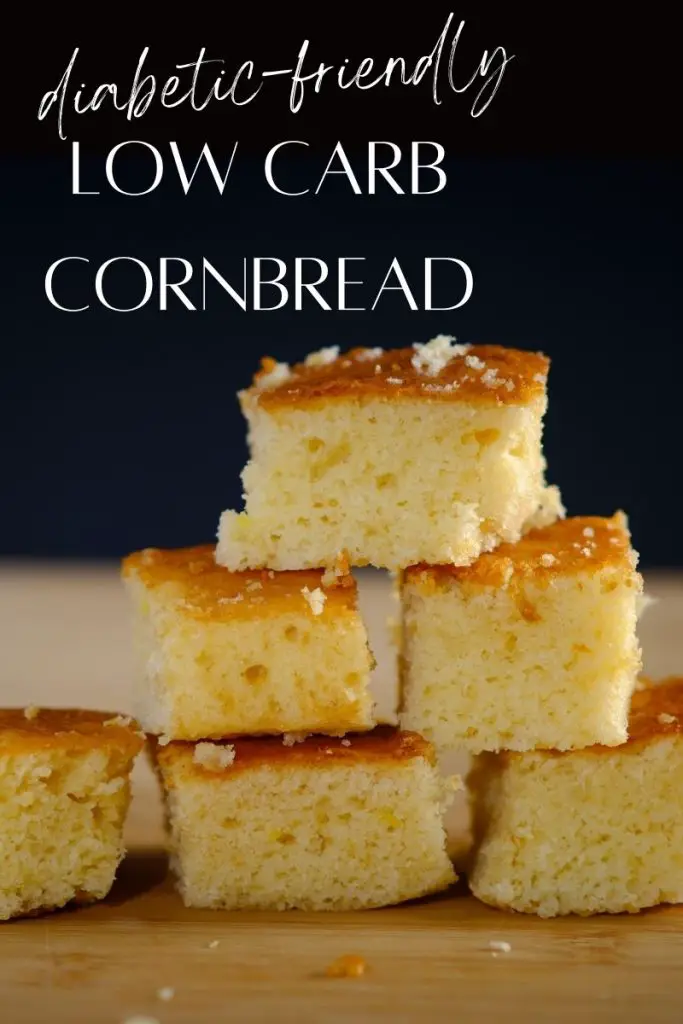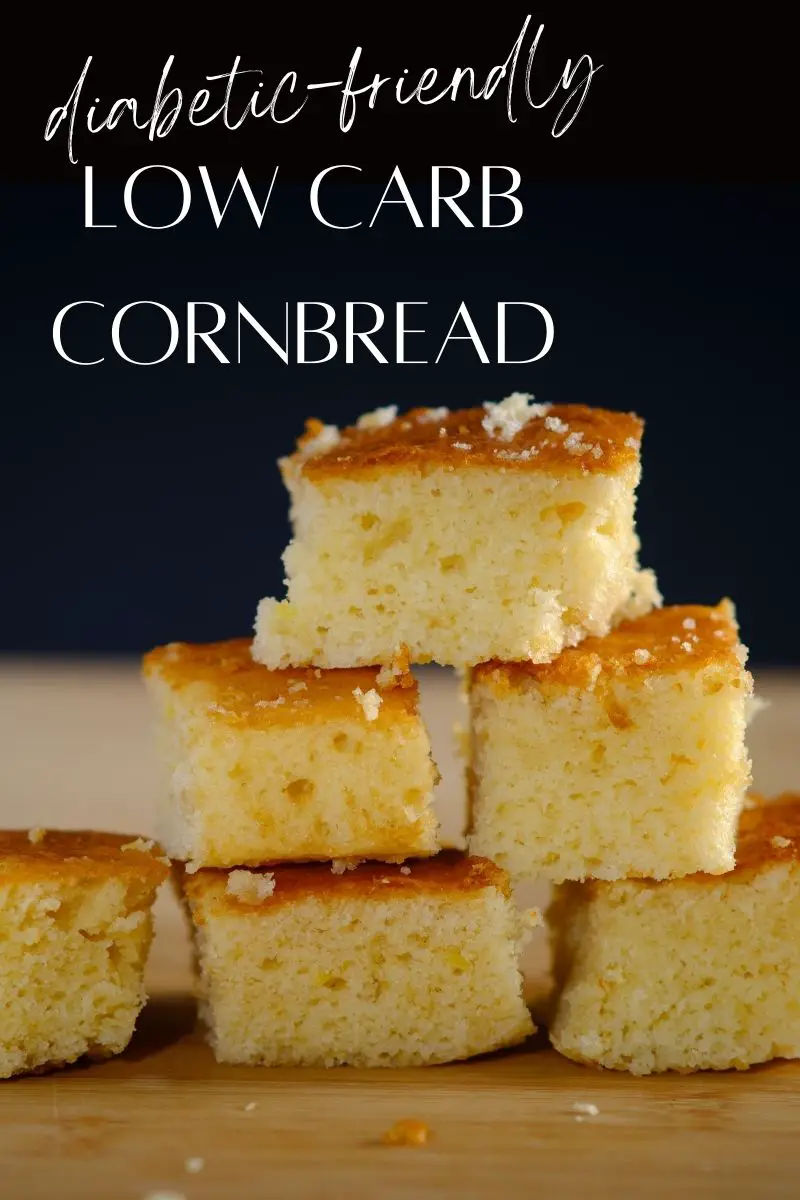 In this post, you will find, a list of kitchen tools needed, a shopping list of ingredients, the recipe for Low Carb Cornbread for diabetics, the nutritional value per serving, and tips on ingredients. The ingredients used in this recipe can be found in our diabetic-friendly pantry. For easy resources for your diabetic kitchen, shop our commonly used tools and our diabetic-friendly ingredients list.
This low carb cornbread for diabetics recipe has been adapted to contain fewer calories and carbs than a regular cornbread recipe, which makes it an ideal cornbread for diabetics. This cornbread is also suitable for anyone wanting to cut calories and carbohydrates.
Kitchen tools needed for Low calorie, Low Carb cornbread.
Mixing Bowls
Measuring Cups
Measuring spoons
whisk
electric mixer
loaf pan or
Need Kitchen Tools? We have a page with all of our commonly used items for quick access.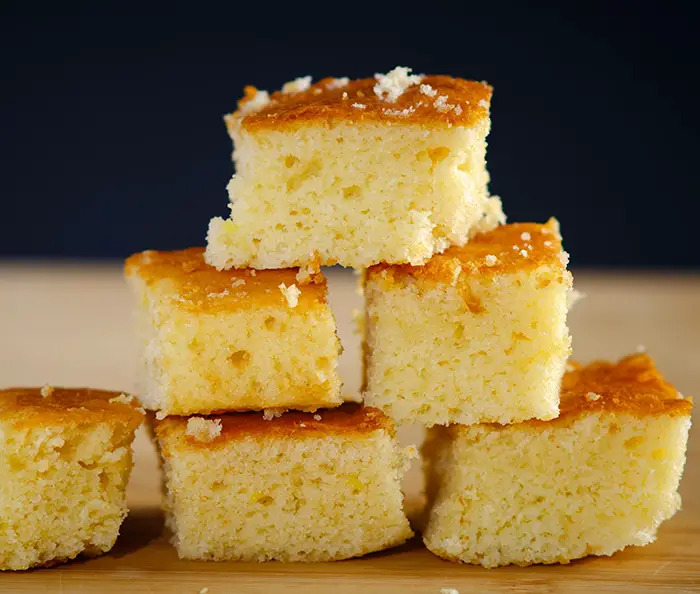 Grocery list for this recipe for Low carb cornbread
all-purpose flour
baking powder
salt
egg
skim milk
butter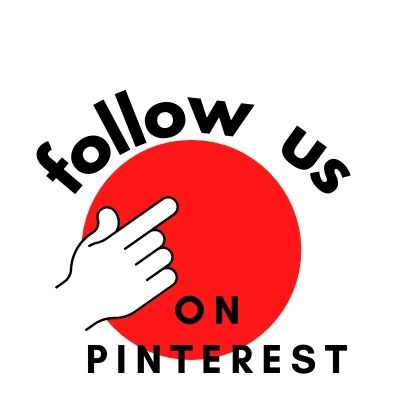 Recipe for Low carb cornbread for diabetics
Recipe for Low Carb Cornbread for diabetics
Easy to make, diabetic-friendly reduced sugar low carb cornbread.
Ingredients  
1/2

cup

yellow cornmeal

1/2

cup

all-purpose flour

2

tbsp

Splenda ( or equivalent sweetener)

2

tsp

baking powder

1/4

tsp

salt

1

slightly beaten egg

1/2

cup

skim milk

2

tbsp

melted butter
Instructions 
Preheat oven to 450°F (220°C)

In a medium-sized mixing bowl, combine cornmeal, flour, sweetener, baking powder, and salt.

In a small mixing bowl whisk together egg, milk, and melted butter.

Make a well in the dry ingredients and add the wet mixture,

Using an electric mixer, beat on low speed , until thoroughly combined. ( only takes a couple of minutes)

Pour mixture into a greased 8 by 4 loaf pan.

Spread evenly in the pan.

Bake on middle rack of oven for approximately 15 minutes, or until toothpick omes out clean when inserted into the center of the loaf.

Remove from pan.

Slice and serve.
Spice up your Low Carb cornbread
You can easily add a little spice to this low-carb cornbread for diabetics recipe, by adding finely chopped jalapenos, your favourite spicy pepper or 1/2 of a teaspoon of chilli powder. Some other suggestions for alternative flavour options are as follows:
1 tbsp of chopped jalapenos or chilli peppers ( mentioned above)
1 tbsp of chopped sundried tomatoes
1/4 cup grated sharp cheddar cheese
1 tbsp chopped fresh chives
1 tbsp chopped black olives (goes great with greek salad)
2 tbsp chopped onion and then fry before adding to the mixture
chopped cooked bacon
1 tsp chopped fresh rosemary.
If adding chilli peppers or jalapeños, try adding some cheddar cheese, it is a great combination of flavours, especially if you are serving it with chilli.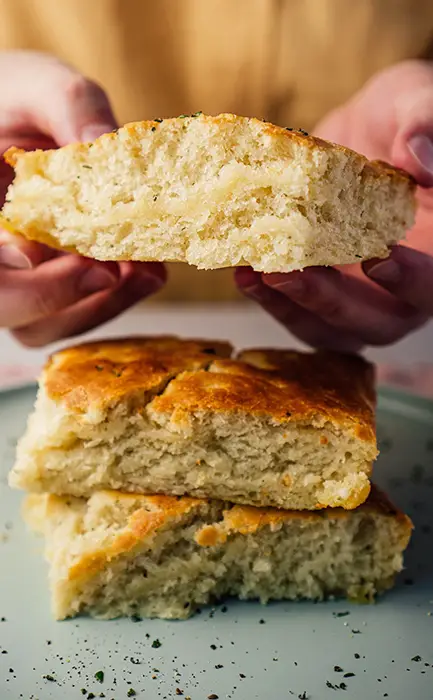 REMINDER – adding cheese or other ingredients to this low-carb cornbread for diabetics recipe will alter the nutritional value of your bread. For most ingredients such as jalapenos or chilli peppers and spices, it remains the same but adding cheese or sun-dried tomatoes will affect the nutritional values.
Nutritional information for Low Carb cornbread
Per serving: one slice
Calories – 78
Total carbs – 11 gr
Fibre 1gr
Net carbs 10 gr
Sugars – 1 gr
The Flour
This diabetic cornbread recipe uses all-purpose flour. I have made it with Almond Flour but I find it to grainy. The cornmeal already has a grainy texture and adding the almond flour seemed to amplify that texture. Feel free to substitute with all-p[urtpose flour with almond flour if you prefer. That will reduce the carbs in the final serving. You can also substitute the all-[purpose flour with Carbalose flour. That also reduces the carbs, but it will be denser.
Getting the right kind of cornmeal
When you are in the supermarket, you may see different types of cornmeal. the type we recommend for this recipe is finely ground yellow cornmeal. If you are unable to get the finely ground yellow cornmeal, then by all means get the medium grind. The only difference is the texture. the coarser the grind the more grainy or gritty the texture will be of your finished loaf.
Sweeteners in the recipe
I have used Splenda as my sweetener. The nutritional facts are based on the use of Splenda (sucralose), but if you choose a different zero-calorie sweetener, it may affect the nutritional values. Some sweeteners do not work well when baking. It is a matter of personal preference, but I find that Splenda (sucralose) pr stevia works well for baking and cooking recipes.
Loaf pan, cake round or molds
In this recipe, I used an 8-inch loaf pan. There are other options if you would like a different look. Cornbread moulds can come in triangular slices, corn sticks and corn dog sticks. For original cornbread or cornsticks, use the cast iron cornstick moulds. these give you individual portions and are equal in size. Remember to adjust the nutritional values when using other pans or moulds.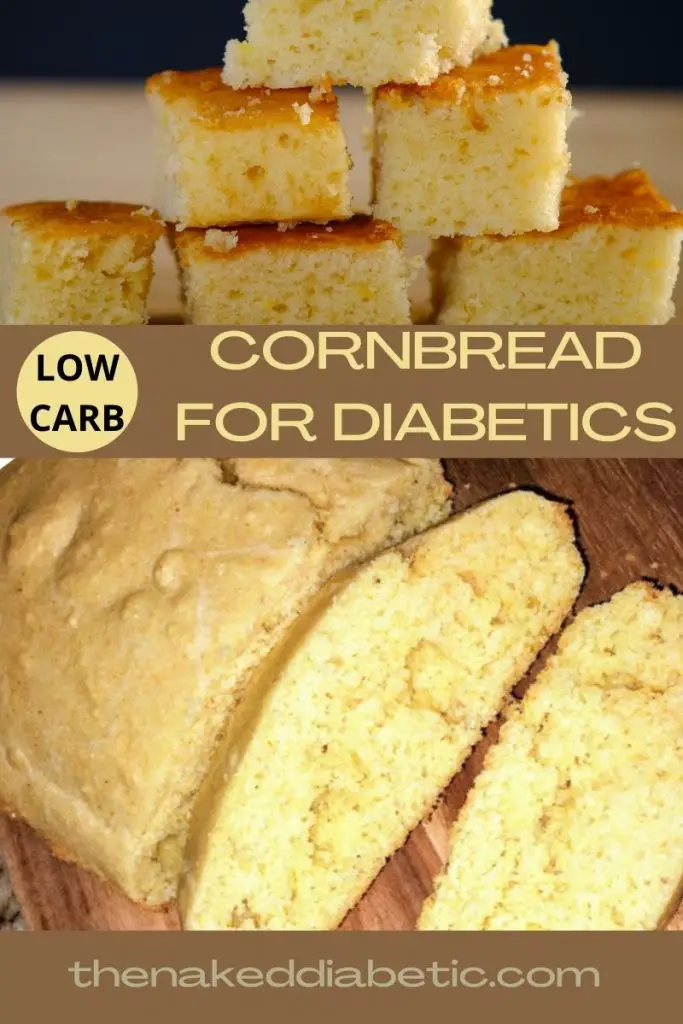 Thank you for visiting The Naked Diabetic, where we are simplifying diabetic life.
Disclaimer: This website contains affiliate links. We receive a small commission on purchases made using our links.