This website may contain affiliate links. When a purchase is made through our links, The Naked Diabetic may receive a commission, at no cost to you.
Whenever you are baking diabetic friendly cakes or sugar free cookies, having a good quality Diabetic Sugar Free Buttercream Icing recipe is a necessity. This is an easy recipe, that can go on just about any cake or cookie and can also be coloured and flavoured to suit your needs.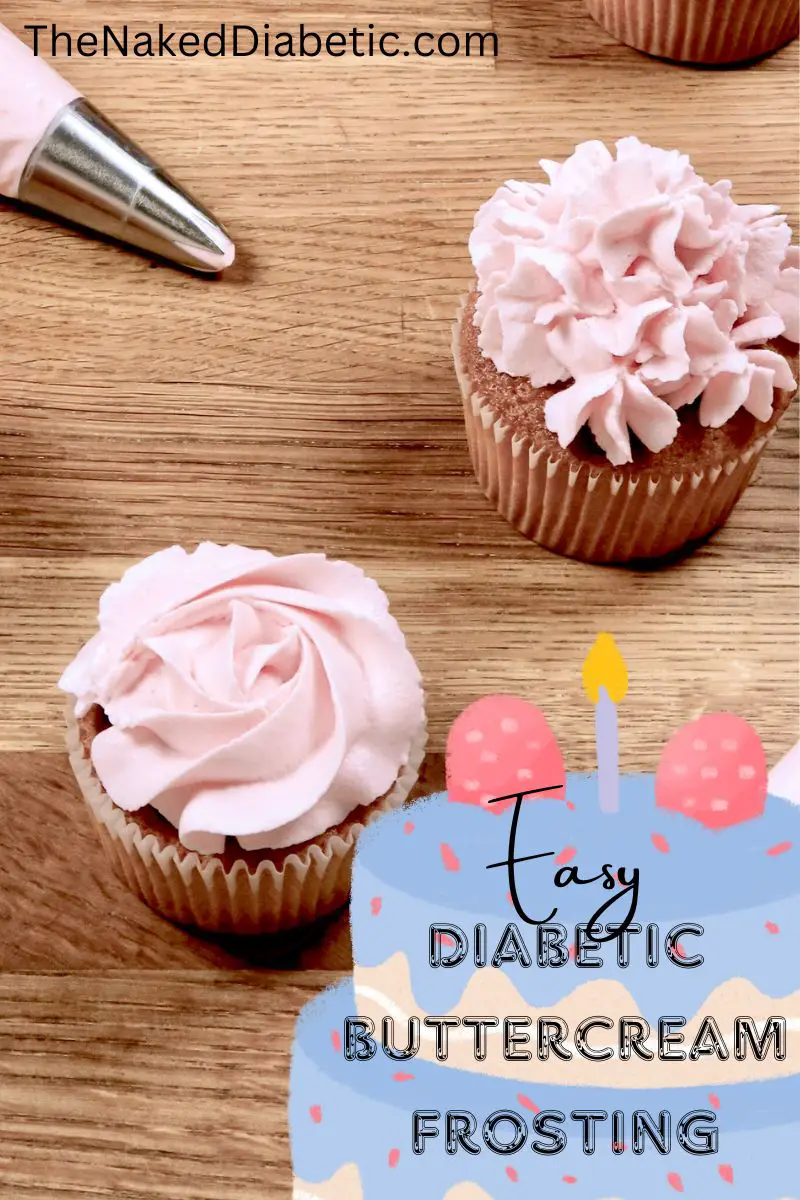 What you will find in this post.
Table of Contents
How To Make Diabetic Sugar Free Buttercream Icing – The Video
Shopping List of Ingredients
Splenda Granulated Sweetener
Butter
Heavy Cream
Vanilla Extract (or a flavoured extract that compliments your cake)
Need Diabetic Friendly Ingredients?

Recommended Kitchen Tools and Accessories
Electric Mixer
Blender
Mixing Bowls
Measuring Cups
Measuring Spoons
Need Kitchen Tools and Accessories?

Helpful Tips and FAQs
Substitutions
Butter
A reasonable substitution is to use a shortening such as Crisco shortening. This works well if you want a bright white icing but you want to only substitute some of it so that you can hold on to the great flavour that comes with using butter. You may need to adjust the sweetener and salt amounts to taste. Also keep in mind, that any substitutions can result in changes in the nutritional information.
Using margarine or butter blends is not recommended.
Sweetener
I use Splenda granulated whenever possible as it does not negatively impact my blood sugar. I find that sweeteners that contain sugar alcohols cause my blood sugar to rise. If this is not a concern for you or you have a preferred sweetener, by all means, make substitutions that suit your preferences and dietary needs. Keep in mind that substituting the sweetener may change the overall nutritional information.
Heavy Cream
You can easily substitute the cream with milk or a non-dairy product, such as almond milk, or coconut milk. Be aware that it may change the overall flavour and nutritional information.
when you want to add a particular flavour to your icing, an excellent option is to substitute the milk with a flavoured Jordan's Skinny Syrup or Mix.
Vanilla Extract
If you want to substitute the vanilla flavour for a different flavour that corresponds to your cookie or cake, you can easily swap out the vanilla extract with one that provides the flavour you are looking to achieve. For example – if you were making our Sugar Free Pumpkin Spice Cookies and wanted to frost them, you could use a pumpkin spice extract in place of the vanilla extract to add a little more pumpkin flavouring.
Adding Flavourings
The best way to add flavourings to your sugar free buttercream icing recipe is by substituting the extract for flavoured extracts or the milk with a sugar free syrup. (as mentioned above in Substitutions)
Adding Colour
To add colour, use a gel or liquid food colouring. Add a small amount at a time to avoid getting the icing colour too dark. To achieve a pure white colour consider adding a whitener or white icing colour.
To make it even whiter you can substitute about 1/4 of the butter with white shortening.
Using Sugar Free Buttercream Icing as a filling.
This buttercream frosting makes an excellent filling in layer cakes. Add a couple of tablespoons of a no-sugar jam, such as our Sugar-Free Strawberry Jam to the icing and spread or use as filling.
Where do the carbs come from in this recipe?
All artificial sweeteners have carbs when used in large amounts. Generally, the nutritional information on the label is for 1 serving = 2 tsp or a similar amount. As we are using 1 1/2 Cups of Splenda, we must consider the total carbs of such a large amount. This will, of course, be divided amongst your number of servings and therefore be spread out, making it diabetic-friendly.
If you are thinking that the carb count is too high, let's get a little perspective by comparing it with sugar. 1 cup of Splenda contains 24 grams of carbs and 1 cup of sugar contains 200 grams of carbs. Mind-blown!
Storing and Freezing Instructions
Store sugar free buttercream frosting in a sealed container in the refrigerator for up to one week.
If freezing, place in a ziploc bag remove as much air as possible and freeze for up to one month.
If you have frozen your sugar free buttercream frosting and find that after thawing, it has lost its fluffiness, just whip it with a whisk for a minute or so to fluff it back up. Make sure it has completely thawed and is at room temperature before re-whipping.

The Diabetic Sugar Free Buttercream Icing Recipe
Diabetic Sugar Free Buttercream Icing Recipe
An easy diabetic friendly version of traditional Sugar Free Buttercream Frosting.
Ingredients  
1

Cup

Butter – Softened to room temperature

1

Tbsp

Heavy Cream

1 1/2

Cups

Splenda Granulated Sweetener

1

tsp

Vanilla Extract
Instructions 
In a blender or food processor, pulse the sweetener for a few seconds and set aside to let it settle.

Meanwhile, in a mixing bowl, cream the butter until smooth.

Add the Vanilla Extract and heavy cream and mix thoroughly.

Slowly add the Splenda and beat on low to medium speed until the icing is fluffy. (about 3-6 minutes)
Nutritional Information
The following information is for the entire recipe. When serving, be sure to divide the nutritional information by the number of servings.
Calories- 1675
Total Fat – 189 gr
Saturated fat – 120 gr
Total Carbs – 36 gr
Fibre – 0
Net Carbs – 36 gr
Protein – 2 gr
Sodium – 1465 mg
Nutrition information is provided as a courtesy and is automatically calculated using an online nutrition calculator. We encourage you to calculate nutrition data with your specific brand ingredients as nutritional information can vary between brands
I hope you enjoy this easy-to-make Diabetic Sugar Free Buttercream Icing Recipe. It's one of my favourite go-to sugar-free icing recipes,

This website may contain affiliate links. When a purchase is made through our links, The Naked Diabetic may receive a commission, at no cost to you.