This website may contain affiliate links. When a purchase is made through our links, The Naked Diabetic may receive a commission, at no cost to you.
These are such fantastic autumn cookies, topped with some sugar free cream cheese frosting for total decadence. These Diabetic Friendly Sugar Free Pumpkin Spice Cookies are low-carb and are a perfect pairing with a Sugar Free Pumpkin Spice Latte.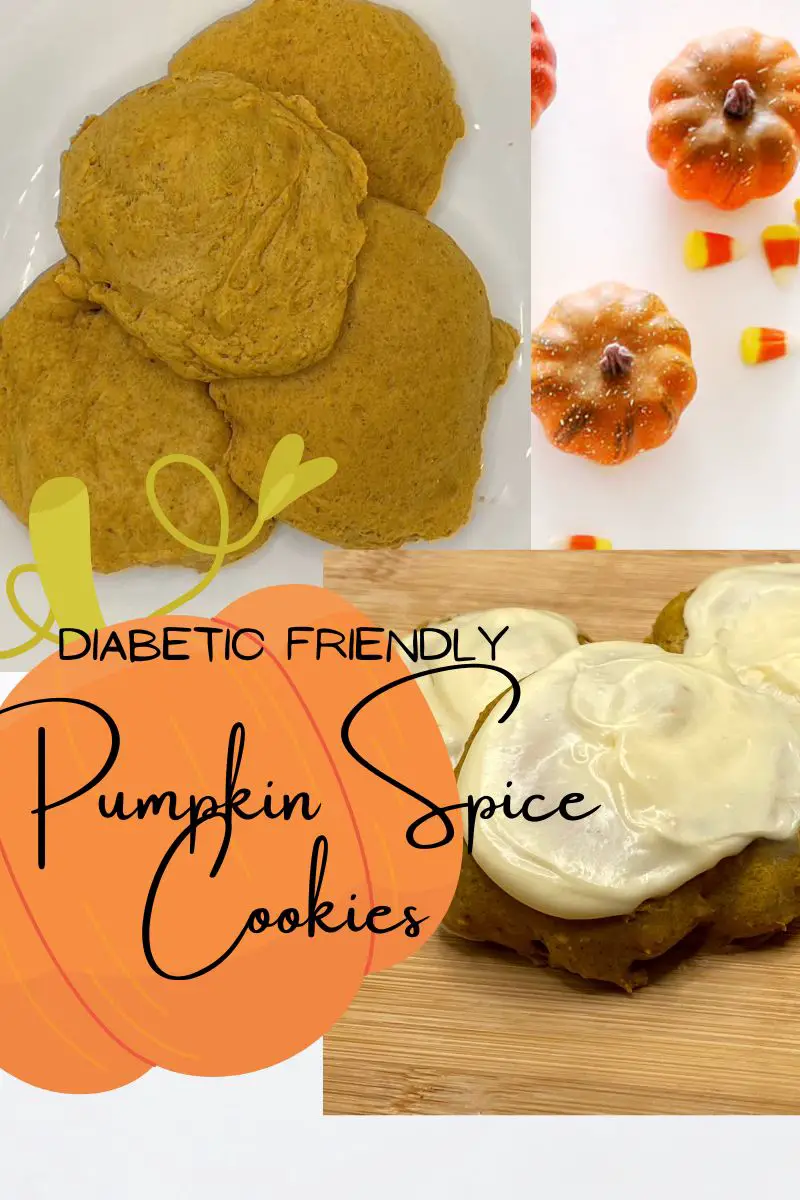 In this post, I will share a list of kitchen tools needed, a shopping list of ingredients, the diabetic friendly Sugar Free Pumpkin Spice Cookies recipe, nutritional information, storage instructions, information on recipe substitutions, and tips for making the perfect cookie.
Many of the ingredients found in this recipe are available in our diabetic friendly pantry list. Having the necessary ingredients on hand for making sugar-free recipes makes your baking experience more enjoyable.
Kitchen Tools Needed
electric mixer
mixing bowls
measuring cups
measuring spoons
sieve
silicone spatula
cookie scoop
parchment paper
baking stone or cookie tray
Need Kitchen Supplies?

Shopping List of Ingredients
Butter
eggs
Splenda granulated sweetener
Pumpkin Pie Spice
Vanilla Extract
Salt
Baking Powder
Baking Soda
Pumpkin Puree (100 % pure)
King Arthur Keto Flour (or Carbalose flour)
Cinnamon
Need Diabetic Friendly Ingredients?

About these Cookies
These Sugar Free Pumpkin Spice cookies are very soft and very moist cookies. They do not spread out while baking. Make sure you press each one of them down before baking (as mentioned below in "getting the perfect cookie")
Are Sugar Free Pumpkin Spice Cookies Healthy?
These sugar free pumpkin spice cookies are actually pretty healthy. By ditching the sugar, replacing all-purpose flour with King Arthur Keto wheat flour, and using pure pumpkin puree (without sugar) you get a pretty healthy cookie. Pumpkin Puree is an excellent source of vitamin A as well. They contain protein, and fibre and are low carb, which makes them a healthier version of regular pumpkin spice cookies.
Getting the perfect cookie
To get uniform-shaped cookies use a cookie scoop. Every cookie will be the same size, which makes them more consistent when counting carbs. Flatten them slightly using a flat (not slotted) spatula, a fondant rolling pin or the bottom of a glass. You can also use the palm of your hand, but the cookies may not be completely flat.
Make each cookie the same thickness. This allows for nice even baking, and you won't get some overdone and some underbaked cookies.
Let them cool slightly before placing them on a cooling rack. When your sugar-free pumpkin spice cookies first come out of the oven they are delicate and break and crumble easily. Let them sit for a few minutes before attempting to lift them with a spatula.
Use a baking stone instead of a metal cookie sheet pan, if possible. I get amazing results whenever I use a baking stone. My baking stone is well used and has absorbed oils from many batches of cookies, even though they are washed after every use. Baking stones become discoloured after multiple uses but this is truly the secret to a superior cookie. If you use a baking stone, it is best to have one that is designated for baking cookies, and bread only.
The stones do absorb oils and I prefer to have a separate one for pizzas and another for baked goods.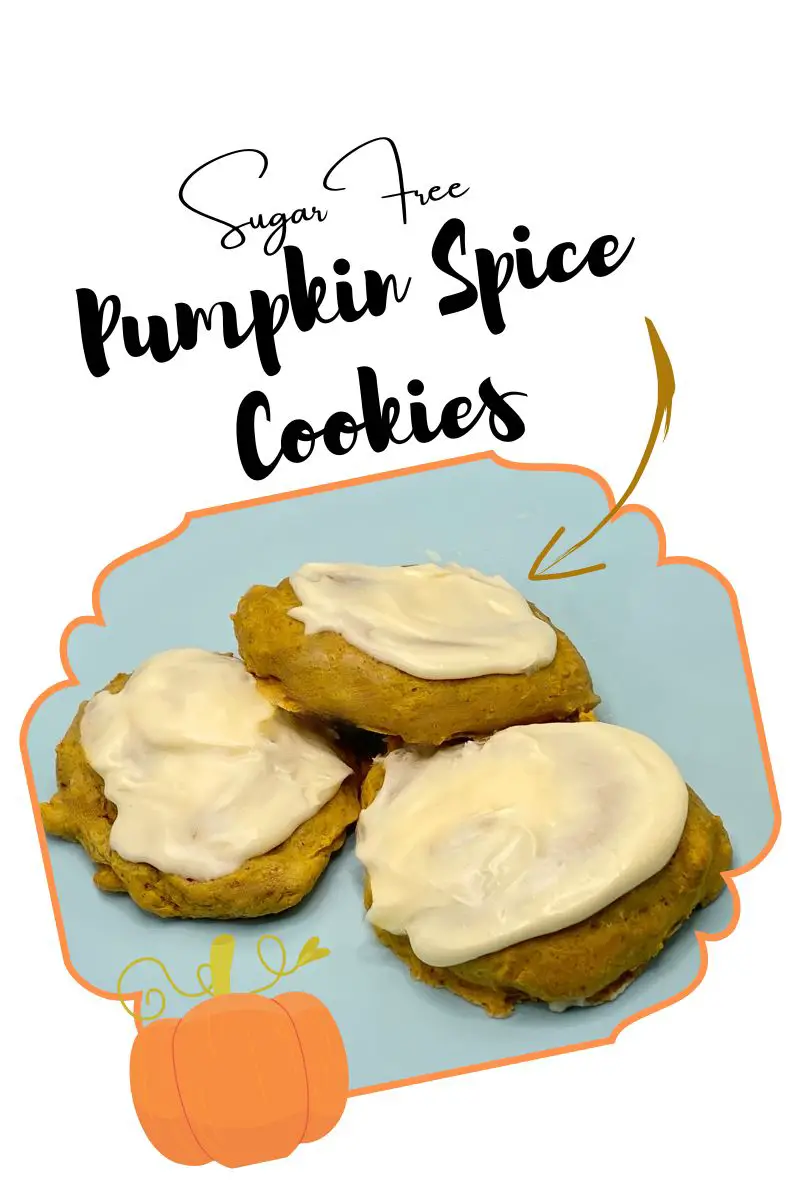 Sugar Free Pumpkin Spice Cookies Recipe

Tips for substituting Ingredients.
The Flour
In this Sugar Free Pumpkin Spice Cookies recipe, we use King Arthur Keto Flour. Sometimes this product can be hard to find. If you live in the USA it is available in supermarkets of some major chain stores, or on Amazon (for everyone), and of course, in our Diabetic Friendly Ingredients Catalog.
If you are unable to obtain King Arthur Keto Wheat flour, you can swap it out with Carbalose Flour (another great low-carb flour)
If you prefer Almond Flour, you can also substitute our recommended flour with almond flour. It will change the nutritional values, the flavour as well as the texture, but it will still have a beautiful pumpkin spice flavour.
The Sweetener
You may notice that I use Splenda or Splenda Stevia blend in my recipes. I choose this sweetener because it performs well in recipes and is not heat-sensitive. I also find that a lot of brands of sweeteners contain sugar alcohol.
Even though many say that sugar alcohol does not affect blood sugar, I find that it does. I don't use them, as they have a negative impact on my blood sugar. This is not the case for everyone, so if you prefer to change the sweetener, it is up to your discretion.
The Pumpkin Puree
The only proper substitution for the canned pumpkin puree would be to use freshly made puree. Do not substitute the pumpkin puree with pumpkin pie filling. Pumpkin pie filling contains sugar (a lot of sugar!) and is not a diabetic friendly ingredient.
Can I put icing on these cookies?
Absolutely yes! I recommend our Sugar-Free Cream Cheese Icing. It goes beautifully with these cookies. If you want to keep with the pumpkin Spice flavouring, add 1/4 teaspoon of pumpkin pie spice to the icing mixture. This will cause the icing to be a little less white, but the pumpkin spice flavour compliments these cookies perfectly.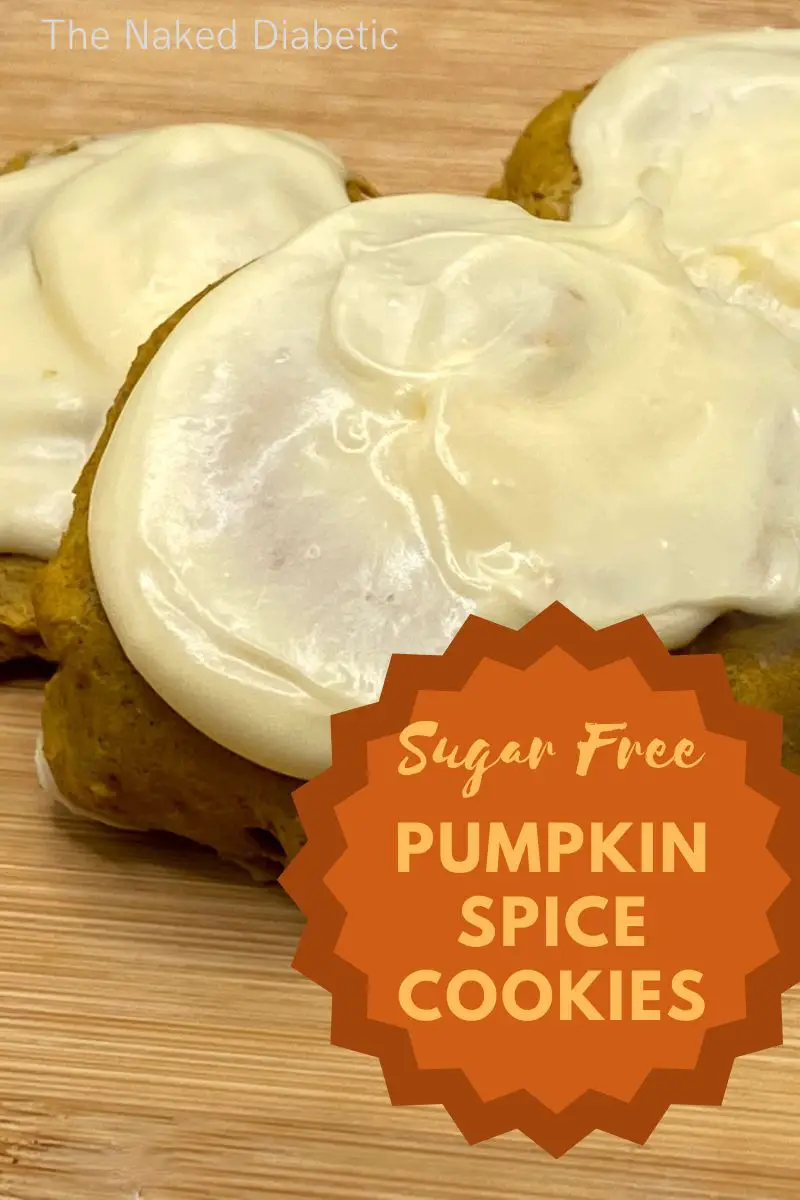 Storing Sugar Free Pumpkin Spice Cookies
Store your Sugar Free Pumpkin Spice Cookies in an airtight container. Place waxed paper or parchment paper between the layers to prevent sticking together.
You can store them at room temperature for about 3 to 4 days and refrigerate them for up to 7 days.
These sugar free pumpkin spice cookies also freeze well. For best results, freeze unfrosted for up to 3 months, in an airtight container. Place in a ziplock bag, with waxed paper between the layers. Remove as much air as possible before freezing.
Nutritional Information
The nutritional information listed here is for one cookie. This recipe makes 24 medium-sized cookies.
Calories – 76
Total Fat – 5.3 gr
Saturated fat – 3 gr
Carbohydrates – 5.5 gr
Fibre – 2.4 gr
Net Carbs – 3.1 gr
Protein – 6.5 gr
I hope you enjoy this easy Sugar Free Pumpkin Spice Cookies recipe.
Thank You for visiting The Naked Diabetic.
This website may contain affiliate links. When a purchase is made through our links, The Naked Diabetic may receive a commission, at no cost to you.