This website may contain affiliate links. When a purchase is made through our links, The Naked Diabetic may receive a commission, at no cost to you.
When you are making diabetic-friendly desserts, a good quality low carb diabetic almond flour crust recipe is essential. Not all diabetic-friendly desserts benefit from an almond flour crust, but it is perfect for cheesecake, bars and crumble toppings. Almond Flour is a definite asset to a diabetic-friendly pantry.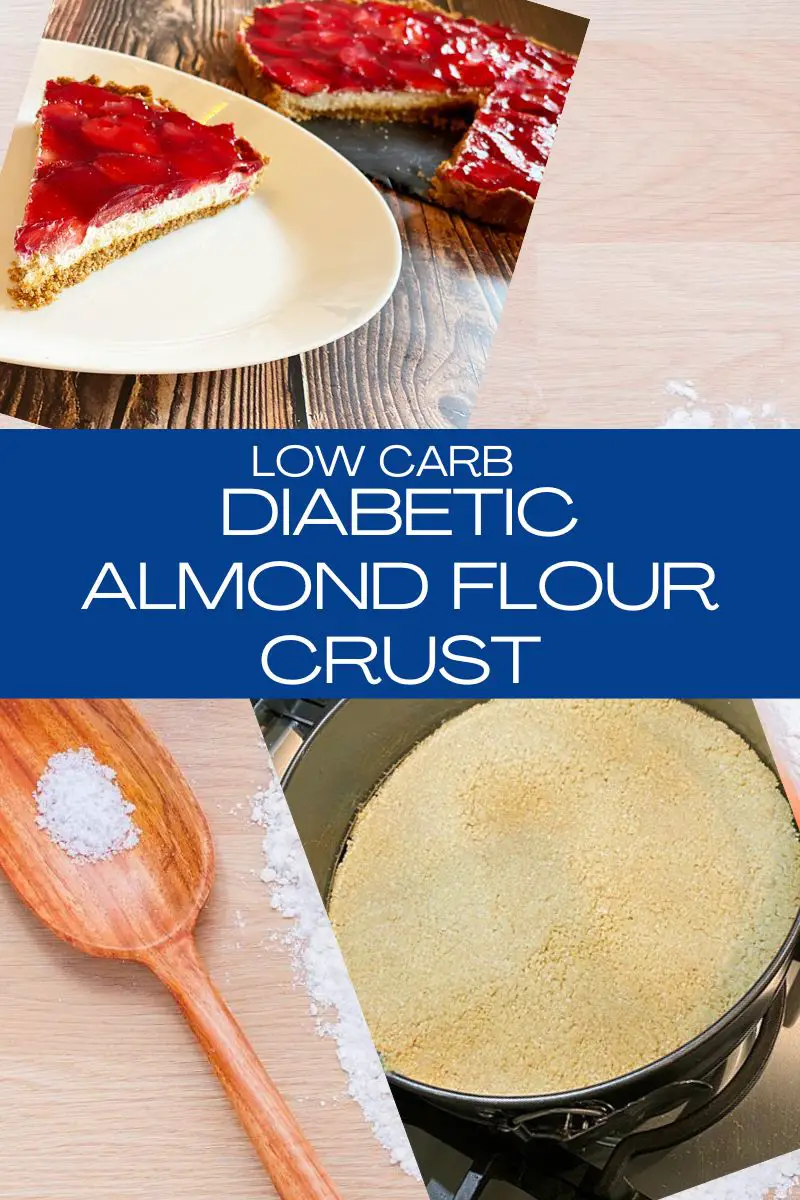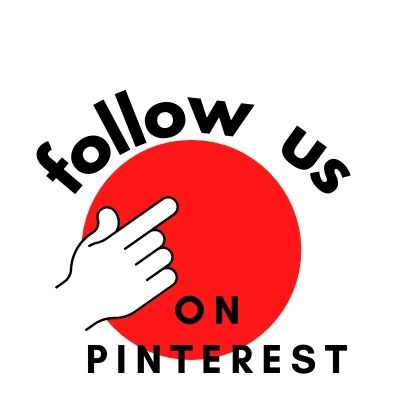 In this post I will share, a list of kitchen supplies needed, an ingredients list, the Low Carb Diabetic Almond Flour Crust Recipe, nutritional information and useful tips for getting the best results.
Kitchen Tools Recommended
Mixing bowl (medium Size)
Measuring cups
whisk
pastry
blender
Need Kitchen Accessories?

Shopping List of Ingredients
Almond Flour
Butter
Salt
Splenda Granulated Sweetener
Need Diabetic friendly Ingredients?


Useful Tips for the best results
Choosing the right almond Flour
Almond Flour is simply ground almonds. Almond Flour comes in fine, extra fine and coarsely ground flour. Choosing the right grind for your crust will be key to a perfectly polished dessert.
Extra Fine ground Almond Flour – This type of almond flour works best for recipes calling for sifting. When you want a more packed crust, always choose the finest grind available. Extra Finely ground almond flour is ideal for pie crusts and crusts that you want to cover the sides of a pie plate. The finest grinds also work better in cake and bar recipes like our Sugar-Free Brownie recipe and our Sugar-Free Lemon Bars.
Finely Ground Almond Flour – Finely ground almond flour can also be sifted. This type of grind works beautifully when you are making a crust that is similar to a graham cracker crust texture, such as in custard pies and cheesecake crusts.
Coarsely Ground Almond Flour – Coarsely ground almond flour does not sift well due to its size. This size of the grind is ideal when you are looking to make a crumble crust for the bases of cheesecakes as well as for toppings.
What is the difference between Almond Flour and Almond Meal?
Almond Flour is made from blanched almonds that have had the skins removed. Almond Meal is made with raw almonds with the skin on.
You can easily make this on your own using a blender and some raw almonds. Simply drop the almonds into a food processor and pulse them into a coarse meal.
Almond Flour is lighter in colour than almond meal, simply because the skins cause the meal to look darker.
Using Different Sweeteners.
In most of my recipes, I use Splenda or a Splenda Stevia blend. These are my preferred products because they are not heat sensitive (they bake well), and they do not increase my blood sugar. As I have mentioned in many of my other recipe posts, I find that sweeteners used in Keto recipes have a negative impact on my blood sugar. I have spoke to other diabetics who say that sweeteners that contain sugar alcohols don't elevate their blood sugar and I have spoken to diabetics who say it does. It is a mystery to me, so I just choose to take a more cautious approach.,
If you have a favourite sweetener that you like to bake and cook with, by all means feel free to substitute it in place of the Splenda.
Substituting the butter
I like to use butter because it adds flavour to the finished crust. I have used canola oil on many occasions when I am going to bake the crust. If you are making a no-bake crust I recommend butter but if you are going to bake the crust, substituting is fine. You may need to change the amount, depending on the density of your product. Keep in mind that substituting will likely change the nutritional value. It is worth mentioning that if you are avoiding dairy and wish to replace the butter with a dairy free product, please feel free to use your preferred product.
Can I add favourings to Almond Flour crust?
Adding a little spice or flavouring can take your plain crust to a great compliment to the filling flavouring. In my recipe for Sugar Free Pumpkin Spice Cheesecake, I add a little pumpkin pie spice to the crust mixture. It adds just the right amount of spice to compliment the pumpkin spice filling.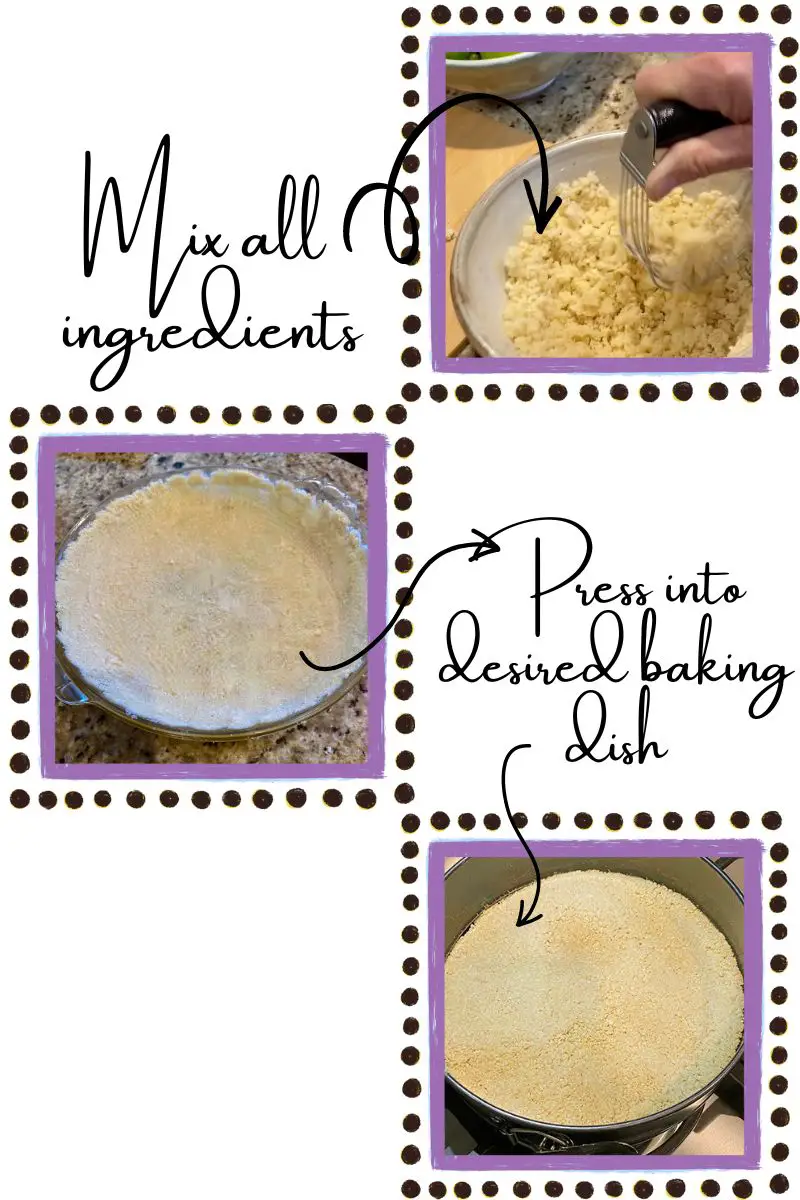 Diabetic Almond Flour Crust Recipe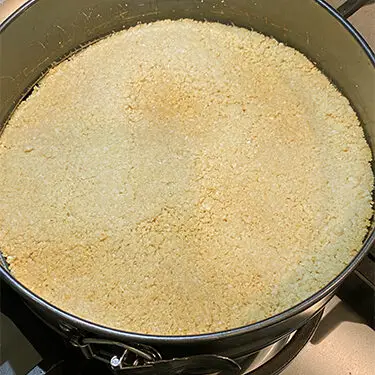 Low Carb Diabetic Almond Flour Crust Recipe
An easy to make recipe to compliment diabetic friendly desserts.
Ingredients  
1 ½

cups

Almond Flour

⅓

cup

Splenda granulated sweetener

⅓

cup

butter – melted

pinch

salt
Instructions 
In a medium sized mixing bowl, whisk the almond flour, sweetener and salt together.

Pour melted butter over the dry ingredients.

Using a pastry blender, thoroughly mix, until the crust is a loose crumble.

Press into desired baking dish.

If blind baking (pre-baking) – bake in a 325°F (165°C) oven for 10-12 minutes.,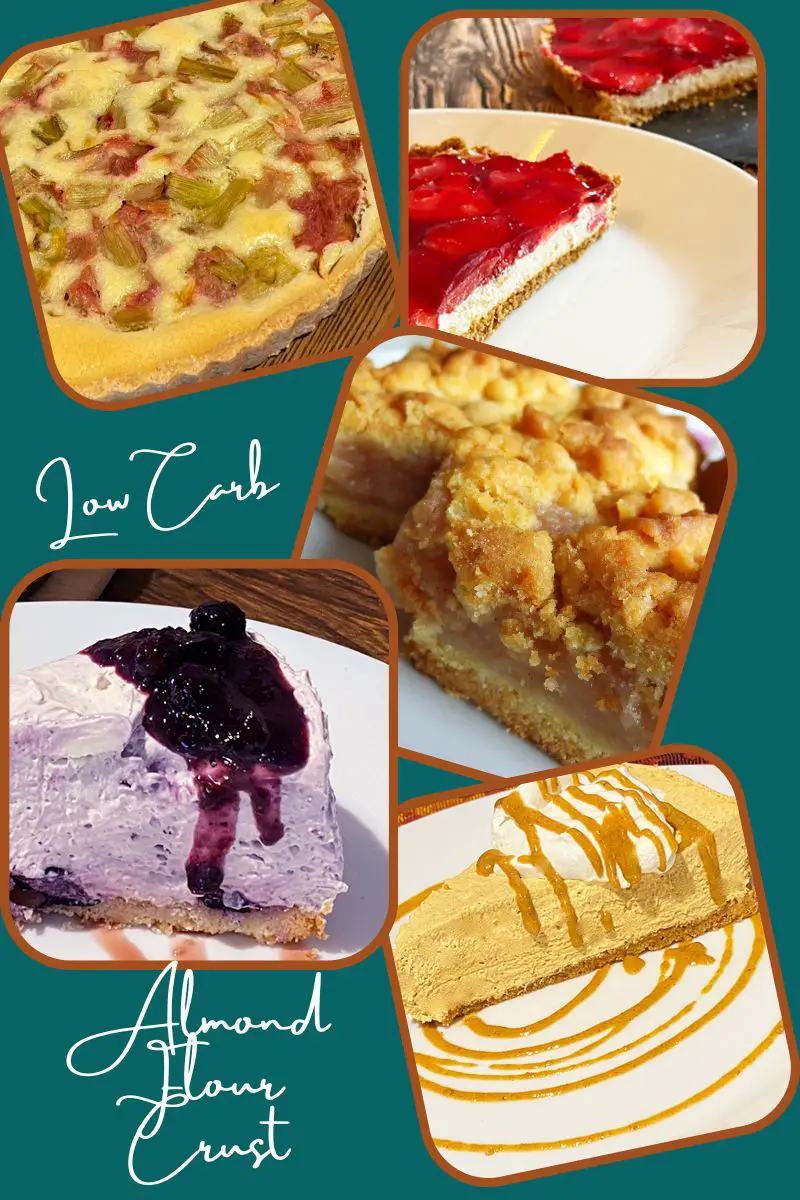 Nutritional Information
The following nutritional information is for the entire recipe. Divide according to the number of servings you choose to make. This recipe fits a 9-inch springform pan (Bottom crust) or an 8-inch, pie plate (bottom and sides).
Calories – 1360
Total fat – 130 gr
Saturated fat – 43 gr
Carbs – 31 gr
Fibre – 18 gr
Net Carbs – 13 gr
Protein – 31 gr
I hope you enjoy this Low Carb Diabetic Almond Flour Crust recipe. This recipe and its variations are the base of many of our dessert recipes.
Thank you for visiting The Naked Diabetic.
This website may contain affiliate links. When a purchase is made through our links, The Naked Diabetic may receive a commission, at no cost to you.