Disclaimer -This post may contain affiliate links. When a purchase is made through our links, The Naked Diabetic may receive a commission, at no cost to you.
If you are like me at all, you like to have a treat now and again. I love the sweetness and the tartness of this Sugar-Free Low Carb Key Lime Cheesecake. You can't tell that this Key Lime cheesecake is sugar-free. I always test my recipes on my daughter and she gave this one two thumbs up!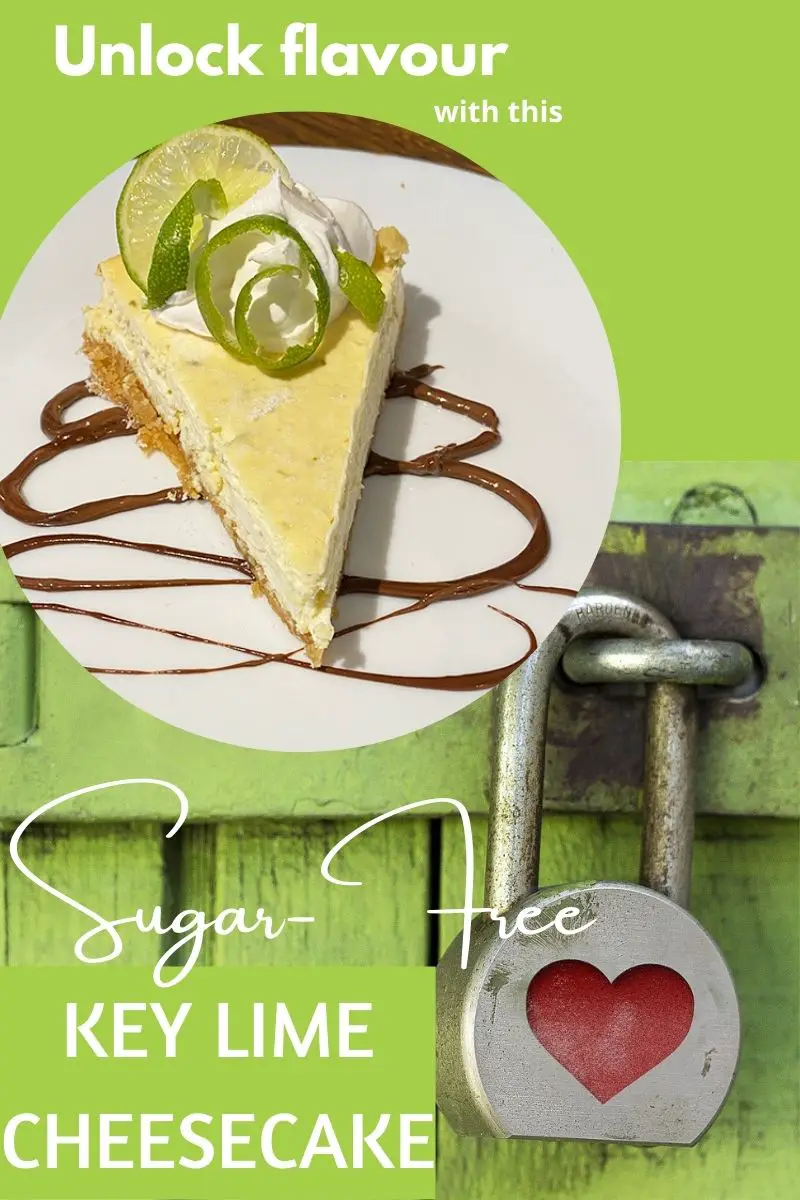 Making cheesecakes and other diabetic-friendly desserts, is not difficult, once you get the hang of it. Cheesecakes, such as our Sugar-Free Strawberry Cheesecake and our Sugar-Free Chocolate Cheesecake are a couple of of our favourites, as they are light and taste great.
Most of the ingredients that we routinely use in our diabetic-friendly desserts and cheesecake, can be found in our diabetic-friendly pantry.
Kitchen Supplies needed to make Low Carb Key Lime Cheesecake
Mixing Bowls
Measuring cups
Measuring spoons
rubber spatula
Need Kitchen Supplies?

Shopping List of Ingredients
Almond Flour
butter
Splenda Sweetener
eggs )3)
Cream Cheese. (3 -8 ounce packages)
key limes (4 or 5)
Need Diabetic Friendly Ingredients?
Key Limes Vs. Regular Limes – Is there a difference?
Believe it or not, there is a noticeable difference between Key Limes and plain limes. Key Limes have a much tarter or stronger lime taste.
The skin of Key Limes has more yellow in it than other varieties and the skin is also much thinner.
Key limes are much smaller than regular varieties. meaning it takes more lime. and you have to work a little harder to get the juice, but it is worth it.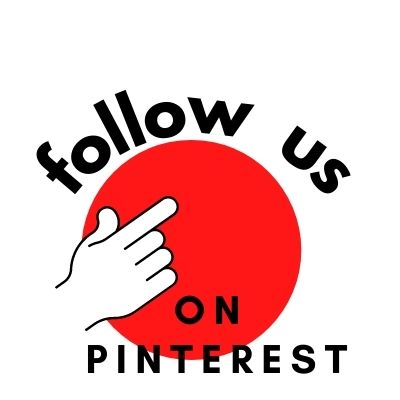 How to buy the best key limes.
when shopping at your local supermarket it is a good idea to know how to select the best limes you can. Choosing the best limes will give your sugar-free low carb key lime cheesecake the best lime flavour possible.
Look for limes that are:
Squeezable – not firm or hard as a rock. Hard limes are difficult to juice and don't yield as much juice. If this is your only choice, buy extra to account for the small amount of juice.
Weight – when comparing the limes in the store, choose the ones that are heavier rather than the lighter ones. The lighter ones have less juice and tend to be drier. More weight means more juice.
Colour – Look for a yellowish colour. Key limes become sweeter as they turn a bit yellow. If they are too green, they will be more bitter.
Smell the limes – If there is a good strong limey smell, that is a good lime to choose. If there is no lime smell, that is an indicator that the lime is underripe.
Shiny Skin – look for limes that have smooth shiny skins. A dull bumpy skin usually means the lime is underripe.
No discolouration or brown spots – if you see brown spots or discolouration on the limes, keep looking. Those limes are not the ones you want.
LOVE CHEESECAKE? Try These!
Kitchen Tips for Juicing Limes
When you are juicing your limes you want to get as much juice as possible from your limes. Follow these useful kitchen hacks:
Microwave your lime for 15 to 20 seconds.
Roll the limes on the counter with the palm of your hand.
Let the lime sit for 3-5 minutes before cutting.
If you don't have a juicer and are squeezing by hand, cut lengthwise and remove the center membrane (white center). This makes the line more pliable for hand squeezing.
Recipe for Sugar-free Low Carb Key Lime Cheesecake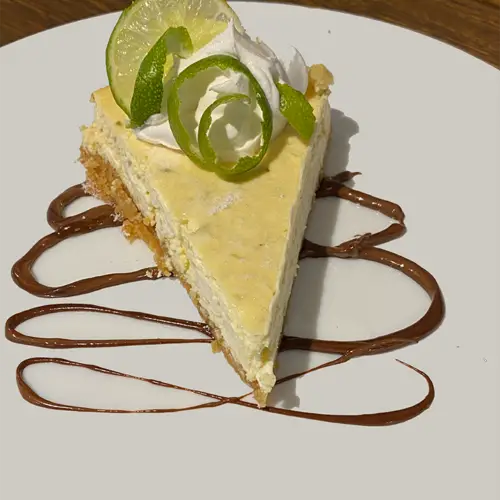 Sugar-Free Low Carb Key Lime Cheesecake
This sugar-free low carb Key Lime Cheesecake is a deliocious diabeti-cfriendly version of Key Lime Cheesecake
Ingredients  
Crust
1

cup

Almond flour

1/2

cup

Splenda

1/4

cup

butter – melted
Filling
3

pkgs

cream cheese (8 ounce packages)- softened at room temperature.

1

cup

Splenda -Zero calorie sweetener

3

large

eggs – room temperature

1/3

cup

lime juice – freshly squeezed

1

tbsp

lime zest
Instructions 
Crust
Preheat oven to 350°F ( 175°C )

In a small mixing bowl, combine the almond flour, sweetener and melted butter.

Using a pastry blender, mix thoroughly.

Press into bottom of 8 inch springform pan.

Bake on the center rack of your oven for 10 minutes.
Filling
In a large mixing bowl, or stand mixer bowl, beat the cream cheese until smooth.

Add the eggs, one at a time and. continue to beat on low – medium speed.

Add the sweetener and continue to mix until well combined.

Add the lime juice and mix at low speed until well combined.

Add lime zest and fold in using a rubber spatula.

Pour filling mixture over the crust and smooth out the top.

Bake in the center of the oven (350°F or 175°C) for 10 minutes

Reduce the oven temperature to 250°F (120°C ) – do not open the oven door.

Continue to bake for another 45 minutes.

Check the center of the cheesecake ( as mentioned in our post)

Turn off the oven, and leave the door open a crack and let the cheesecake cool in the oven for at least 1 hour.

Chill in the refrigerator until serving.

Add a spoon of whipped cream on top and a slice of lime, or lime curls when serving.
Notes
Per Serving: 232 Cals  8.4 gr. Carb
Images of steps in making Sugar-free Low Carb Key Lime Cheesecake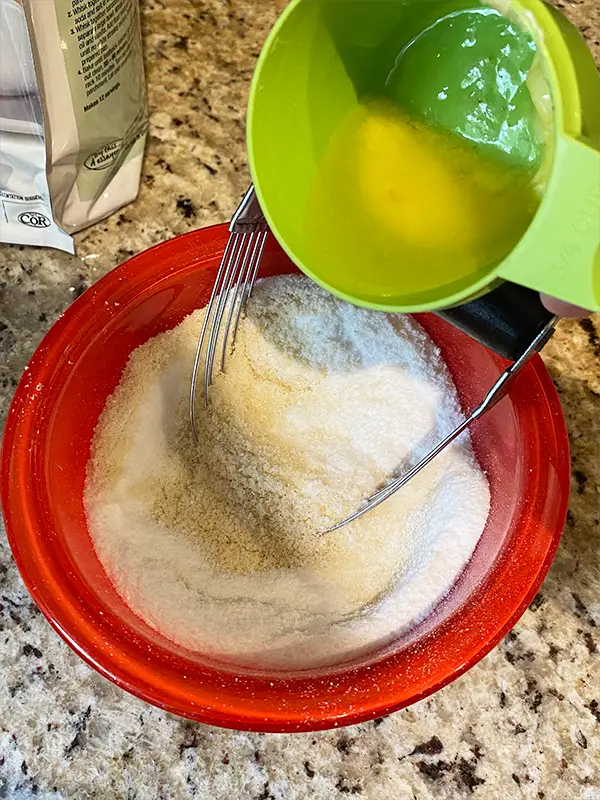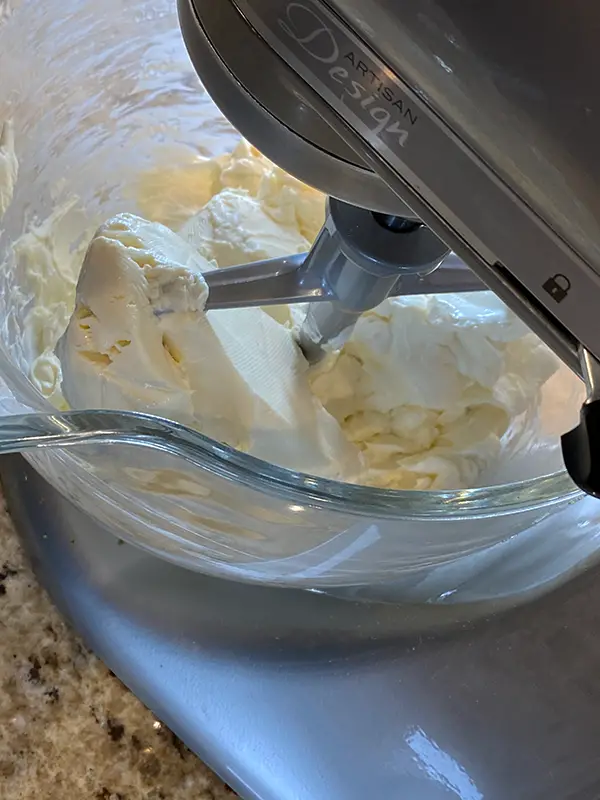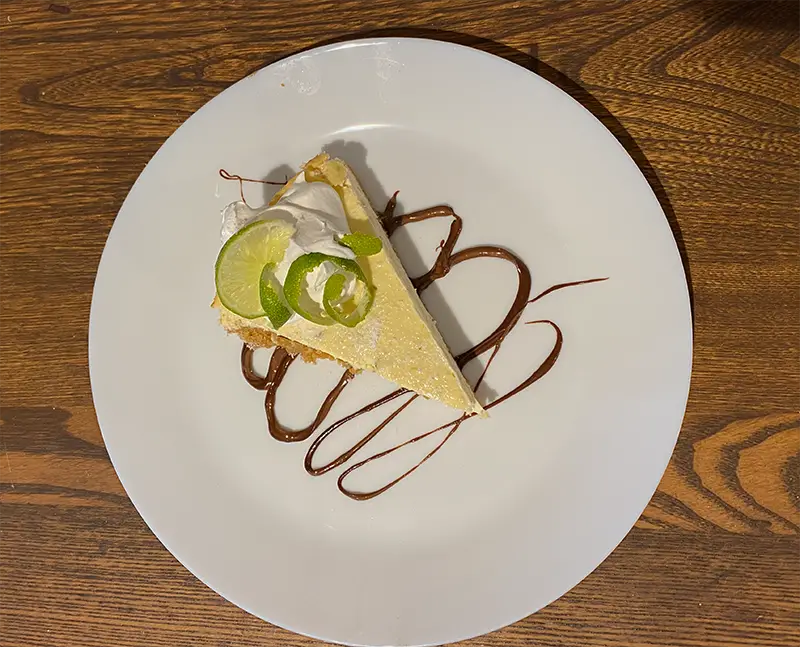 Calories and Carbs in One Serving
Each Serving contains 232 Calories and 8.4 Grams of carbohydrates.
How to tell if your cheesecake is done
To tell when your cheesecake is done, do the wobble test! The wobble test is when you give the pan a gentle shake. The center of the cheesecake should have a slight wobble in the center. If you get a ripple that goes across the whole cheesecake, it is not done. Bake the cheesecake for a few more minutes and then try the wobble test again.
Store your cheesecake in an airtight container in the refrigerator, once cooled.
Water bath vs. no water bath when making cheesecake.
I don't use the water bath method and have never had any of my cheesecakes crack or sink in the middle.
However, some people swear by this method.
If you want to use the water bath method when making our Low Carb Key Lime Cheesecake follow these simple instructions.
wrap the outside of your pan in foil. (wide heavy-duty foil is best)
Be sure there is nowhere for the water to seep into the pan
in a large roasting pan or a pan that is deep enough to hold your springform pan, place your foil-wrapped pan into it.
Carefully pour boiling water around the base of your pan until it comes about 1/3 to 1/2 of the way up the sides.
Bake your cheesecake at 320°F (175°C ) for 1 hour and 10 minutes.
The cooking time is slower as the water keeps the temperature of the cake lower.
Do the wobble test to check for doneness.
Thank you for visiting The Naked Diabetic, where we are simplifying diabetic life.
Disclaimer: This post contains affiliate links. We receive a small commission when purchases are made through our links.