Jump to Recipe
This recipe for sugar-free Strawberry Cheesecake tastes heavenly. If you haven't noticed we just love cheesecake. Cheesecakes can easily be made for diabetics. Our Sugar-Free Key Lime Cheesecake, Pumpkin Cheesecake and our Peach Cheesecake, have all been altered to be 100 percent diabetic friendly.,
Whenever you can find a dessert (especially any low-carb cheesecake) that is diabetic-friendly and tastes so good everyone will want it, you have won the race. If you have created a diabetic-Friendly pantry, then you will have the ingredients ts you need on hand.
This recipe is easy to make and is loved by my whole family. I hope that you will enjoy it as much as we do.
This post contains affiliate links. As an affiliate, I earn a small commission from qualifying purchases (at no charge to you).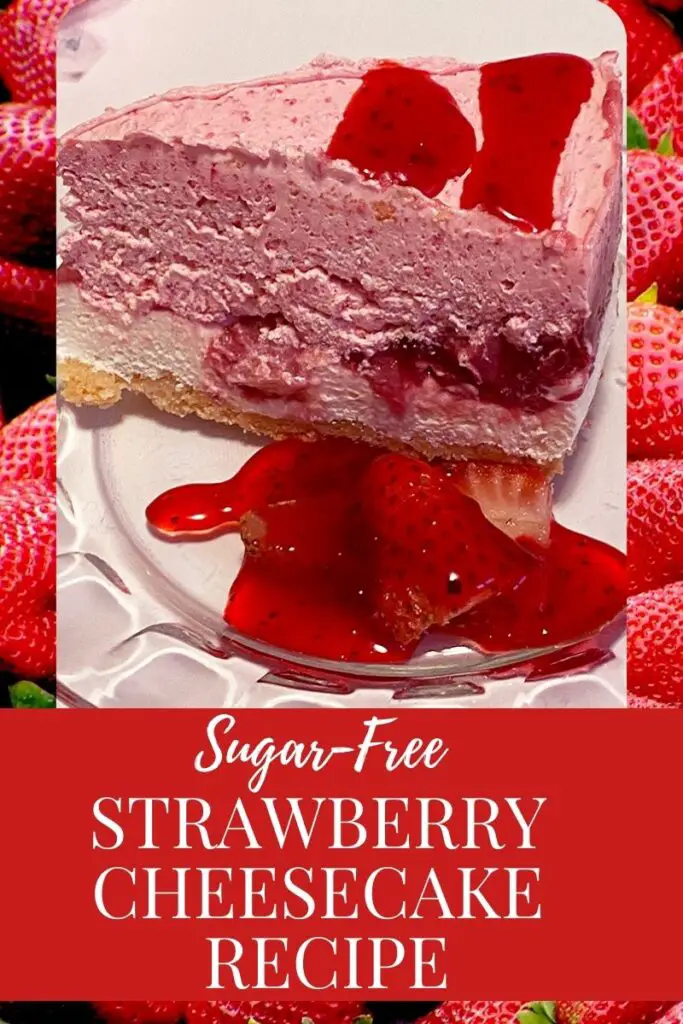 Kitchen tools needed to make Sugar-Free Strawberry Cheesecake
Shopping list for Sugar-Free Strawberry Cheesecake
cream cheese
sugar-free cool whip
sugar-free strawberry jello
butter
strawberries (preferably fresh)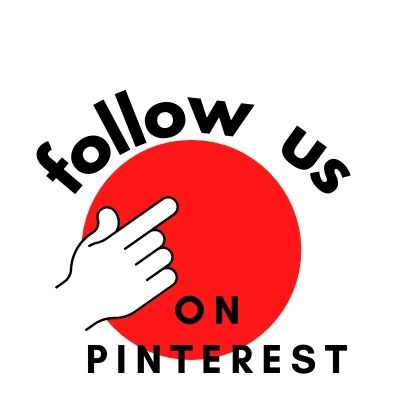 Recipe for Sugar-free Strawberry Cheesecake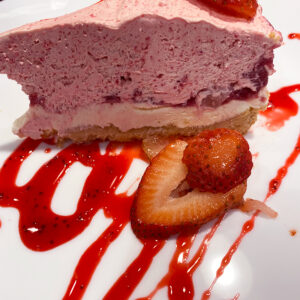 Sugar-Free Strawberry Cheesecake
Easy to make and tastes amazing. This sugar-free strawberry cheesecake is a perfect diabetic-friendly dessert.
Ingredients  
Crust
1/2

cup

almond flour

1/3

cup

Splenda granulated sweetener

2

tbsp

butter – softened
Filling
8

oz

package of cream cheese

1

tub

sugar-free cool whip (1L size)

1

tsp

Stevia – liquid

1

package

sugar-free strawberry jello

1/3

cup

Walden farms strawberry fruit spread

1/4

cup

strawberries – chopped

2

tbsp

strawberries – slices
Instructions 
Crust
Preheat oven to 350 °F (175°C)

In a small mixing bowl, combine almond flour, sweetener and softened butter.

With a fork, mix until it forms a loose crumble.

Spread crumbs into the bottom of a 6 inch springform pan.

Pat down with the back of a spoon.

Bake in center of the oven for 10 minutes, or until the crust is golden.
Filling
In a medium-sized mixing bowl, beat the cream cheese until smooth.

Add liquid stevia and beat another minute or two.

Add 1/3 of the tub of cool whip and mix with mixer on low speed for about 2 minutes. (be sure to scrape the sides of the bowl)

Fold in the remainder of the cool whip and mix with a spoon or rubber spatula. (Do not over mix-keep it fluffy)

Divide the mixture in half.

Spread half of the mixture over the crust and smooth out the top.
2nd Layer
In a small saucepan, combine the Walden farms jelly and the chopped strawberries.

Over medium heat, bring the mixture to a simmer.

Remove from heat and add 1/2 of the jello packet and stir well.

Chill for 15-20 mins (once the pan has cooled)

Pour the cooled jelly mixture over the chilled bottom layer and return to the refrigerator.
Top Layer
Add the remainder of the jello packet top the remainder of the cream cheese mixture and blend well. (the jello should be thoroughly mixed and the mixture should be pink.)

Fold the remaining cream cheese mixture over the jelly layer and smooth out the top.

Chill in the refrigerator for 2 hours or more, before serving.
Steps to make Sugar-Free Strawberry Cheesecake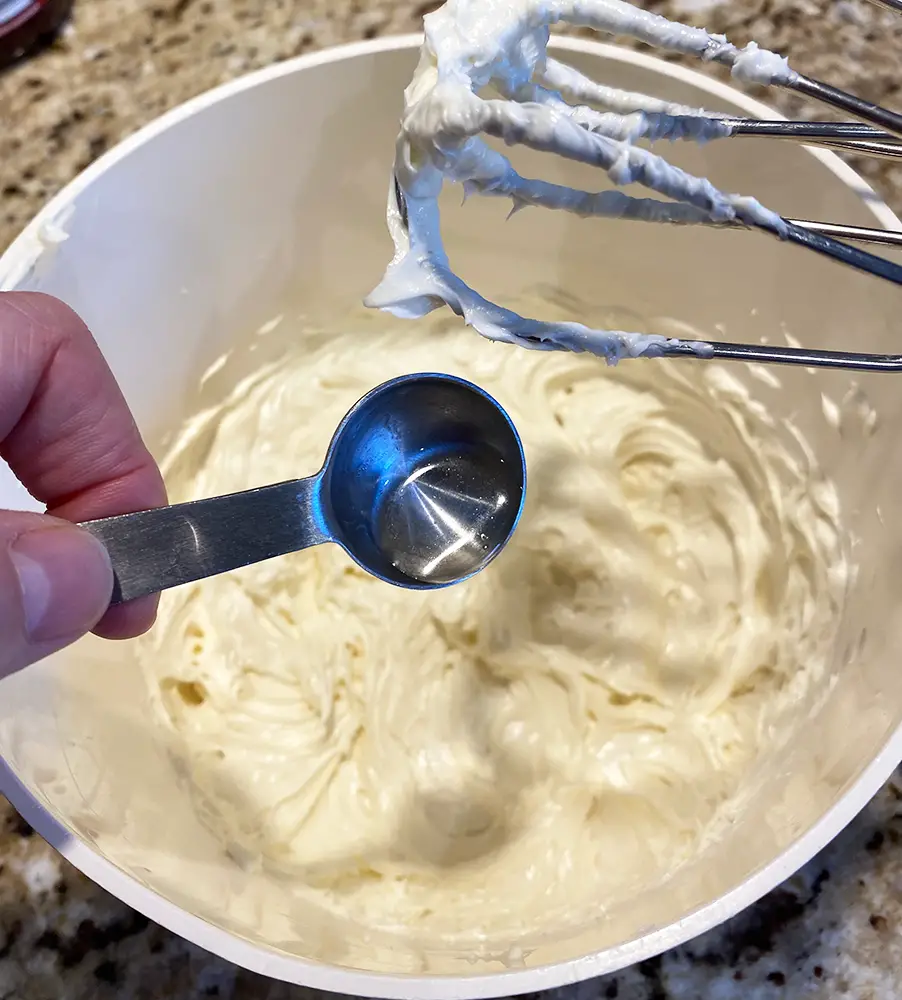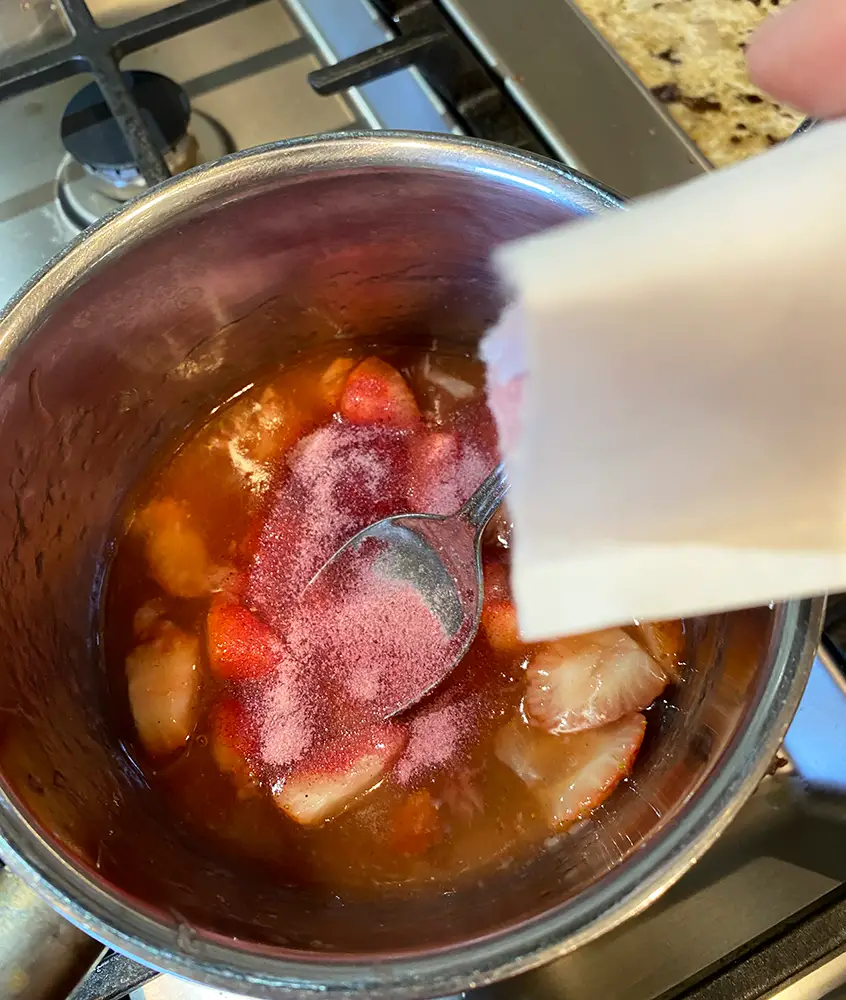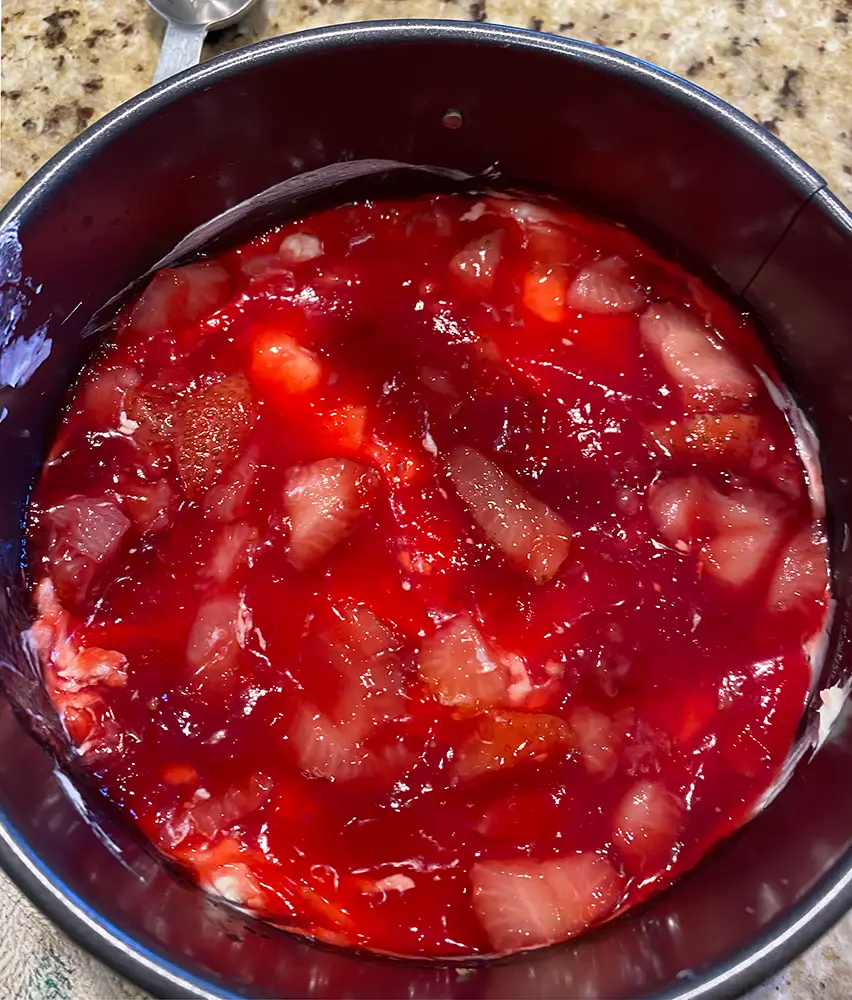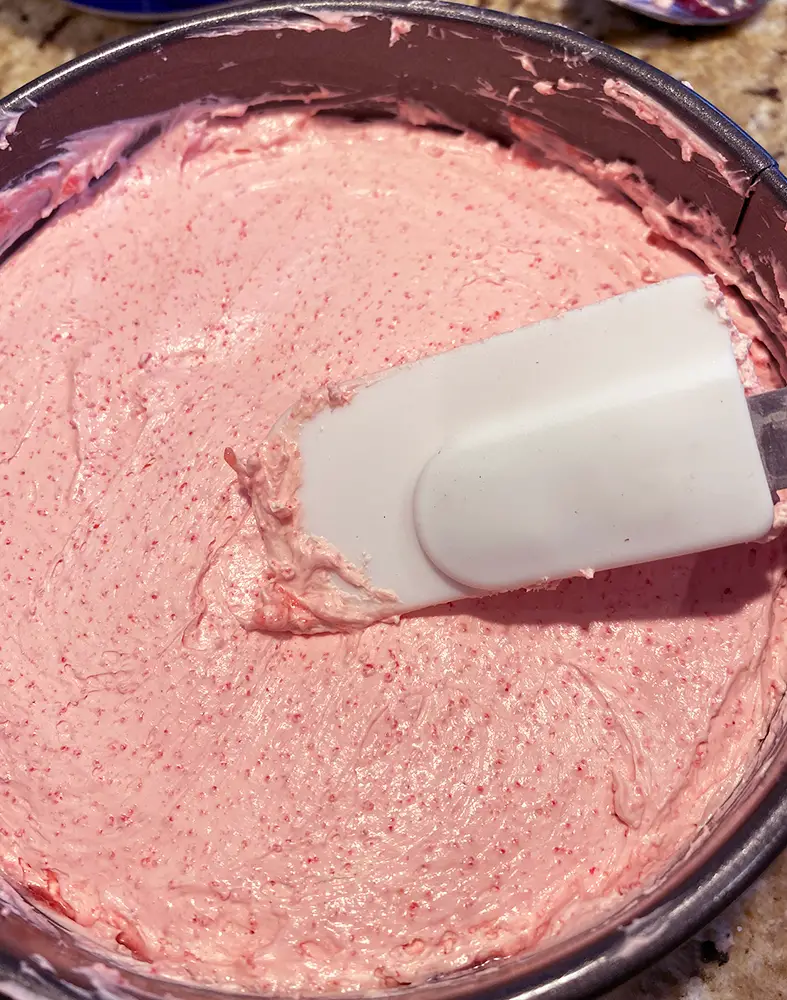 Nutritional Information for Sugar-Free Strawberry Cheesecake
Using Frozen Strawberries
If you are unable or just don't have fresh strawberries, it is certainly ok to use frozen strawberries, that have been thawed in our Sugar-free Strawberry Cheesecake. If you want to freeze your own strawberries, this is easily accomplished in 3 easy steps.
If using frozen strawberries, drain them well, before using. If they are not drained, it can cause your filling to become watery.
Using Graham Crumbs instead of Almond flour
Almond flour significantly reduces the carbohydrates on any recipe where they are used in place of other flours or graham crumbs.
I realize that some prefer the taste of graham crumbs, which is totally understandable.
Our nutritional value for the sugar-free strawberry cheesecake is based on using Almond flour. Just keep that in mind when substituting it with graham cracker crumbs, as it will increase the carbs per serving.
Follow us on Pinterest for more great recipes and tips on managing diabetes in everyday life. https://www.pinterest.ca/thenakeddiabetic/_created/
Using Strawberry jam instead of the filling
I do not recommend that you substitute any other jams or jelly in the filling. The Walden farms fruit spread is zero-calorie, zero-carb, and zero sugar, which is an important part of this recipe.
This recipe uses 1/3 of a cup of Walden farms fruit spread and the equivalent in a store-bought strawberry jam is approximately 65-70 grams of carb and 260 calories.
Making an alteration of adding strawberry jam creates a dessert that is not diabetic-friendly.
If you wish to use a sugar-free jam in the filling. READ THE LABEL, is about all I can recommend here. There are some that are better than others.
Smuckers does a decent job with their sugar-free jams. Smuckers Sugar-free Strawberry jam is much lower in calories and carbs than regular jam, but it is not zero, like the Walden farms version of fruit spread.
Is this recipe Keto-friendly?
Yes, it is. As long as you don't substitute the ingredients in our recipe for other ingredients, the sugar-free strawberry cheesecake is keto-friendly.
Can I make this in a bigger springform pan?
Yes, you can make this in a 9 inch or 10-inch springform pan. Double the amount of ingredients and follow the same steps in the recipe.
Cut the larger cheesecake into twice as many slices. I make mine frequently in a 10-inch springform pan, and I cut it into 12 slices. This will ensure that your nutritional value remains the same.
Storing your Sugar-Free Strawberry Cheesecake
Store covered in refrigerator for up to 4 days. An airtight cake container is ideal
Thank you for visiting The Naked Diabetic, where we simpolify diabetic life.
This post contains affiliate links. As an affiliate, I earn a small commission from qualifying purchases (at no charge to you).