This website may contain affiliate links. When a purchase is made through our links, The Naked Diabetic may receive a commission, at no cost to you.
As you already probably know, we love cheesecake recipes that are diabetic-friendly. We love to make it with just about every fruit imaginable. This sugar-free peach cheesecake recipe is ultra-delicious. It is easy to make and is a real crowd-pleaser. Whether it's peach season or peaches from the supermarket, our diabetic-friendly peach recipes can be made year-round.
Many of the ingredients in this recipe are easily found in our diabetic-friendly pantry. So just grab what you need and let's get started.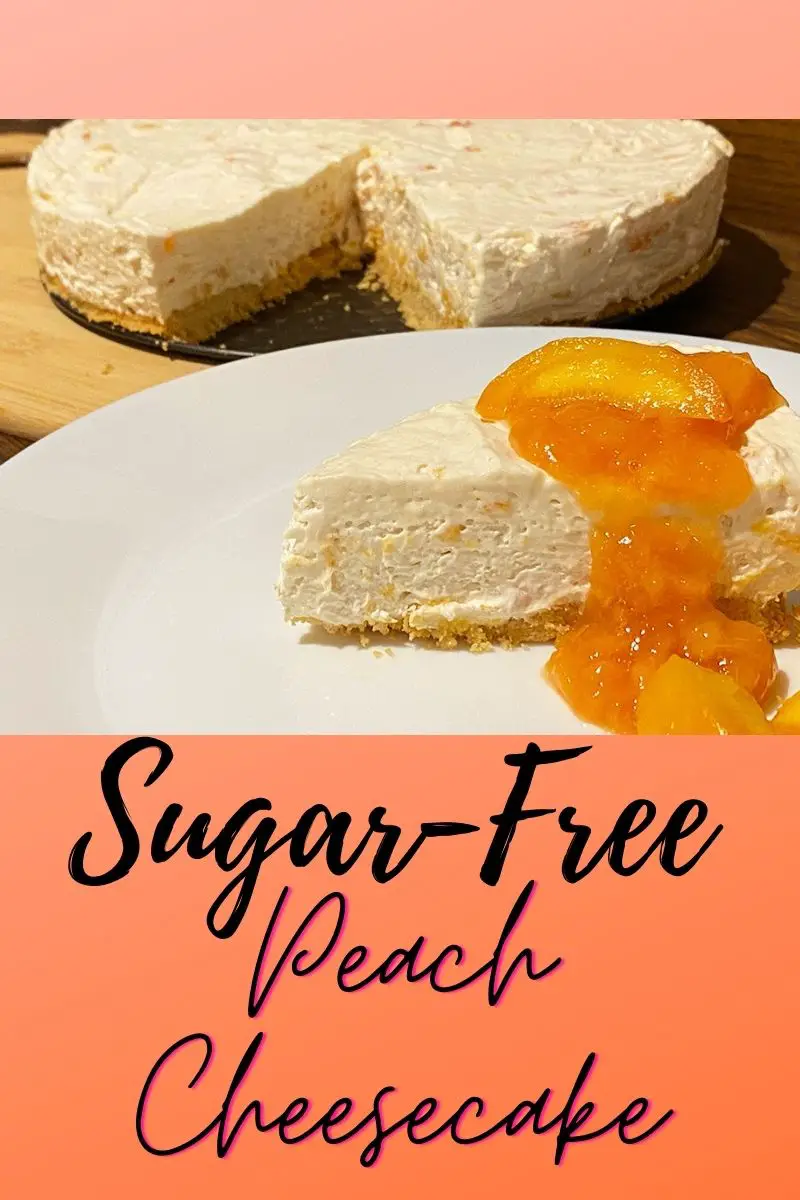 In this post, I will share a list of kitchen supplies needed, a shopping list of ingredients, quick links to hard-to-find products, the Sugar-Free Peach Cheesecake Recipe, nutritional information and some helpful tips on getting the best peaches, and how to easily peel peaches. I also provide instructions on how to make sugar-free Peach Sauce, that you will definitely want to top off your Sugar-Free Peach Cheesecake
BEST SPRINGFORM PAN
The perfect springform pan for making our cheesecake recipes. The Wilton pans are long-lasting and come in a variety of sizes. Perfect for all of our cheesecake recipes.
Supplies needed to make our Sugar-Free Peach Cheesecake Recipe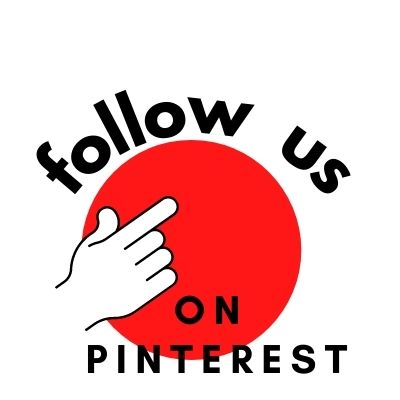 Shopping list for our Sugar-Free Peach Cheesecake recipe
Fresh peaches
butter
unflavoured gelatin ( I used Knox brand)
cream cheese (fat-free)
cool whip (unsweetened
Quick Links for Ingredients.
Buying Fresh Peaches
When you are choosing peaches for pour Sugar-Free Peach Cheesecake Recipe, or our Sugar-Free Peach Cobbler recipe, it helps to know a little about the peaches. Getting the right kind of peaches makes peeling and pitting go smoothly.
Types of Peaches
Peaches are either, Freestone (Cling-free), Clingstone or Semi-Clingstone. The stone refers to is just another way of saying, the pit. It's easy to remember, because Freestone or Cling-free, means that the fruit doesn't cling or stick to the pit.
Freestone (Clingfree) is the best for slicing. They come off the pit easily, leaving a nice clean shaped slice. Whenever possible, get this type of peach for any recipe calling for peaches.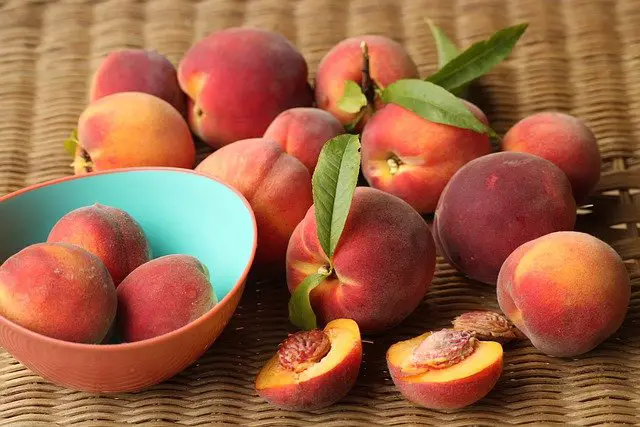 Yellow or white peaches (what you commonly see in store)
The yellow peach has a redder skin colour and is usually available at the end of summer. They are usually sweeter and juicier. These are our preferred peaches, they have more flavour and are nice in most recipes.
Our favourite peach is the Red Haven – free-stone peach. It is sweet, juicy and has a full-body peach taste. The fruit comes easily off of the pit and it slices beautifully. The Red Haven is actually considered a semi-clingstone, but if they are ripe they are perfect and easy to slice.

What is the easiest way to peel peaches?
Peaches can be difficult to peel if you are using a paring knife or peeler. When they are ripe (soft) peeling can cause bruising and deformed slices. There is a super-easy way to peel fresh peaches without damaging the fruit.
The Hot Water Bath Method
I always use the hot water bath method to peel my peaches. This is by far the best, and the only way (as far as I'm concerned) to properly peel peaches.
Follow these simple steps
In a medium-sized saucepan bring water to a boil. (have enough water in the pan to cover the peaches)
Place peaches into the boiling water. Do not pile them on top of each other. (you may have to do them a few at a time) Using a slotted spoon works best for placing the peaches into the boiling water. Peaches should be ripe for the best results.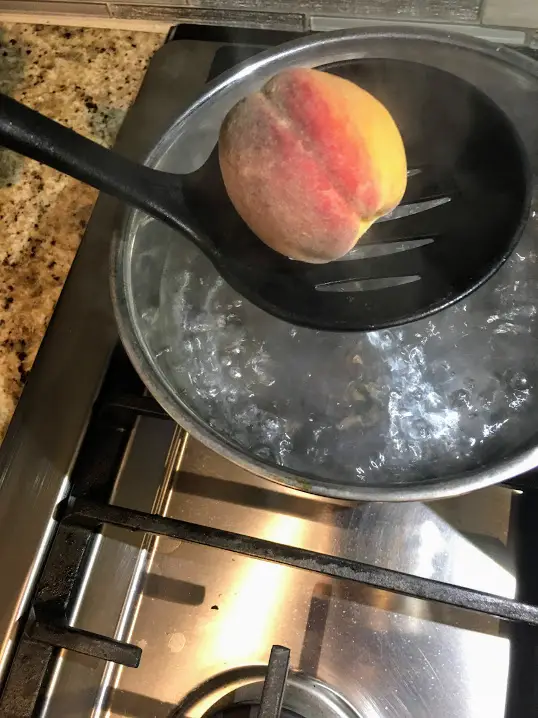 Let the peaches sit in the boiling water for approximately 30 seconds.
Remove them from the boiling water, using a slotted spoon.
Immediately submerge the peaches into an ice bath (bowl of ice water)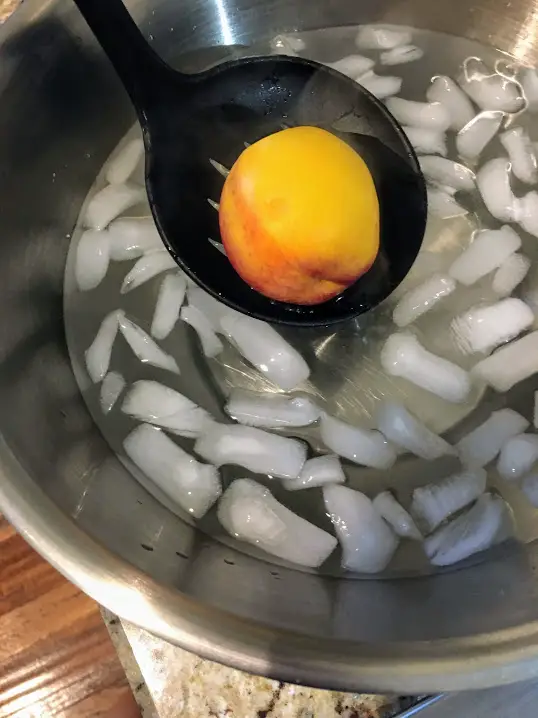 After 5 to 10 seconds remove one peach at a time. The skin should easily slide off of the peach.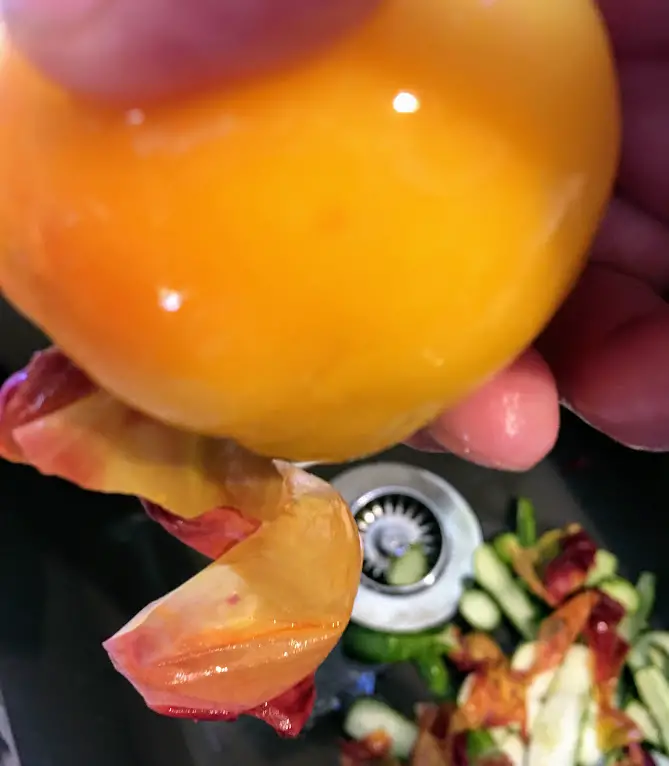 How to ripen (soften) Peaches
For this recipe, and many other recipes, a soft ripe peach will give you the best peach flavour and be juicy enough to provide moisture to your recipe. Sometimes the peaches will be just too hard to use, but the peaches can easily be softened.
Place them in a bowl, paper bag, or in a fruit ripener (like the one pictured below)
If your peaches are already ripened and can't use them right away, store them in the refrigerator. This will slow the ripening down immensely.
YOU MIGHT ALSO LIKE:
Can I use frozen or canned peaches in this SUgar-Free Peach Cheesecake Recipe?
Yes, you absolutely can. The important step you need to take when using frozen or canned peaches is to thoroughly drain them before adding them to the recipe. The extra liquid needs to be removed to keep the recipe from becoming runny.
Frozen Peaches
Thaw the peaches completely before draining. Place the thawed peaches into a sieve and allow them to sit in the sieve for a couple of hours until the liquid is completely drained. You may need to move the peaches around with a spoon during the draining process.
Canned Peaches
Make sure the peaches are Sugar-Free. many canned peaches have light or heavy syrup. Be sure to read the ingredients list on the label to ensure there is no added sugar. Peaches packed in water, usually have "no sugar added".
Pour the peaches into a sieve and leave for a couple of hours, or until all the liquid has been drained and the peaches look dry.
The juice drained from frozen or canned peaches can always be used to make sauces and in other recipes.
The Crust
All of our cheesecake recipes and many other dessert recipes use a basic almond crust recipe. This reduces carbs considerably. If you have a nut allergy or prefer to use a traditional graham cracker crust, feel free to substitute it with your favourite recipe.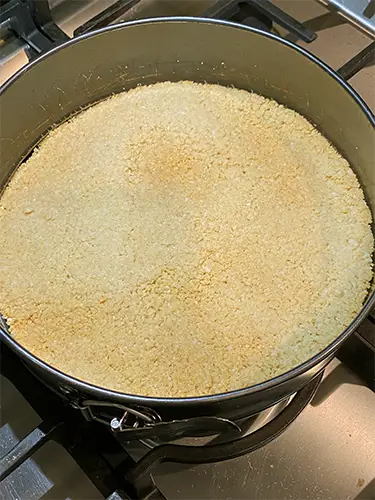 Keep in mind, that changing the crust will also change the nutritional values, noted below, for this recipe.
Peach Sauce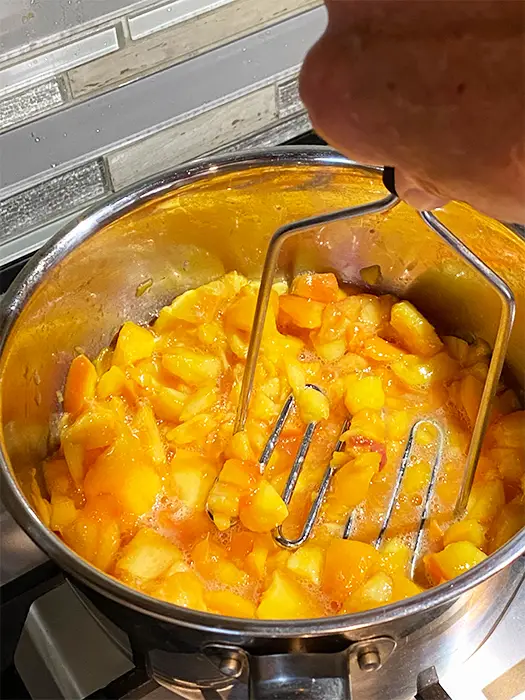 The peach sauce needs to be chilled when added to the recipe. If possible make it ahead of time, to save time when putting together this recipe.
The sauce should not be fully gelled when added to this recipe. If it has gelled, let it sit at room temperature or give in a 5-second burst in the microwave.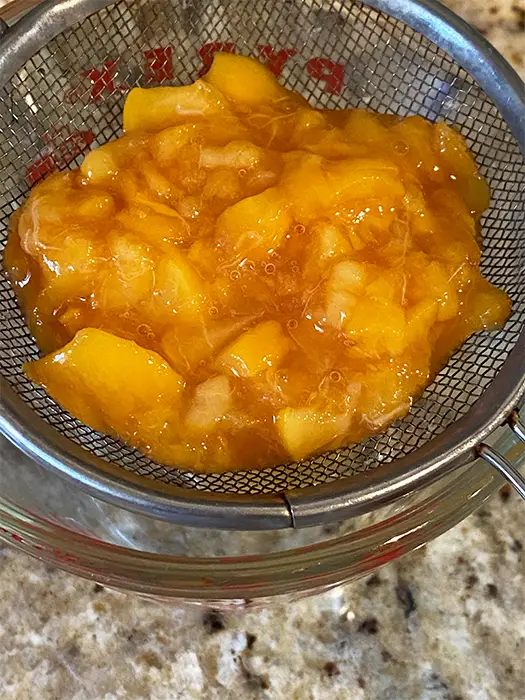 Strain the portion of the peach sauce (1 cup) that will be used in the recipe. Pour the strained juice into the remainder of the sauce. The straining will remove some of the liquid and keep the cheesecake from becoming runny, and from having too much liquid.
Use the remainder of the sauce for serving. If it has gelled too much for serving, add 1 tbsp of water to it and microwave for 10 seconds and stir.
YOU MIGHT ALSO LIKE:
Sugar-Free Blueberry Cheesecake Recipe
Sugar-Free Peach Cheesecake Recipe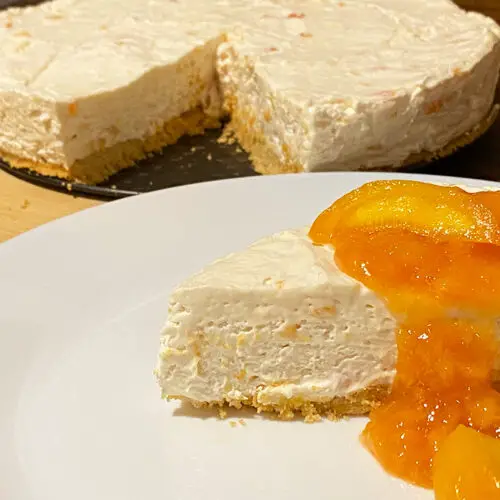 Sugar-Free Peach Cheesecake Recipe
A diabetic-friendly Sugar-Free Peach Cheesecake recipe, that is simple to make and tastes delicious.
Ingredients  
Crust
1

cup

finely ground Almond Flour

1/2

cup

Stevia/Splenda granulated sweetener

1/4

cup

butter – melted
Filling
16

ounces

cream cheese (2 blocks)

4

cup

sugar-free cool whip (1L tub)

4

cups

sliced peaches

1

tbsp

water

1

tbsp

liquid stevia

1

pkg

unflavoured gelatin
Instructions 
Crust
Preheat oven to 350°F (175°C)

In a small mixing bowl, combine the almond, flour, granulated sweetener and melted butter.

Using a pastry blender, thoroughly blend the crust ingredients, until it forms a loose crumble.

Pour the crumble into an 8-inch springform pan.

Press the crumble into the bottom of the pan, and smooth out the top.

Bake for 10 minutes, until golden.

Remove from the oven and let the crust cool.
Peach Sauce
In a medium-saucepan add sliced peaches and 1 tbsp water.

Using the potato masher, crush the peaches into a sauce.

Remove from the heat and whisk in the unflavoured gelatin.

Continue to simmer for a few minutes, until the sauce is bubbling steadily.

Let cool and then chill for 1/2 hour. (should be cool/cold when added to the cream cheese mixture)
Filling
In a large mixing bowl, beat the cream cheese until smooth and fluffy.

add the liquid sweetener and beat.

Add 1/2 cup of the cool whip and beat. (will make it thinner and smoother)

Pour 1 cup of the peach sauce into a sieve to drain.. (add the juice into the remainder of the sauce)

Add 1/2 cup of the strained peach sauce and mix with mixer.

Add another 1/2 cup of the strained peach sauce and fold in, using a silicone spatula.

Fold in the remainder of the cool whip and fold in gently.

Pour into the springform pan and smooth out, using a clean silicone spatula.

Refrigerate at least 2 hours before cutting and serving.
Remainder of sauce
When serving the cheesecake, use the remainder of the peach sauce over each slice.
Notes
If you are unable to find finely ground almond flour, pulse the coarse ground almond flour in a food processor or blender for a few seconds. 
Nutritional Information for this Sugar-Free Peach Cheesecake Recipe.
For One Serving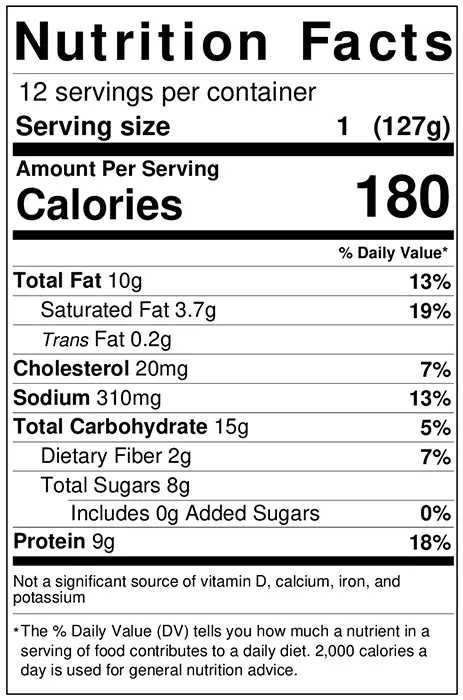 Storing your cheesecake
Always store this cheesecake and all of our other cheesecake recipes in the refrigerator in an airtight container. It can be stored for up to 4 days
Thank You for visiting The Naked Diabetic
Disclaimer -This post may contain affiliate links. When a purchase is made through our links, The Naked Diabetic may receive a commission, at no cost to you.