This website may contain affiliate links. When a purchase is made through our links, The Naked Diabetic may receive a commission, at no cost to you.
These sugar-free low-carb lemon squares are an absolute favourite in our house. They are super easy to make and this version of sugar-free lemon squares is perfect for diabetics, as well as anyone counting calories or carbs. Diabetic-Friendly squares and diabetic-friendly treats are great to add to cookie trays or potluck tables.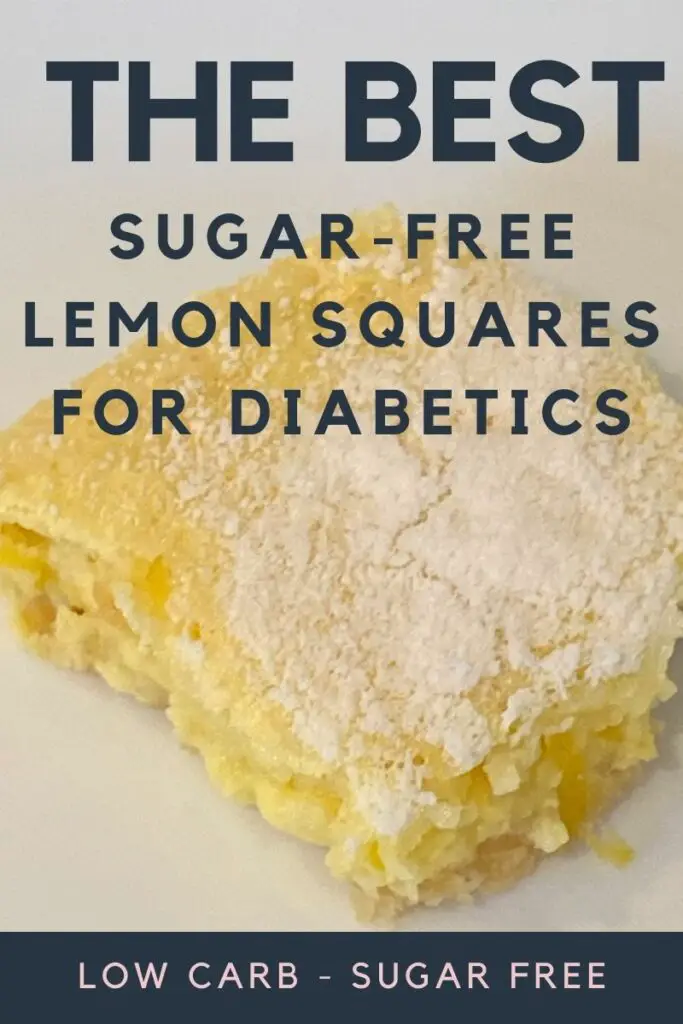 In this post, we will provide the Sugar-Free low carb lemon squares recipe, tips on choosing fresh lemons while shopping, instructions on how to juice a lemon and the nutritional values for one serving of our sugar-free low carb lemon squares. This recipe has a few simple ingredients, which are usually found in any diabetic-friendly pantry.
Cooking the low-carb way is not complicated. It is quite easy once you know what substitutions to use for various ingredients.
For example – a traditional lemon square recipe contains, flour and sugar. In our sugar-free low carb lemon squares, we substitute the all-purpose flour with Almond flour and substituted the granulated sugar with sweetener.
Just doing those two substitutions significantly reduces, not only the carbs in the recipe but also the calories. That's a win-win I'd say.
Jump to Recipe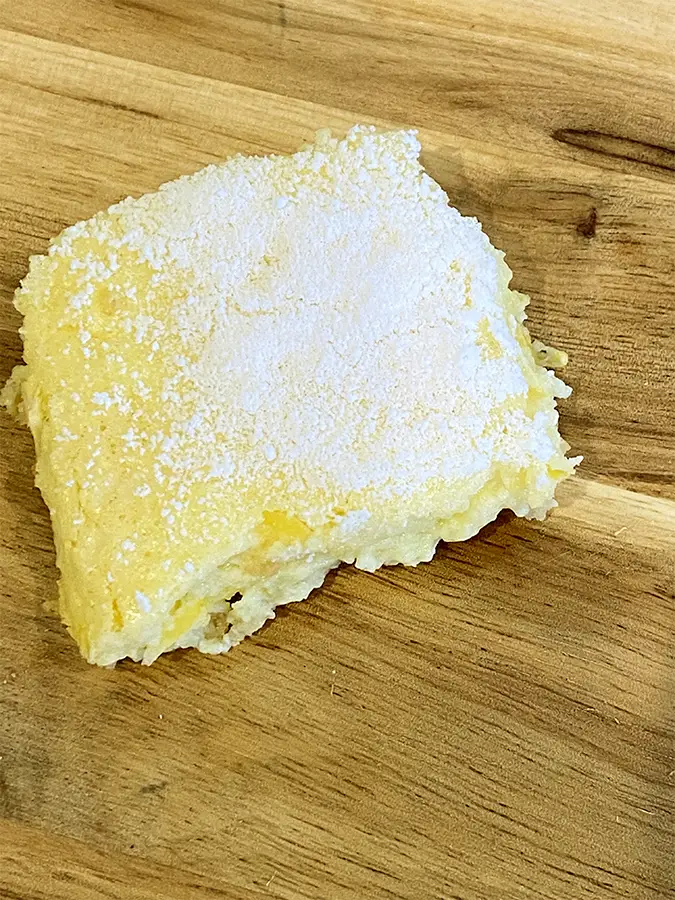 Kitchen tools needed to make sugar-free low carb lemon squares
whisk
mixing bowls
measuring cups
measuring spoons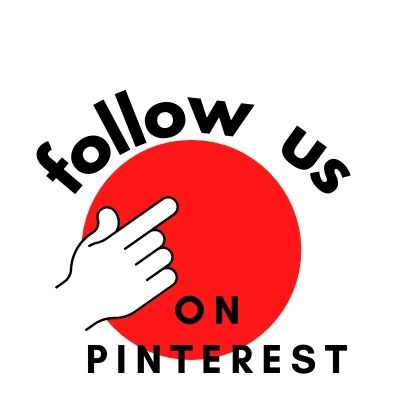 Fresh lemon juice vs. bottled juice
Whenever it is possible freshly squeezed lemon juice is always preferred.
It definitely provides a more lemony flavour and isn't cloudy looking.
Bottled lemon juice is also bitter (in my opinion) Freshly juiced lemons have more vitamins and nutrients as it hasn't gone through any cooking or processing.
I guess bottled lemon juice is better than none, but avoid it if possible. Lemon squares, tarts or pies are not as good with bottled juice.
One medium-sized ripe lemon squeezed usually yields about 3 tbsps of lemon juice
Shopping List for sugar-free low carb lemon squares
butter
fresh lemon
eggs
baking powder

How to choose quality lemons when shopping.
When buying lemons (or any citrus) there are a few simple rules for picking the best fruit possible.
Weight – when choosing lemons, go for the heavier ones as opposed to the light ones. The heavier lemons will be juicier.
Size – medium to large size lemons will be sweeter than the smaller ones. Small ones are often bitter.
Squeeze – the lemon should give a little when squeezed. That is a good indicator of ripeness.
Colour – the best lemons should be a bright and brilliant yellow, with no blemishes or green spots. a dull-looking lemon is usually overripe.
Skin – you will see both thin and thick-skinned lemons. A thicker-skinned lemon can be good when you need a lot of zest. For our recipe for low-carb lemons squares, use one that is of average thickness.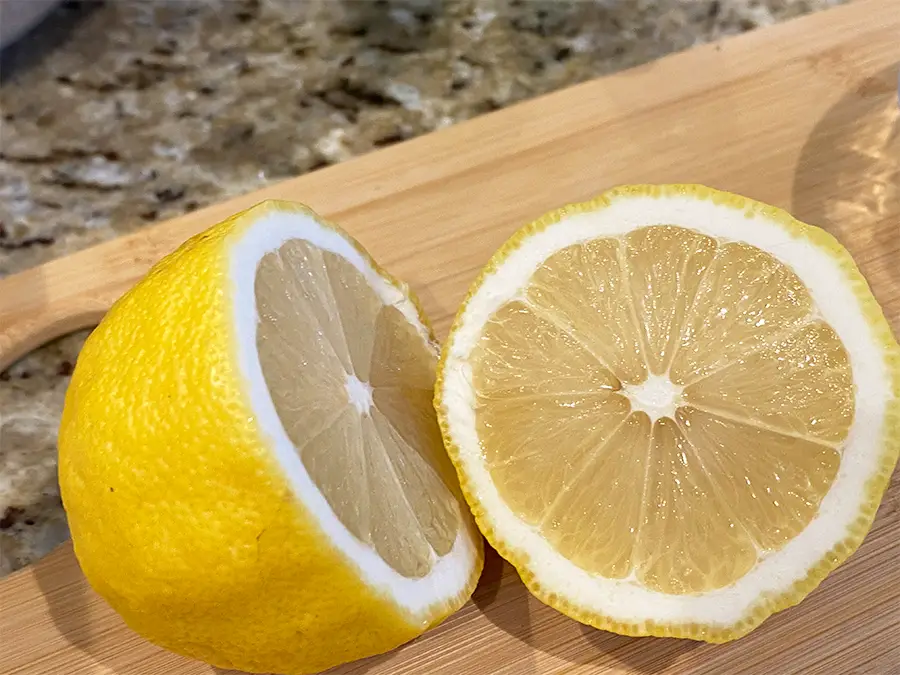 Tips on juicing the lemon
When juicing lemons, always have the lemon at room temperature or warmer before cutting. You can microwave the lemon for about 30 seconds on medium to high power to warm up the lemon.
Using the palm of your hand, roll the lemon on the counter before cutting. The rolling helps to release the juice inside of the lemon.
When you are juicing the lemon, you will want to get as much juice as possible for your recipe. This low-carb lemon squares recipe calls for 1/4 cup of freshly squeezed lemon juice. If you have picked a juicy, moderately sized lemon, you should have no trouble getting that much from one lemon.
If you have juiced the lemon and are short a bit of juice, it o\is. ok add store-bought lemon juice to the recipe.
There are many types of juicers on the market. I prefer a traditional glass juicer. It is simple and easy to clean. This juicer(below) was my grandmother's and it is still like new. The ridges on the base collect the pulp and seeds and you just easily pour off the juice. It's my number one pick!
Zesting the lemon
Never skip this step. A lot of lemon flavour comes from the lemon zest. When zesting, only remove the skin but do not go into the white pith of the lemon. This part of the lemon is bitter and can add a bitter flavour to your lemon squares or other recipes.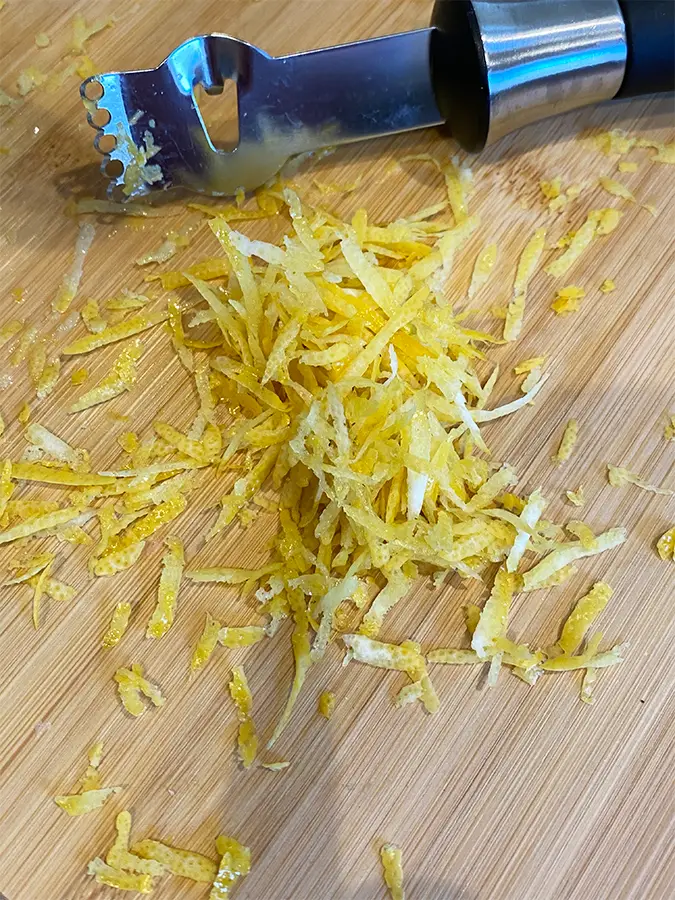 Recipe for sugar-free low carb lemon squares
Sugar-Free Low Carb Lemon Squares
A sugar-free low carb diabetic friendly recipe for delicious lemon squares.
Ingredients  
Crust
1/2

cup

almond flour

2

tbsp

melted butter

1/3

cup

Splenda, sweetener
Filling
2

eggs (medium or large)

3/4

cup

Splenda sweetener

1/4

cup

freshly squeezed, lemon juice

1

tbsp

lemon zest

1

tbsp

almond flour

1/2

tsp

baking powder

2

tbsp

coconut (optional)
Instructions 
Preheat oven to 350°F (175°C)

In a small mixing bowl combine crust ingredients and mix until it forms a loose crumble.

Press crumble into an 8 by 8 inch baking dish.

Bake on center rack in oven for 10 minutes.
Filling
In a medium sized mixing bowl, whisk the eggs.

Add the sweetener and whisk until blended.

Add the remaining ingredients (except coconut) and whisk, until thoroughly mixed.

Pour over the pre-baked crust.

If adding coconut, sprinkle evenly over the top.

Bake in 350° F (175°C) oven for approximately 25 minutes.

Remove from oven and allow to cool.

Using a small sieve and some Splenda sweetener, dust the top of the bars.
Image gallery of steps to making Sugar-free Low carb lemon squares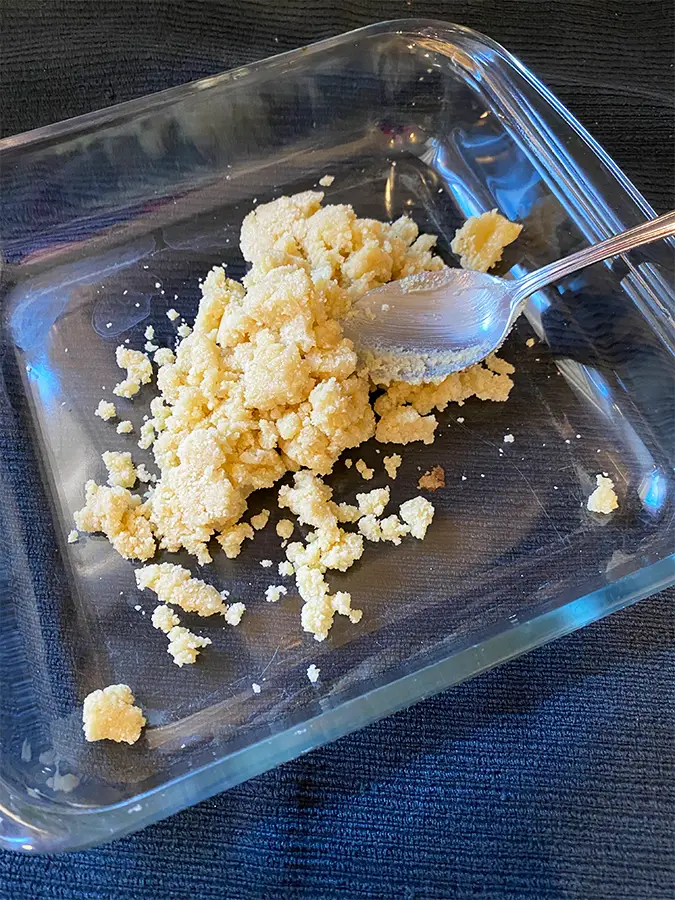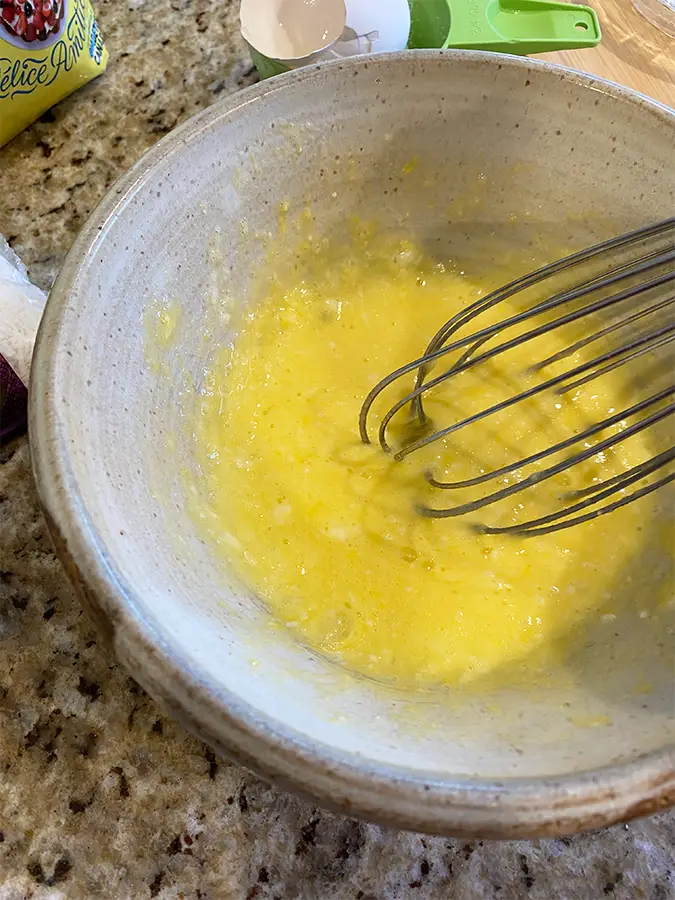 Nutritional value for sugar-free low carb lemon squares
Thank you for visiting The Naked Diabetic, where we are simplifying diabetic life.
Disclaimer -This post may contain affiliate links. When a purchase is made through our links, The Naked Diabetic may receive a commission, at no cost to you.