Disclaimer -This post may contain affiliate links. When a purchase is made through our links, The Naked Diabetic may receive a commission, at no cost to you.
This awesome sugar-free strawberry freezer jam is so delicious, that you won't believe that it is sugar-free. It is super easy to make and you can make a little or a lot. You can make it with fresh strawberries or frozen strawberries. Using frozen strawberries means you can make it year-round without having to use hothouse strawberries.
This sugar-free strawberry freezer jam can also be used as a flavouring for plain yogurt (add a little sweetener, of course), as a topping for ice cream, or even as a delicious topping for our Sugar-Free Chocolate Cheesecake and our Sugar-Free Strawberry Cheesecake.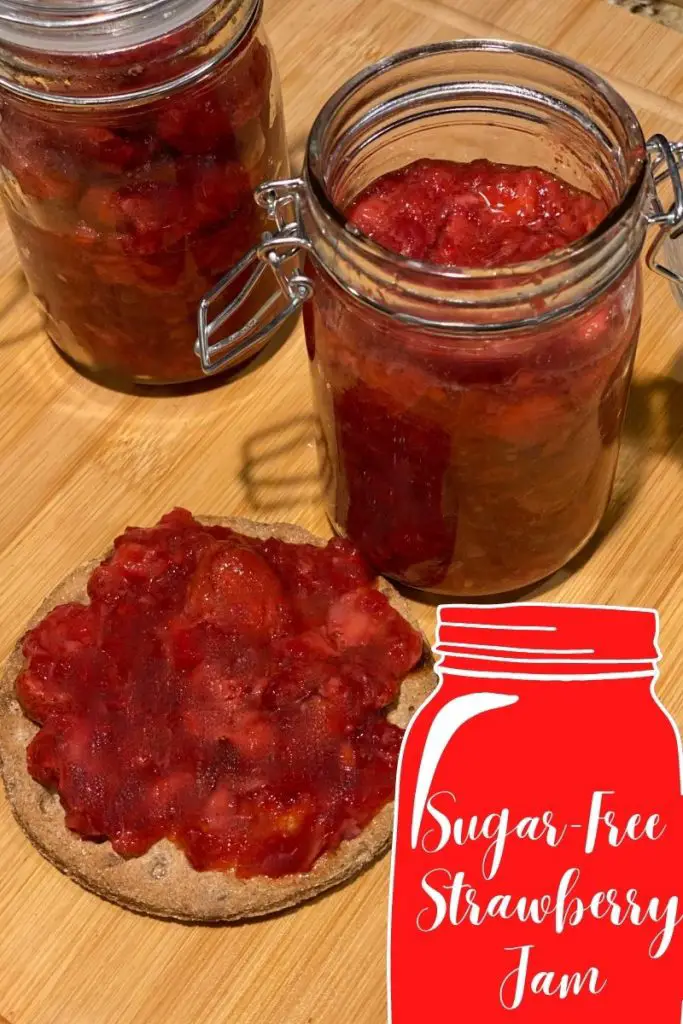 In this post, I will share a list of kitchen supplies needed, a shopping list of ingredients, the recipe for Sugar-Free Strawberry freezer Jam, the nutritional information as well as a few tips for getting the best results.
Kitchen Supplies Needed
Shopping List of Ingredients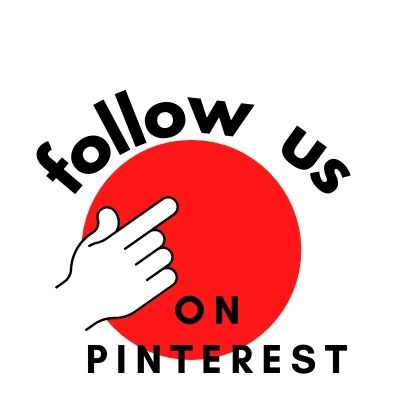 Sugar-Free Strawberry Freezer Jam Recipe
To make a large batch of jam double or triple the recipe.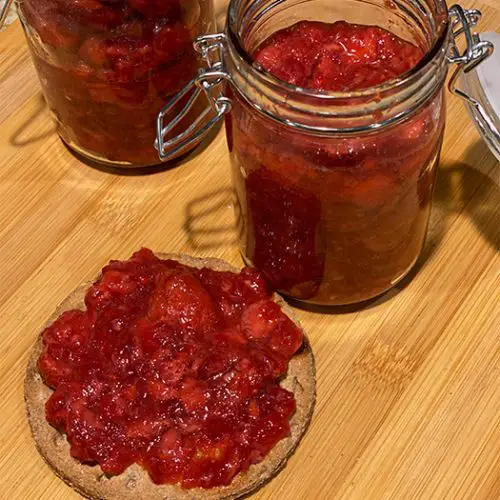 Sugar-Free Strawberry Jam
This is an easy diabetic-friendly Strawberry Jam recipe that is sugar free. It is perfect for diabetics and carb watchers. It is a quick and easy to follow recipe that you can make in just minutes.
Ingredients  
4

cups

fresh strawberries *washed and hulled)

(946 ml)

1/4

cup

Splenda sweetener

(59 ml)

1

tsp

lemon juice

(5 ml)

2

tbsp

warm water

(44 ml)

1

pkg

Knox unflavoured gelatin

(1 tbsp- 15 ml)
Instructions 
In a small bowl, add warm water and sprinkle the unflavoured gelatin over the top.

In a medium-sized saucepan add the strawberries.

Press the strawberries with a potato masher to activate the juices.

Heat the strawberries over medium heat.

As the strawberries get hot continue to mash until it is the desired consistency.

Stir in the sweetener and lemon juice and mix well.

Stir in the softened gelatin and whisk it in until it is thoroughly mixed in.

Bring to a simmer for 5 minutes, while stirring.

Remove the pan from heat and let it cool down. (As it cools it will thicken)

Once it is cooled, spoon the jam mixture into jam jars.

Refrigerate and allow for final thickening.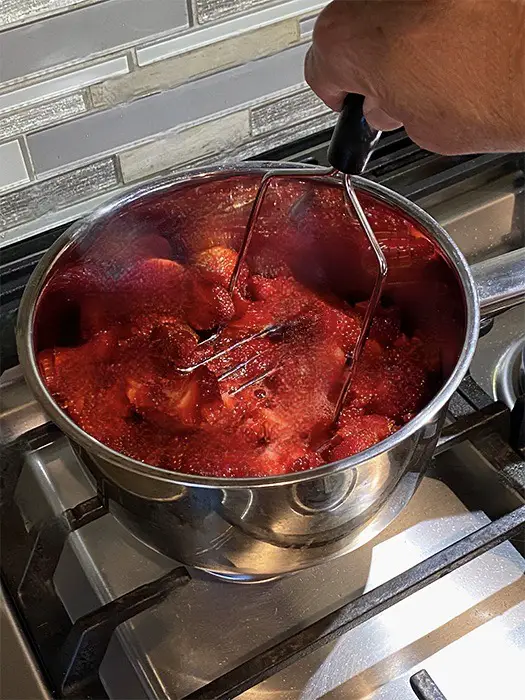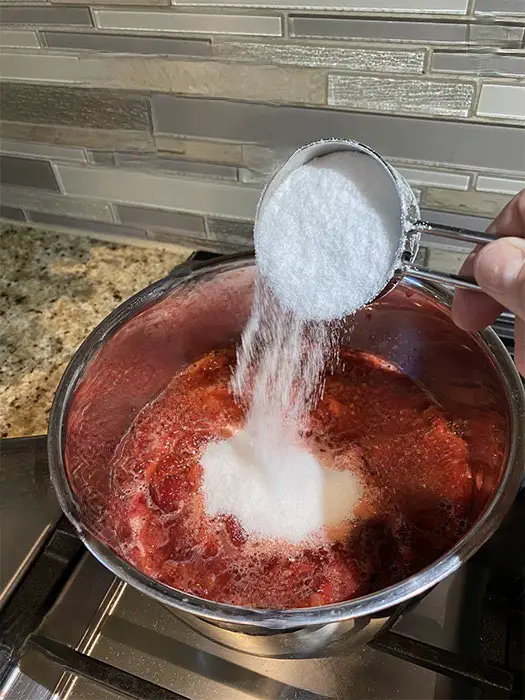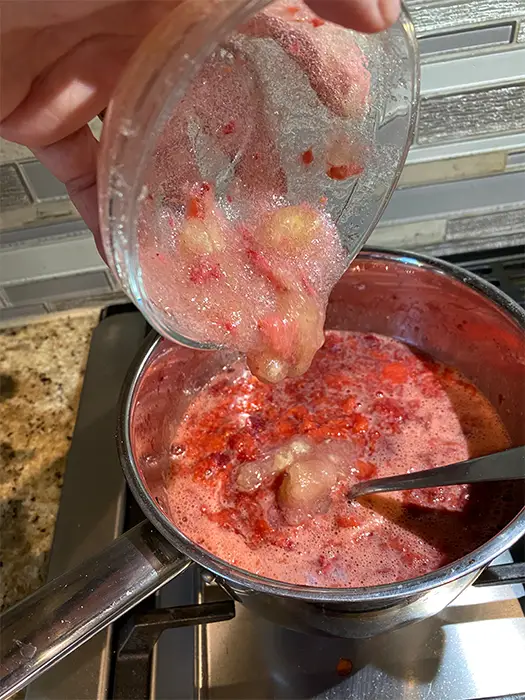 Using Frozen Strawberries in this Recipe
This recipe works well using frozen strawberries. Thaw the frozen strawberries and, make sure you drain the liquid from them. Use the drained liquid in place of the water to soften the unflavored gelatin.
Can diabetics eat Jam?
I have been asked this many times. Diabetics who have insulin pumps are easily able to eat jam, with the proper bolus for carbs. I always find it easier to control my blood sugar by eating low-carb jams. You can purchase no sugar added jams from the grocery stores, but check the carbs, Always look for the lowest sugar content. Make sure that when the label says sugar-free that the sugar has not been replaced with honey or other products that cause blood sugar to rise significantly.
Choosing Strawberries
When making this Sugar-Free Strawberry Freezer Jam Recipe ripe strawberries are best. You want to use juicy strawberries so that they are easier to mash and can generate some juice when cooking.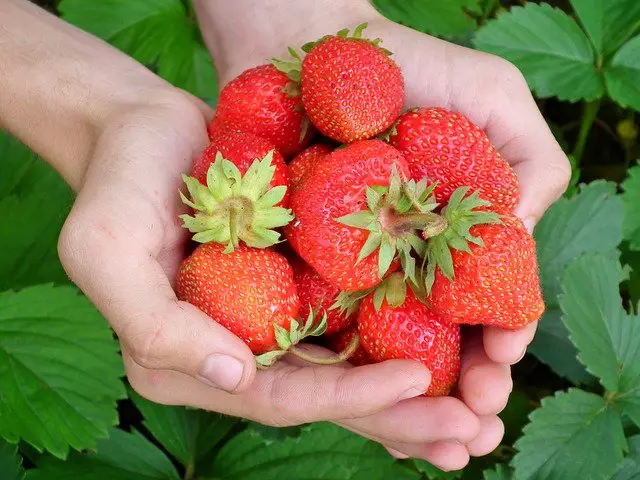 Strawberries should be a deep red colour to get a nice red jam.
What kind of potato masher
A traditional style potato masher that has a wire masher(pictured below) works best when mashing strawberries. You can use the grid style, but I find that the strawberries get stuck in the mesh grid when trying to mash.
I have been asked about using a food processor or blender to chop the berries for our Sugar-Free Strawberry Freezer Jam recipe. You can use a food processor or blender, but you will end up with a runner jam. If you don't want berry pieces in your jam, then by all means use this method. If you like pieces of strawberry in your jam, be careful not to pulse or blend too much.
If using a blender or food processor, you may need to add more gelatin to compensate for the extra liquid.
Why we like freezer jam.
Freezer jam can be made in a few minutes. There is no canning in a water bath and having to make sure the jars are sealed. You can even use other containers such as Rubbermaid or plastic storage containers.
One of the great things is that you can recycle your jars, is just sterilize the jars and the lids and then use this sugar-Free Strawberry Freezer Jam recipe.
Properly filling jars for freezing.
When filling jars with Sugar-Free Strawberry Jam, make sure you leave room at the top of the jar for the expansion that occurs when freezing. I always leave a (1/2″) half an inch in the top of the jar. This ensures that there is plenty of space in the jar. If you fill the jam right to the top it can cause the jar to crack during freezing.
The purpose of adding the lemon juice.
Lemon juice helps to lower the Ph in our Sugar-Free Strawberry Jam as well as helping enhance that beautiful red colour. If you don't want to add it you don't have to, but it is recommended. You will not taste the lemon juice at all. Fresh lemon juice or bottled is fine.
Storing Sugar-Free Strawberry Freezer jam
This jam must be stored in the refrigerator. Some jams can be stored at room temperature, but not freezer jams. To prevent bacteria growth always store in the refrigerator in a jar with a lid or air-tight container.
How long with Sugar-free strawberry freezer jam last?
Once you have made this sugar-free strawberry freezer jam recipe you can store it in a jam jar in the refrigerator for up to 2 weeks. Some people say that a store-bought jam lasts longer, why doesn't this last as long? The obvious answer is to have a look at the ingredients list. Store-bought jam products contain a lot of preservatives and even colourings. This is as natural as a jam can get. Why eat products that contain all of those unnecessary ingredients if you don't have to.
When freezing this sugar-free strawberry jam, it can last for up to one year. If you freeze the jam and then thaw and place it in the refrigerator, use jars or containers that only contain an amount that will be used up within 2 weeks of being refrigerated. Freeze in small containers if you think you may not use a large container within the 2-week time frame.
Uses for your Sugar-Free Strawberry Jam
This sugar-free strawberry jam recipe is perfect for using as a sauce or adding to other sugar-free strawberry-based recipes.
Add to cream cheese to make Sugar-Free Strawberry Cream cheese spread.
Add some Walden Farms strawberry syrup to the sugar-free strawberry jam to make a drizzle over desserts, such as cheesecakes and fresh fruit.
Add to yogurt to make flavoured yogurt
add to freshly made oatmeal for a punch of fruit flavour
add to cool whip for strawberry flavoured whip cream
pulse in a food processor and freeze in ice cube trays and add to sugar-free lemonade.
Combine sugar-free lemonade, a scoop of sugar-free strawberry jam and ice and make a sugar-free strawberry lemonade slushie.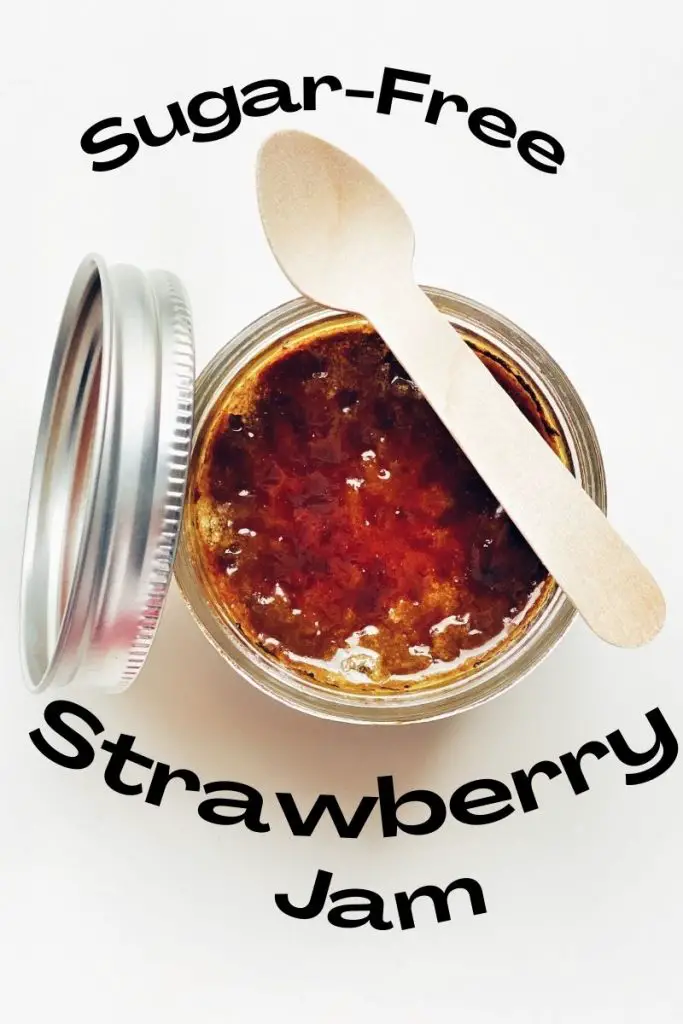 Nutritional information
For the entire recipe
Calories: 212
Total fat: 1.7 gr
Saturated Fat: 0.1 gr
Trans fat: 0 gr
Sodium: 6 mg
Carbohydrates: 45 gr
fibre: 12 gr
Sugars: 28 gr
Cholesterol: 0 mg
Protein: 4 gr
For 1 tablespoon serving
Calories: 5
Total fat: 0.02 gm
Saturated fat – negligible
Trans fat: 0 gm
Sodium: 0.12 gm
Carbohydrates: 0.9 gr
Fibre: 0.25 gr
Sugars: 0.5 gr
Cholesterol: 0 gr
Protein: 0.08 gr
I hope you like this easy Sugar-Free Strawberry Freezer Jam recipe. We make it every year in our house and enjoy it year-round.
Thank You for visiting The Naked Diabetic.
Disclaimer -This post may contain affiliate links. When a purchase is made through our links, The Naked Diabetic may receive a commission, at no cost to you.