Oh, are these ever delicious. These sugar-free stuffed strawberries are super easy to make and taste great and look classy on a serving platter. We love strawberries in The Naked Diabetic household, not just because they are low carb, but because they taste fantastic.
This post contains affiliate links. As an affiliate, I earn a small commission from qualifying purchases (at no charge to you).
When strawberries are fresh on the vine in springtime, I can't help but make as many strawberry recipes as I can find. These sugar-free stuffed strawberries can be put together at a moment's notice, for when unexpected company arrives. They are perfect to have around for healthy snack options as well.
These sugar-free stuffed strawberries are a great way to implement portion control on young diabetics without them knowing it. I remember as a kid, never liking the feeling of having no control when it came to my food. When the snacks are bite-sized, it makes it much easier to keep an eye on how many carbs a young diabetic is consuming.
If you have a diabetic-friendly pantry you will already have the necessary ingredients on hand.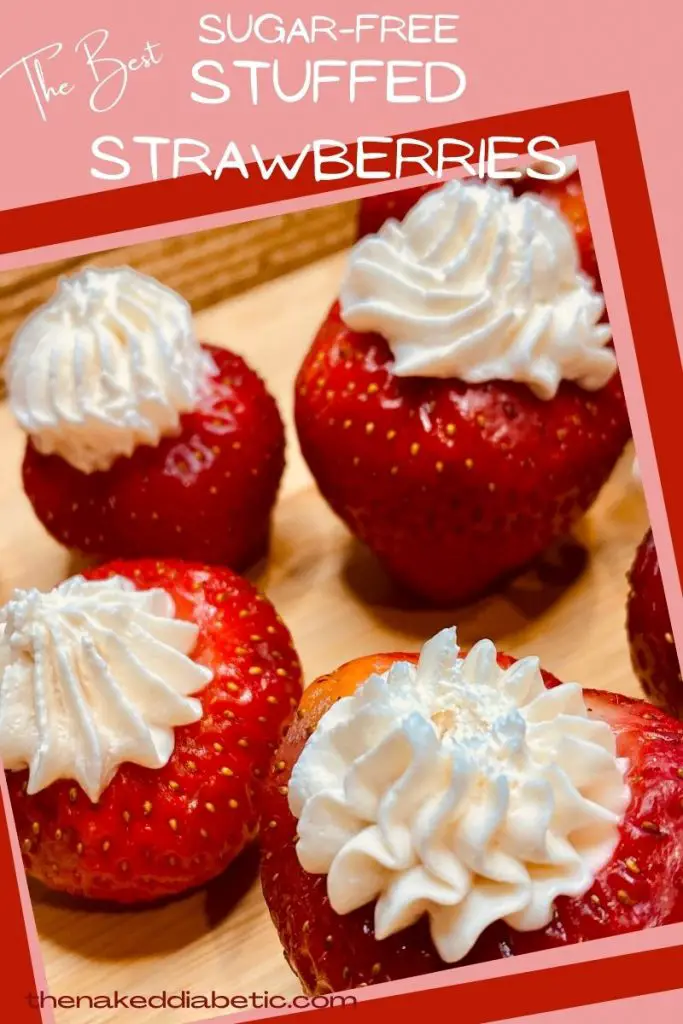 In this post, I share a list of kitchen tools needed to make our sugar-free stuffed strawberries, a shopping list of ingredients, the recipe for sugar-free stuffed strawberries recipe, tips on how to easily make this recipe and the nutritional value per serving.
Kitchen Tools Needed for this recipe.
Ingredients List for shopping
large strawberries
low-fat cream cheese
sugar-free cool whip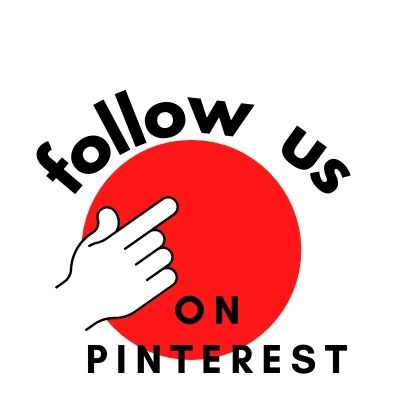 Sugar-Free Stuffed Strawberries Recipe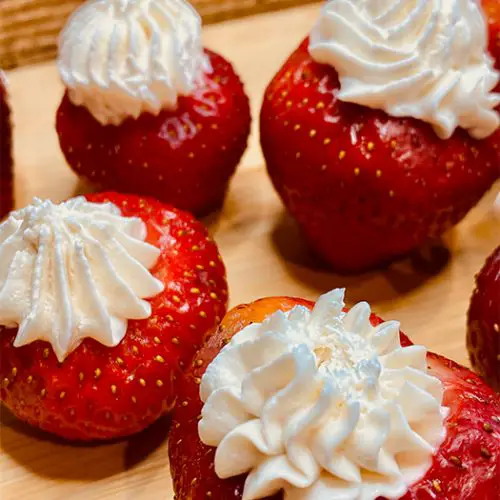 Diabetic Sugar-Free Stuffed Strawberries
Delicious and healthy Sugar-Free Stuffed Strawberries that are diabetic-friendly.
Ingredients  
24

medium-sized strawberries

(about 1 pound)

6

ounces

low-fat cream cheese (room temperature)

2

teaspoons

liquid stevia

(can be other liquid brand)

3/4

cup

sugar-free cool whip

2

tablespoons

Walden Farms Strawberry Fruit Spread
Instructions 
Wash and pat dry strawberries.

Using a strawberry huller, remove the stem and some of the insides of the strawberry.

Slice a small amount of strawberry off of the bottom of each strawberry. Only remove enough to make a flat end so that they will stand up.

In a mixing bowl beat the cream cheese and liquid stevia together.

Add the Walden farms fruit spread and cream into the cream cheese.

Using a rubber spatula, fold in thee cool whip.

Fill a piping bag with the cream cheese filling.

Fill each strawberry, leaving a mound on the top.

Chill for 2 hours before serving.
How to Hollow out the strawberry.
Using a Strawberry Huller.
Place the tongs around the stem and stick the huller teeth into the strawberry. If the stem is too big, remove the stem and then push the tongs into the strawberry where the core is.
Turn the huller until you have gone completely around the stem.
Pull the huller out of the strawberry and discard the stem and insides.
Using Strawberry Scoop.
A strawberry scoop is like a melon ball scoop only smaller and has a knife-like edge to cut through the strawberry.
Using a paring knife, remove the stem.
Scoop into the strawberry, turning the scoop as you go to remove the core of the strawberry.
Discard the core.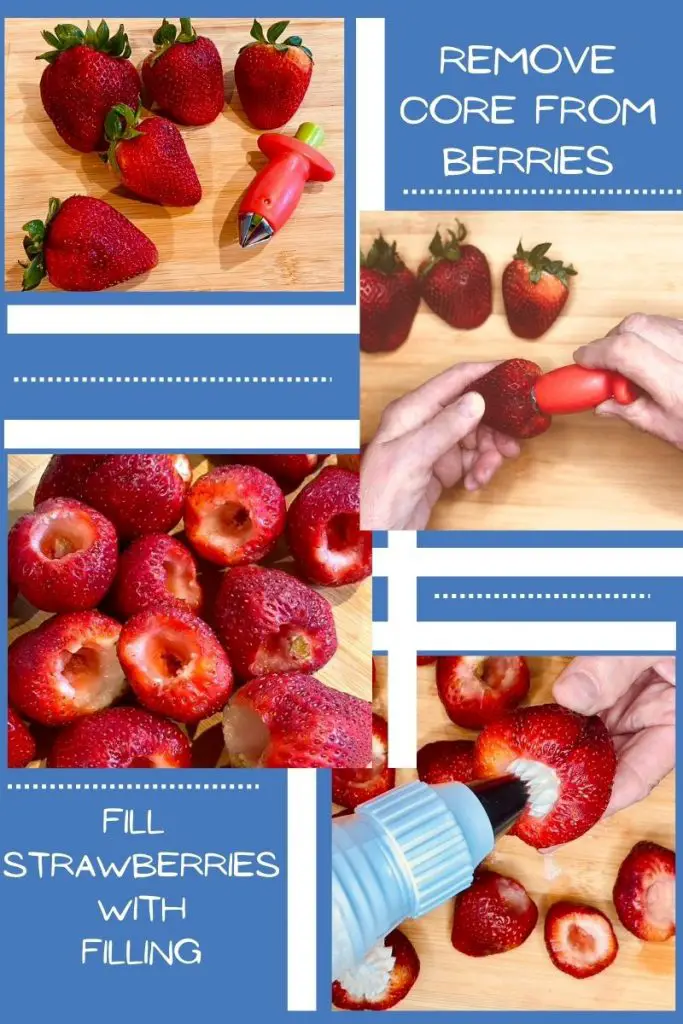 Using a paring knife.
Remove the stem.
Carefully cut around the stem and core and then pull the core out.
Choosing Strawberries
when selecting strawberries, choose large-sized strawberries that would be a decent-sized snack. Little strawberries are a little more difficult to hull and get to stand up straight.
You will be slicing off a small amount from the strawberry so that it can sit flat. A strawberry that has a rounded more uniform top is easier to stand up.
Look for bright red strawberries that are firm and without blemishes, Make sure that the entire strawberry is red and that there are no white (unripe) spots.
Making the strawberries stand up.
To get your strawberries to stand up when plated, slice a small amount off of the tip of the berry. Be careful not to slice into the cavity of the strawberry, as this will cause the filling to leak out.
Choosing a piping tip
What type of piping tip you use is up to you, but if you like the appearance of the sugar-free stuffed strawberries in our recipe, choose a star piping tip. Choose a tip that fits into your strawberries. If you end up with a smaller strawberry, you will need to use a smaller tip.
Storing Sugar-Free Stuffed Strawberries
Store the finished sugar-free stuffed strawberries in the refrigerator in an airtight container. The finished strawberries will keep for about 2 days in the refrigerator. They don't go bad right away but they start to soften up after a day or two. They are best eaten the day that they are made.
Nutritional Information
One Serving = 1 Sugar-Free Stuffed Strawberry
Calories – 26
Carbohydrates – total 2 grams
Fibre – 0
Net Carbs – 2 grams
Total fat – 1.5 grams
Protein – 1 gram
Cholesterol – 4 mg
I hope you love this easy diabetic-friendly snack. It's perfect for summertime picnics or just hanging around the house,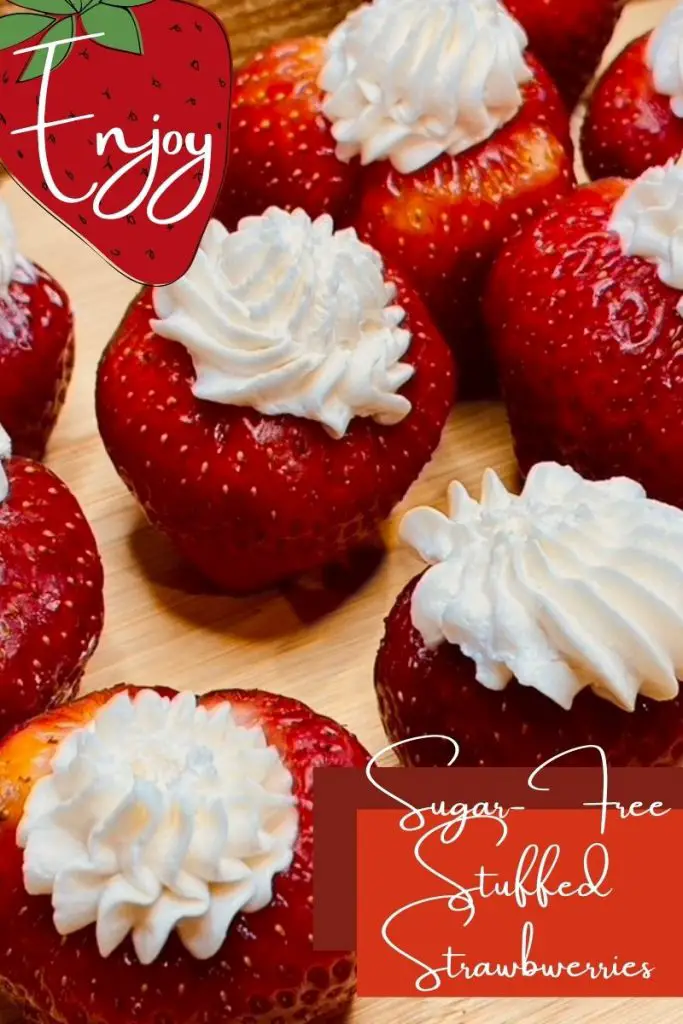 Thank You for visiting The Naked Diabetic
This post contains affiliate links. As an affiliate, I earn a small commission from qualifying purchases (at no charge to you).