This website may contain affiliate links. When a purchase is made through our links, The Naked Diabetic may receive a commission, at no cost to you.
This easy Low carb Diabetic Chocolate Almond Flour Crust recipe is an ideal addition to your diabetic friendly baking. We took our Diabetic Friendly Almond Flour Crust Recipe and tweaked it a bit to make a versatile chocolate crust. If you have a diabetic-friendly kitchen, you will have most of the ingredients that you need to get started.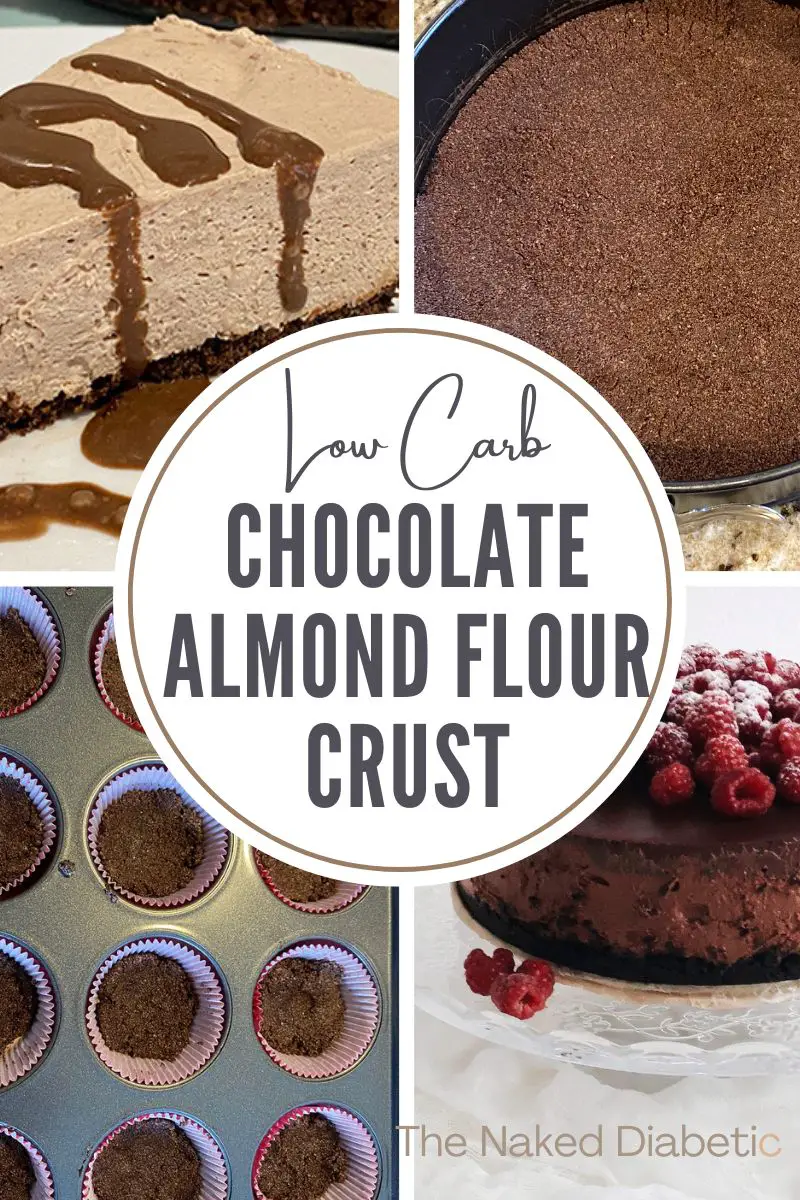 In this post, I will share a list of kitchen tools needed, a shopping list of ingredients, the low carb Diabetic Chocolate Almond Flour Crust recipe, the nutritional value and some helpful tips to achieve the best results.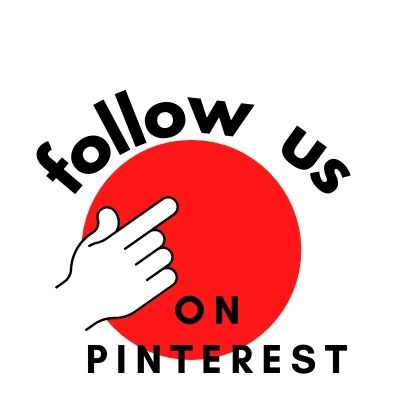 Kitchen Tools Recommended
Mixing bowl
measuring cups
sieve
pastry blender
Need Kitchen Tools and Accessories?

Shopping List of Ingredients
Almond flour
Splenda Granulated Sweetener
Butter
Powdered Cocoa (preferably black cocoa powder)
salt
Need Diabetic Friendly Ingredients?

Helpful tips and FAQs
Is this a no-bake recipe?
This recipe for diabetic chocolate almond flour crust can be baked or used without baking. If you are using it without baking, ensure that it is well packed and chill before adding any filling. If you choose to bake this crust, allow it to cool before adding the filling.
To bake – Set your oven to 350°F (175°C) and bake for approximately 10 minutes. Remove and allow to cool.
What is the best almond four to use?
My preferred almond flour is an extra fine ground almond flour. Almond flour is available in extra fine, fine and coarsely ground options. If you use extra fine almond flour the cocoa powder will mix better resulting in a darker crust. Since almond flour is simply ground almonds, the smaller the pieces the better it is for mixing with the cocoa powder
If you are unable to get extra fine almond flour, you can place your almond flour in a food processor or blender for a few seconds (10-ish) and pulse. This will reduce the size of the ground almonds. If you decide to grind your own, measure after grinding.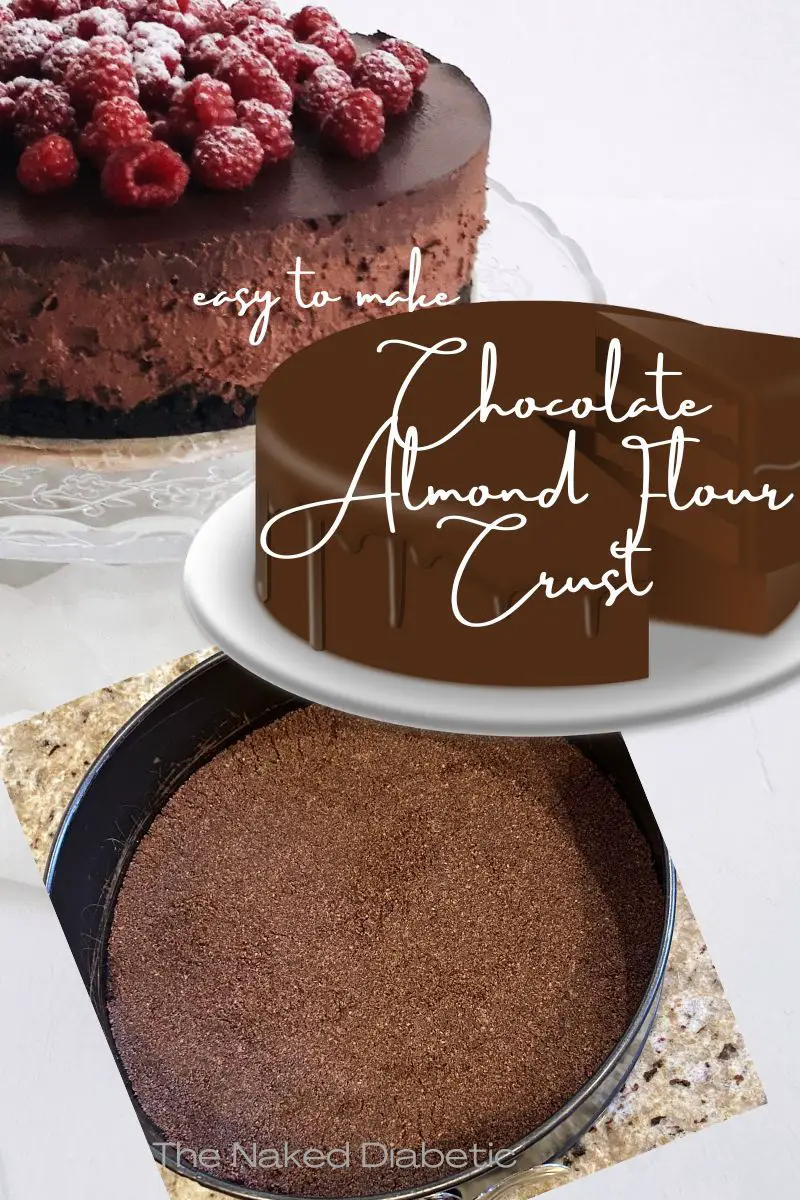 Can I Substitute the butter with oil?
If you wish to use oil in place of the butter, that is perfectly fine. I prefer butter as I feel it gives the finished crust a richer flavour. If you are opting for an oil substitute and you plan to bake, make sure your oil choice is not heat-sensitive. Canola oil is a good choice for baking. Be mindful of flavour changes with some oils, such as coconut oil.
Can I use a different sweetener?
I use Splenda granulated sweetener as it does not impact my blood sugar, in the way that sweeteners that contain sugar alcohols do. If this is not a concern for you, feel free to substitute it with your sweetener of choice. Amounts may vary depending on the sweetness intensity of the sweetener that you choose.
What is the best cocoa to use?
For the best results and appearance choose black cocoa powder or extra dark cocoa powder. The almond flour already has a light colour and using the darkest cocoa powder will result in an overall darker crust, which always looks better.
Black cocoa powder is used in making oreo cookies and provides a nice dark rich colour and is always my first choice.
Can I make this diabetic chocolate almond flour crust in a food processor?
Yes, you can, just be cautious not to over-grind the mixture. Pour the ingredients into a food processor and pulse for a few seconds. stop and scrape down the sides and repeat. Pour into your baking dish and press down.
Can I freeze this diabetic chocolate almond flour crust?
This crust mixture can be frozen for up to a month in an airtight container. For freezing mixed but not pressed into a pan, use a Ziploc bag and remove as much air as possible to prevent moisture from getting into the mixture.
To freeze a diabetic chocolate almond crust that is already pressed into a pan or pie plate, cover tightly with plastic wrap to prevent moisture from seeping in. For the best results, bake the crust after thawing, to remove any moisture in the mixture.
Can I add flavours to the chocolate crumb crust?
Yes, as long as the flavours go well with the chocolate flavour and complement the finished dessert.
Some flavour options are:
Add 1 tbsp of instant coffee granules for a hint of mocha flavouring.
Add 1/2 teaspoon of orange extract to the melted butter and mix in as recommended. This is a nice addition to a chocolate cheesecake garnished with orange curls.
Add 1/4 teaspoon of peppermint extract into the butter of a chocolate peppermint flavour. Go lightly on the extract as peppermint extract can be overpowering.
Choose your favourite flavours and add as desired.

The Low Carb Diabetic Chocolate Almond Flour Crust Recipe
Low Carb Diabetic Chocolate Almond Flour Crust Recipe
A simple diabetic friendly chocolate almond flour crust recipe that can be used baked or un-baked.
Ingredients  
1

cup

Almond Flour – extra fine frind

½

cup

Black Cocoa powder

½

cup

Splenda Granulated sweetener

pinch

salt

½

cup

butter – melted
Instructions 
In a medium sized mixing bowl sift the cocoa powder, using a sieve or flour sifter.

Add the almond flour, salt and sweetener and whisk together.

Pour the melted butter over the mixture and mix thoroughly, using a pastry blender.

Press firmly into desired baking pan.
If Baking
Bake in a 350°F (175°C) oven for approximately 10 minutes and set aside to cool.
Nutritional Information
The nutritional information listed below is for the entire recipe. When calculating for individual servings, divide the information below by the number of servings that you make.
For example. I would use this recipe to line a 9-inch springform pan and cut the finished dessert into 12 pieces. each piece would then contain 1/12th of the values listed below (121 calls, 1.5 gr net carbs etc…)
Calories – 1460
Total fat – 145 gr
Saturated fat – 65 gr
Carbohydrates – 45 gr
Fibre – 28 gr
Net carbs – 17 gr
Protein – 29 gr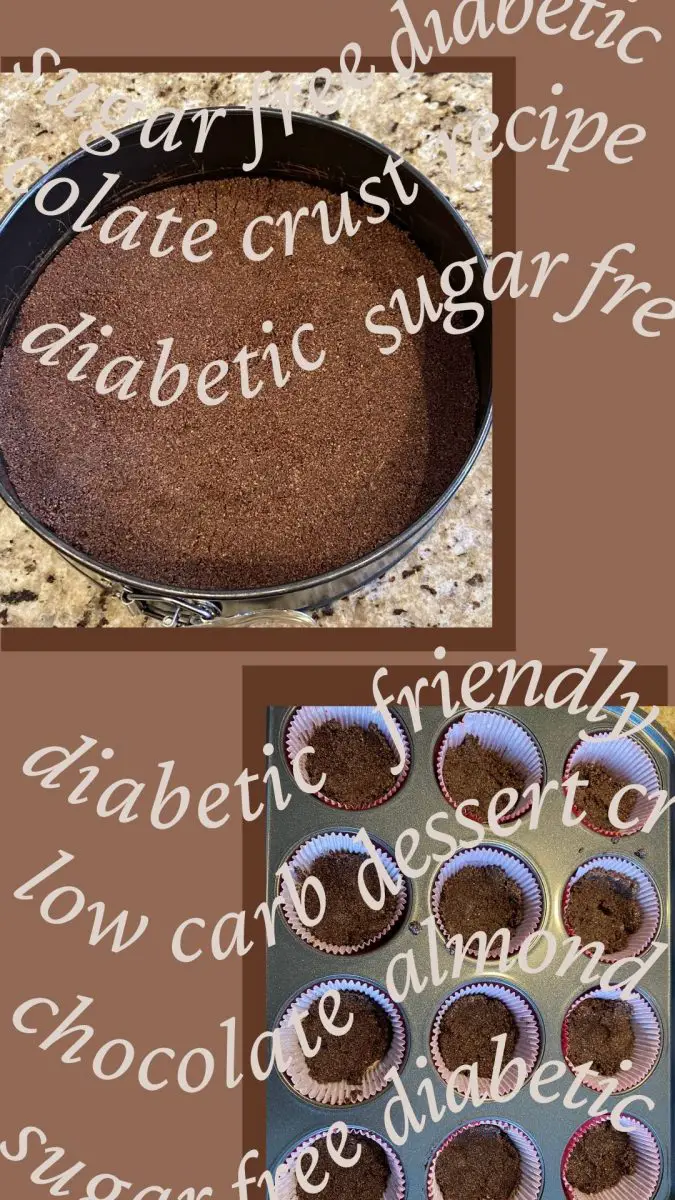 I hope you enjoy this easy recipe for our low-carb Diabetic Chocolate Almond Flour Crust.
Thank You for visiting The Naked Diabetic
This website may contain affiliate links. When a purchase is made through our links, The Naked Diabetic may receive a commission, at no cost to you.