This website may contain affiliate links. When a purchase is made through our links, The Naked Diabetic may receive a commission, at no cost to you.
Just because you're diabetic doesn't mean you have to skip dessert. This diabetic-friendly sugar-free Raspberry Chocolate Cheesecake recipe is so delicious, you can't tell it's sugar-free. It is just another one pf our great cheesecake recipes.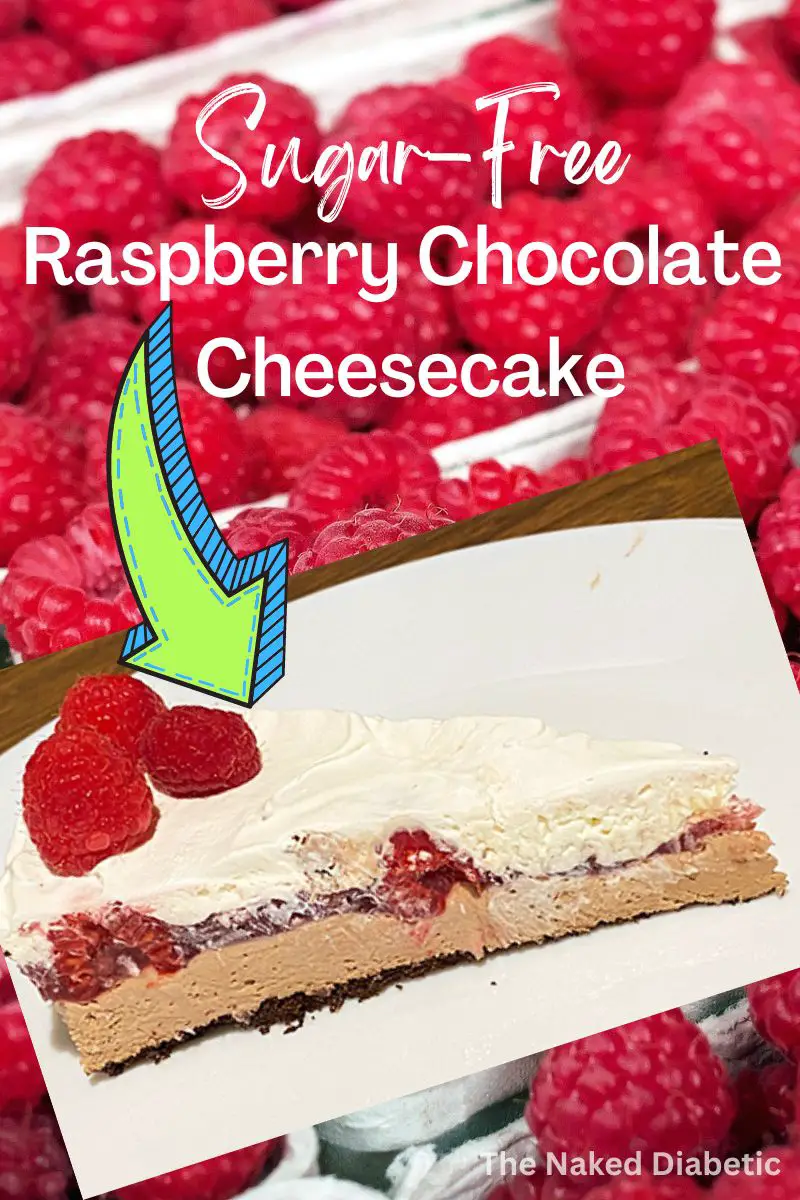 If you have read many of our posts, you will see that we just love cheesecake.
Cheesecake is an easy dessert to make diabetic-friendly, and it also tastes great.
We try to take advantage of seasonal fruits, whenever possible. So when it is strawberry season, we make Sugar-free Strawberry Cheesecake, then next comes Sugar-free Rhubarb Cheesecake when the rhubarb is ripe, and our Sugar-free Chocolate Cheesecake recipe is yummy year-round!
We have been using Walden Farms fruit spreads for many years. They have fantastic true fruit flavouring. All of the Walden Farms products that we use are sugar-free, carb-free and fat-free. So it's a no-brainer! They taste great and don't add calories or carbs, a perfect match. I'd be crazy not to use them.
Kitchen Supplies needed to make this Sugar-free Raspberry Chocolate Cheesecake recipe
Need Kitchen Supplies?

Shopping List for this recipe
cream cheese (2 blocks)
cocoa (powdered)
butter
cool whip (1 tub)
fresh raspbrries
Need Diabetic Friendly Ingredients?

Tips for buying the best raspberries
When shopping for raspberries there are a few tell-tale signs that indicate whether the fruit is fresh or not. Just like when you are shopping for the best strawberries and rhubarb, it's good to know what to look for.
Raspberries that are bright red in colour and are firm are ideal. In grocery stores, Raspberries generally come packed in plastic clamshell containers. Check under the container and inside (if possible) for mould or mushy, soft raspberries. If you see any, then move on.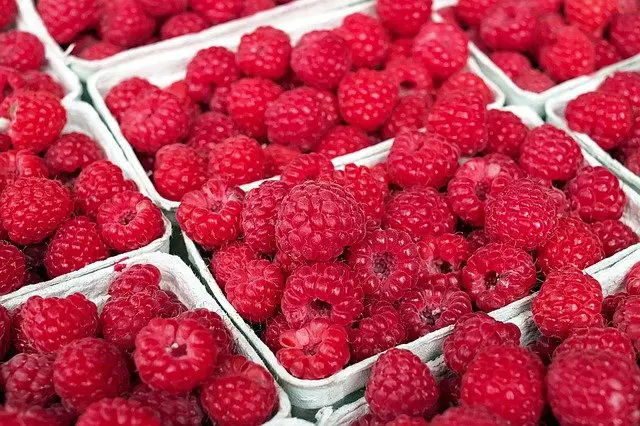 Raspberries have a very short shelf life and become mushy and mouldy fast. Ready-to-eat raspberries should not have any white colour or light green colour on the berry. If they do, move on. Raspberries do not ripen after picked (like strawberries), so what you buy, will be what you have to work with, in your recipes.
If you have a local garden market or farmer's market, you will always get the best raspberries there, and it is always good to shop from your local growers.
What kind of sugar-free chocolate is recommended for this recipe.
Most brands of sugar-free chocolate work well. If you are eating a vegan or ketogenic diet, then you will want to choose something compatible with your dietary needs.
For diabetics, look for the lowest carbs possible.
I use Lily's or Krisda's brand regularly. They melt well and taste good. I also use Hershey's sugar-free chocolate chips and have found that they melt well and taste good too.
Do not use Bakers Unsweetened chocolate in this recipe, without adding extra liquid sweetener to your cheesecake.
You can add it to your desired sweetness. Do not add the sweetener into the melted chocolate. Add it into the cheesecake mix after you have added the melted chocolate.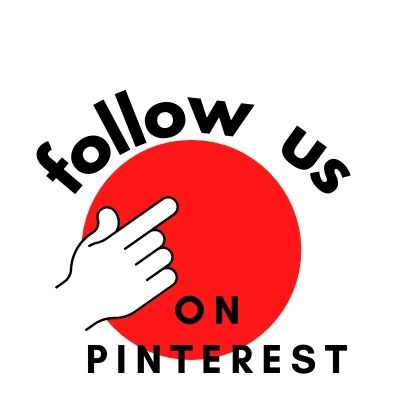 Making the crust
What is Almond flour?
Almond flour is simply ground almonds. When using Almond flour in baking as a substitute for all-purpose flour, choose finely sifted almond flour. The coarser grinds don't often blend as well as the finely ground.
If you prefer to use a graham cracker crust, or a chocolate wafer crust you certainly can, but it will alter the nutritional values.
Mixing the crust ingredients.
When making the crust for our cheesecake recipes, there is no special order for adding the ingredients.
In a small mixing bowl, combine all of the ingredients. I always use a pastry blender, It makes mixing much easier.
If you find the crust crumble is dry, feel free to add more butter (1/2 of a teaspoon at a time).
Once mixed, press the crumble into the bottom of a springform pan and bake, according to recipe directions.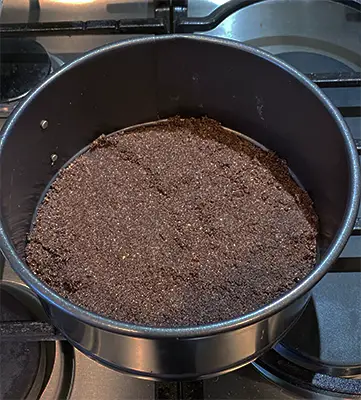 Making the bottom layer of the cheesecake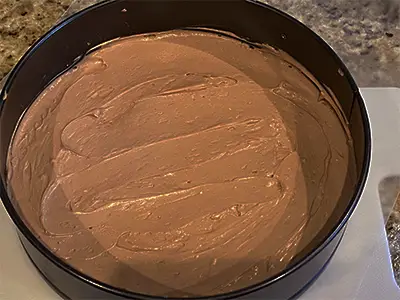 Making the Raspberry layer in the cheesecake
In a small saucepan, combine the Walden Farms Raspberry fruit spread, 1/4 cup of the raspberries. Mash the berries slightly. Over medium/high heat bring it to a boil and then remove it from the heat. Stir in the sugar-free jello mix. Let the pan cool and then refrigerate for about 20 minutes or until it just starts to gel.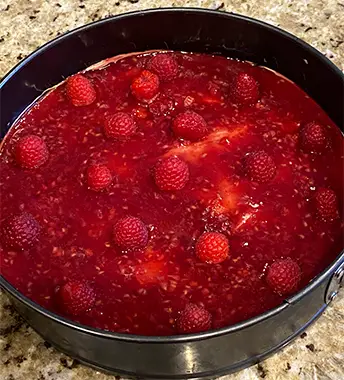 When cooled, pour the raspberry mixture over the bottom layer of the cheesecake. Add a few loose raspberries onto the top of the jelly. Chill until fully gelled.
Adding the top layer
Add the top layer once the center raspberry layer has fully gelled or is almost fully gelled. If you add it before it is gelled, it will mix with the top layer when spreading. If you absolutely can't wait, add it by dropping teaspoons of it and gently spreading it.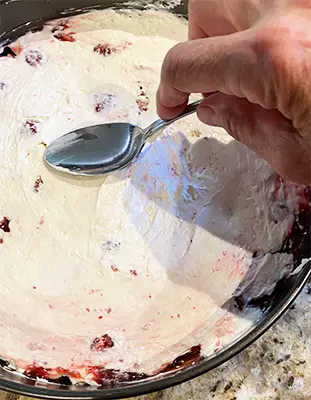 Serve with a few of the reserved raspberries and a spoon of whip cream – if desired.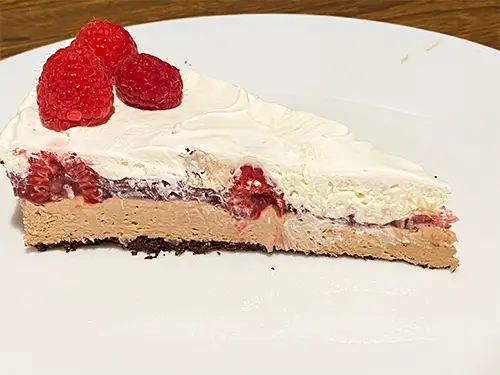 Sugar-Free Raspberry Chocolate Cheesecake Recipe
Diabetic Sugar-Free Raspberry Chocolate Cheesecake Recipe
An easy to make, diabetic Sugar-Free Raspberry Chocolate Cheesecake recipe.
Ingredients  
Crust
1

cup

Almond flour

1/2

cup

Splenda Granulated sweetener (0 calorie)

1/3

cup

butter – melted

1/3

cup

cocoa (powdered)
Filling
2

packages

cream cheese (8 oz pkgs) – softened

1

tub

sugar-free Cool whip ( 1 liter tub or 4.1/4 cups)

1

cup

Walden farms Raspberry fruit spread

1

package

sugar-free raspberry jello mix

1/2

cup

fresh raspberries

1/2

cup

sugar-free chocolate chips

1 1/2

tbsp

liquid Stevia
Instructions 
Crust
Preheat the oven to 350°F (175°C)

Add all crust ingredients into a small mixing bowl.

Using a pastry blender, thoroughly combine crust ingredients, until you have a wet crumble.

Press into the bottom of an ungreased 9-inch springform pan.

Bake in the oven for 10 minutes.
Filling
Cream the cream cheese blocks until smooth.

Add the liquid stevia and blend again until mixed thoroughly.

Add 1/2 cup of the cool whip and mix until the mixture is smooth and soft.

Divide the mixture in half.

Melt the chocolate chips (microwave method or stove-top method)

Let the chocolate cool for a few minutes.

Pour the melted chocolate into one half of the cream cheese mixture and stir until well combined.

Divide the remainder of the cool whip, between the 2 cream cheese mixtures and fold gently until light and fluffy.

Pour the chocolate layer over the chilled crust and smooth out the top.

Chill, while you are working on the raspberry gel layer.

Chill the white cream cheese mix, until you are ready to use it.
Raspberry Layer
In a small saucepan, add the Walden farms fruit spread and 1/4 of a cup of raspberries.

Mash the raspberries slightly

Over medium/high heat, bring the mixture to a boil.

Whisk in the powdered sugar-free raspberry jello mix.

Let cool and then chill in the fridge until just starting to gel.

Pour over the bottom layer and chill for 20 minutes.
Add top layer
Spoon over the remaining filling mixture and spread evenly over the raspberry filling.

Chill for at least 2 hours before serving.

When serving, top with the remaining raspberries.
How to melt chocolate chips ( 2 methods)
Melting chocolate chips – Microwave Method
Put the chocolte chips onto a microwave-safe bowl. Microwave on half power (50 %) for 30-second intervals.
Stir in between intervals.
When the chocolate pieces or chips are almost completely melted, stir until the remaining chocolate is melted.
Melting Chocolate chips – Stovetop method
Bring water to a double boiler pan to a simmer
If you don't have a double boiler, use a heat-proof bowl that is big enough to sit on top of a small or medium-sized saucepan.
place chocolate into the top pan of a double boiler or into a heatproof bowl.
place on top of the pan with simmering water.
Stir continuously while the chocolate melts.
just before all the chocolate is melted, removed the pan or bowl from the heat.
Continue to stir until chocolate is melted.
Nutritional Information for Sugar-Free Raspberry Chocolate Cheesecake Recipe
How to store your cheesecake
This Sugar-Free Raspberry Cheesecake recipe will last, refrigerated for 3-4 days in an airtight container . This recipe can be frozen, but for best results, eat it within 3 to 4 days of making it.
Thank you for visiting The Naked Diabetic.
Disclaimer: This post contains affiliate links. We receive a small commission when purchases are made through our links. Thank You, we appreciate your continued support.