This website may contain affiliate links. When a purchase is made through our links, The Naked Diabetic may receive a commission, at no cost to you.
This Sugar-Free Diabetic Chocolate Cookie recipe makes the best decadent chocolatey fudgy cookies that are diabetic friendly that I have had in a very long time. They are a soft cookie that melts in your mouth and no one will be able to tell that they are sugar free.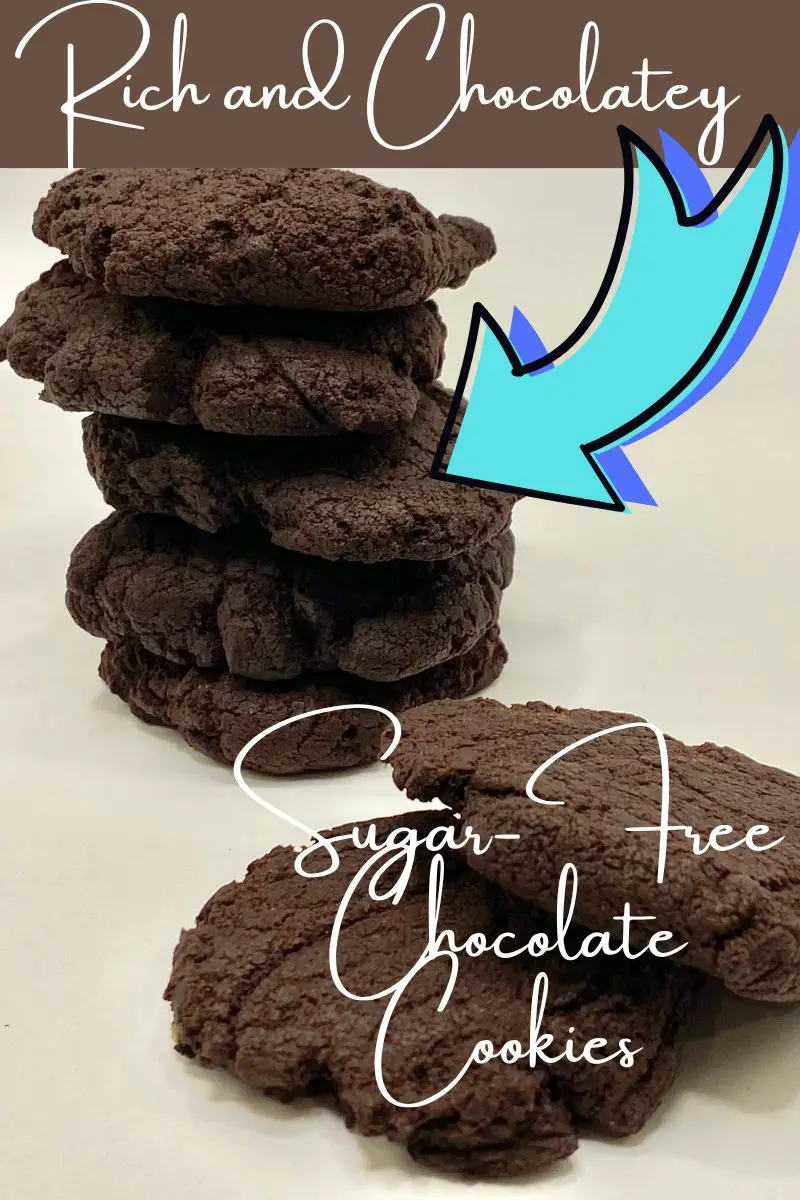 In this post I share the recommended kitchen tools, a shopping list of ingredients, links top hard to find ingredients, some helpful tips and FAQs, the Sugar Free Diabetic Chocolate Cookie Recipe, and nutritional information.
Recommended Kitchen Tools
Mixing Bowls
Measuring Cups
Measuring Spoons
Electric Mixer
Silicone Spatula
Baking sheets
Wire Cooling Rack
parchment paper

Shopping List of Ingredients
Baking Powder
baking Soda
Salt
Butter
Eggs
Vanilla Extract

The Ingredients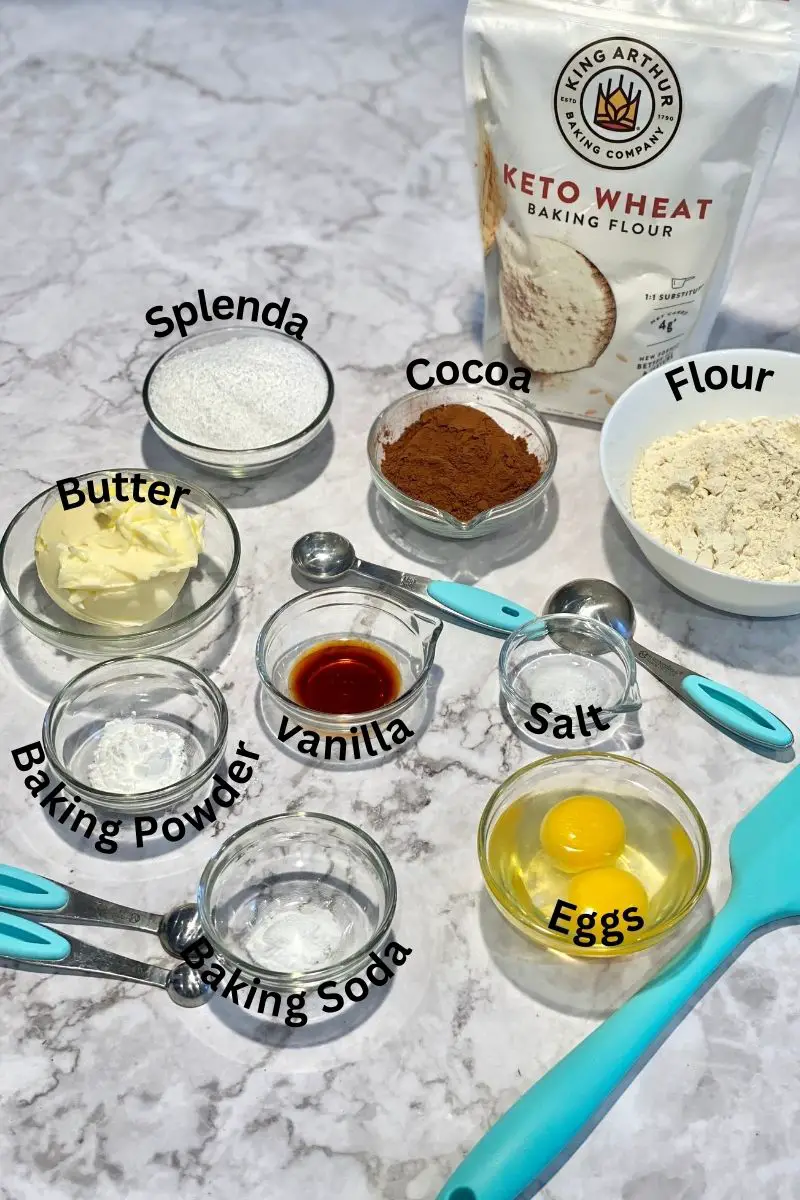 King Arthur Keto Wheat Flour – A nut-free low-carb replacement for All Purpose flour suitable for diabetic-friendly baking.
Splenda Granulated Sweetener – A sugar replacement that is sugar alcohol-free. It is suitable for low-carb cooking and baking. It is not heat-sensitive and is ideal for diabetic-friendly baking.
Dark Cocoa Powder – Provides a deliciously rich chocolate flavour and deep brown chocolate colour.
Butter – Provides a creaminess to the batter and richness to the overall flavour. If using unsalted add an extra pinch of salt.
Vanilla Extract – Vanilla Extract is a flavour enhancer. It also takes the edge off of bitter flavours that can sometimes occur with sweeteners. Pure Vanilla Extract is preferred but can be cost-prohibitive. The artificial Vanilla extract is fine in this recipe.
Baking Powder – Baking Powder is a leavening agent. When using it in low-carb flour such as King Arthur Keto Flour extra baking powder is added to compensate for the denseness of low-carb flour.
Baking Soda – Baking soda is a leavening agent and is quick to activate and is used in many baking recipes.
Salt – Salt is a flavour enhancer. Use an extra pinch if using unsalted butter.
Eggs – Eggs not only add moisture but also provide structure and stability. Use at room temperature to keep the butter from clumping during creaming.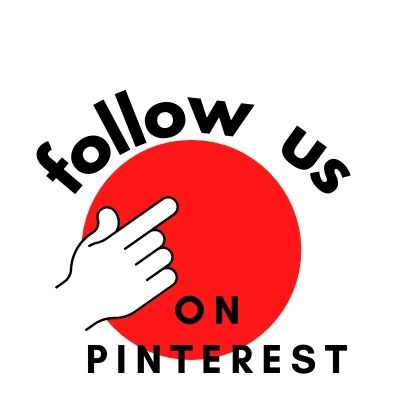 Helpful Tips and FAQs
What are the best cookies for diabetics?
Controlling blood sugar is a challenge that can at times feel daunting. Making dietary choices that are lower in carbs is one of the ways that many diabetics use to help control blood sugar. Look for cookies that have low net carbs and are low in sugar. For store-bought cookies always read the label. Something marked sugar-free doesn't mean it is low in carbs. If you are able to bake your own cookies, you can better control the net carbs by substituting ingredients with more diabetic-friendly sugar-free ingredients.
Using Different Flour.
If you have a preferred flour you can substitute it for the flour listed in our recipe. When baking for diabetics, you will likely want to keep the net carbs as low as possible. Using good low-carb flour will help you achieve lower carbs. Understanding the best flour to use in low-carb baking will help you make the best choice for you. Always keep in mind, changing the ingredients in our recipes will also change the nutritional value
The Cocoa Powder
I like to use dark cocoa powder so I get a nice dark chocolate appearance in the finished cookie. I find the dark cocoa powder provides a deeper richer chocolate flavour. Feel free to substitute with. your favourite brand of cocoa. Keep it sugar-free and it will remain diabetic-friendly.
Can I add chocolate chips to this diabetic chocolate cookie recipe?
Yes, you can. Be aware that it will alter the final nutritional value. Choose sugar-free chocolate chips. Not all sugar-free chocolate chips are the same in terms of carbs. Choc Zero Sugar-Free Chocolate Chips are the lowest in carbs that I have found so far with 1 gram of net carbs per tablespoon. They can also be the hardest to find. They may be in stores near you, but I have only been able to get them online. Other brands, such as Hershey's Sugar-Free Chocolate Chips, Lilys Sugar-Free Chocolate Chips and Lakanto Sugar-Free Chocolate Chips are also good brands and are more readily available.
Using Different Sweetener
In most of my recipes, I like to use Splenda granulated sweetener. I find that sweeteners that contain sugar alcohols impact my blood sugar negatively. I know that this is not the case for everyone, so make substitutions to fit your own lifestyle and preferences. Keep in mind, the final nutritional information per serving may differ after making substitutions.
I like sweet cookies, can I make these cookies Sweeter?
These diabetic Chocolate Cookies have a dark chocolate taste. If you prefer a sweeter taste feel free to add extra sweetener. I recommend adding liquid sweetener, so as not to dry out the dough.
What is the benefit of using a cookie scoop?
I recommend using a cookie scoop so that the size of your cookies is uniform. This helps to make sure that the carb and calorie count is the same (or close) for each cookie. It also helps to ensure that all of the cookies bake evenly and are all done at the same time.
Storing and freezing Instructions
Store these cookies in an airtight container for up to 5 days at room temperature. They can be refrigerated, but it is not necessary.
These cookies freeze well. Freeze them in a Ziploc bag or tightly wrapped in plastic wrap for up to one month.

How to make our Sugar Free Diabetic Chocolate Cookie Recipe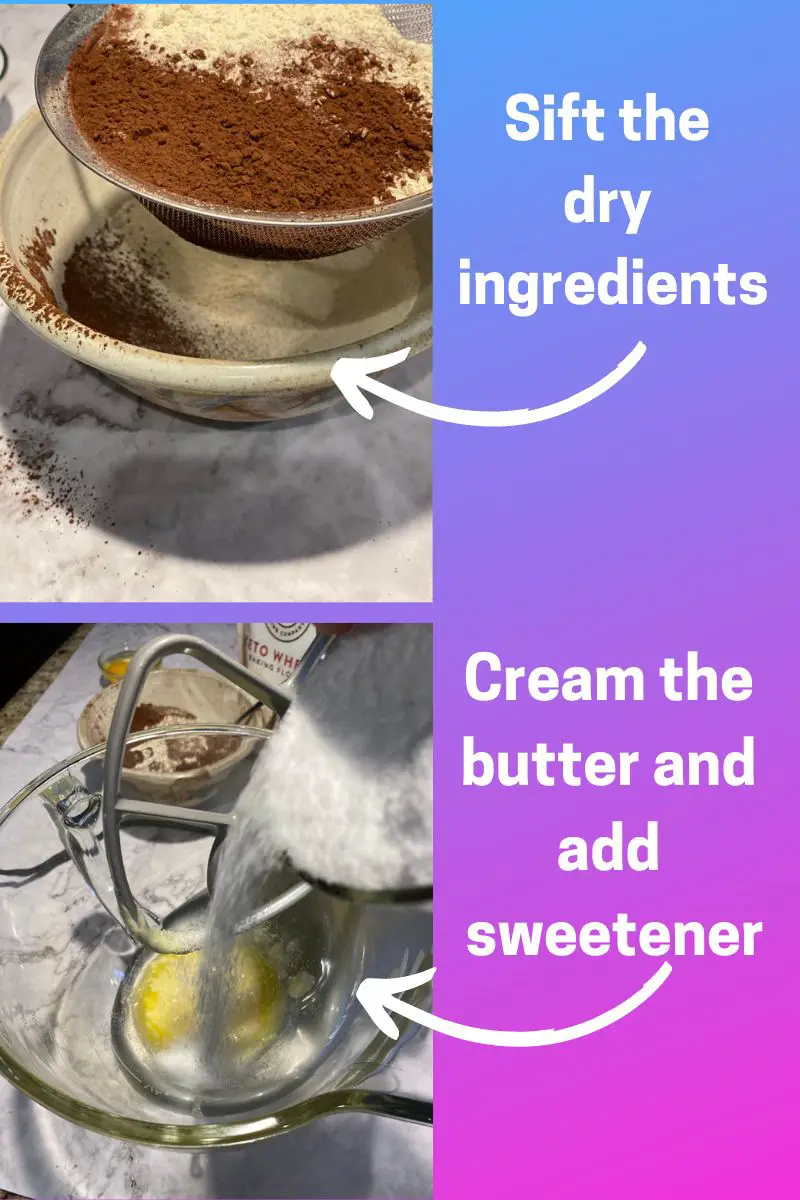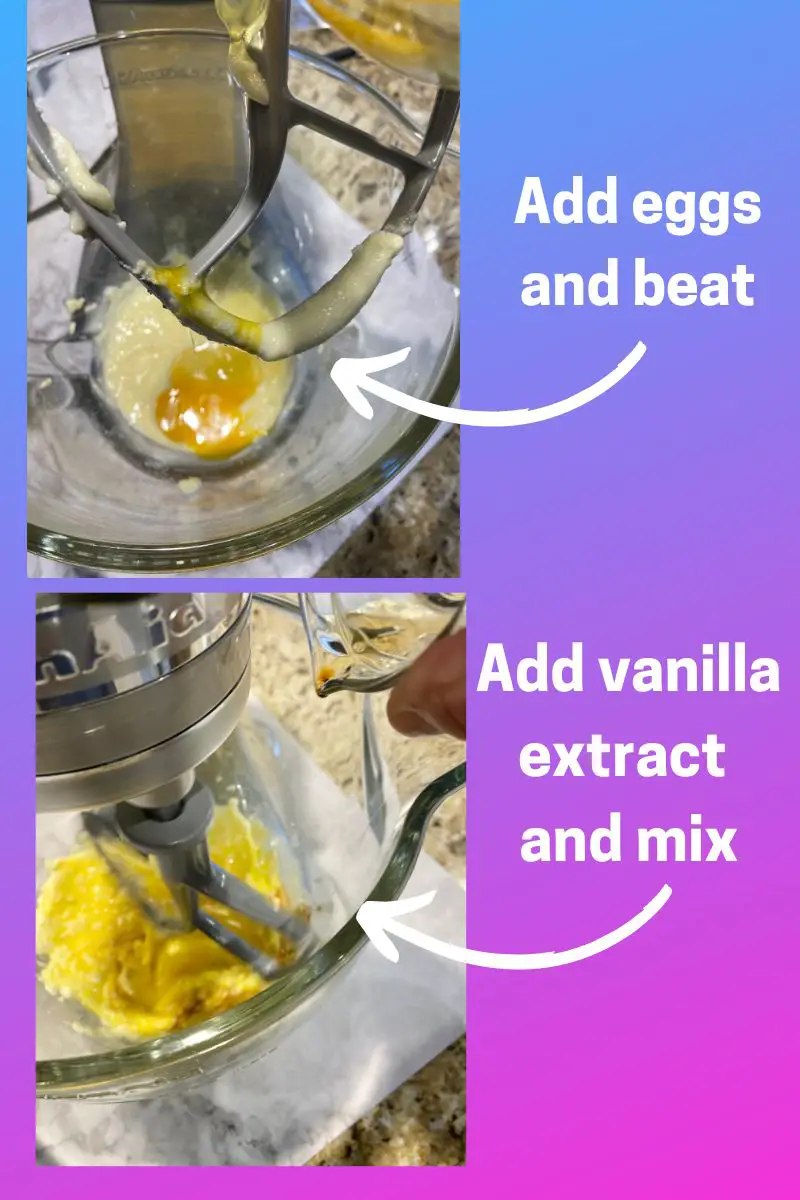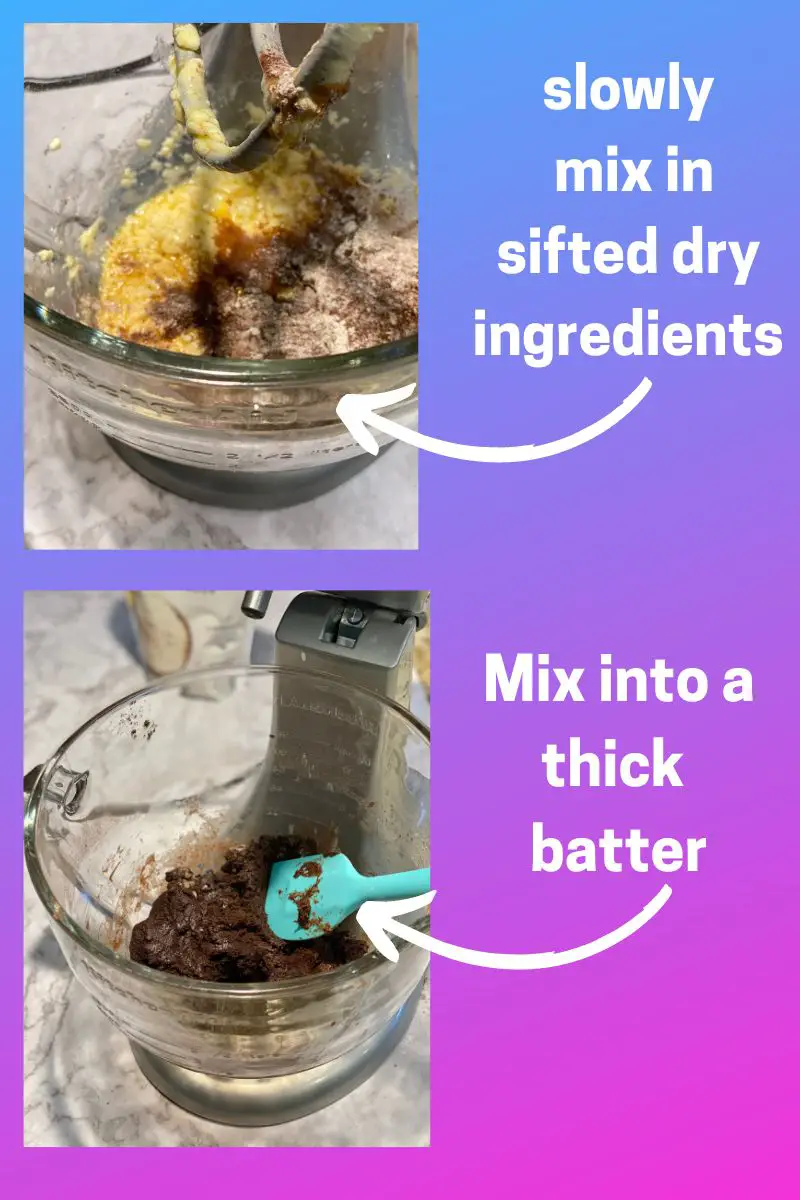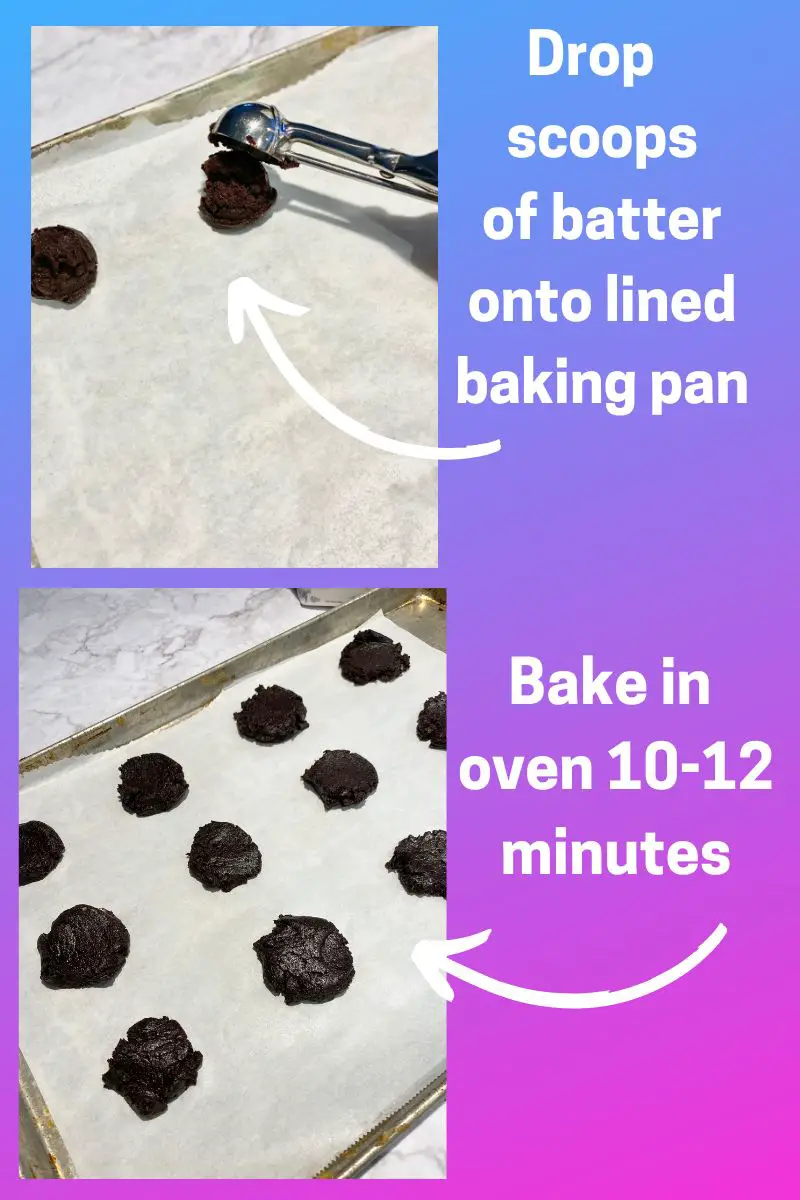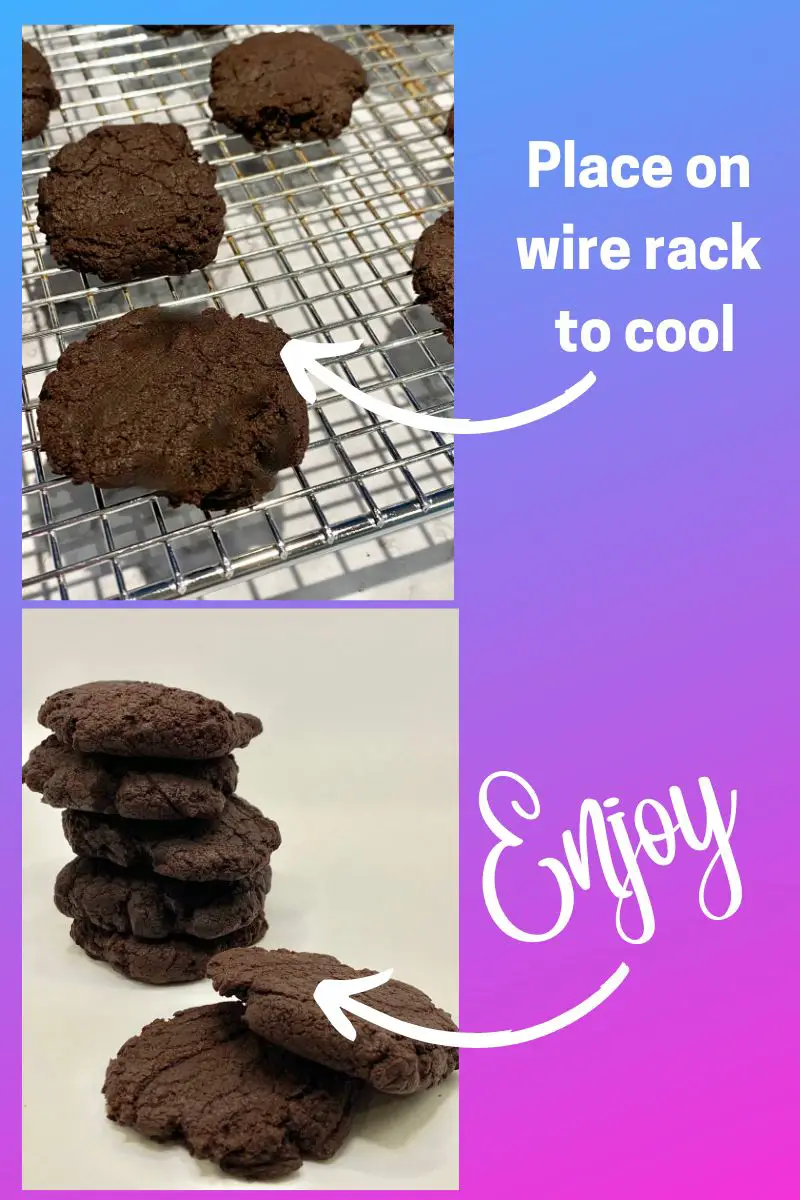 The Sugar Free Diabetic Chocolate Cookie Recipe
Nutritional Information
The following information is for 1 cookie, using the ingredients listed in our Diabetic Chocolate Cookie Recipe.
Calories – 56
Total Fat
Saturated fat – 4.2 gr
Total Carbs – 2.4 gr
Fibre – 1.4 gr
Net carbs – 1 gr
Protein – 3.5 gr
Sodium – 86 mg
Nutrition information is provided as a courtesy and is automatically calculated using an online nutrition calculator. We encourage you to calculate nutrition data with your specific brand ingredients as nutritional information can vary between brands
I hope you have enjoyed this easy Sugar Free Diabetic Chocolate Cookie recipe. It is just another great diabetic-friendly snack!
This website may contain affiliate links. When a purchase is made through our links, The Naked Diabetic may receive a commission, at no cost to you.