This website may contain affiliate links. When a purchase is made through our links, The Naked Diabetic may receive a commission, at no cost to you.
These delicious Low Carb Apple Rolls Ups are perfect for an afternoon cup of coffee. No one will know that these are sugar-free and low-carb.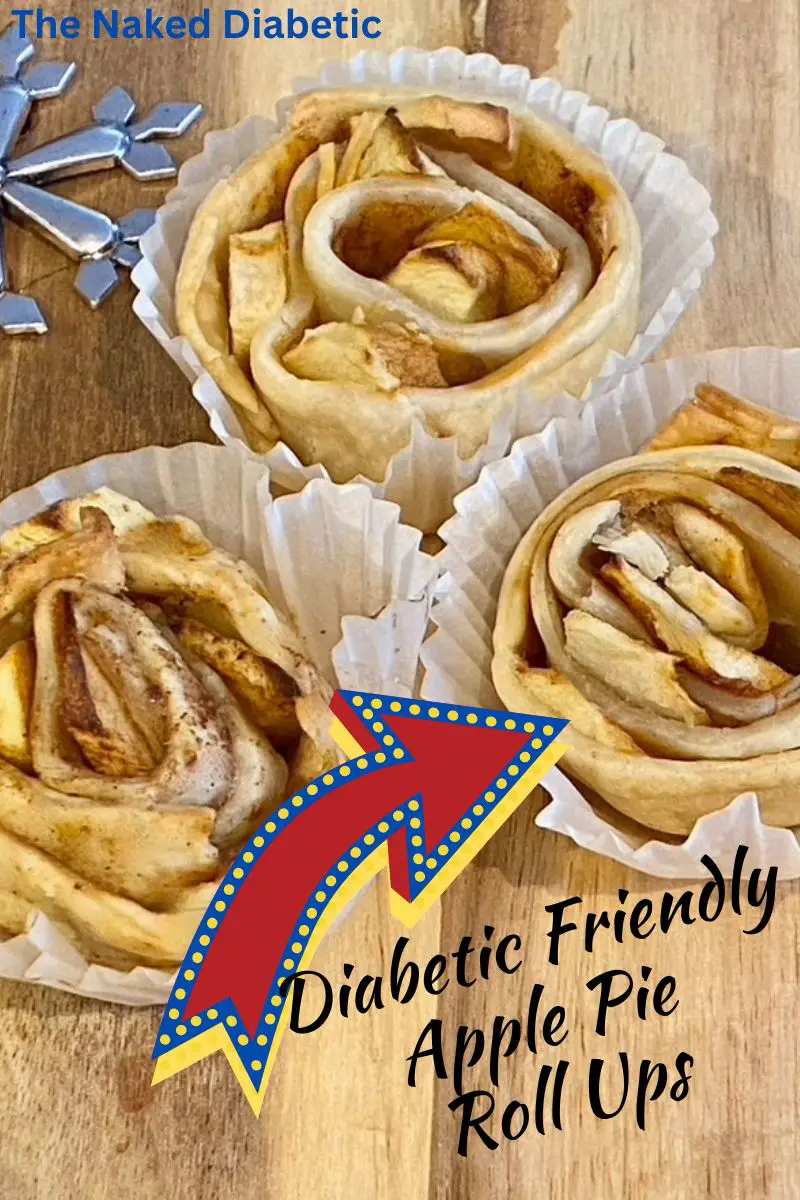 In this post, I share recommended kitchen tools, a shopping list of ingredients, the Low Carb Apple Roll Ups recipe, helpful tips and FAQs and nutritional information.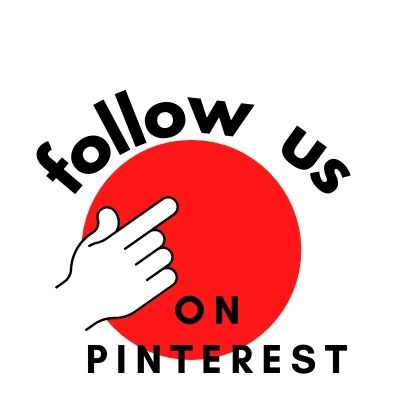 Recommended Kitchen Tools
Paring Knife
Apple Corer – optional
Cutting Board
Rolling Pin
Mixing Bowl – Small
Whisk
Muffin baking tin (must hold at least 10)
Measuring Spoons
Pastry Brush
Small Prep Bowl
Need Kitchen Accessories?

Shopping List of Ingredients
Ingredients required for Low Carb Rollable Pie Crust
Need Diabetic Friendly Ingredients

Helpful Tips and FAQs
Can I use an alternate sweetener?
As I always mention. I use Splenda Granulated Zero Calorie sweetener as it does not increase my blood glucose levels. I find that sweeteners that contain sugar alcohols elevate my blood sugar. Sometimes it is as if I ate a non-sugar-free product. This is not the case for all diabetics though, so if this is not a concern for you, by all means, use your favourite sweetener. Any substitution can alter the final nutritional information. Always make sure that the sweetener that you choose will tolerate baking.
Can I leave the apple unpeeled?
Feel free to leave the apple unpeeled. This is a personal preference and skin on will work as well as skin off.
Can I use an alternative dough?
For this recipe to remain diabetic-friendly, you will need a rollable low-carb dough (ours works great). If you have a preferred pie dough recipe, feel free to use it instead of ours. Using an alternative crust will alter the nutritional information. Many low-carb pie crusts are not rollable, but by all means, make changes to suit your own preferences.
Storage and freezing instructions.
These Low carb Apple Roll Ups can be stored at room temperature covered in plastic wrap or in an air-tight container for 2 days or refrigerated for up to 6 days.
For Freezing Wrap each individual low carb apple roll up in a plastic wrap and then store in an airtight container
Serving Low carb Apple Roll Ups
For peak enjoyment, serve warm. These are terrific served with a small dollop of sugar-free whipped cream or with a little drizzle of Walden Farms Sugar-Free Caramel Syrup over them.
To impress your guests, drizzle some Sugar-Free Walden farms Syrup on a dessert plate, remove the apple roll up from the cupcake liner and place over the drizzle and top with one teaspoon of sugar-free whipped cream and drizzle Walden Farms Caramel Syrup over the whipped Cream.

How To Make Low carb Apple Roll Ups.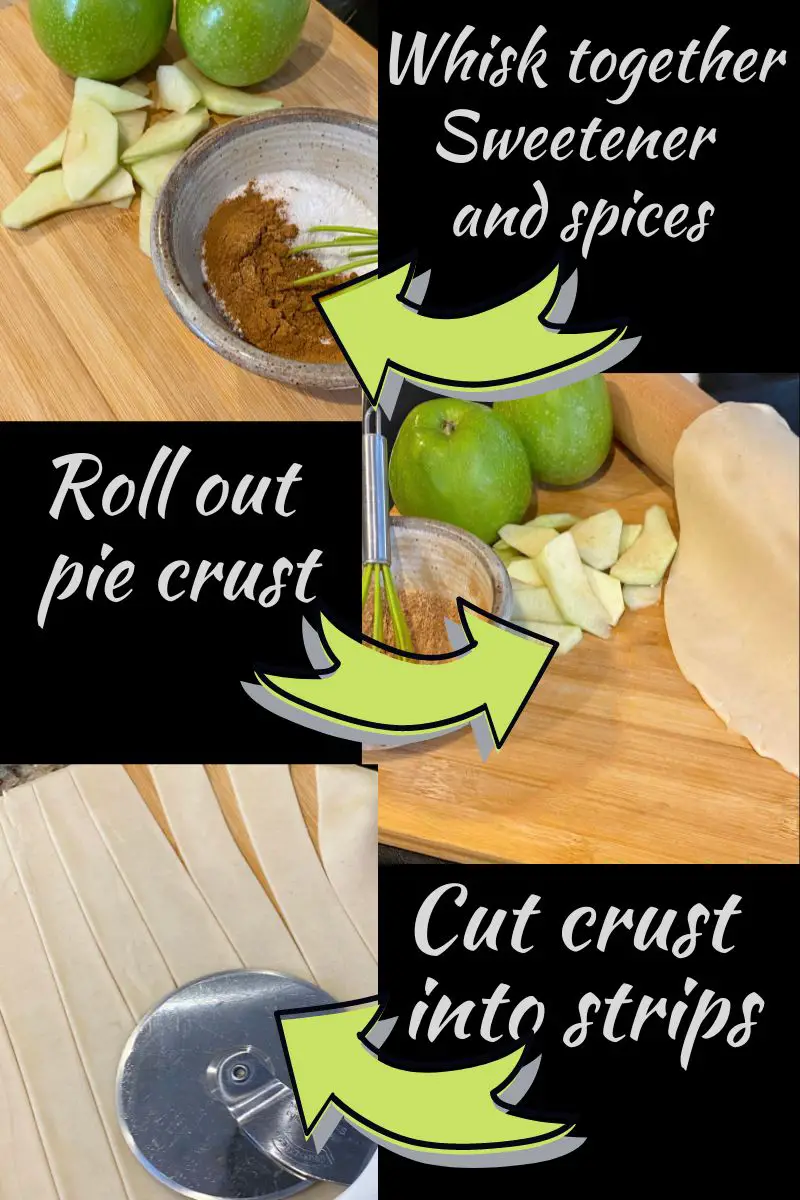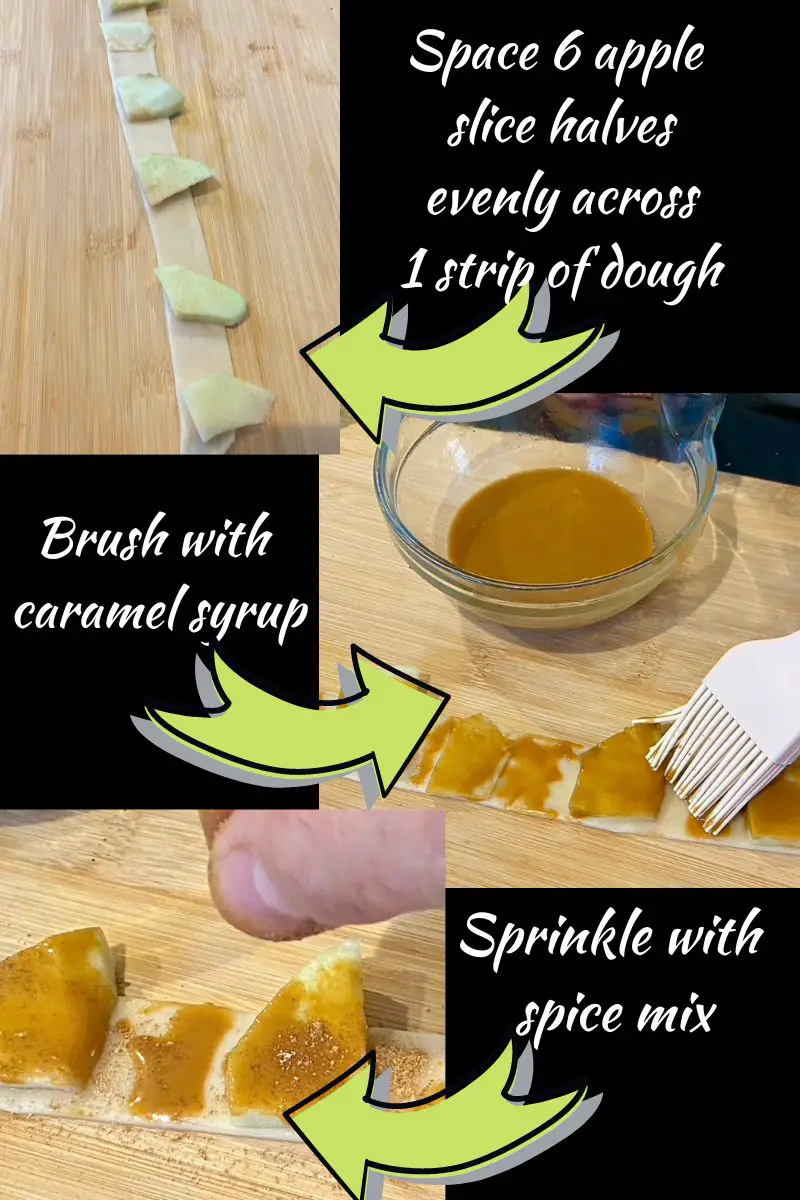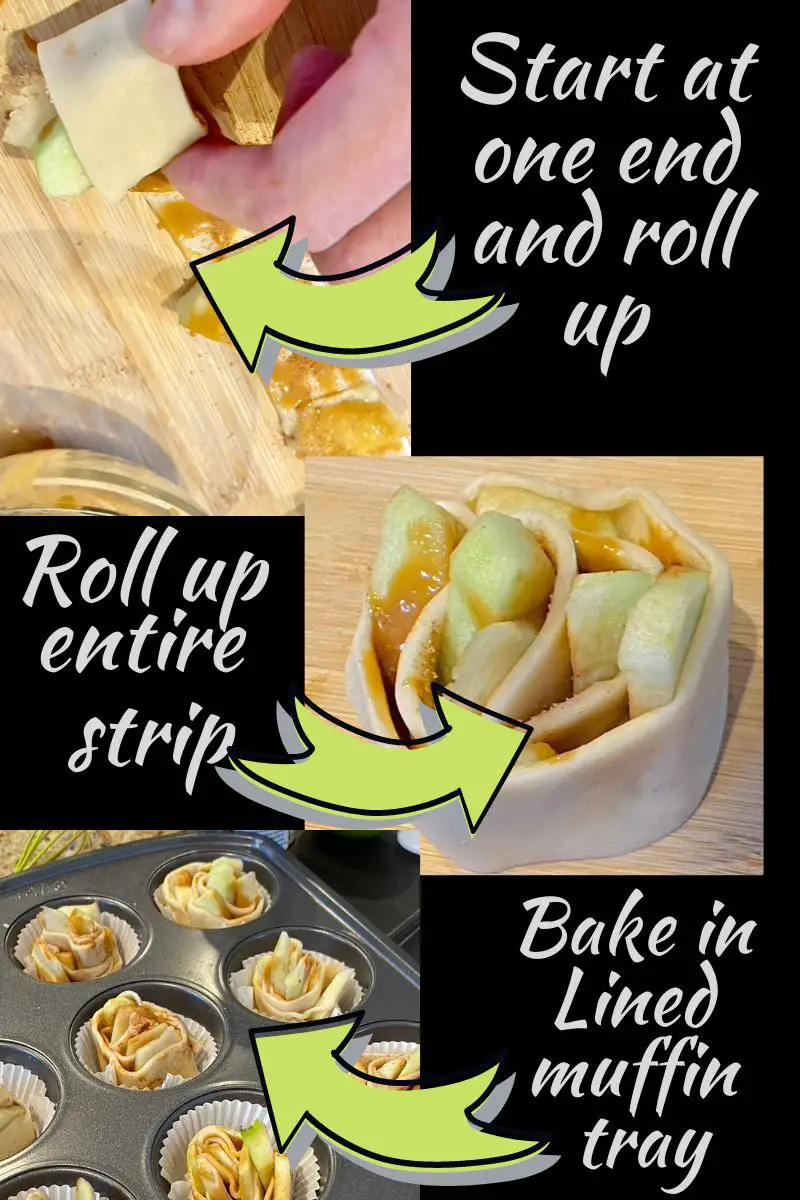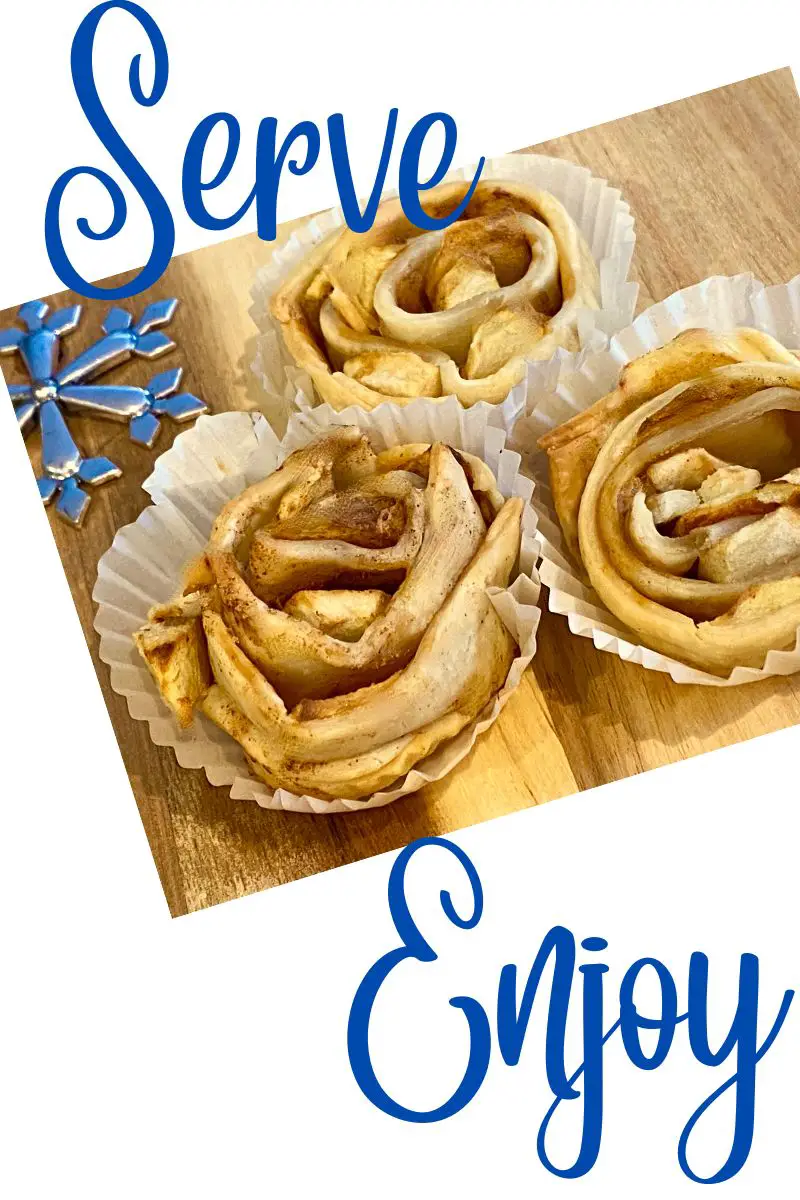 The Recipe for Low carb Apple Roll Ups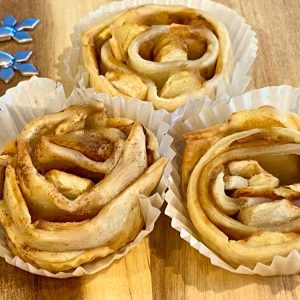 Low Carb Apple Roll Ups recipe
An easy Diabetic Friendly Apple Pie bites recipe.
Ingredients  
1

Low Carb Rollable Pie Crust

1

large

Granny Smith Apple cored, peeled and sliced into 30 thin slices.

⅓

Cup

Walden Farms Caramel Syrup

2

tsp

Ground Cinnamon

3

tbsp

Splenda Granulated Sweetener

⅛

tsp

Salt
Instructions 
Preheat oven to

350

°F

(175 C)

In a small mixing bowl, whisk together the Sweetener, Cinnamon and Salt.

Cut the apple slices in half and set aside.

Roll out the Sugar Free Low Carb Pie Crust into a 10 inch by 10 inch square (approximately)

Using a sharp knife or pizza cutter, cut dough into 10 equal sized strips

Space 6 pieces of apple evenly along the dough strip.

Brush each apple piece and the dough strip with Walden Farms Zero Sugar Caramel Syrup

Sprinkle the sweetener/cinnamon mixture along the strip, making sure to coat both the apples and the dough.

Carefully roll up each strip and apple pieces into a roll.

Place each apple roll in a lined muffin tin.

Sprinkle any remaining sweetener mixture over the roll ups.

Bake for 15 minutes on the middle rack of oven, or until crust turns golden brown.

Remove from oven and allow to cool in the pan for at least 5 to 10 minutes before removing.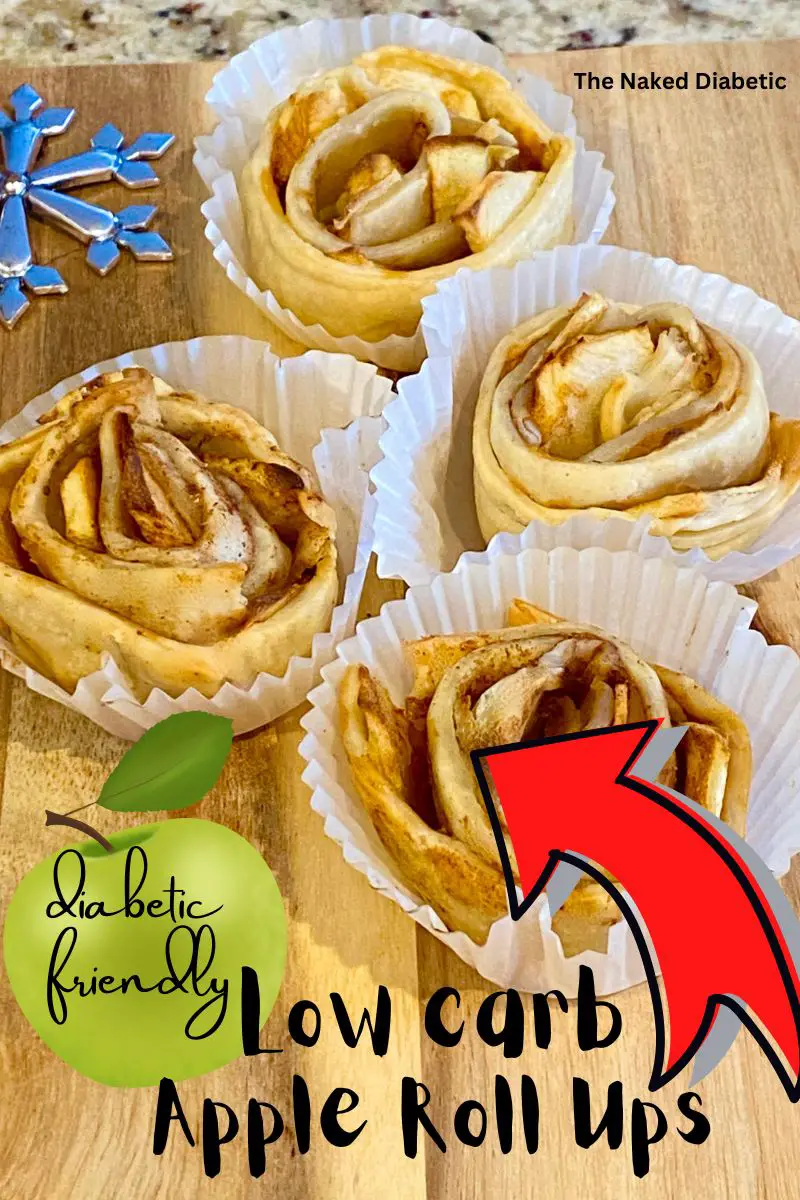 Nutritional Information
The following information is for 1 of our Low carb Apple Roll Ups, using ingredients specified in the recipe and our Low Carb Rollable Pie Crust Recipe.
1 Serving = 1 Apple Roll Up
Calories – 105
Total Fat – 7.4 gr
Saturated fat – 3.8 gr
Total Carbs – 9 gr
Fibre – 4.5 gr
Net Carbs – 4.5 gr
Protein – 3.9 gr
Nutrition information is provided as a courtesy and is automatically calculated using an online nutrition calculator. We encourage you to calculate nutrition data with your specific brand ingredients as nutritional information can vary between brands
I hope you enjoy our simple recipe for Sugar Free Low Carb Apple Roll Ups. Add this to your collection of quick go-to diabetic-friendly recipes.
Thank You for visiting The Naked Diabetic.
This website may contain affiliate links. When a purchase is made through our links, The Naked Diabetic may receive a commission, at no cost to you.