This website may contain affiliate links. When a purchase is made through our links, The Naked Diabetic may receive a commission, at no cost to you.
These cute diabetic friendly Sugar Free Peach Hand Pies and the perfect snack or dessert to satisfy any sweet tooth. You can make a couple or a bunch and freeze them for grab-and-go snacks. This is one of our favourite diabetic friendly peach recipes.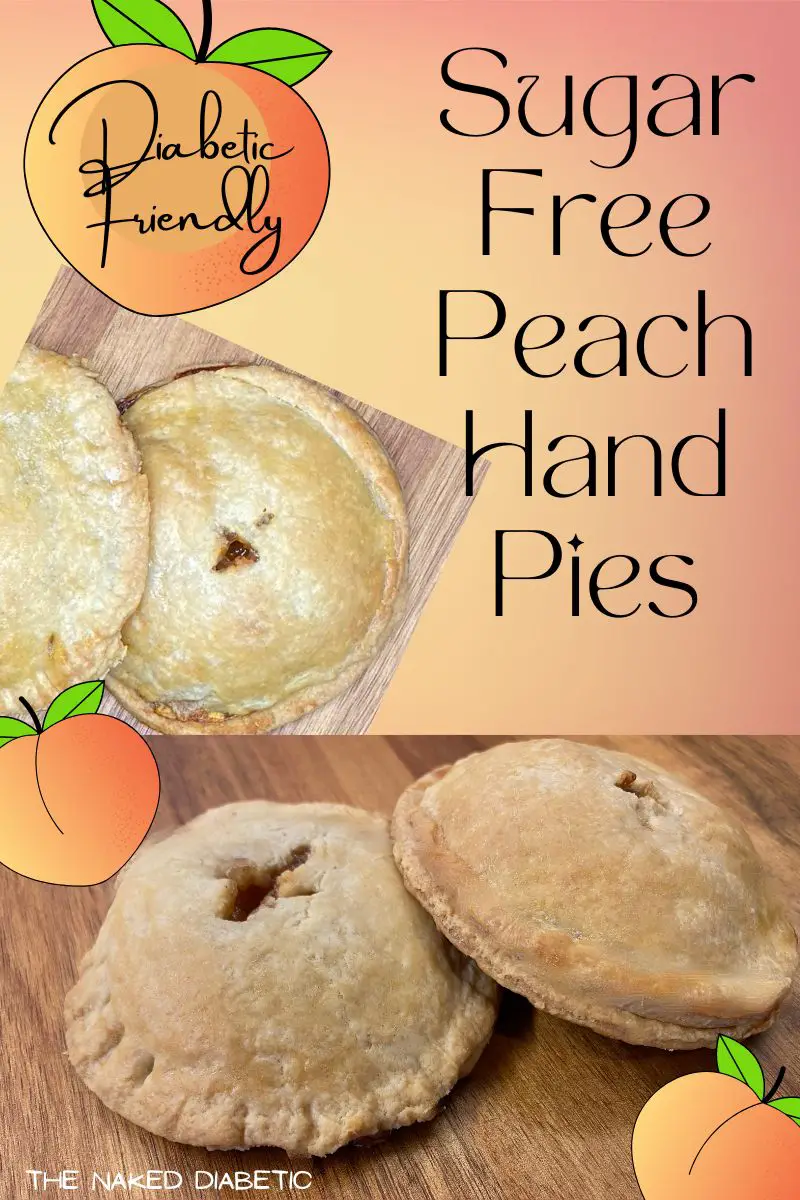 In this post, I share the list of kitchen tools needs, a shopping list of ingredients, helpful tips for the best results, the Sugar Free Peach Hand Pies Recipe, and nutritional information.
Kitchen Tools Recommended
Mixing Bowl
Measuring Cups
Measuring Spoons
kitchen knife or chopper
kitchen knife
rolling pin
Baking sheet
Parchment paper
Need Kitchen Tools and Accessories?

Shopping List of Ingredients
Fresh Peaches – 1 large or 2 medium (see tips for using frozen peaches)
Ground Cinnamon
Lemon Juice
Salt
Tapioca Pearls
You will also need one crust from our Diabetic Friendly Pie Crust recipe.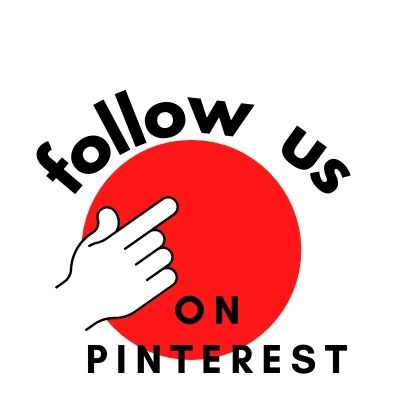 Need Diabetic Friendly Ingredients?

Helpful Tips for the Best results
Make the crust recipe ahead of time.
If you have time, make the diabetic friendly pie crust recipe that we use in our Sugar Free Peach Hand Pies a day ahead. You can chill it in the fridge overnight and when you are ready to make your hand pies, just remove it from the fridge and leave it at room temperature while you work on the filling.
Using Frozen Peaches
You can use frozen peaches in this recipe, BUT.. the peaches need to be well drained to prevent the hand pies from being too juicy.
A good way to drain frozen peaches is to just put them in a sieve over a bowl and allow the liquid to drain out. Move around the peaches every few minutes to get as much of the juice removed as possible. If desired, save the juice and make some sugar free peach glaze and brush it over the tops of the finished pies.
Substituting Sweetener
As I always mention that I use Splenda granulated sweetener as it does not have a negative impact on my blood sugar levels. Many sweeteners contain sugar alcohols which cause my blood sugar to rise as if I had real sugar. If this is not a concern of yours feel free to substitute it with your favourite sweetener. Be mindful that any substitutions may change the nutritional values.
How to easily peel peaches.
This easy way to peel peaches makes the hard work of peeling peaches super easy. Just follow these simple steps. Peaches should be ripe for the best results.
In a medium-sized saucepan bring water to a boil. (have enough water in the pan to cover the peaches)
Place peaches into the boiling water. Do not pile them on top of each other. (you may have to do them a few at a time) Using a slotted spoon works best for placing the peaches into the boiling water.
Let the peaches sit in the boiling water for approximately 30 seconds.
Remove them from the boiling water, using a slotted spoon.
Immediately submerge the peaches into an ice bath (bowl of ice water)
After 5 to 10 seconds remove one peach at a time. The skin should easily slide off of the peach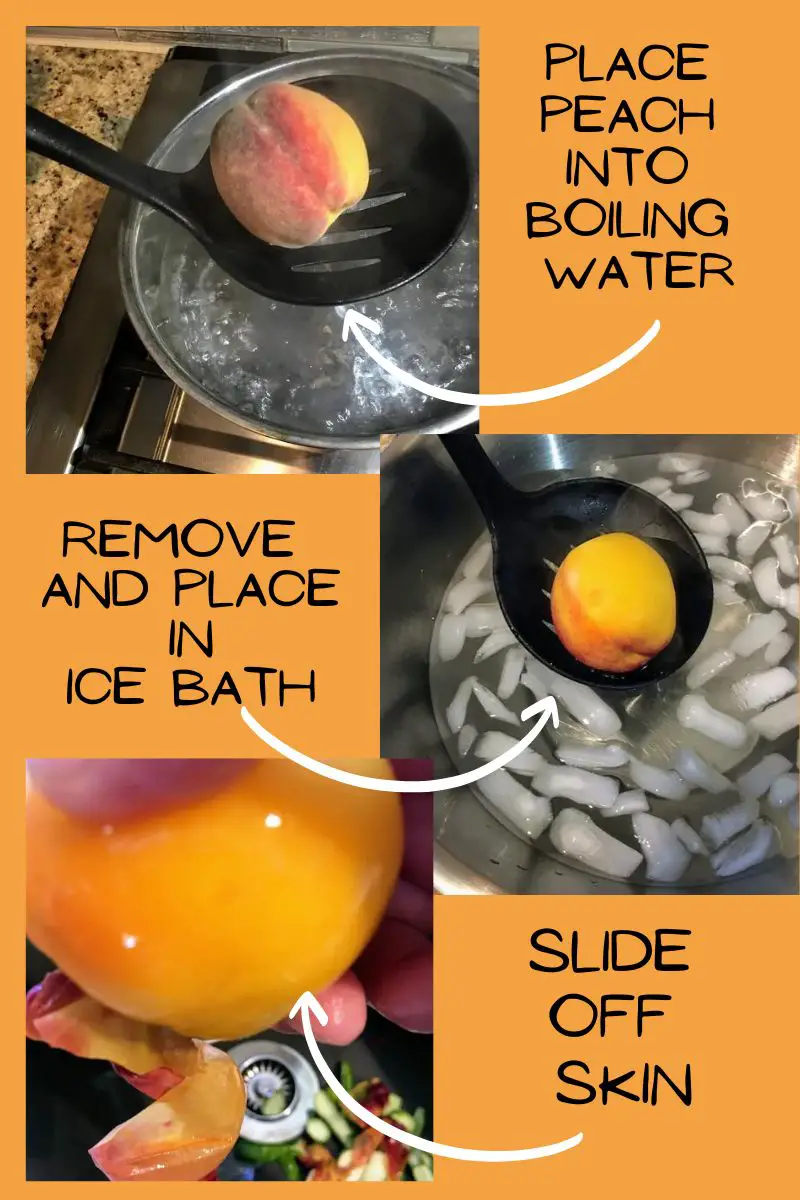 Filling the hand pies
When you are filling the hand pies, it is important to leave 1/4 of an inch of clean pie crust dough around the edge, When you attach the top of the pie, the clean edge will make a good seam without leakage.
Make sure you don't forget the steam hole at the top of the pie. The steam hole will prevent the sides from pushing open and liquid seeping out.
If you do not have a hand pie press, you can use a round cookie cutter and seal the edges with your fingers by pinching the edges all the way around the pie or you can press the edges with a fork.
Storing and freezing recommendations
Store your Sugar Free Peach Hand Pies in an airtight container in the refrigerator for up to 5 or 6 days. Our hand pies can also be frozen. Wrap them in plastic wrap to make them airtight. Store wrapped hand pies in a Ziploc bag or airtight container in the freezer for up to a month.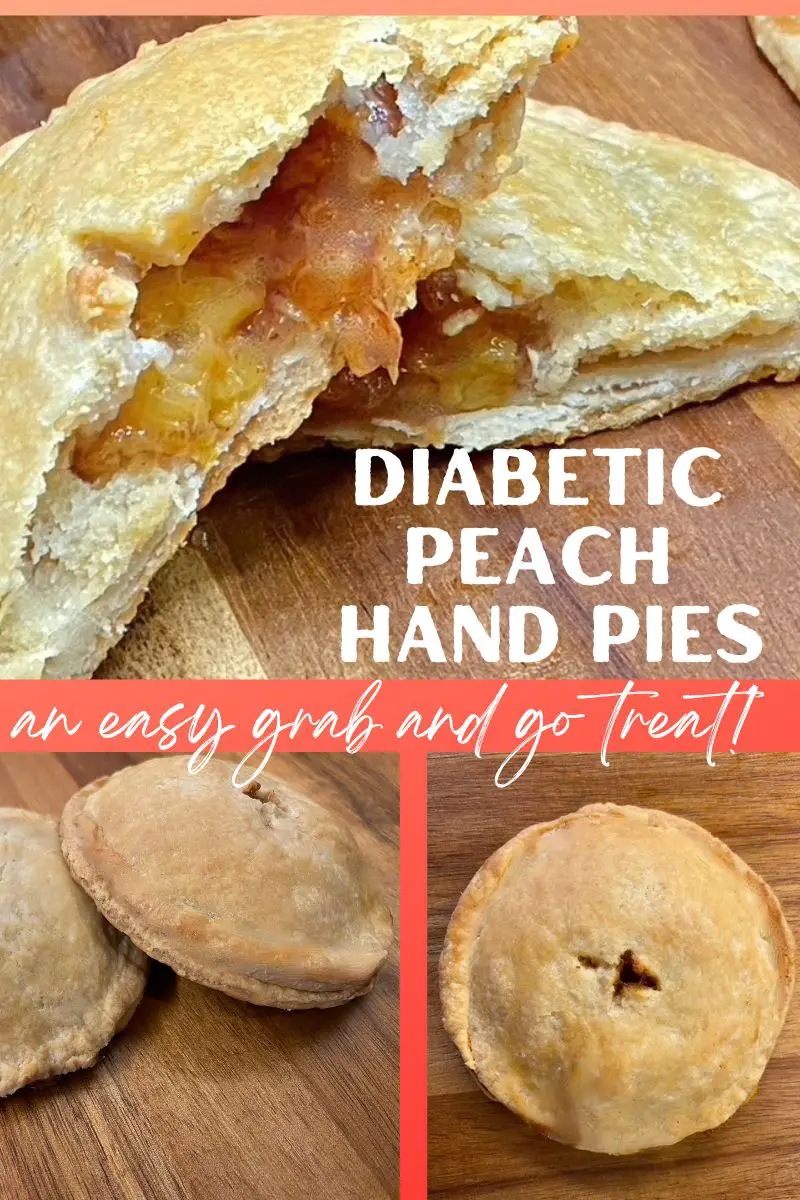 The Diabetic Friendly Sugar Free Peach Hand Pies Recipe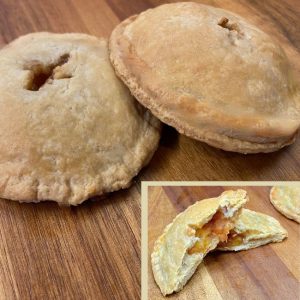 Diabetic Friendly Sugar Free Peach Hand Pies
An easy recipe for diabetic friendly Peach Hand Pies that are sugar free.
Ingredients  
1

full

recipe of Diabetic Friendly Pie Crust (recipe link below)

3/4

cup

chopped peaches

¼

tsp

Lemon Juice

3

tbsp

Splenda Granulated Sweetener

2

tsp

Tapioca Pearls

½

tsp

Ground Cinnamon

pinch

salt
Instructions 
Preheat oven to (190 C)

375

°F

In a mixing bowl add all of the ingredients and mix well.

Roll and cut the pie crust into 8 – 4inch rounds, using the hand pie mould/cutter

Scoop the mixture into the center of the dough rounds. (dividing the chopped filling between the four hand pies)

Place the top crust onto the bottom crust and press the edges securely. (this works best using a hand pie press)

Place the round hand pies onto a parchment lined baking sheet.

Pierce the top of each pie to allow the steam to vent.

Bake for approximately 35 minutes or until the top crust of the hand pies is golden.
How to make and assemble Sugar Free Peach Hand Pies.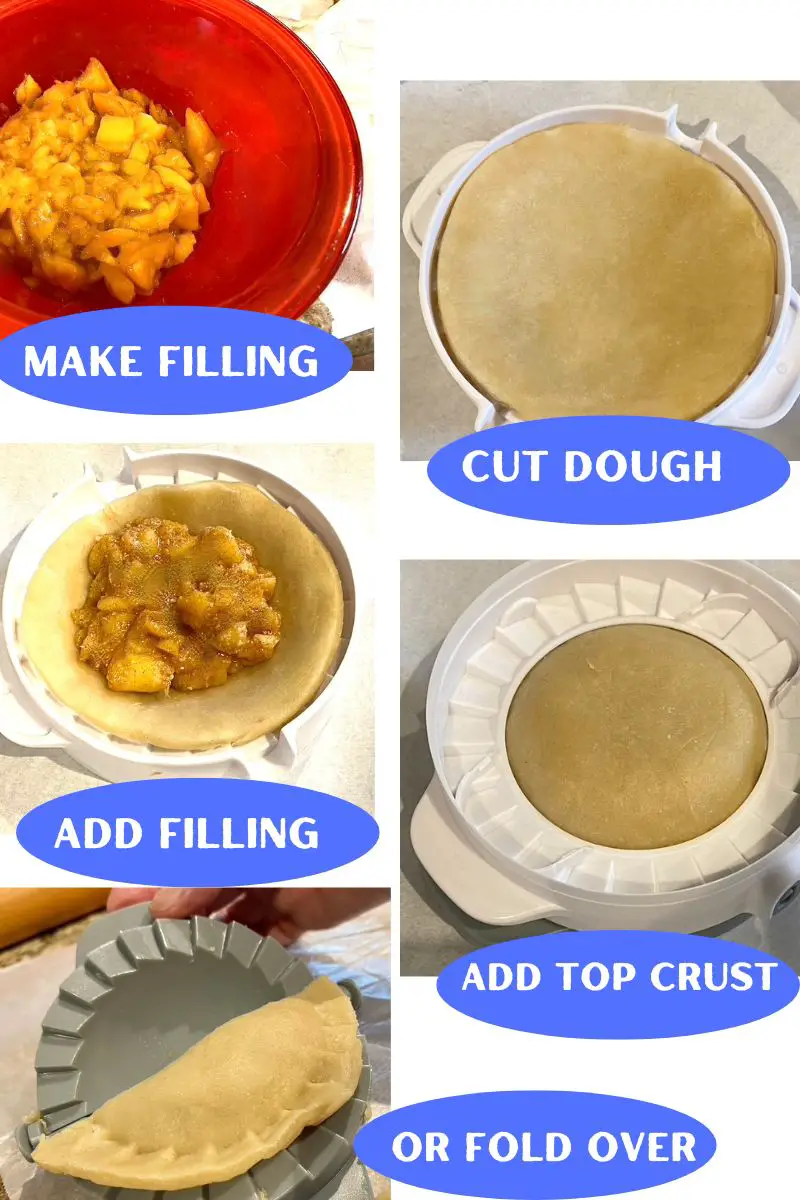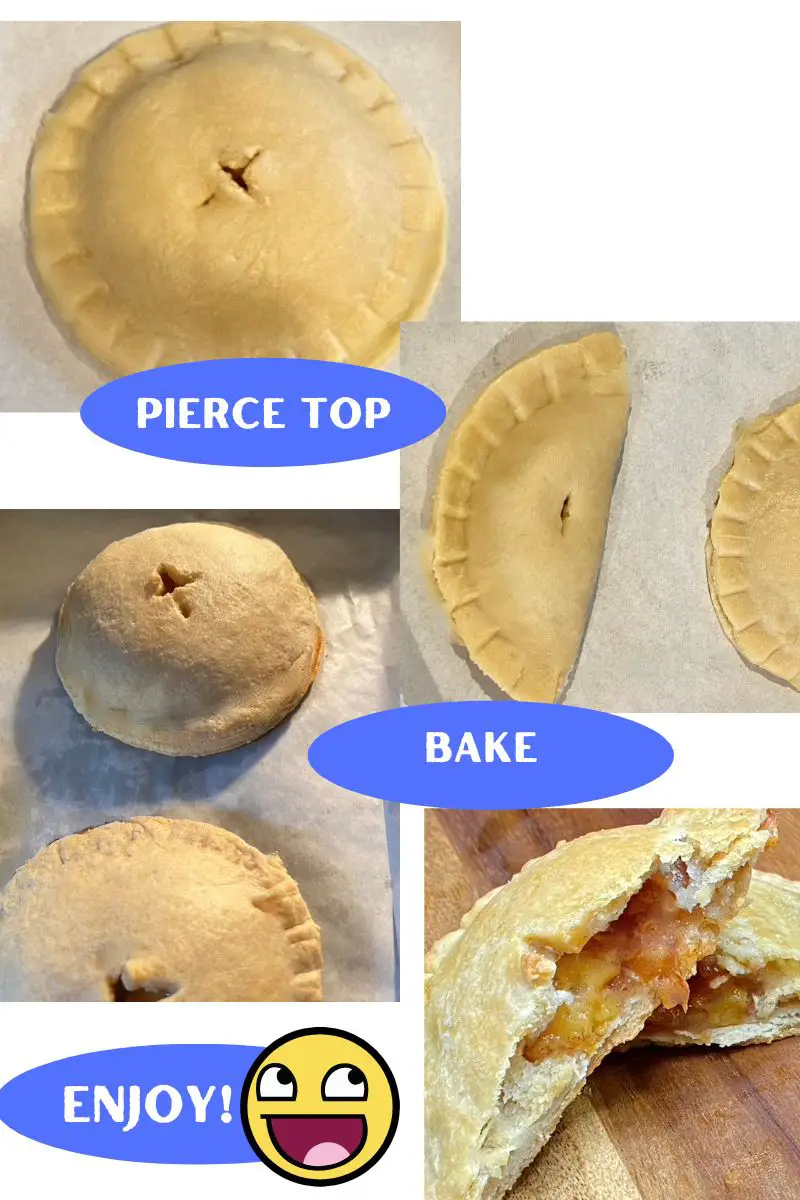 Nutritional Information
The following information is for one 4-inch round (or 2 half rounds), double-crust sugar-free peach hand pie. This includes the ingredients stated in the recipe along with one crust made from our Diabetic Pie Crust recipe. If you use other ingredients or a different crust recipe, please adjust accordingly.
Calories – 248
Total fat – 18 gr
Saturated Fat – 9 gr
Carbs -16.5 gr
Fibre – 9.5 gr
Net carbs- 7 gr
Protein – 10 gr
I hope you enjoy making and sharing these easy Low Carb Sugar Free Peach hand Pies. This is portion control incognito, which is great when caring for a diabetic.
Thank You for visiting The Naked Diabetic.
This website may contain affiliate links. When a purchase is made through our links, The Naked Diabetic may receive a commission, at no cost to you.