This website may contain affiliate links. When a purchase is made through our links, The Naked Diabetic may receive a commission, at no cost to you.
Don't miss the opportunity to make these easy Sugar Free Valentines Cookies. Whether you are making them for yourself or a special friend. These are absolutely the best!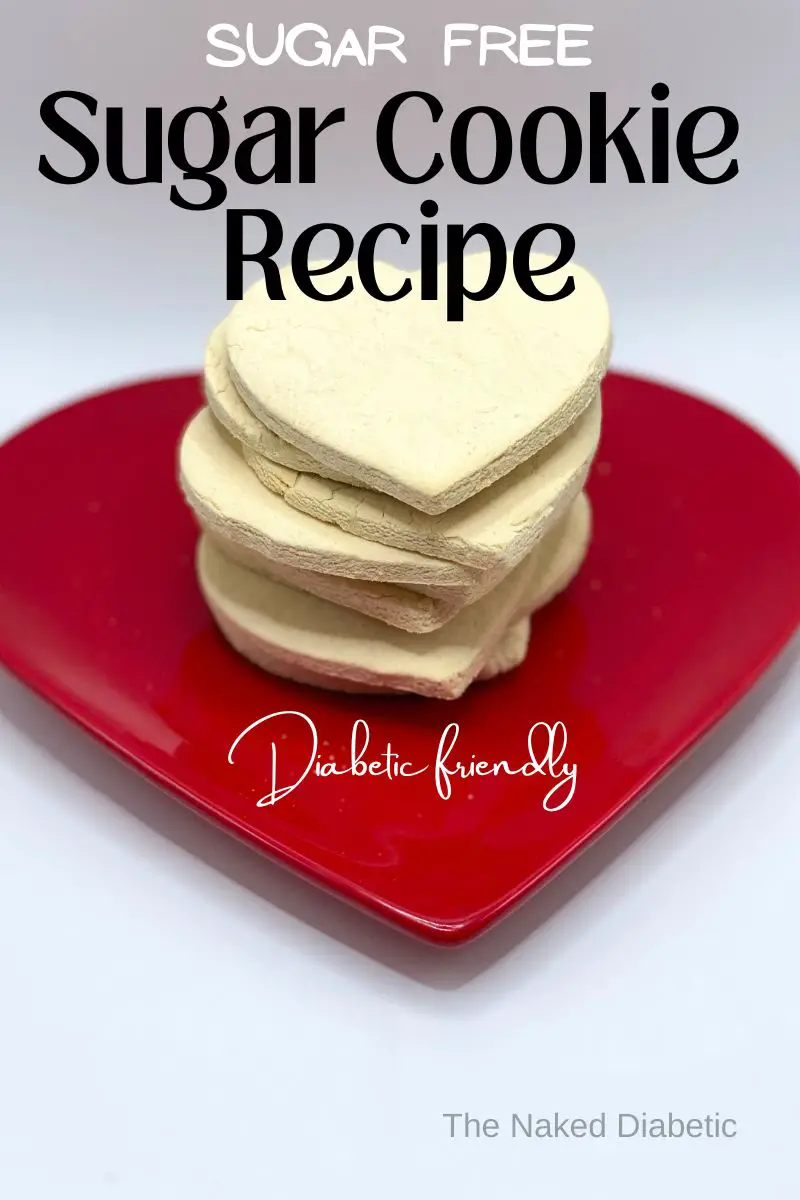 In this post, I share a list of recommended kitchen tools, the shopping list of ingredients, some helpful tips and FAQs, the recipe for Sugar Free Valentines Cookies and nutritional information.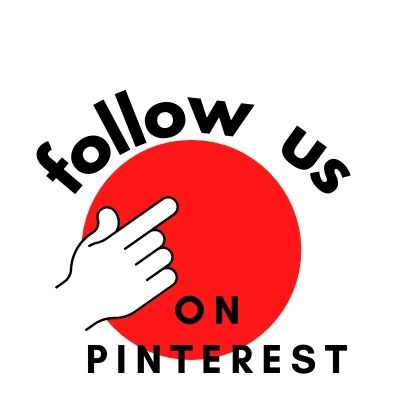 Recommended Kitchen Tools
Mixing Bowls
Measuring Cups
Measuring Spoons
whisk
Heart Shaped Cookie Cutters (3 to 4 inch)
Rolling Pin
Electric Mixer
parchment paper
Baking pans (cookie sheets)
Need Kitchen Supplies

Shopping List of Ingredients
Baking Powder
Butter
Eggs
Salt
Skim Milk
Vanilla Extract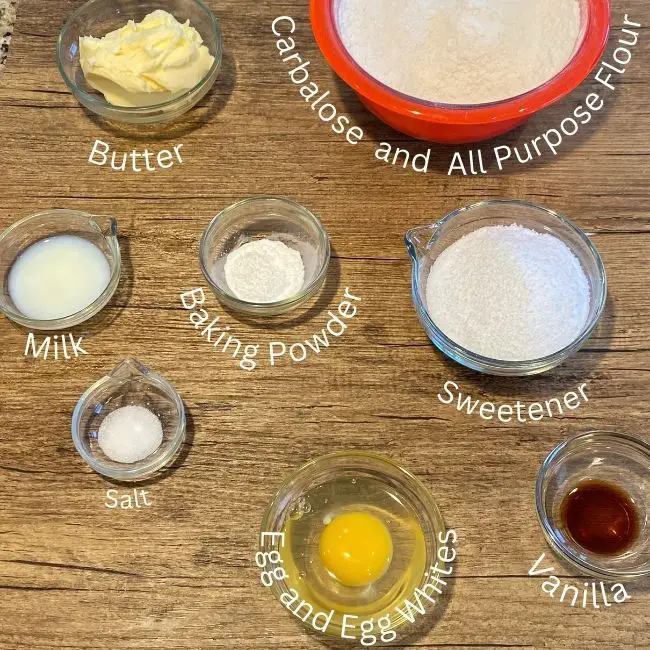 Need DiIabetc Friendly Ingredients?


More Great Diabetic Friendly Valentines Treats
Helpful Tips and FAQs
Can I use a different flour in this recipe?
For the best results in these Sugar Free Valentines Cookies use Carbalose Flour. It is whiter than King Arthur Keto flour and the finished cookies look and taste like traditional sugar cookies.
I have used a small amount of all-purpose flour in this recipe. I find using all Carbalose Flour results in a very dry dense cookie. Adding a little all-purpose flour lightens the cookie up and proved a little more crispiness.
If you choose to omit the all-purpose flour and go with all Carbalose flour, you can, but you may need to add a little more milk to compensate for the denseness.
Using other flour such as Almond Flour or Coconut flour is also an option. You may need to adjust the liquid amounts and the final nutritional information will differ from what is listed below.
Don't overwork the dough.
This is a mistake that is so easy to do, that can cause you to end up with cookies that are tough as leather (well almost). Just mix the dry ingredients until they are a loose crumble but are well combined. Then shape it into a ball, wrap in plastic wrap and chill.
Can I use shortening instead of butter?
You can if you prefer shortening. The cookie will likely be whiter in colour after baking. You will not have any of the underlying buttery flavour in your finished cookies.
Using Different Sweeteners.
Use whichever sweeteners you prefer. You may need to adjust the amounts and it may impact the final nutritional information. I always try to use Splenda sweetener whenever possible as it does not impact my blood sugar in a way that sweeteners that contain sugar alcohols do. If that is not an issue for you by all means make substitutes to suit your own needs.
Can I add food colouring to this recipe?
You can add food colouring if desired. I find when adding colour to the dough, good quality bold gel or paste colouring works best. The cookies will bake lighter than the dough, so make the dough a little darker than the desired colour. This is especially important when making red or blue colours.
Do I need to chill the dough?
It is not mandatory but you will get a better cut after the dough has been chilled. The chilling helps to keep the dough from becoming too sticky to work with. If you are pressed for time, you can reduce the chilling time to 30 minutes, but I don't recommend less time.
How to make Sugar Free Valentines Cookies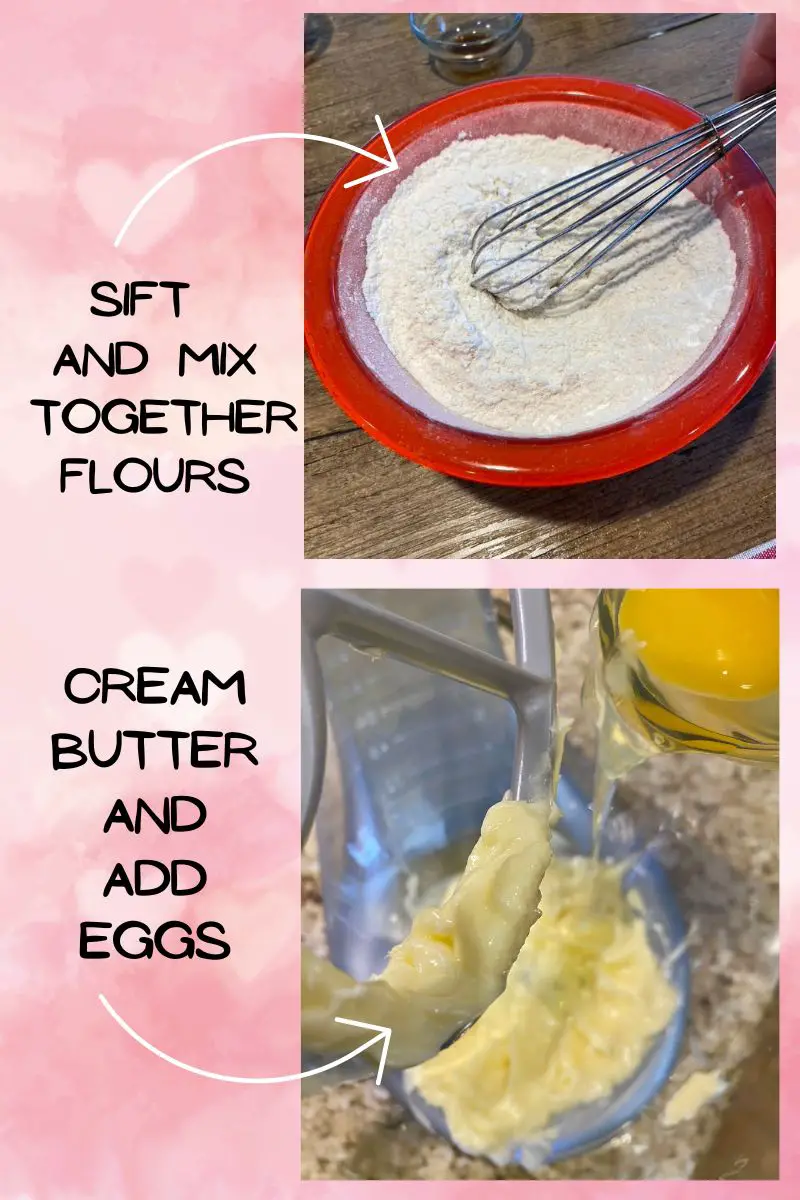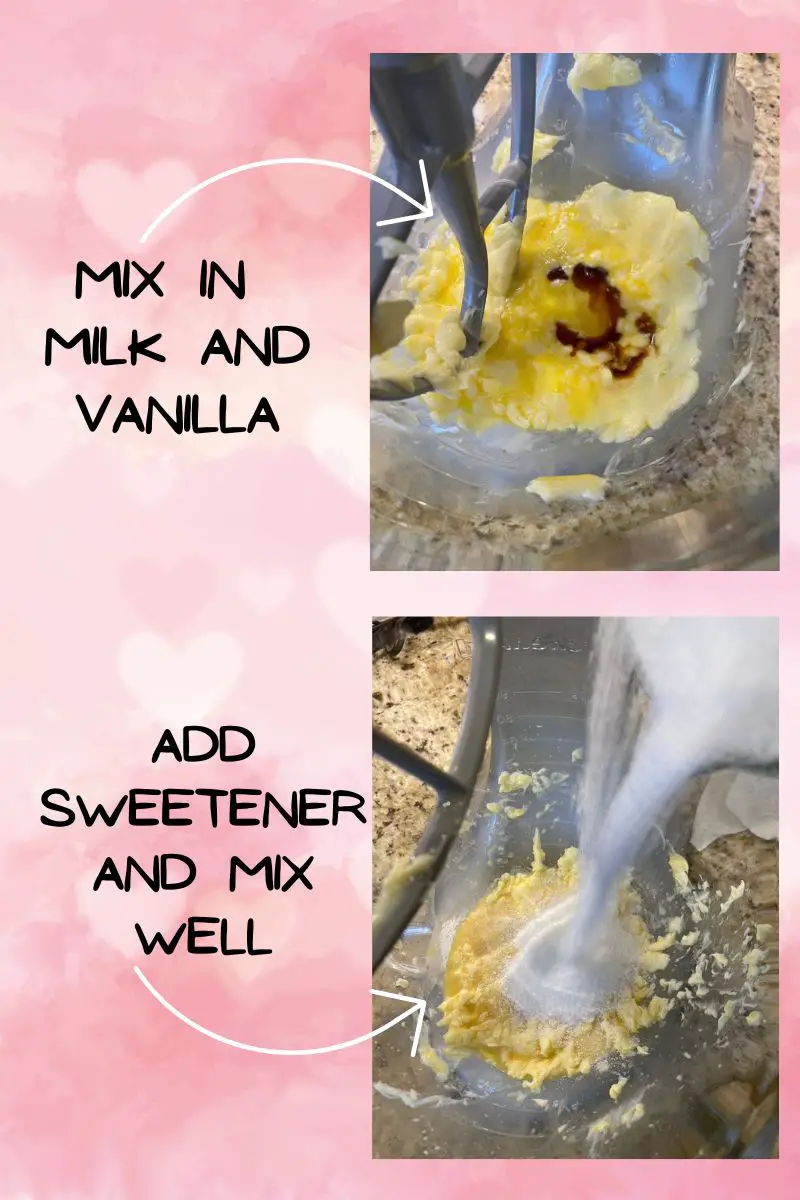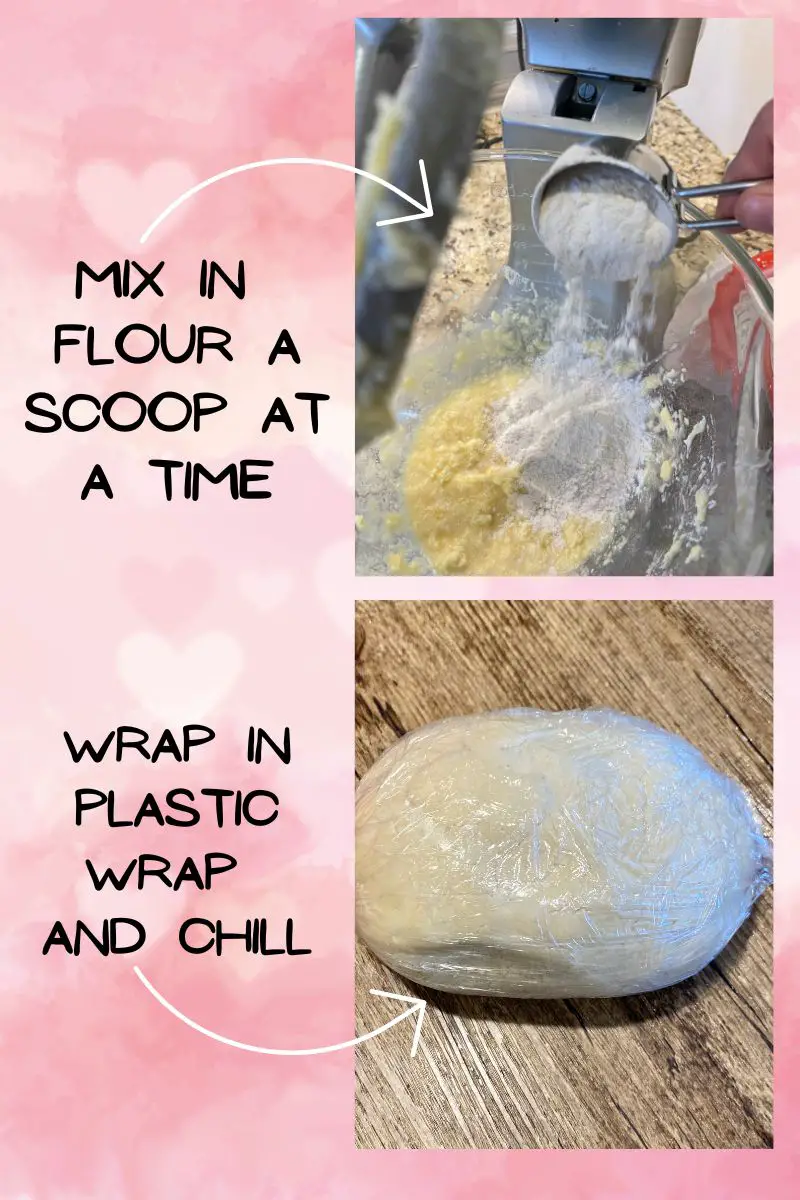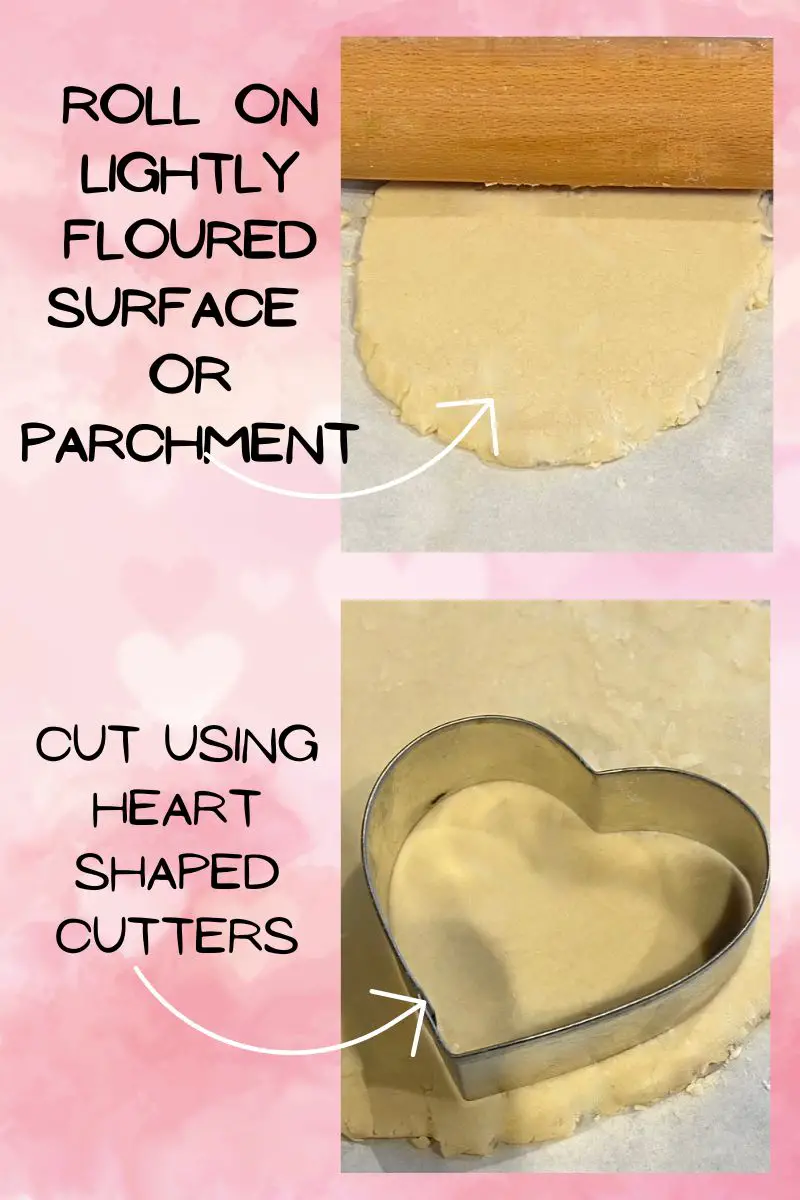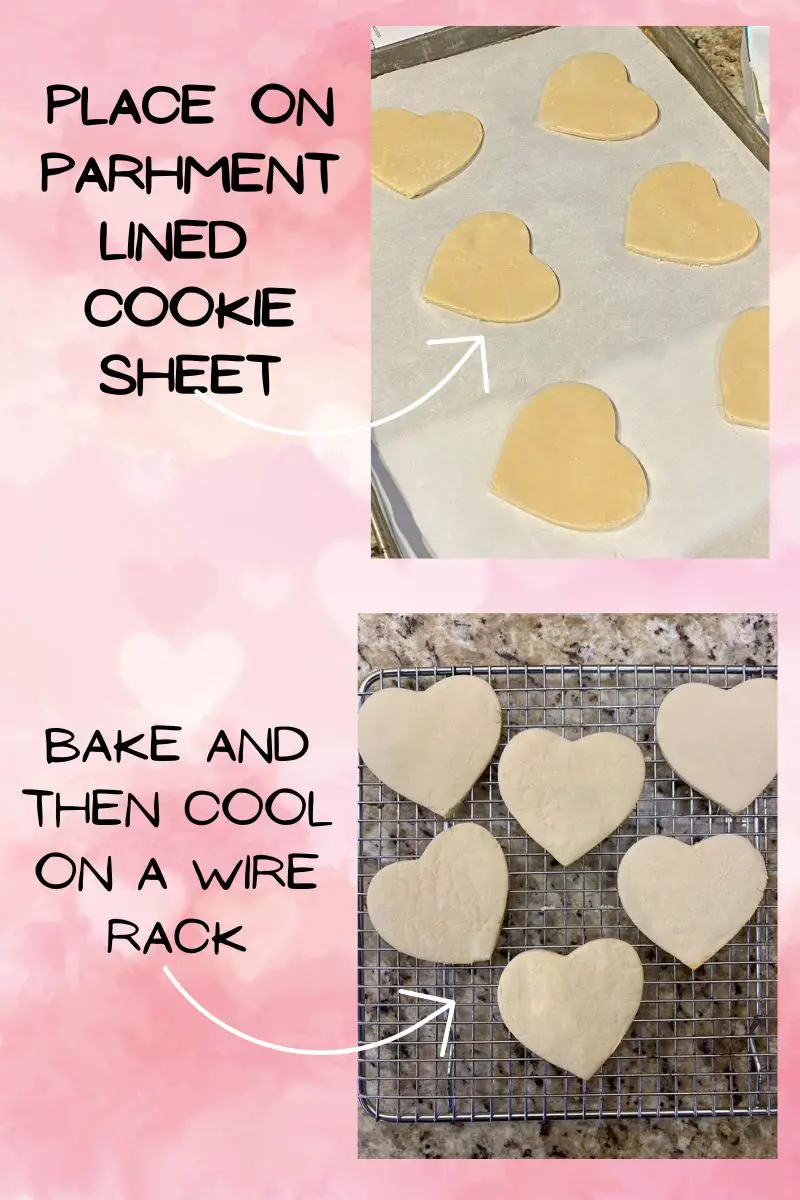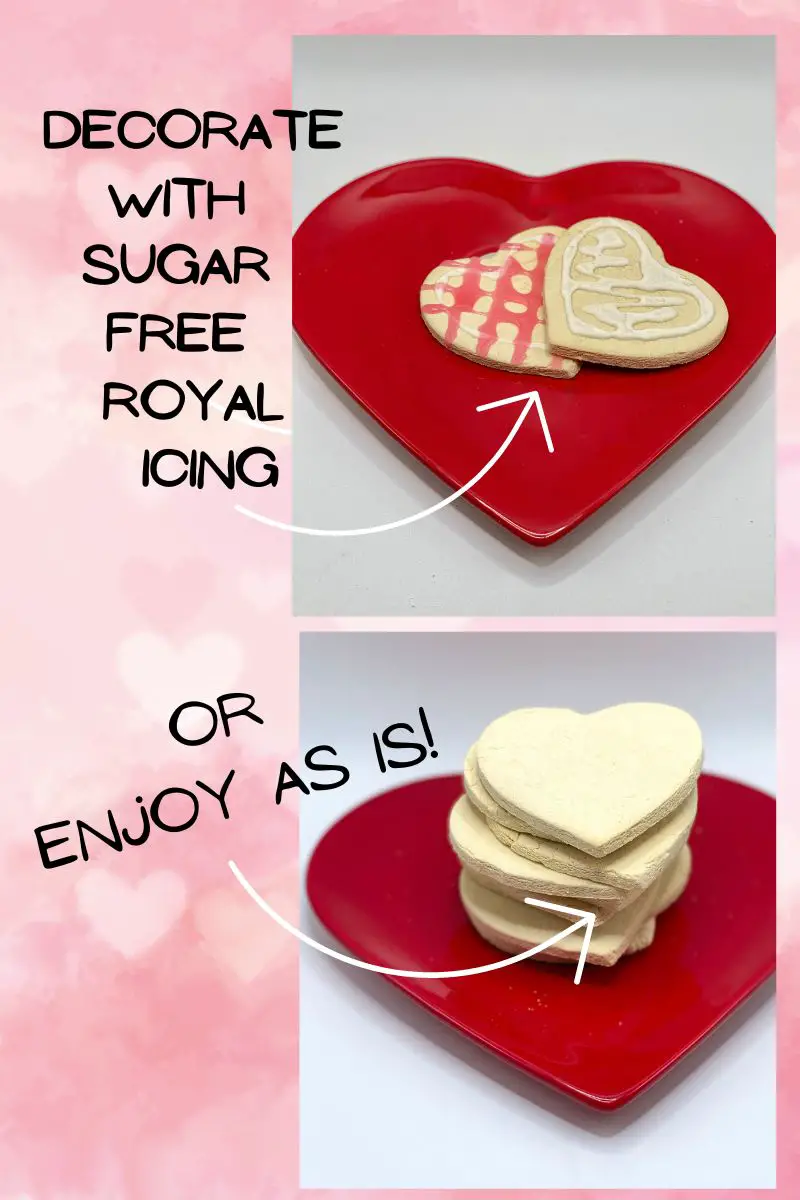 The Sugar Free Valentines Cookies Recipe
Sugar Free Valentines Sugar Cookies Recipe
An easy diabetic-friendly recipe for sugar cookies for Valentines Day.
Ingredients  
1

Cup

Carbalose Flour – well sifted

⅓

cup

All Purpose Flour – Sifted

2

tsp

Baking Powder

½

Cup

Butter – Softened

½

Cup

Splenda Granulated Sweetener

¼

tsp

Salt

1

large

Egg

2

large

Egg Whites

3

Tbsp

Skim Milk

1

tsp

Vanilla Extract
Instructions 
Mix together the Sifted Carbalose Flour, All purpose flour, Baking Powder and salt.

In a large mixing bowl, cream the butter until smooth and fluffy.

Add the egg, egg whites, milk and Vanilla Extract and beat well.

Add the sweetener and mix well.

Add the dry ingredients a couple of scoops at a time, beating in between scoops.

Once all of the dry ingredients are well mixed in, form into a ball and cover tightly with plastic wrap.

Preheat oven to

375

°F

(190 C)

Line baking sheets with parchment paper.

Sprinkle some Carbaose Flour onto a hard flat surface.

Working with half of the dough at a time, roll to about 1/8 to 1/4 inch thickness on the floured surface.

Using cookie cutters, cut into heart shapes and theen place on the parchment lined pan about 2 inches apart.

Bake in center of oven for 8 to 10 minutes.

Remove from oven and allow to cool on the pan for a couple of minutes.

Using a thin spatula, remove the cookies from the parchment paper and place onto a wire cooling rack.

Allow cookies to cool completely before icing.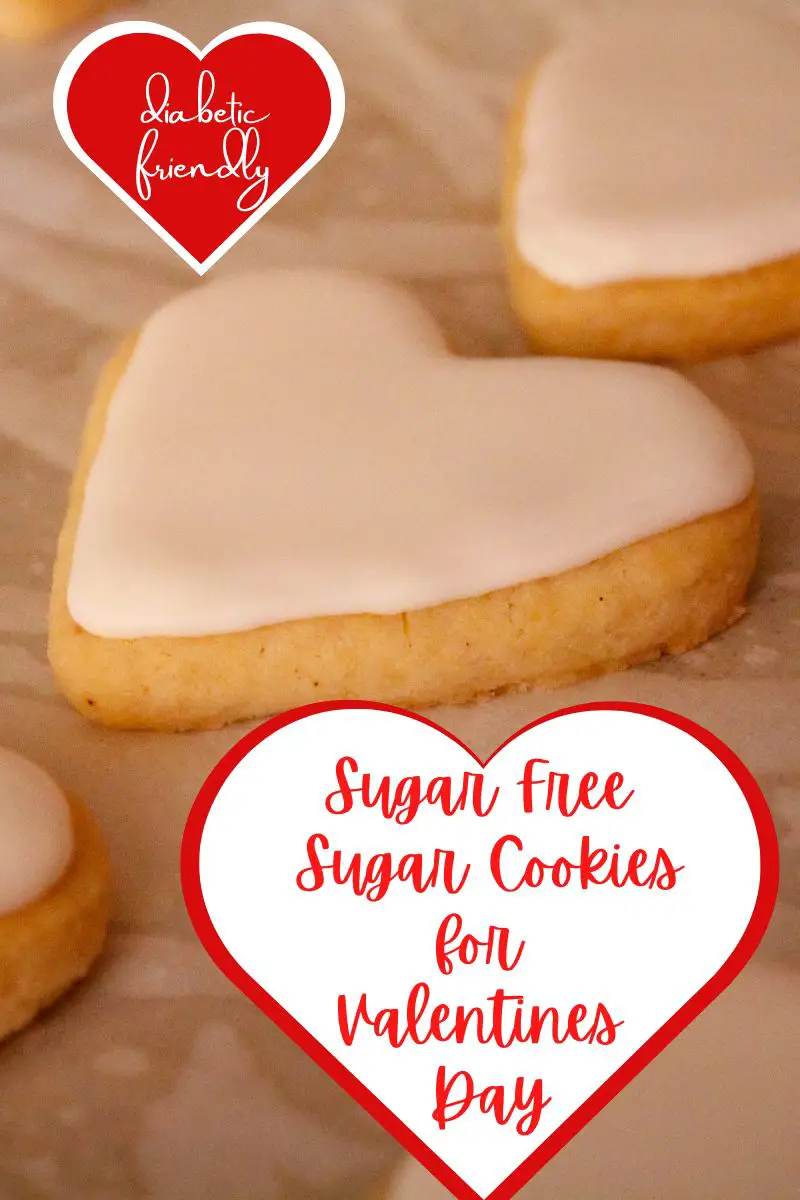 Nutritional Information
The provided nutritional information. is for 1 cookie. The values do not include icing or any alterations you make to the ingredients or any icing you add.
Calories – 84
Total fat – 6 gr
Saturated Fat – 3.3 gr
Total Carbs – 6 gr
Fibre – 1.6 gr
Net carbs 4.4 gr
Protein – 3 gr
Sodium – 100 mg
Nutrition information is provided as a courtesy and is automatically calculated using an online nutrition calculator. We encourage you to calculate nutrition data with your specific brand ingredients as nutritional information can vary between brands
I hope you enjoy these awesome Sugar Free Valentines Cookies. They are perfect for coffee with your sweetie or special someone.
Thank You for visiting The Naked Diabetic.
This website may contain affiliate links. When a purchase is made through our links, The Naked Diabetic may receive a commission, at no cost to you.