This website may contain affiliate links. When a purchase is made through our links, The Naked Diabetic may receive a commission, at no cost to you.
I am a fan of all things cheesecake. They are easy to make and are perfect year-round. This diabetic-friendly Sugar-Free Low-Carb Rhubarb Cheesecake is super scrumptious and lets you enjoy dessert without guilt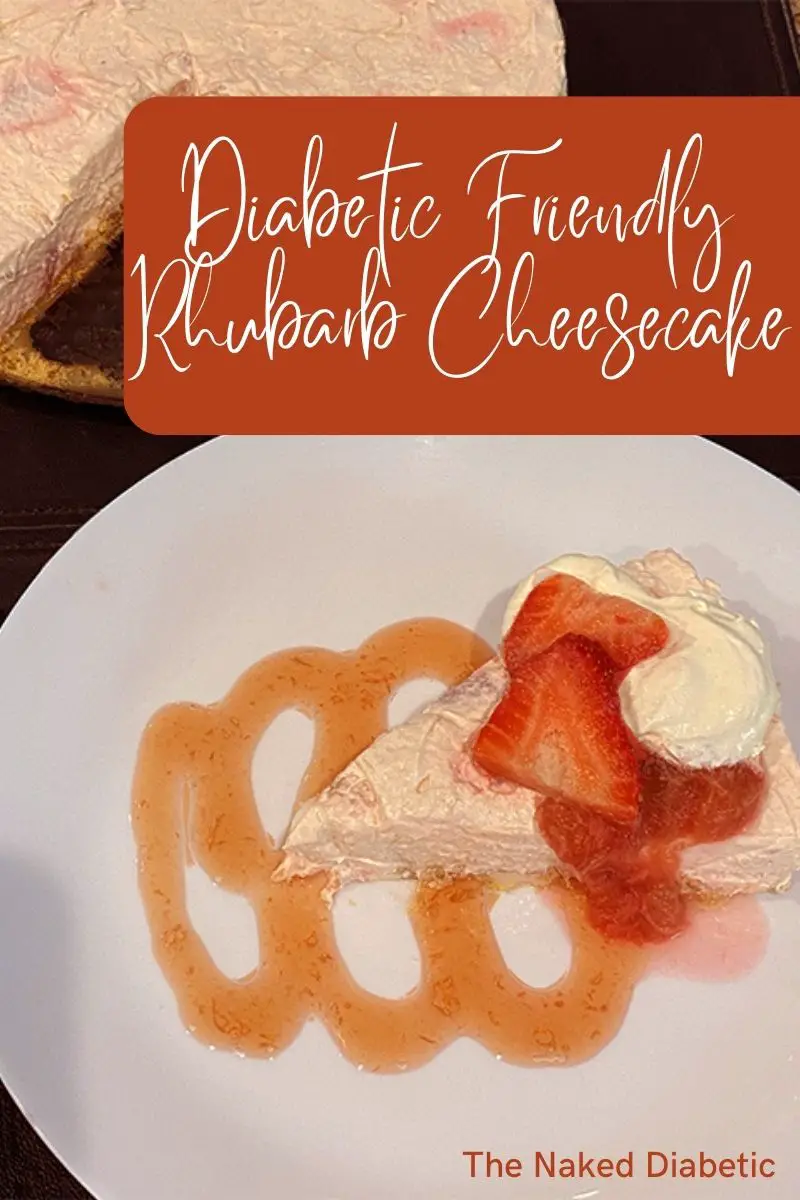 Rhubarb is a perfect fruit (actually a vegetable) for many diabetic-friendly desserts. It is healthy and low in carbs and it is easy to find.
For this sugar-free low-carb Rhubarb Cheesecake, we stewed the rhubarb. This makes it blend well into our cheesecake mixture. It is already cooked and there is no need to bake the cheesecake.
In this post, we share a list of kitchen accessories needed, a shopping list of ingredients, a guide to buying the best rhubarb, the Sugar-Free Low Carb Rhubarb Cheesecake Recipe, and the Recipe to make stewed rhubarb, and nutritional information per serving.
Kitchen Tools Needed for our Sugar-Free Low-carb Rhubarb Cheesecake
mixing bowls
measuring cups
measuring spoons
pastry blender
electric mixer
silicone spatula
saucepan

Grocery List for this recipe
Almond flour
powdered Splenda or stevia sweetener
butter
cream cheese
whipped topping
rhubarb
liquid stevia sweetener

Whenever you are making a cheesecake or any other dessert recipe from scratch, it is important to get the freshest ingredients. Fresh rhubarb tends to be juicier and full of flavour.
Here are some tips on shopping for the best rhubarb.
Things to look for when buying Rhubarb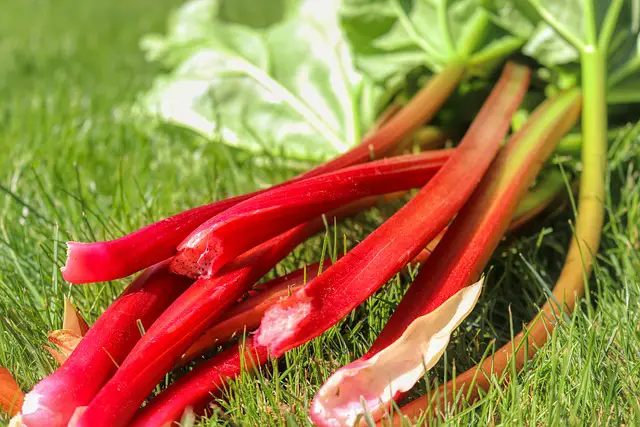 There are two types of Rhubarb available, Hothouse Rhubarb and Farm or Field-grown Rhubarb. There are a few differences between the two and knowing what the differences are will help you make the best choice.
Field-grown or farm-grown Rhubarb is usually what you will find at your local farmer's market or roadside stand.
Hothouse Rhubarb is usually what is trucked into your supermarkets.
Field or farm-grown rhubarb is easily distinguished by its dark red stalks. The flavour of field or farm-grown rhubarb is much stronger and has a more intense rhubarb flavour. Hothouse Rhubarb usually has a pink and more green on the stalk.
Rhubarb stalks should be firm. Firm rhubarb stalks mean that the stalks are not dried out. If you see limp or droopy stalks, do not purchase them. a firm stalk will be juicier and more flavourful than a limp one.
Look for Rhubarb with Shiny skin on the rhubarb also is a good indicator of the freshness of the rhubarb. if the stalks appear dull they are past their peak. The nice shine or gloss on the stalk is a sign of freshness.
Avoid rhubarb stalks that are starting to split or curling and drying out in the ends.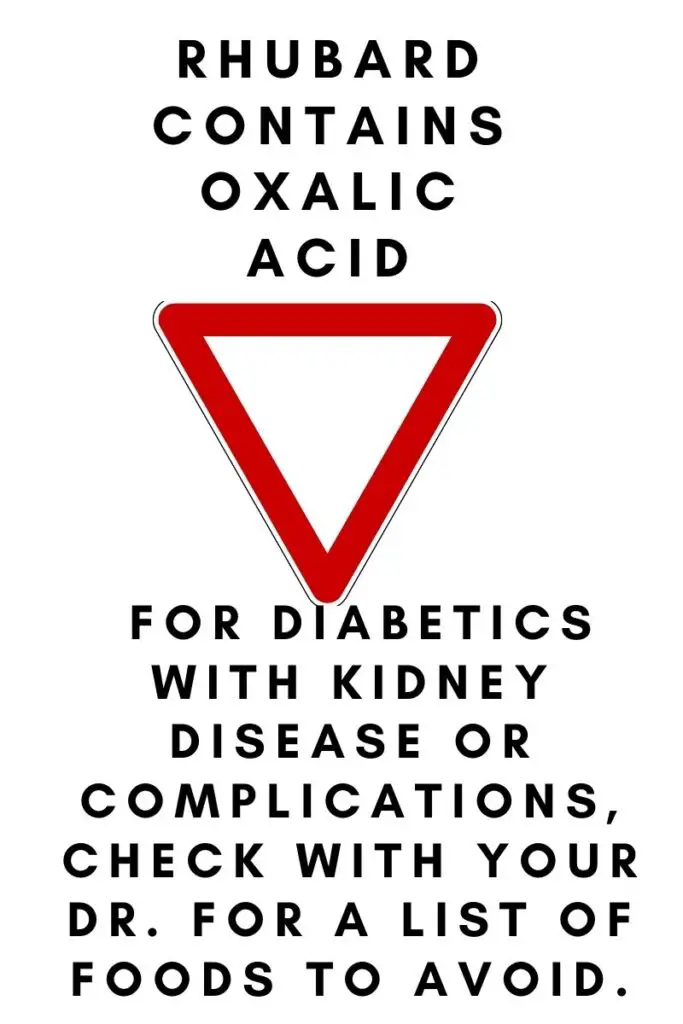 Freezing Rhubarb for future baking
I have frozen cut rhubarb in the past. The best way to freeze fresh rhubarb is to cut it and lay it on a parchment or wax paper-covered sheet pan and freeze. Lay the rhubarb in a single layer, not touching each other. Once frozen place the frozen rhubarb into a large Ziploc freezer bag.
Recipe for Sugar-Free Low-Carb Rhubarb Cheesecake
Sugar-Free Low Carb Rhubarb Cheesecake Recipe
This easy to make sugar-free low carb Rhubarb Cheesecake is a delicious diabetic-friendly dessert. No baking needed.
Ingredients  
Crust
1

cup

Almond flour

1/2

cup

Splenda powdered sweetener (or your favourite 0 calorie sweetenerv

1/4

cup

butter – softened
Filling
2

pkgs

Cream Cheese (8-ounce packages)

4

cups

Sugar-free Cool whip (1 litre tub)

1 1/2

tbsp

Liquid Stevia

1

cup

stewed rhubarb
Instructions 
Crust
Preheat oven to 350°f (175°C).

In a small mixing bowl, add the crust ingredients.

Mix the crust ingredients, using a pastry blender until they are a soft crumble.

Pour into an ungreased 9-inch springform pan.

Press until smooth, using the back of a spoon or your hands.

Bake in the oven for approximately 10 minutes, or until golden.
Filling
In a large mixing bowl cream both packages of cream cheese until smooth.

Add the liquid sweetener and continue mixing.

Add 1/2 cup of the cool whip and continue beating on low speed until smooth and fluffy.

Fold in 3/4 cup of the chilled stewed rhubarb (rhubarb sauce).

Continue gently mixing until thoroughly combined.

Fold in the remaining cool whip, gently mixing.

Pour into the cooled crust and smooth the top.

Chill for at least 2 hours before serving.
Serve
When serving, drizzle a bit of the remaining rhubarb saice onto the piece of cheesecake,
What is Stewed Rhubarb
Stewed rhubarb is nothing more than cooked rhubarb. Some people refer to it as rhubarb sauce. It is extremely easy to make and can be added to recipes or used as toppings on ice cream, cakes, and even meats. For homemade ice cream, just add a little stewed rhubarb with some crushed strawberries for a delicious Strawberry Rhubarb Ice Cream.
Stewed rhubarb can be stored in the refrigerator for up to a week in an airtight container.
Stewed rhubarb can also be frozen in an airtight container for future use.
Recipe for Sugar-Free Stewed Rhubarb
Rhubarb Sauce (Stewed Rhubarb)
Simple to make Rhubarb sauce, perfect for adding to recipes or using as a topping.
Ingredients  
4

cups

chopped rhubarb

1/2

cup

powdered Stevia or Splenda

2

tbsp

water

1/4

tsp

lemon juice
Instructions 
Add all ingredients into a medium-sized saucepan.

Over medium-high heat bring to a boil.

Reduce the heat and simmer until all pieces are soft and turned into sauce.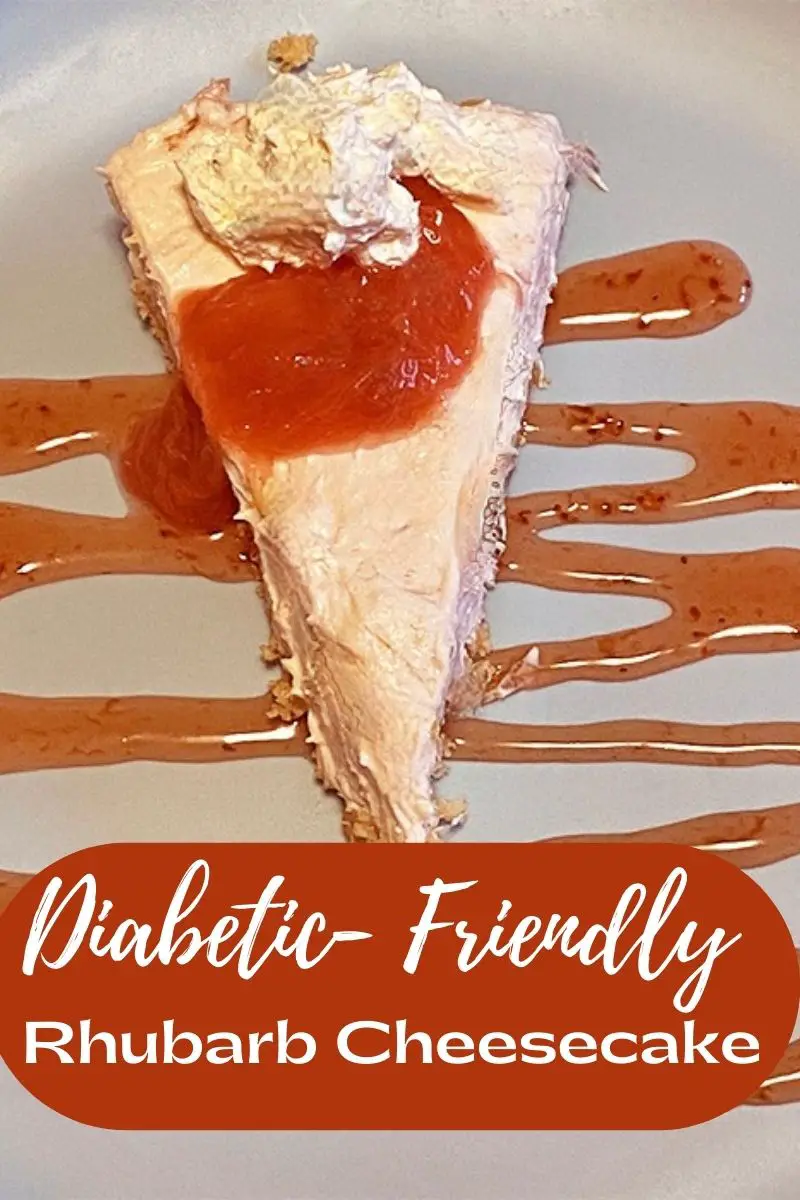 Nutritional Information – Per Serving of Sugar-Free Low-Carb Rhubarb Cheesecake
Thank you for visiting The Naked Diabetic.
This website may contain affiliate links. When a purchase is made through our links, The Naked Diabetic may receive a commission, at no cost to you.