This website may contain affiliate links. When a purchase is made through our links, The Naked Diabetic may receive a commission, at no cost to you.
Being a diabetic meant always looking for the fruits and vegetables with the lowest carbs and sugar content. Rhubarb is definitely at the top of the list. Our diabetic-friendly sugar-free rhubarb pie checks all the boxes for a great diabetic-friendly dessert.
Like Rhubarb? Try of Sugar-Free Rhubarb Cheesecake recipe, our Sugar-Free Strawberry Cheesecake recipe or our Sugar-Free Strawberry Rhubarb Crisp recipe. All are yummy and delish!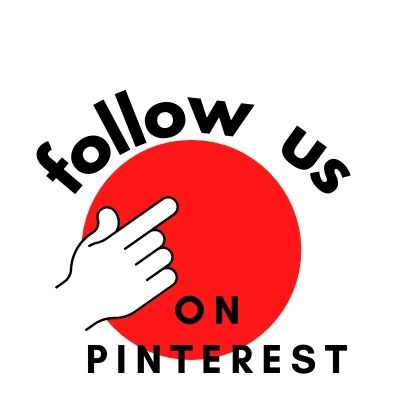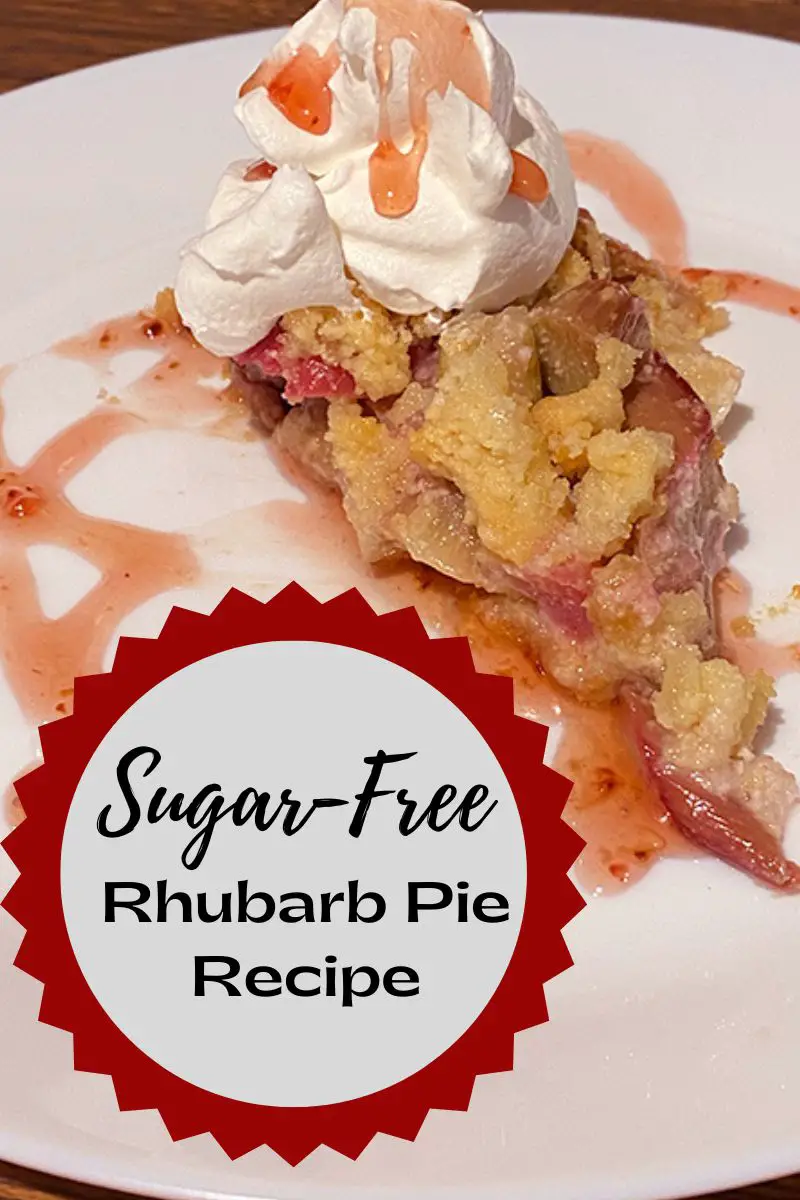 When you are making any pie from scratch, it is always important to get the best fresh fruit possible. Our diabetic-friendly sugar-free pie is no exception. Here are a few tips on getting the freshest and tastiest rhubarb for your next pie or dessert.
Helpful hints when buying fresh rhubarb.
When shopping for Rhubarb, it is helpful to know that there are two types of rhubarb, field or farm-grown rhubarb and rhubarb that are grown in a greenhouse preferred to as hothouse rhubarb.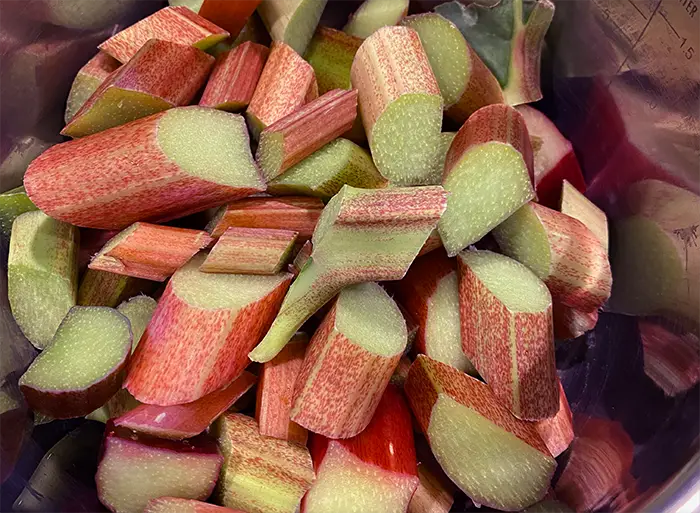 There is definitely a difference in taste between the two types.
Field or farm-grown rhubarb is easily distinguished by its dark red stalks. The flavour of field or farm-grown rhubarb is much stronger and has a more intense rhubarb flavour.
The stalks should be firm. Firm rhubarb stalks mean that the stalks are not dried out. If you see limp or droopy stalks, do not purchase them. a firm stalk will be juicier and more flavourful than a limp one.
Shiny skin on the rhubarb also is a good indicator of the freshness of the rhubarb. if the stalks appear dull they are past their peak. The nice shine or gloss on the stalk is a sign of freshness.
Field or farm-grown rhubarb is usually found in local farmers' markets and local markets that sell fresh farm produce.
Opinions vary, but I always find that the young thinner stalks are sweeter and juicier than the big fat ones.
Hothouse Rhubarb is usually found in supermarkets or large grocery store chains.
Hothouse rhubarb is lighter in colour, usually with pinkish or green stalks.
Whichever you choose, avoid rhubarb that has blemished stalks or ends that are curling or appear to be drying out.
Kitchen Supplies you'll need for our diabetic-friendly sugar-free Rhubarb Pie.
cutting board
kitchen knife
pie plate
mixing bowls
measuring cups
measuring spoons
pastry cutter
Need Kitchen Supplies?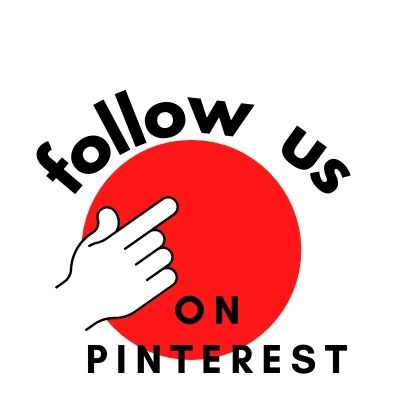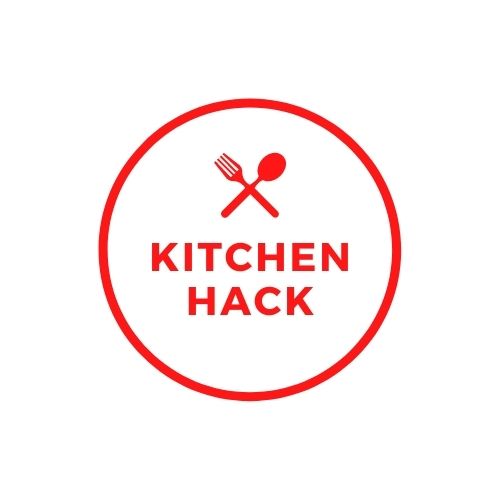 Rhubarb is acidic – I always use a glass pie plate to avoid any reactions with metal bakeware.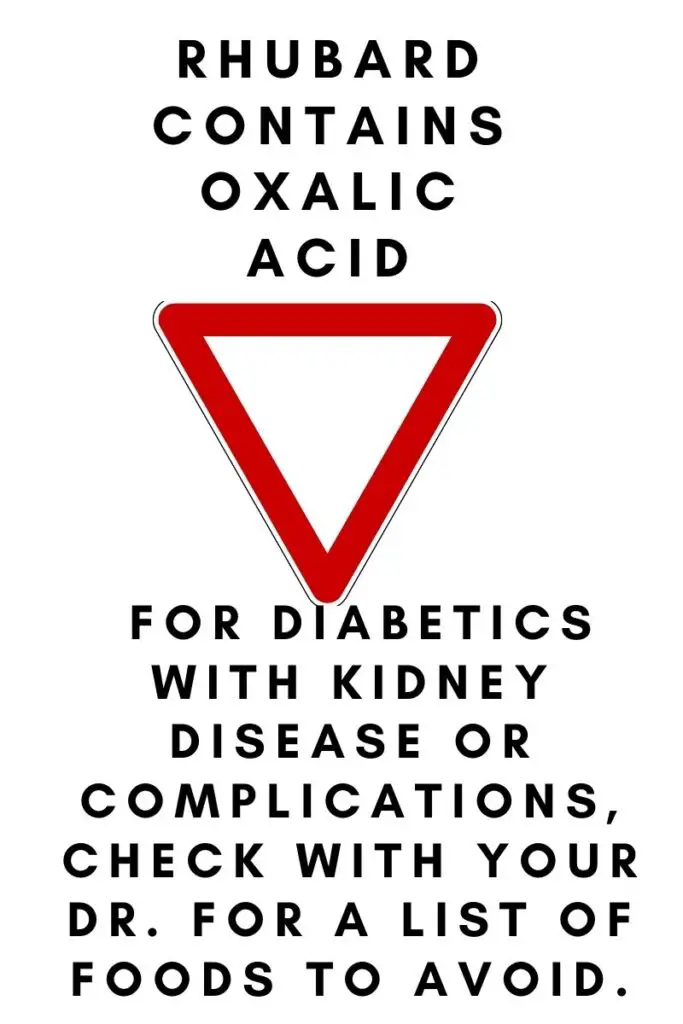 Grocery List for Sugar-Free Rhubarb Pie
Need Ingredients?

Recipe for Diabetic-friendly Rhubarb Pie
Diabetic-Friendly Sugar-Free Rhubarb Pie
Easy to make low carb diabetic-friendly sugar-free rhubarb pie, a perfect dessert for a diabetic-friendly meal.
Ingredients  
Crust
1

cup

almond Flour

1/2

cup

Powdered Stevia or Splenda

1/4

cup

butter – melted
Filling
6

cups

rhubarb- chopped

3/4

cup

powdered stevia or Splenda

1

tbsp

tapioca pearls

pinch

salt

1

tsp

canola oil
Topping
1/2

cup

Almond Flour

1/4

cup

powdered stevia or Splenda

1

tbsp

canola oil
Instructions 
Crust
Preheat oven to 350°f ( 175°C)

In a mixing bowl, combine almond flour, powdered sweetener and melted butter.

Using a pastry cutter or fork, mix thoroughly.

Pour the crust into the pie plate and pat it down with your fingers or the back of a spoon.

Continue until you have a smooth bottom and sides.

Bake in the oven for 10 minutes.
Filling
In a large mixing bowl, combine all filling ingredients.

Pour the mixture into the baked pie crust and smooth it out.

The filling should be heaped up a bit in the cnter (this will level out while baking)
Crumble topping
In a mixing bowl, combine the ingredients of the topping.

Spoon the mixture onto the filling and pat it down. (it will not cover the entire pie-see pic)

Bake the pie in the oven on the center rack for approximately 50 minutes.
Nutritional Information for Sugar-Free Rhubarb Pie
Images of making your sugar-free rhubarb pie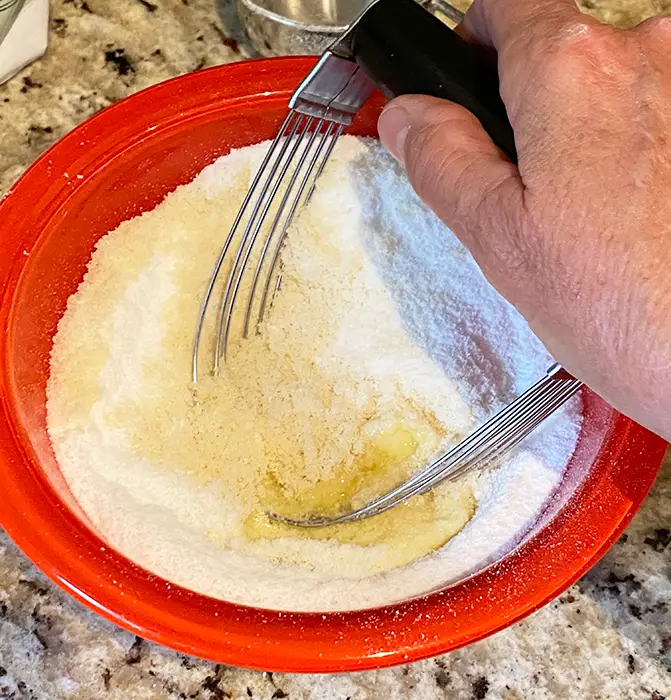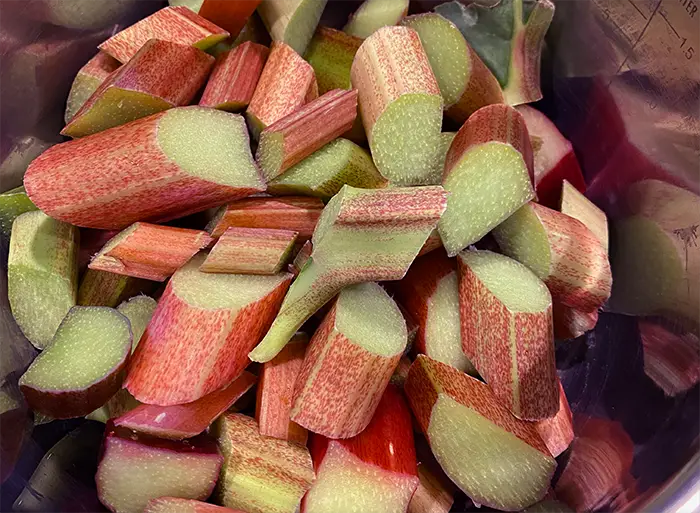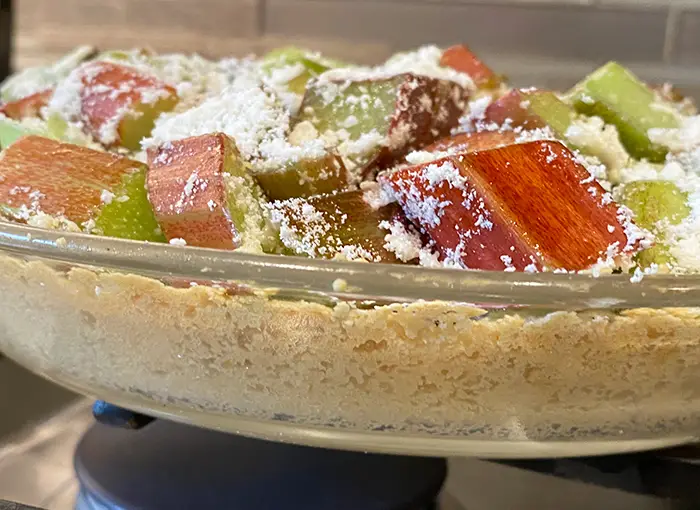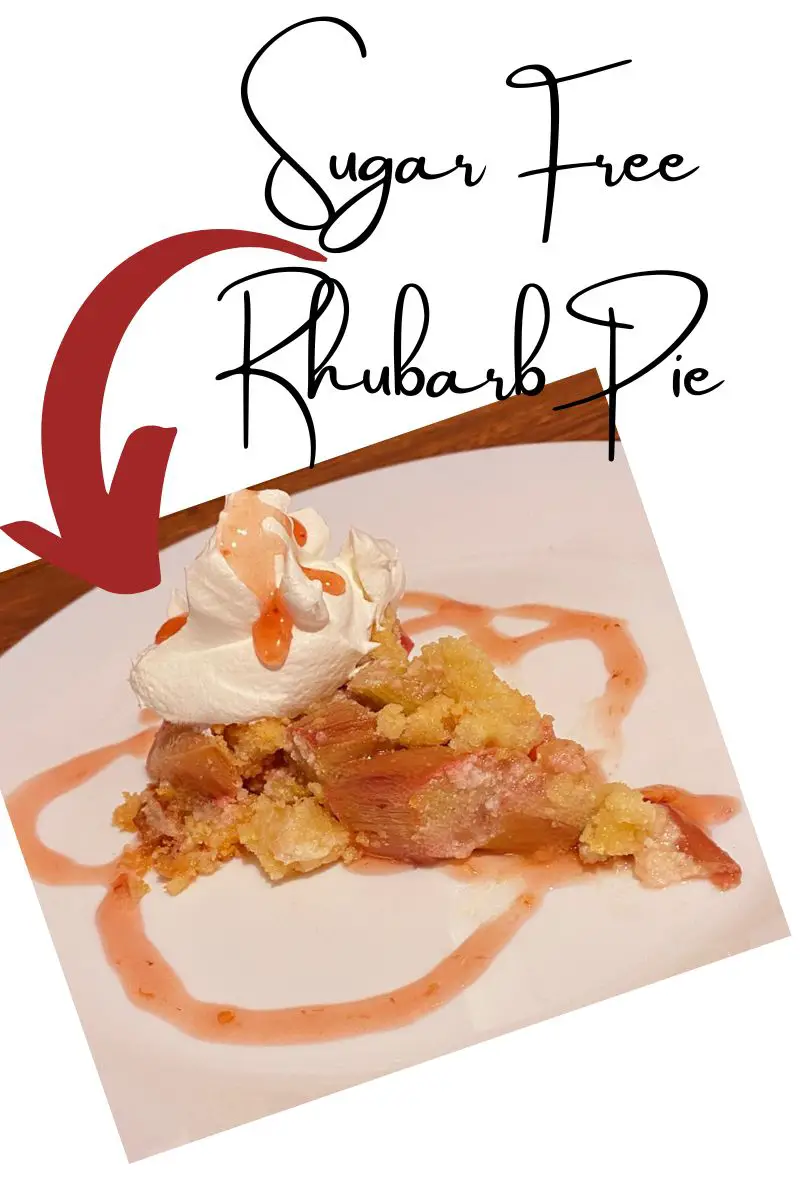 How to make Rhubarb Pie not runny?
We use tapioca pearls in our diabetic-friendly sugar-free Rhubarb Pie recipe. The tapioca pearls, even though a small amount, is just enough to keep the pie from being too runny.
As rhubarb cooks, the juices are released and you can end up with a runny pie.
Can I use Almond flour instead of tapioca pearls to thicken my rhubarb pie?
If you don't have tapioca pearls or would prefer another option, you can use almond flour. I find the tapioca pearls do not alter the taste, but it is a matter of personal preference.
If you are using almond flour, use 1 tablespoon of almond flour in place of the tapioca pearls.
Do I need to peel the rhubarb before using it in my Rhubarb pie?
Peeling the rhubarb is not required. If you have big thick stalks, you can if you wish, but the rhubarb skins will soften and cook during the baking.
Substituting some of the rhubarb with another fruit.
If you wish to make a sugar-free rhubarb-strawberry pie, feel free to replace some of the rhubarb with strawberries. Make sure you have 6 cups of fruit to go into the pie shell before baking.
Some popular fruits to mix with rhubarb in rhubarb pue are Blueberries, Strawberries, Blackberries, Raspberries and apples.
Remember – changing the fruit, changes the nutritional values. Sticking with fruit that is low carb will help keep your blood sugar levels in check.
Can I freeze Rhubarb for future baking?
I have frozen cut rhubarb in the past. The best way to freeze fresh rhubarb is to cut it and lay it on a parchment or wax paper-covered sheet pan and freeze. Lay the rhubarb in a single layer, not touching each other. Once frozen place the frozen rhubarb into a large Ziploc freezer bag.
Stewed rhubarb freezes very well. If you stew rhubarb, pour it into an airtight container before freezing.
Storing your Sugar-free Rhubarb Pie
Your sugar-free Rhubarb Pie can be kept at room temperature for a few hours. After the pie has been served and allowed to cool completely, it is recommended that you refrigerate the pie. Cover with aluminum foil or cling wrap for up to 4 days.
This pie recipe also freezes well. Be sure to tightly wrap it in foil before freezing.

Disclaimer -This post may contain affiliate links. When a purchase is made through our links, The Naked Diabetic may receive a commission, at no cost to you.