Disclaimer -This post may contain affiliate links. When a purchase is made through our links, The Naked Diabetic may receive a commission, at no cost to you.
Want to take your pork chops to the next level? These Low Carb grilled stuffed Pork Chops make drab everyday pork chops taste like they were made by a gourmet chef! When it's a perfectly sunny day, I just get the urge to fire up the grill. Grilling is a great way to bump up your favourite diabetic-friendly recipes.
Our stuffed pork chops are cooked on the grill using a non-stick grill sheet. Using a grill sheet is a great way to keep your grill clean and it helps to keep the juices from running into the barbecue, which is especially good when grilling pork.
If you have a diabetic-friendly kitchen, you will likely already have all the ingredients you need to make these easy low-carb grilled stuffed pork chops.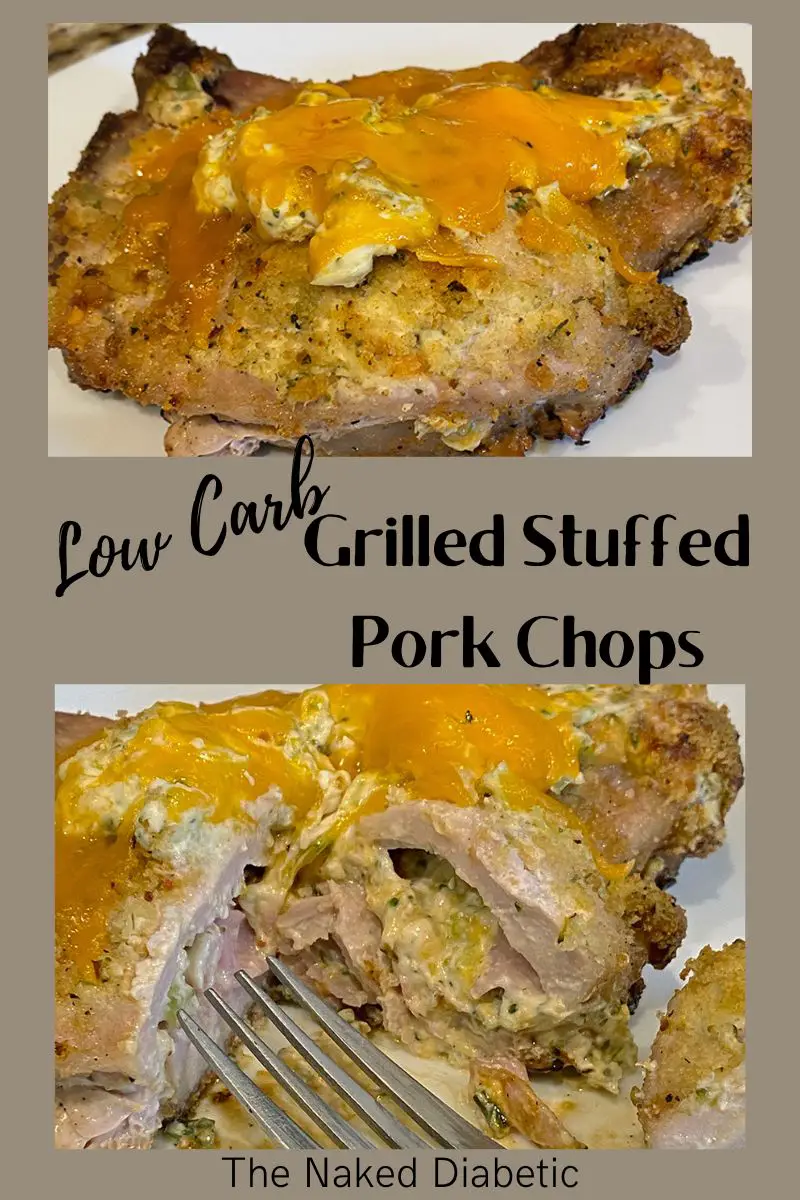 In this post, I will share a list of kitchen tools needed for this recipe, a shopping list of ingredients, the recipe for Low carb Grilled Stuffed Pork Chops and nutritional information as well as a few useful tips for making this recipe.
After looking around I found that the average recipe for stuffed pork chops had about 450-500 calories and 15 grams of carbs per chop. We were able to whittle that down and end up with only 5 grams of net carbs.
What kind of pork chops did we use for our Grilled Low Carb stuffed pork chops?
We used 1-inch thick bone-in rib pork chops. You can use a thick boneless loin chop or a butterfly loin (folded over if you'd prefer. I don't recommend the porterhouse (center-cut) pork chop or the sirloin pork chop as there is more fat in the center of the chop making it difficult to stuff.
I chose the bone-in pork chops as the bone adds to the juiciness of grilled pork chops. Pork chops cooked with the bone-in have a fuller flavour than boneless.
What is the best thickness of a pork chop for stuffing?
We have the best success if the pork chop is an inch thick. You can get away with 3/4 of an inch thick, as long as you are careful when you are slicing your stuffing pocket.
You can get pork chops that are thicker, (up to 1.5 inches thick). but I have found that they take longer to cook through and the outside dries out before the inside is fully cooked.
The bone-in pork chops around an inch think will likely weigh in at around 1/2 to 3/4 of a pound. (remember there is bone weight here – it isn't as much as it sounds like.
Kitchen supplies you will need to make our grilled stuffed pork chops.
cutting board
sharp knife
dredging plates
grater
measuring cups
measuring spoons
mixing bowls
spatula

Grocery List for Low Carb Grilled Stuffed Pork Chops
4 thick-cut bone-in pork chops (about 1 inch thick)
cream cheese
fresh chives
cheddar cheese
garlic plus seasoning
broccoli
salt
parmesan cheese
thinly sliced smoked ham
Need to stock or re-stock your diabetic-friendly pantry?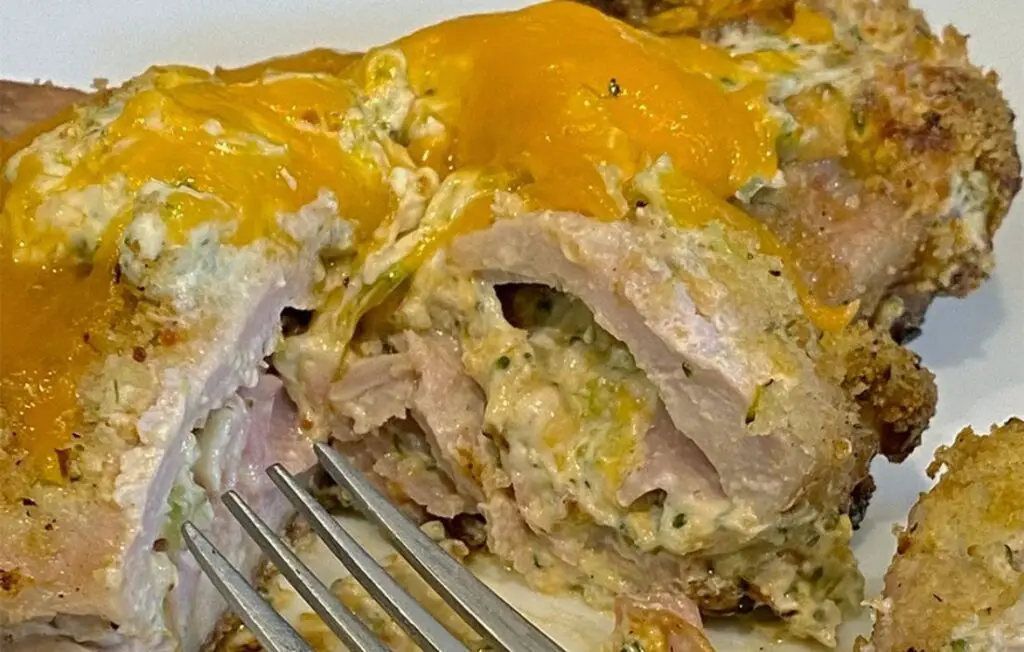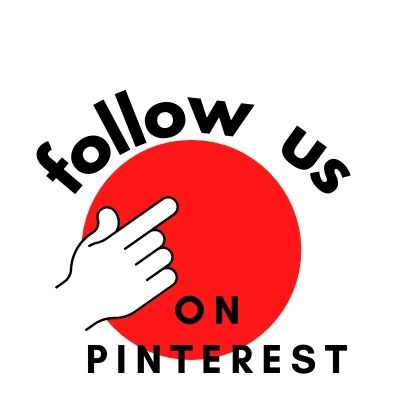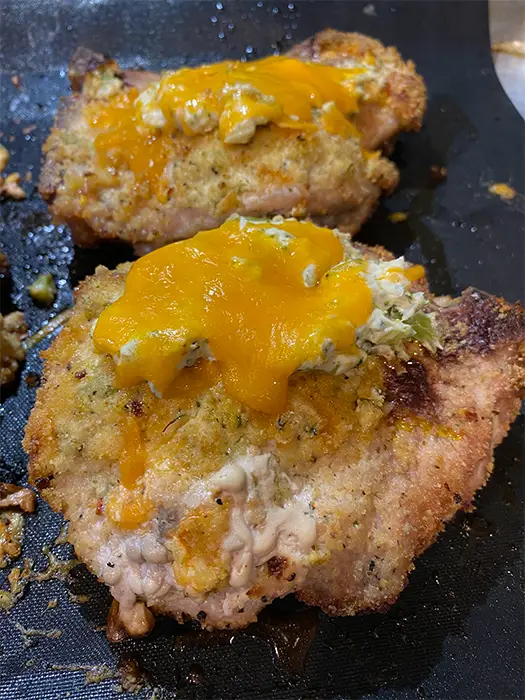 Recipe for Low Carb Grilled Stuffed Pork Chops
Low Carb Grilled Stuffed Pork Chops
An easy juicy delicious stuffed pork chop recipe. Great for diabetics and anyopne watching their carbs.
Ingredients  
4

thick

bone-in pork chops

4

slices

thinly sliced smoked ham

8

oz

cream cheese

1

cup

cheddar cheese – grated

1/4

cup

cooked broccoli – chopped

1

tsp

garlic plus seasoning

1

tsp

chives – freshly chopped
Breading
1/2

cup

almond flour

1/2

cup

shredded parmesan cheese

1

tbsp

garlic plus seasoning
Instructions 
Using a sharp kitchen knife, slice a pocket into the side of each pork chop.

Set pork chops aside while you make the stuffing.

In a mixing bowl, combine cream cheese, 1/2 cup of the grated cheddar cheese, chopped brocolli, garlic plus seasoning and the chives.

Mix well until thoroughly combined.

Divide the stuffing into 6 portions.

Spread one portion of the stuffing onto each of the 4 slices of ham. (set the other 2 portions aside)

Roll the ham up, with the stuffing inside of the ham.

With one portion of stuffing, spread a little inside of each pocket (divide one portion of stuffing between the four chops)

Put one ham roll up into the pocket of each pork chop.

Spread the remainder of the cream cheese stuffing on top of the pork chops, dividing it between the 4 chops.

In a small mixing bowl, combine the breading ingredients and mix.

Pour the breading mix into a dredging dish.

Place cream cheese spread side of the pork chops into the breading mix and cover with the breading mix.

Repeat for all 4 pork chops.

Heat grill to medium heat

Place a non-stick grill sheet onto the grill.

place the stuffed pork chops onto the grill sheet and close the grill lid.

Grill for about 4 minutes or until the coating is getting crispy.

Divide the remaining grated cheddar cheese between the 4 pork chops and spoon over the top of the breading.

Close the lid and grill, for approximately 4-5 minutes.

With long handled tongs, remove the pork chops from the grill and let sit on a serving platter or about 5 minutes before serving.
Notes
Pork should be cooked to an internal temperature of approximately 155 degrees. Using a meat thermometer will assure that the meat is thoroughly cooked before eating.
Nutritional Information – Per Serving of Low Carb Grilled Stuffed pork Chops
This nutritional value information is for one stuffed pork chop based on 1/2 pound pork chops with the bone-in.
What are Non-Stick Grilling Sheets (Grill Mats)
Grill Sheets or Grill Mats are reusable sheets that you can place on any grill surface and cook on. they are non-stick and reusable.
The most popular brand is the Cookina non-stick grilling sheet.
Grilling sheets or grilling mats are made with Polytetrafluoroethylene 
Polytetrafluoroethylene (PTFE) is a synthetic fluoropolymer of tetrafluoroethylene. One of the most common is Teflon, used on non-stick cookware.
The non-stick grilling sheets can be reused many times. they are reversible and easy to clean.
How to use Non-Stick Grill Sheets (Grill mats)
There are no special instructions for use of grill sheets. You simply place the non-stick grill sheet onto the grill and place the food onto the mat. After you are done using them, you just let them cool and wash them.
You do not need to apply any oil or butter to the surface of the grill sheet (grill mat)
The benefits of using a non-stick grill sheet (grill mat)
Grill Sheets (grill mats) give you more versatility with your grill. You can cook loose vegetables and smaller and more delicate food items that you normally might not do on a grill. Stuffed mushrooms are a personal favourite of mine, and they are absolutely the best, cooked on a grill sheet (grill mat). Even eggs can be cooked on a grill sheet!
The grill sheets help to keep your food moister, as the juices that are generated from your food during cooking, do not slip through the grill. The end result is a juicier end product that has more flavour.
How to clean your non-stick Grill Sheet (grill mat)
Soaking your grill mat in warm/hot soapy water and then lightly scrubbing, is the best way to clean your non-stick grill mat.
Dawn Powerwash spray is perfect for cleaning your grill mats. I use it and is so simple and works every time.
Spray some Dawn Powerwash spray soap onto the wet mat.
With a soft-bristled brush, gently scrub. (not hard)
Rinse with hot water.
Let dry on a dish rack.
Disclaimer -This post may contain affiliate links. When a purchase is made through our links, The Naked Diabetic may receive a commission, at no cost to you.
Thanks for visiting the Naked Diabetic.