Disclaimer -This post may contain affiliate links. When a purchase is made through our links, The Naked Diabetic may receive a commission, at no cost to you.
When the weather is sunny and perfect, it's a great time to fire up the barbecue. The trouble with barbecuing for diabetics is the sugary barbecue sauces that are not good for our blood sugar. I have come up with my own version of the best sugar free barbecue sauce recipe that doesn't throw my sugar into roller coaster mode.
There are lots of sugar free barbecue sauces on the market but none of them seem to measure up. I like a nice thick sauce that I can spread over steak, ribs or chicken whenever I am grilling. Although our grilled Sugar-Free Maple Soy Salmon is good, there are times I just want a juicy steak. This sugar free barbecue sauce is by far the best Sugar Free Barbecue sauce and we love it.
In this post, I will share a list of kitchen tools you will need to make this recipe, a shopping list of ingredients (and links), My best Sugar Free Barbecue Sauce recipe, the nutritional information, and some useful grilling tips.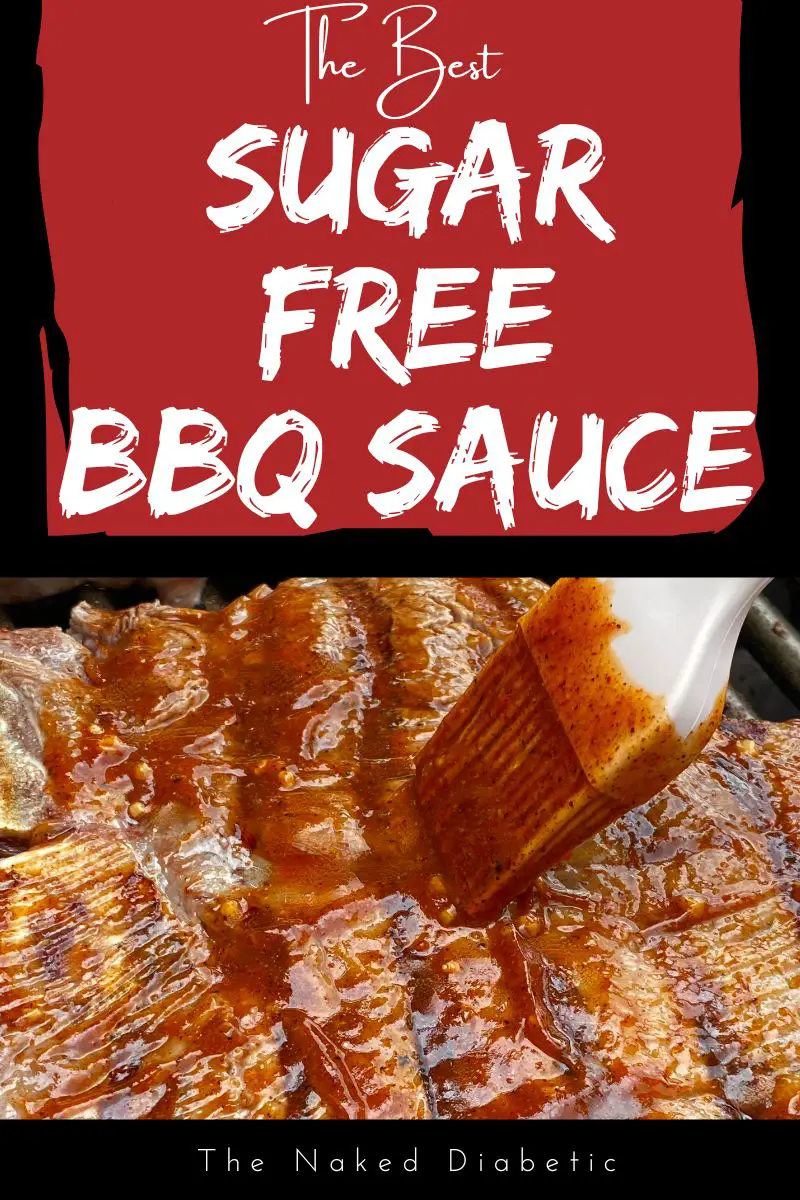 Kitchen Tools Needed
Shopping List of Ingredients
Our best Sugar Free Barbecue Sauce is perfect for using on ribs, steaks and even in pulled pork. These are all great summertime favourites, that everyone can enjoy!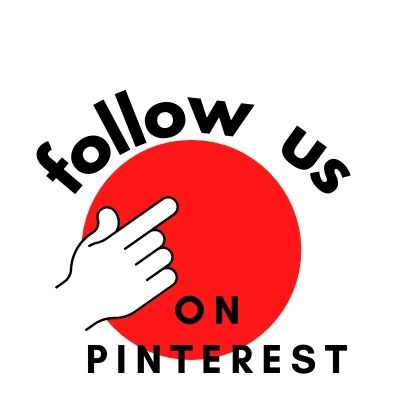 Our Best Sugar Free Barbecue Sauce Recipe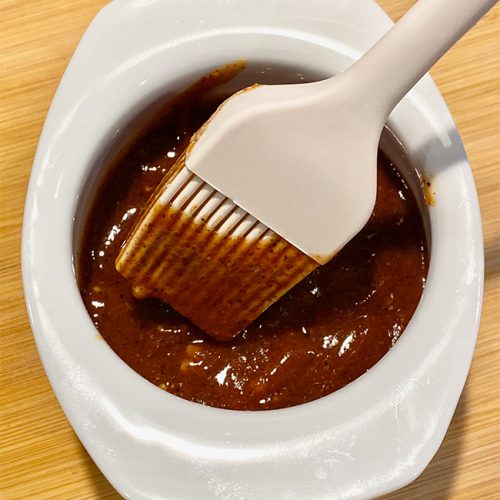 The Best Sugar Free Barbecue Sauce (diabetic friendly)
Easy homemade sugar-free barbecue sauce. Excellent for grilling and using as a dipping sauce.
Ingredients  
1

cup

Sugar-Free Ketchup (Heinz)

1/4

cup

Cider Vinegar

1

tbsp

Chili Powder

1

tsp

Splenda granulated sweetener

2

cloves of Garlic – minced

1

tsp

dry mustard powder

1

tsp

onion powder

powder

1/2

tsp

Liquid Smoke

1/2

tsp

Worchestershire Sauce
Instructions 
Add all ingredients into a small saucepan and whisk together.

Bring the mixture to a simmer and allow the mixture to simmer for 7-10 minutes while stirring.

Remove from heat and allow to cool.

Store refrigerated in an airtight container
Notes
Each serving = 1 Tablespoon
Using Different Ingredient brands.
The nutritional information provided for this recipe was calculated using our specific ingredients. If you use another brand, be aware that the changes may alter the nutritional information.
Sweeteners
Some sweeteners (labelled as Keto) contain sugar alcohols. Some people find that sugar alcohols have no impact on their blood sugar while others notice a spike in blood sugars after eating it (like myself). Alcohol sugars can also cause stomach upset, gas and bloating in some people as well. (me again)
I used Splenda granulated sweetener in this recipe. If you choose to use a different sweetener, I recommend a powdered or granulated sweetener.
Sugar-Free Ketchup
In this recipe, I used Heinz Sugar-Free Ketchup, Not all Sugar-Free Ketchup has the same nutritional information. The Walden Farms brand has 0 calories and zero carbs. I did not use Walden Farms ketchup in this recipe, even though I am a fan of their products, because I find that the consistency is a bit too watery for my liking in this recipe. I like my barbecue sauce to stick to the meat and not run off.
If you use a different brand of sugar-free ketchup, and you find the recipe too runny, add 1/4 teaspoon of Xanthum Gum as a thickener.
Liquid Smoke
This is a fantastic product. It is actually made from smoke. The smoke is captured from burning woods, such as hickory, and processed into a liquid. It is an easy way to add a smokey flavour to our best Sugar Free Barbecue Sauce recipe and is a great addition to your Diabetic Friendly kitchen
There are many brands of Liquid Smoke. In my best Sugar Free Barbecue Sauce recipe, I used Colqgin Hickory Liquid Smoke. Other flavours, such as Mesquite, Applewood, and Pecan wood are also available. I checked the labels of all four flavours and they all had the same nutritional values which were zero calories, zero carbs, zero fat, and zero sugars ( zero everything) If you are switching brands, be sure to check the label and adjust accordingly, if needed.
Nutritional Information per serving
Each serving is 1 tablespoon.
Calories – 14
Total Fat – 0
Saturated Fat – 0
Sodium – 215 mg
Carbohydrates – 1.5 gr
Fibre – 0
Sugars – 1 gr
Protein – 0
Disclaimer -This post may contain affiliate links. When a purchase is made through our links, The Naked Diabetic may receive a commission, at no cost to you.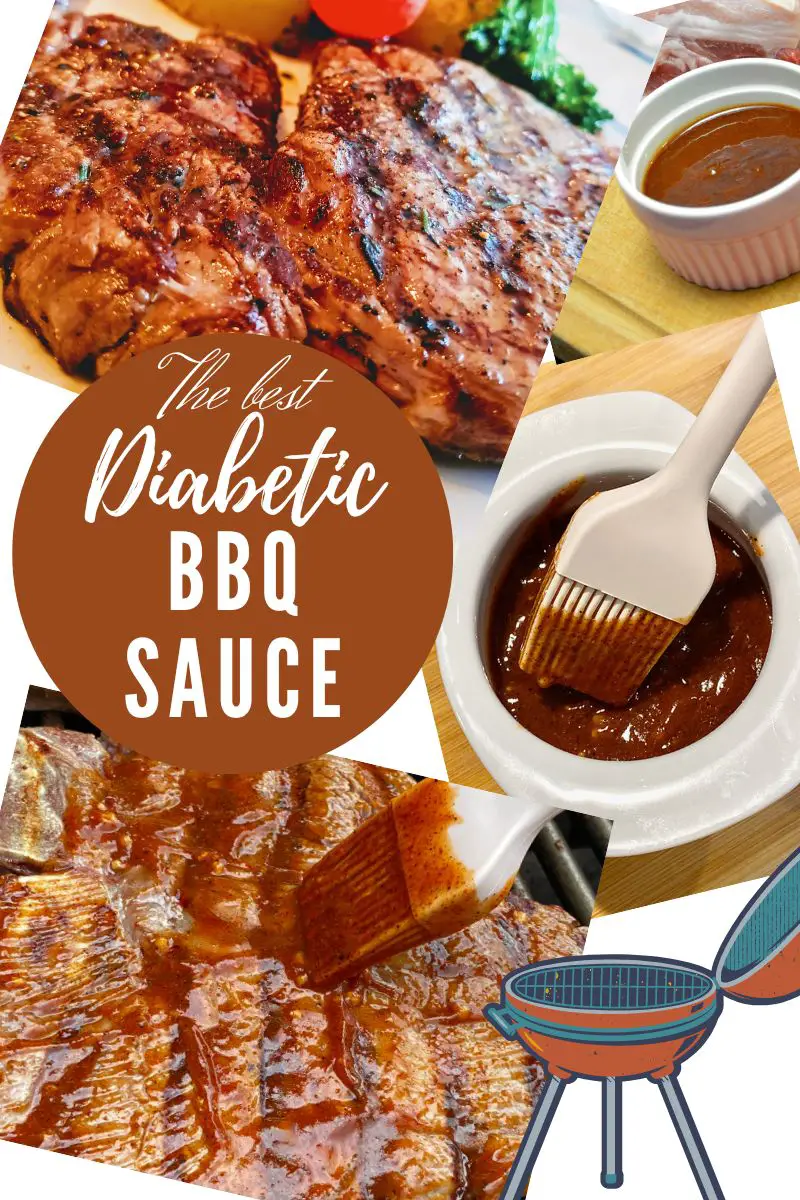 Grilling Tips
When to sauce – There are differing opinions about applying barbecue sauce to meat when grilling. Some people like it applied before placing the meat on the grill and some like it at the end of the cooking.
I have found that I get the best results if I put a very thin coat on at the beginning of grilling and add more as I go along.
Hot Grill -Adding your meat to the grill when the grill is hot will give you better results. Placing the meat on a hot grill will sear the outside and help the meat lock in some of its juices. Keeping the temperature consistent throughout grilling will allow your meat to cook more evenly.
Oil the grill – Brush a little oil into the grill before placing the meat on to prevent sticking. Never use flammables, such as non-stick sprays or aerosols. Use a barbecue sauce brush and lightly brush the oil over the grill grates before adding the meat.
Don't keep flipping the meat – This can cause the meat to cook unevenly and dry out.
Don't flatten – Even when tempted, don't flatten the meat by pushing down on it. Doing so will release juices and result in drying out. It can also cause flare-ups.
Keep a spray bottle handy – This is great to stop any flare-ups that occur from the fat dripping into the grill. Flare-ups can result in your meat being burned or having a charred surface.
Don't cook cold meat – Allow the meat to come to room temperature before placing it on the grill.
Let it rest – Let your meat rest for 5 to 10 minutes after removing it from the grill. If it is a roast, let it rest for up to 20 minutes. Place grilled meat in a baking dish and tent with tin foil during the resting. Resting allows the juices in the meat to redistribute, giving you a nice juicy cut. While the meat is resting, use this time to plate and dish up your sides.
Wooden Skewers – If using wooden skewers, cover the ends with a piece of aluminum foil to avoid the wood from burning.
I hope you enjoy our favourite and what we think is the best Sugar Free Barbecue sauce. It is awesome on just about everything.
hank You for visiting The Naked Diabetic
This post contains affiliate links. As an affiliate, I earn a small commission from qualifying purchases (at no charge to you).