Disclaimer -This post may contain affiliate links. When a purchase is made through our links, The Naked Diabetic may receive a commission, at no cost to you.
These super. moist and delicious Diabetic Friendly Stuffed Chicken Breasts are easy to make and they are low carb. Perfect for a diabetic-friendly meal., that the whole family will love. Serve them with our Low Carb Roasted Peppers and some steamed cauliflower rice, for an awesome low-carb meal. These can even be made on the grill, just like our Grilled Stuffed Pork Chops.
In this post, I will share a list of kitchen tools needed, a shopping list of ingredients, the recipe for Diabetic Friendly Stuffed Chicken Breasts, nutritional information, and tips for getting the best results with this recipe.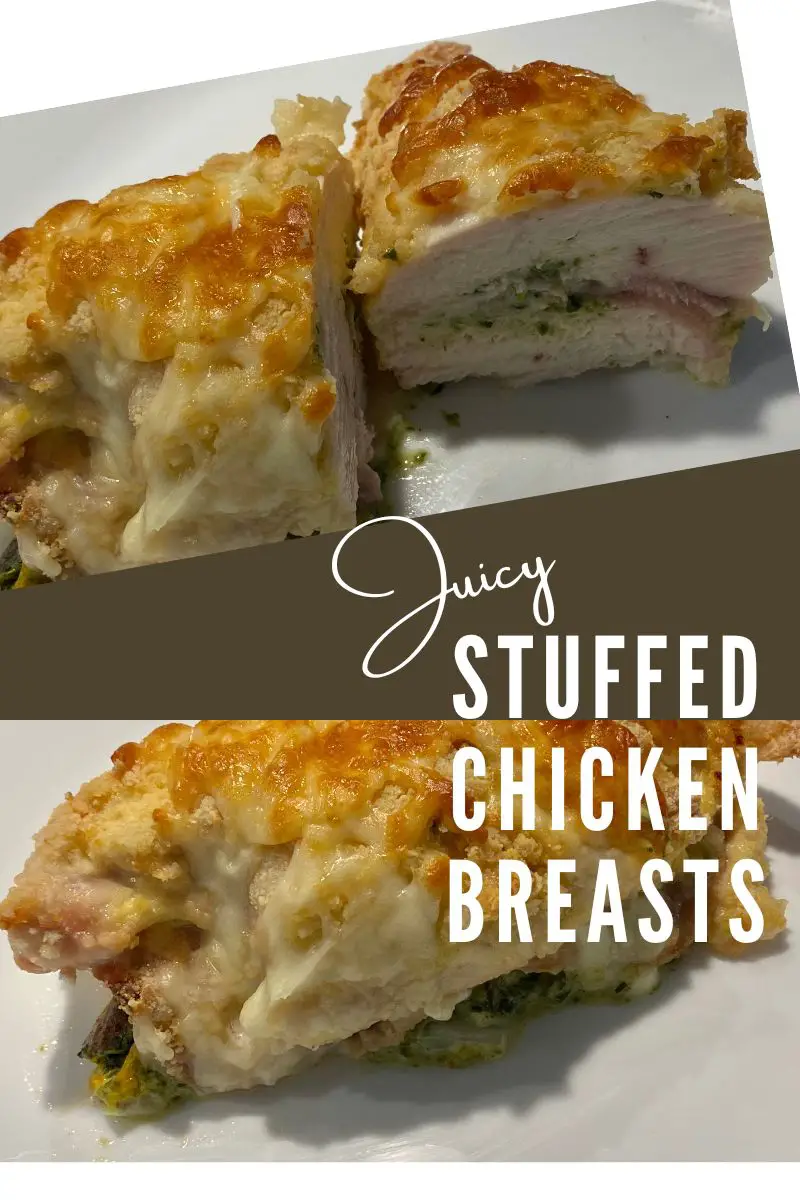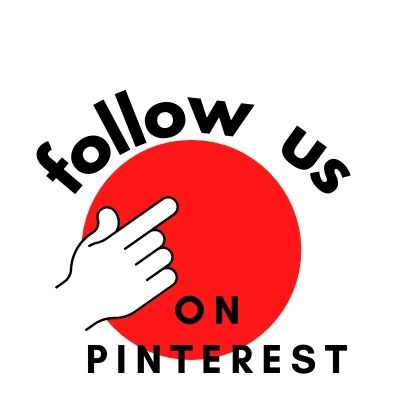 Kitchen Tools Needed
toothpicks
parchment paper
spatula
Shopping List of Ingredients
4 chicken breasts (1/2 lb each) (226 gr)
4 thin slices of ham
parmesan cheese – grated
onion (small)
spinach – frozen and thawed (1/4 cup)
garlic plus seasoning
eggs
mayonnaise (1 tbsp)
shredded mozzarella cheese (2 tbsp)
Recipe for Diabetic Friendly Stuffed Chicken Breasts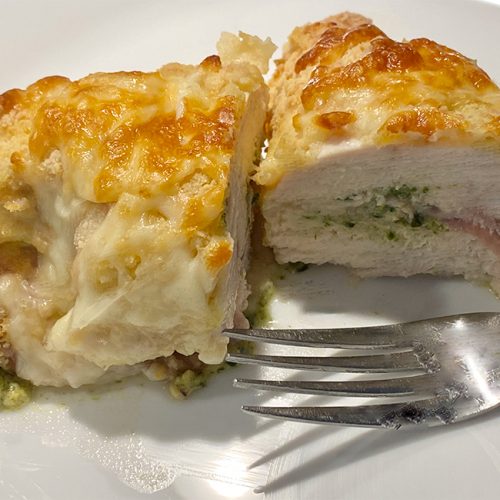 Low Carb Stuffed Chicken Breasts
A diabetic-friendly version of Stuffed Chicken Breasts that is low carb and tender and juicy.
Ingredients  
4

boneless, skinless chicken breasts

4

slices

cooked ham – thinly sliced

4

ounces

low fat cream cheese (room temperature)

2

slices

bacon, cooked and crumbled

1

tbsp

finely chopped onion

1

tbsp

parmesan cheese

1/4

cup

frozen spinach – thawed and well drained

1/4

tsp

salt

1

large

egg

1

tbsp

mayonnaise

2

Tbsp

Mozzarella cheese – grated
Breading dredge mix
1/2

cup

Carbalose flour

1/4

cup

parmesan cheese – grated

1

tsp

garlic plus seasoning
Instructions 
Preheat the oven to 350 degrees F (175 degrees C)

Using a chefs knife slice the chicken breast along the side and open the breast (like a butterfly)

Place sliced chicken breast onto a cutting board and cover with plastic wrap.

Using a meat tenderizer hammer, flatten the chicken breast. Only pound the inside of the chicken breast, leaving the outside of the breast smooth.

In a mixing bowl, combine, cream cheese, crumbled bacon, chopped onion, parmesan cheese (1 tbsp), drained spinach, and salt.

Whisk together until well mixed.

Set 2 tbsp of the mixture aside for later.

Spread one teaspoon of the cream cheese mixture over the inside of the breast.

Place a slice of ham over the cream cheese that was spread onto the breast.

Divide the cream cheese mixture between the four breasts

Spread the cream cheese over the ham, on all four breasts.

Fold the chicken breast with the ham and cream cheese mixture inside. Secure it together with a toothpick.
Dredging Preparation
Whisk together the egg and mayonnaise, to mix well. Pour into a dredging dish.

Combine Carbalose flour, parmesan cheese (1/4 cup) and garlic plus seasonsing and pour into a second dredging dish.
Dredge
Roll the stuffed breast in the egg mixture. Let excess drip off.

Roll the breasts in the Carbalose flour mixture.
Bake
Place each chicken breast into a parchment-lined baking dish.

Baked for 20 minutes in the oven.

Removed from the oven and spread the remainder of the cream cheese mixture over the top of each breast.

Top with the mozzarella cheese, dividing it between the 4 breasts.

Return to the oven for another 10 minutes. (or until cooked thoroughly)

Remove from the oven and remove the toothpicks.

Serve with your favourite sides.
Assembly Steps for Diabetic Friendly Stuffed Chicken Breasts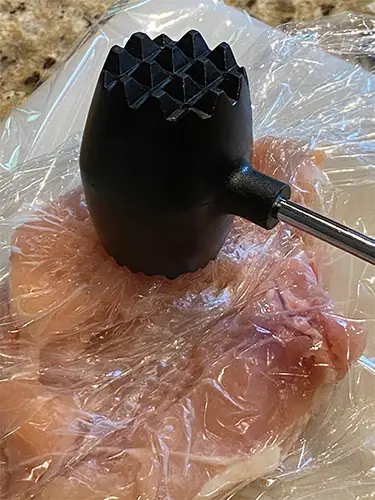 Nutritional Information
This information is per serving.
1 serving = 1 Diabetic Friendly Stuffed Chicken Breast
Calories – 265
Total fat – 12 g
Saturated fat – 5 g
Total Carbohydrates – 12 g
Fibre – 4 gr
Net carbs – 8 gr
Protein – 30 g
Sugars – 2 gr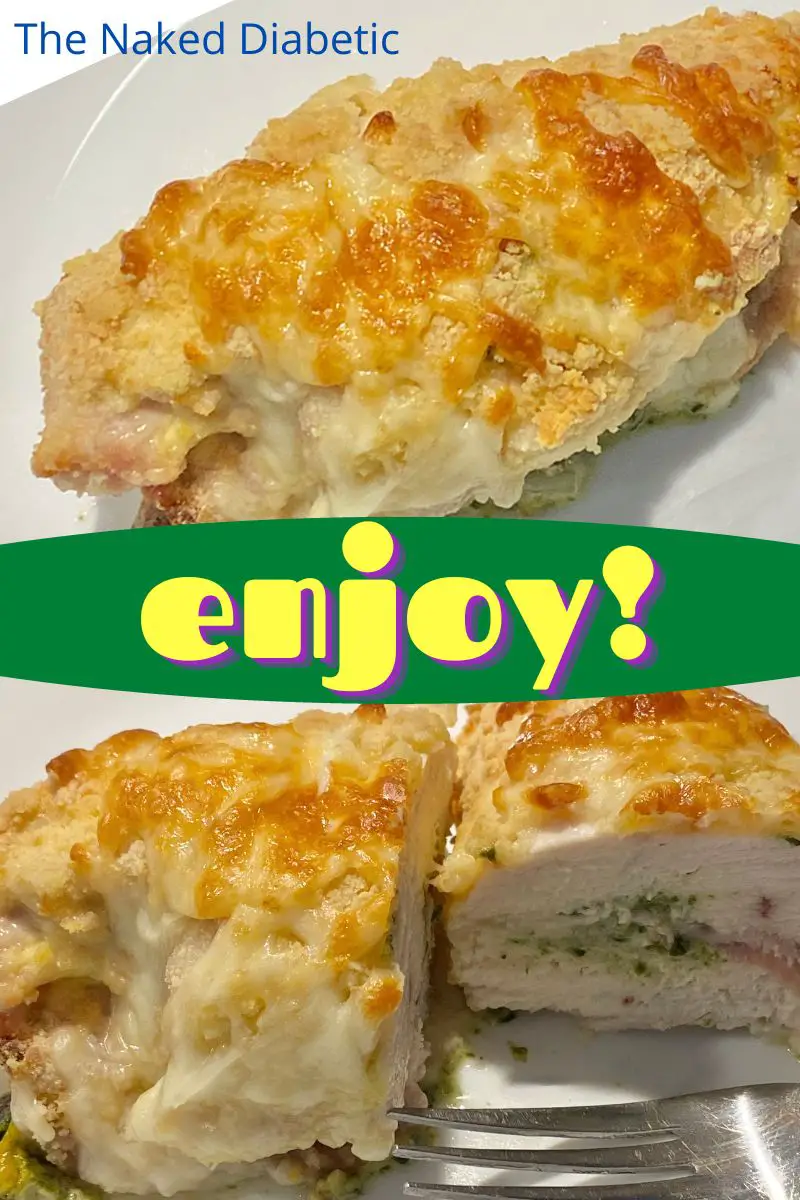 Tips for making this recipe
If you are not sure if your Stuffed Chicken Breasts are fully cooked, use a meat thermometer to check the internal temperature of the meat. Don't stick it into the filling part, just the thickest part of the meat. The internal temperature should be 170 degrees F (76 degrees C)
Choosing Chicken Breasts
Each chicken breast in the re4cipe for Diabetic Friendly Stuffed Chicken Breasts is approximately 1/2 pound (226 grams).
Plumpness – Look for chicken breasts that are plump to allow for easy slicing open. The thinner they are the more difficult they are to slice open. A quick way of checking is to push the breast with your finger. The chicken should feel firm and bounce back in a few seconds.
Colour -Look for chicken that is pink and does not have a lot of fat. The exception will be range-fed chicken. The colour of the meat can be more orange or yellow if the chicken has been range fed where it may be eating more corn or grains.
Enhancers – Avoid enhanced chicken if possible, This just means that the chicken has been injected with a solution (usually a brine) to add flavour. This increases the sodium levels in the chicken and isn't necessary.
Liquid – Choose chicken breasts that are not in pooling water. the excess water can be from a cooling process and can result in water soggy chicken. If possible look for chicken that says air chilled. However, many packages don't indicate the process used, so looking for pooling liquid can be a good indicator.
Grilling instead of using the oven
This diabetic friendly stuffed chicken breasts recipe is great on the grill (BBQ). If grilling, use Cookina grilling sheets to prevent moisture loss. We use these in our Low Carb Stuffed Pork Chops recipe and they allow your food to retain its juiciness, making it nice and tender.
Adding Spices
Spices can be easily added to this recipe. For dry spices, add them to the breading/dredging, mix for a bolder flavour or into the cream cheese mixture for a more subtle flavour.
Some spices that work well include:
Chili powder
Onion Powder
Garlic Powder
Basil – dried or finely chopped
Cajun
Red pepper flakes ( in cream cheese mixture)
Ingredient Substitutions
Feel free to experiment with this recipe. Always remember that making changes to this recipe will also change the nutritional values.
Carbalose Flour – this product can sometimes be difficult to obtain. It seems to often go out of stock. An easy substitute is King Arthur Keto Wheat Flour. It is similar and still low carb. You could also substitute the flour with Almond Flour or coconut flour if preferred. I have found the best taste (for this recipe) comes with using wheat-based flour.
Mayonnaise – Feel free to use greek-style yogurt (plain -no sugar) in place of the yogurt in the dredging mix.
Cream Cheese – This is a hard one. The consistency here is important. You want the filling to be solid and not runny. Yogurt, Ricotta and mascarpone will result in a filling that seeps out during cooking. Tofu can work but, I recommend adding spices as the taste is bland.
Bacon – Feel free to omit the bacon if desired.
Parmesan cheese – I do not recommend substituting the parmesan cheese in the dredging mix. For the filling, replacing it with grated mozzarella is a good option.
Storing and Freezing
Store after baking or grilling.
Store the cooked Diabetic Friendly Stuffed Chicken Breasts in an airtight container in the refrigerator for up to 3 days.
If freezing, wrap each breast in plastic wrap and then place them in a Ziploc freezer bag or airtight container. Freeze for up to 3 weeks.
I hope you enjoy this easy recipe for Diabetic Friendly Stuffed Chicken Breasts.
Thank You for visiting The Naked Diabetic.
This website may contain affiliate links. When a purchase is made through our links, The Naked Diabetic may receive a commission, at no cost to you.