Whether you love the sweet red and orange peppers or the less sweet green pepper variety, you can enjoy stuffed peppers that are diabetic-friendly. This is the best low-carb diabetic stuffed peppers recipe ever. I played around with my husband's original favourite recipe and tweaked it to make it diabetic-friendly, just like I have done with many other of my diabetic-friendly recipes.
When I told a friend that I was making a diabetic stuffed peppers recipe, she was curious enough to ask about the carbs. She said that she had always thought that diabetics should keep their carbs lower and she knew that stuffed peppers can be high in carbs, because of the rice.
Using cauliflower rice reduces the carbs considerably, just like in our Low carb Diabetic Cabbage Rolls. Cauliflower rice is a staple in every diabetic-friendly kitchen.
In this post, we will share our low-carb diabetic stuffed peppers recipe, tips on choosing peppers, nutritional information on peppers and the nutritional information for one serving (one Stuffed pepper) of our low-carb diabetic stuffed peppers recipe, along with kitchen tools needed and a shopping list to make this recipe.
Disclaimer -This post may contain affiliate links. When a purchase is made through our links, The Naked Diabetic may receive a commission, at no cost to you.
Jump to Recipe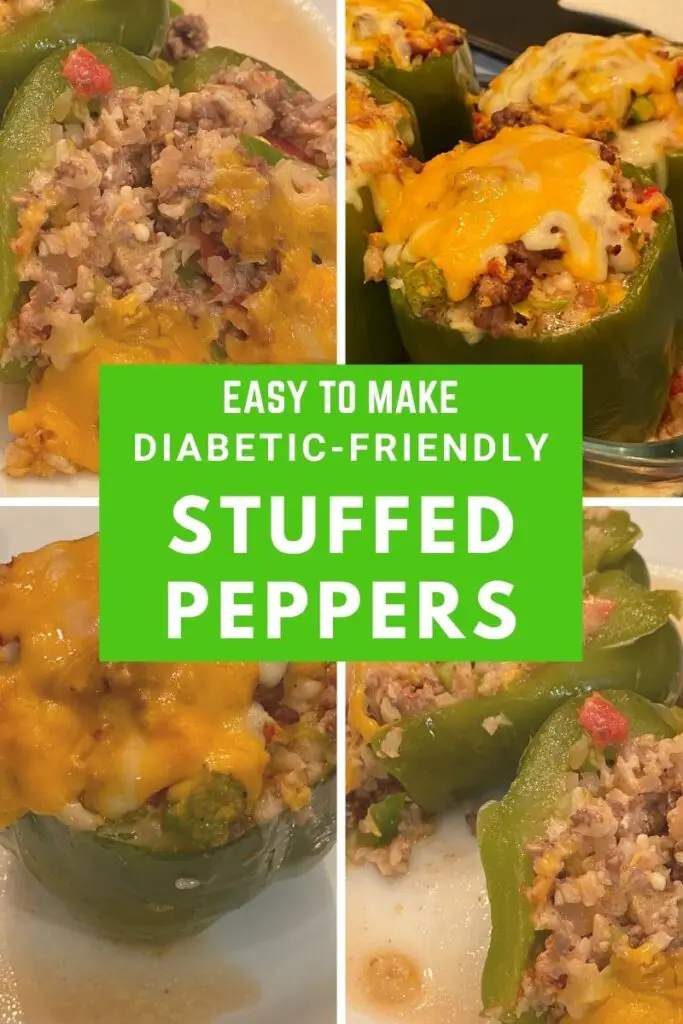 Disclaimer -This post may contain affiliate links. When a purchase is made through our links, The Naked Diabetic may receive a commission, at no cost to you.
Kitchen Supplies needed to make this Diabetic Stuffed Peppers recipe.
Shopping List
4 Green Bell Peppers
1 1/2 cups of cauliflower rice
1 pound of lean ground beef
small onion
16 ounce can of diced tomatoes
salt
Worcestershire sauce
cheddar cheese
mozzarella cheese
Tips on choosing the best peppers for our diabetic Stuffed Peppers Recipe
You will be more satisfied with your stuffed peppers if you choose the right peppers. here are a few simple tips on how to pick the best ones available.
Colour
Look for green peppers that have a deep rich dark green colour. A lighter green pepper is not likely to have ripened as much and will be less flavourful.
Skin
Look for smooth shiny skin. Avoid blemishes and soft spots. The skin should not be wrinkly or look dull. Good peppers should feel firm when you pick them up,
Weight
Peppers that feel heavy for their size, are a sign that they are not dehydrated. Compare with other peppers and choose the heavier ones.
Shape
Good peppers for making stuffed peppers should be symmetrical so that they can stand up in the pan. Peppers that have four bumps on the bottom are best for making stuffed peppers.
Some say that the difference between three bumps and four bumps on peppers is gender, but that is a myth and there is no difference in taste between the three bumps or four bumps. The only real difference that I find is that four bumps give the pepper more stability when standing for stuffing.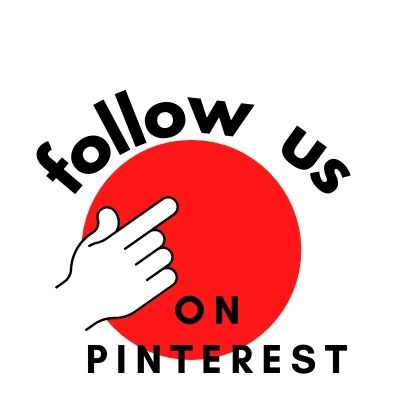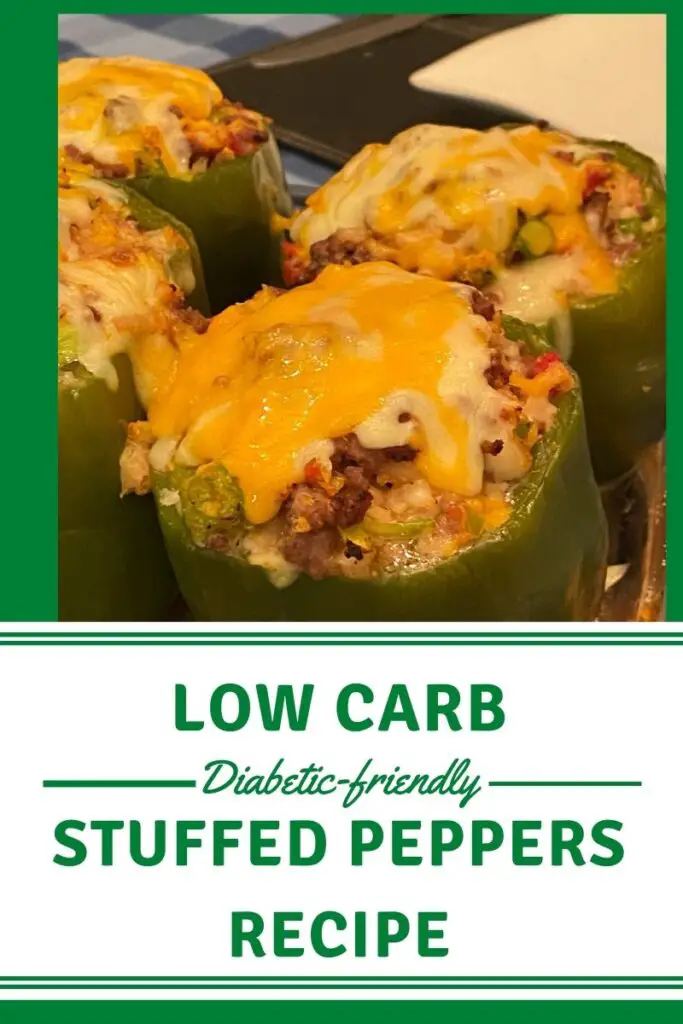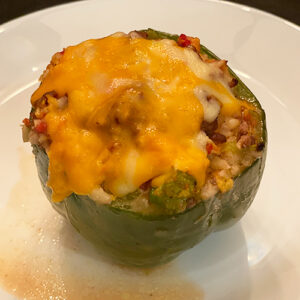 Low Carb Diabetic Stuffed Peppers recipe
An easy delicious Low Carb diabetic stuffed peppers recipe.
Ingredients  
4

Green Bell peppers

1

lb

lean ground beef

1 1/2

cup

riced cauliflower

1

small

onion- finely chopped

16

ounce

can of diced tomatoes

1

tsp

salt

1/2

tsp

Garlic Plus seasoning

1/2

cup

water

1

tsp

Worchestershire sauce

1

cup

low-fat cheddar cheese – grated

1

cup

low-fat mozzarella cheese – grated
Instructions 
Preheat your oven to 350 degrees F (125 degrees C)

Cut the tops off of the peppers and set them aside, discard stem .

Remove and discard seeds,

Chop enough of the pepper tops to make 1/3 cup.

In a large pot, bring water to a boil. (enough water to cover peppers)

Submerge the peppers in the boiling water and allow them to continue boiling for approximately 5-10 minutes.

Remove the peppers from the boiling water and drain well.

Sprinkle the inside of the peppers with salt and set aside.

In a saute pan, brown the ground beef, chopped onion and chopped peppers.

Drain off any excess fat and add the diced tomatoes.

Stir in the cauliflower rice, water, Worchestershire sauce, salt, and garlic plus seasoning

Bring to a boil and then remove from the heat.

Stir in 1/2 cup of the cheddar cheese and 1/2 cup of the mozzarella cheese.

Mix the remaining cheeses together in a small bowl and set aside.

Place the peppers in an 8 by 8 inch baking dish.

Divide mixture between the four peppers, packing tightly.

Bake in the middle rack of the oven for 20 minutes.

Remove them from the oven and divide up the remaining grated cheeses between the four pepper. (place on the tops)

Return to the oven for another 15 minutes.

Remove from the oven and let cool slightly before serving.
Nutritional Information for one serving of our Diabetic-Stuffed peppers recipe
YOU MIGHT ALSO LIKE
How to make your own Cauliflower rice.
You can purchase ready-to-use cauliflower rice, found in the freezer section at your local grocery store or you can make your own. You can also purchase freeze-dried cauliflower rice, which will need to be rehydrated for this recipe.
Cauliflower rice is easy to make. All you need is a grater or a food processor and cauliflower.
To make cauliflower rice using a grater
Remove and discard the leaves from the cauliflower and wash it. Cut the cauliflower into large chunks. Using a box grater, grate the cauliflower into rice-sized pieces.
To make cauliflower rice using a food processor.
Remove and discard the leaves from the cauliflower and wash it. Cut into chunks nf place into a food processor. Pulse until the cauliflower until it is in rice-sized pieces.
Store your extra cauliflower rice in an airtight container in the refrigerator or freeze in a Ziploc freezer bag.
Storing our Stuffed peppers.
You can easily freeze our diabetic stuffed peppers. It is better to freeze them after cooking as opposed to freezing them raw.
If you are planning on freezing your diabetic stuffed peppers, it is best to not top with cheese for the final few minutes of baking.
Once they are cooked, allow them to cool completely.
Wrap each stuffed pepper individually with plastic wrap, and make sure the plastic wrap is snug, and not allowing any air in.
Place each pepper into a Ziploc freezer bag or an airtight container and place them into the freezer.
You can freeze your stuffed peppers for up to 2 1/2 months.
Reheating frozen Stuffed peppers
Thaw completely and drain off any water, from thawing. (defrosting in the microwave is fine)
Place into an oven-proof baking dish and bake at 350 F (125C) for 25-30 minutes.
NOTE – if you aren't sure if the peppers are thawed right though, allow for extra oven time. Also if peppers are still cold, they may take additional time in the oven.
After 15 minutes, in the oven, remove the peppers from the oven and top them with the remaining grated cheese.
Return the stuffed peppers to the oven.
Finish baking and enjoy.
Can I swap out the green peppers and use red, yellow or orange bell peppers instead?
There is a small difference between the different types (colours) of bell peppers. The difference is relatively minor, but it is always good to know.
A medium-sized (45 gram) Green Bell Pepper has approximately:
Calories: 23
Protein: 1 g
Carbs: 5 g
Sugar: 2.7 g
Fiber: 2.1 g
A medium-sized Red Bell pepper has approximately
Calories: 37
Protein: 1 g
Carbohydrate: 7 g
Sugar: 5 g
Fibre: 2.5 g.
A medium-sized Yellow or Orange bell pepper has approximately:
Calories: 32
Protein: 1g
Carbohydrate: 7g
Sugar: 3
Fibre: 2 g
Protein: 1g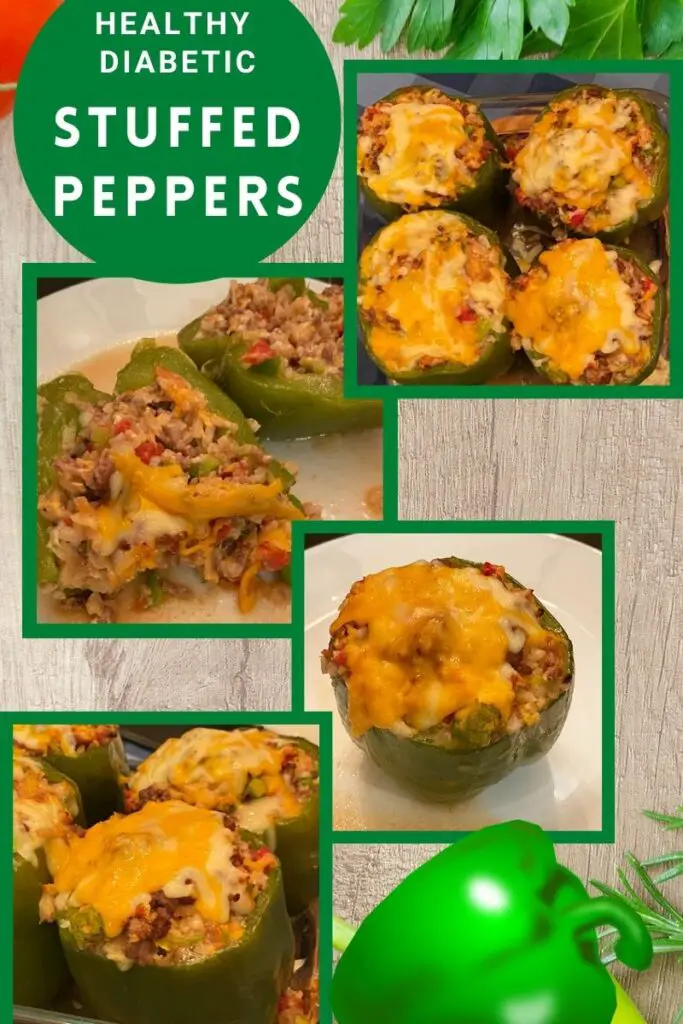 I hope you enjoy this delicious healthy low-carb Diabetic Stuffed peppers Recipe.
Thank you for visiting The Naked Diabetic.