This website may contain affiliate links. When a purchase is made through our links, The Naked Diabetic may receive a commission, at no cost to you.
Whenever I am asked if a diabetic can eat pumpkin pie, I always answer the same way. Yes, and diabetics can eat cheesecakes and cotton candy and they can drink lattes too. Cooking for diabetics doesn't always have to feel like an impossible task. If you have the right information and the right products on hand in your pantry, cooking for diabetics is rather simple. This Sugar-Free Pumpkin Pie recipe is a good example of how we can reduce the carbs and make a recipe diabetic-friendly, without any difficulty.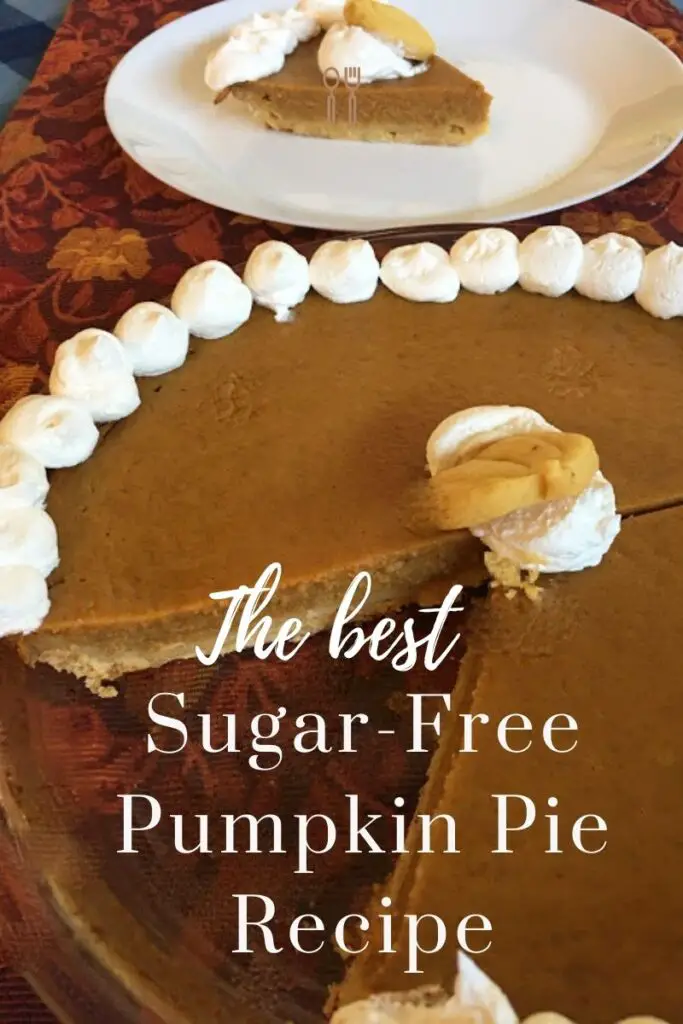 In our Sugar-Free Pumpkin Pie Recipe, we will use some ingredients that we have in our diabetic-friendly pantry. If you made our Sugar-Free Pumpkin Cheesecake Recipe, you may already have these items in your kitchen.
What's in this post?
Table of Contents
Recommended Kitchen Supplies for Sugar-Free Pumpkin Pie Recipe.
mixing bowls
measuring cups
measuring spoons
silicone spatula
pastry blender
piping bag and round tip (optional for adding whipped topping, when serving)

Shopping List of Ingredients
Pumpkin Puree ( 100 percent pure) or a small pie pumpkin
Zero calorie Granulated sweetener (Splenda Stevia Blend)
butter
evaporated milk
eggs
cinnamon
allspice
salt
vanilla extract
whipped topping (optional for serving)
Need to stock your diabetic-friendly pantry?

Helpful Tips and FAQs
How to keep your pumpkin pie from cracking.
Temperature Change that occurs too quickly will cause your pumpkin pie to crack. I have found that the best way to prevent cracks is to turn off the oven, open the oven door fully and allow the pie to cool for a few minutes befor4 r4moving it from the oven.
After the [ie has cooled a little, remove it from the oven sit it on top of the stove, and allow it to cool the rest of the way.
If you are using the stove for cooking, you can set the pie on a couple of folded kitchen towels that have been heated up in the dryer and allow it to finish cooling.
Canned Pure Pumpkin Puree vs. Homemade Pumpkin Puree
Which one works better in our sugar-free pumpkin pie recipe? If you have a choice, it is best to choose homemade fresh pumpkin puree. If you don't have the time to make the fresh puree, or you are unable to get fresh pie pumpkins, the canned puree is perfectly fine.
I recommend fresh pumpkin puree as I always prefer fresh when given the option.
Luckily canned pumpkin puree is pretty good. It does seem to maintain its flavour and colour during the canning process.
Buying Canned Pumpkin Puree
When you are purchasing canned pumpkin puree, make sure that it is sugar-free. Canned Pumpkin puree that is marked 100 percent pure or 100 percent all-natural, usually is sugar-free. This is not the same as the Pumpkin pie filling or Pumpkin pie mix.
Double-check the ingredients list to confirm that there is no sugar added.
If you are searching in the supermarket and can only find pumpkin pie filling or pumpkin pie mix, keep searching. Both pumpkin pie filling and pumpkin pie mix have sugar as the main ingredient, which is not diabetic-friendly. Two brands that are reputable and have great pumpkin taste, which I have used many times, are E.D Smith pumpkin puree and Libby's pure pumpkin puree.
How much sugar is in pumpkin pie filling (mix)?
When you look at the label of a can of pumpkin pie mix or pumpkin pie filling, the average amount of carbs per 1/3 of a cup is between 20-25 grams of carbs. You may think "That's not too bad", but that is just for the filling. We still need to account for other ingredients and the pie crust.
Is there a lot of sugar in regular pumpkin pie?
The carb count for a slice of pumpkin pie (1/8th of a pie) for a non-diabetic-friendly pumpkin pie, on average is 45 grams of carbs. (amounts vary by the recipe) This is off the charts for diabetics. Have no fear, with our adjustments to our sugar-free pumpkin pie recipe, we can have a diabetic-friendly pumpkin pie, that is not only low-carb and sugar-free but a healthier option for everyone.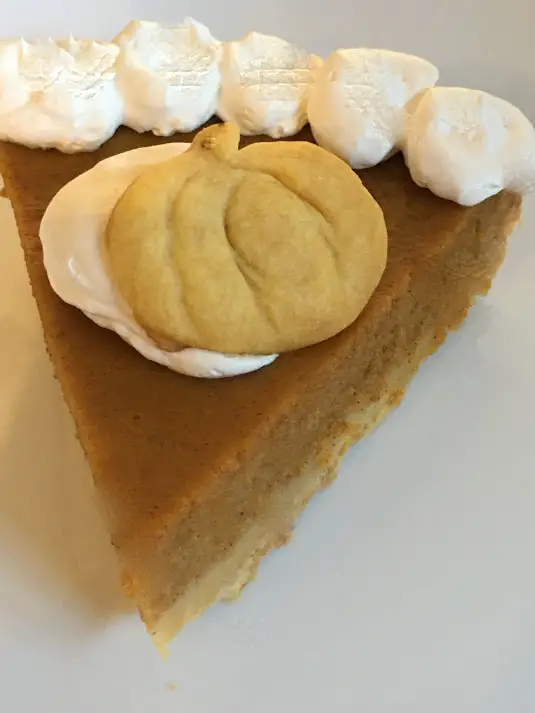 NOTE: The small pumpkin cutout shown in the pictures is made from the almond crust that has been cut out with a miniature autumn pumpkin cookie cutter and baked for 10 minutes, as noted in the crust recipe. If you want to make these, I suggest you make an extra crust batch, make a bunch and store them in the freezer or fridge and use them as desired. They are delicate so store them in wax paper in a hard-sided container.
Making fresh Pumpkin Puree.
Make sure that you are using pie pumpkins and not carving pumpkins or miniature pumpkins. All of these pumpkins are edible but do not all make good puree. Carving pumpkins are watery and lack flavour and the little miniature pumpkins (often used as decorations) are difficult to work with and are quite hard, and can be bitter.
When you are shopping for pie pumpkins they are often labelled as pie pumpkins or sugar pumpkins.
There are two methods for making pumpkin puree, the baking method and the steaming method.
The Baking Method
Preheat the oven to 350°F (175°C)
Remove the stem and cut the pumpkin in half or quarters, then remove all the seeds.
Place the cut pieces on a parchment-lined baking sheet and bake for approximately 40 to 45 minutes in the oven until the pumpkin is soft. (check with a fork) Time may vary, depending on the thickness of the pumpkin.
When the pumpkin pieces are cool enough to handle, scrape the pumpkin filling off of the skin. Place into a food processor. Discard the skin.
Pulse until very smooth and there are no chunks or pieces left. Add tablespoons of water as needed during the pulsing.
Refrigerate in an airtight container until ready to use.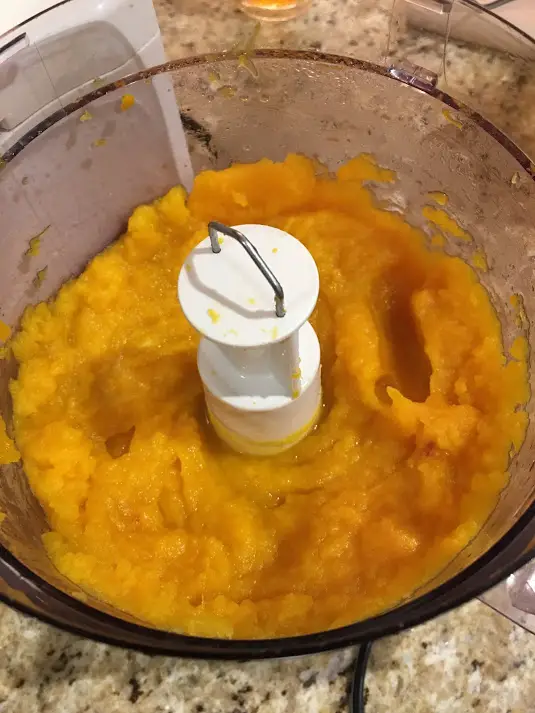 The Steaming Method
When making pumpkin puree, using the steaming method, we use a vegetable steamer. A stovetop (used over boiling water) or an electric steamer are both fine to use.
Remove the stem and peel the skin from the pumpkin.
Slice the pumpkin into 4 pieces and remove all of the seeds.
Place the cut pieces into the steamer (cut into smaller pieces if desired) and steam for approximately 10-15 minutes, until soft. (times vary depending on the size of pieces)
Place steamed pieces into a food processor or blender and pulse until it is a soft puree.
Chill in the refrigerator until ready to use.
Can you freeze Pumpkin Puree?
You can freeze the puree, just keep in mind that when defrosting, there can be extra moisture in your puree.
If the puree seems too wet, pour it into a strainer and allow it to sit until some of the liquid drains out.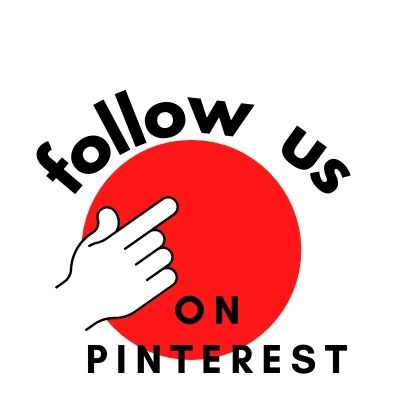 Sugar-Free Pumpkin Pie Recipe
Diabetic-Friendly Sugar-Free Pumpkin Pie Recipe
A low carb pumpkin [pie that is diabetic-friendly and easy to make.
Ingredients  
Crust
1

cup

almond flour

1/3

cup

butter (softened)

1/2

cup

granulated 0 calorie sweetener (Splenda)

1/2

tsp

pumpkin pie spice
Filling
2

cups

pumpkin puree

1

cup

evaporated milk

3

eggs

1/4

tsp

salt

1

tsp

ground cinnamon

1

tsp

pumpkin pie spice

1

cup

granulated sweetener (Splenda)

1

tsp

vanilla extract
Instructions 
Crust
Preheat oven to 350°f (175°C)

Combine all crust ingredients in a small mixing bowl.

Use a pastry blender and mix until it forms a loose crumble,

Press into a glass pie plate. ( onto bottom and up the sides.

Remove from the oven and continue with the recipe.
Filling
Adjust oven temperature to 375°f (190°C)

In a large mixing bowl, whisk the eggs.

Add the remaining ingredients and mix well at low speed.

Pour the filling mixture into the baked shell.

Bake in the oven for approximately 45 – 50 minutes.

To check for doneness, try the knife test.

Remove from the oven and let cool.

Ser with sugar-free whipped topping
How to tell if your sugar-free pumpkin pie is done baking.
There are a couple of tried and true ways to tell if pumpkin pie is ready to take out of the oven. These methods are the same for a regular pumpkin pie recipe as well as our sugar-free pumpkin pie recipe.
The Knife Test
The traditional way is the 'knife test". Insert a knife in the center of the pie and if it comes out clean, it is ready to remove from the oven. The unfortunate part of this method is that it leaves a mark.
You are slicing the pie anyway, so just insert the knife into a spot where a cut line will be.
Whenever I use this method, I always garnish my pie with a dollop of whipped topping in the center. That covers the hole and any cracks that result from the hold.
The Jiggle Test
Your pie is ready to come out of the oven when there is a slight jiggle in the center, kind of like jello. If it sloshes around or seems liquidy, it needs to go back in the oven.
The Colour
Your sugar-free pumpkin pie should be darker in colour. The pumpkin filling gets a deep colour during backing. Take a picture of your pie when you have poured the filling in it, as a comparison when checking to see if it is baked,
The crust should be golden
.When I'm making my sugar-free pumpkin pie recipe, I put the crust up to the top edge of the pie plate., so this doesn't always work for me. If you put your crust up over the edge of the pie plate, this is a good technique.
Serving Suggestions.
When I am serving, I use a piping bag and whipped cream. I pipe dots around the outer edge of the Pumpkin Pie, as shown below. Sometimes making a decorative edge with the almond crust party doesn't look as nice as regular pie pastry. just like the decorative effect and I don't have to worry about crumbling crusts or overbaking the crust.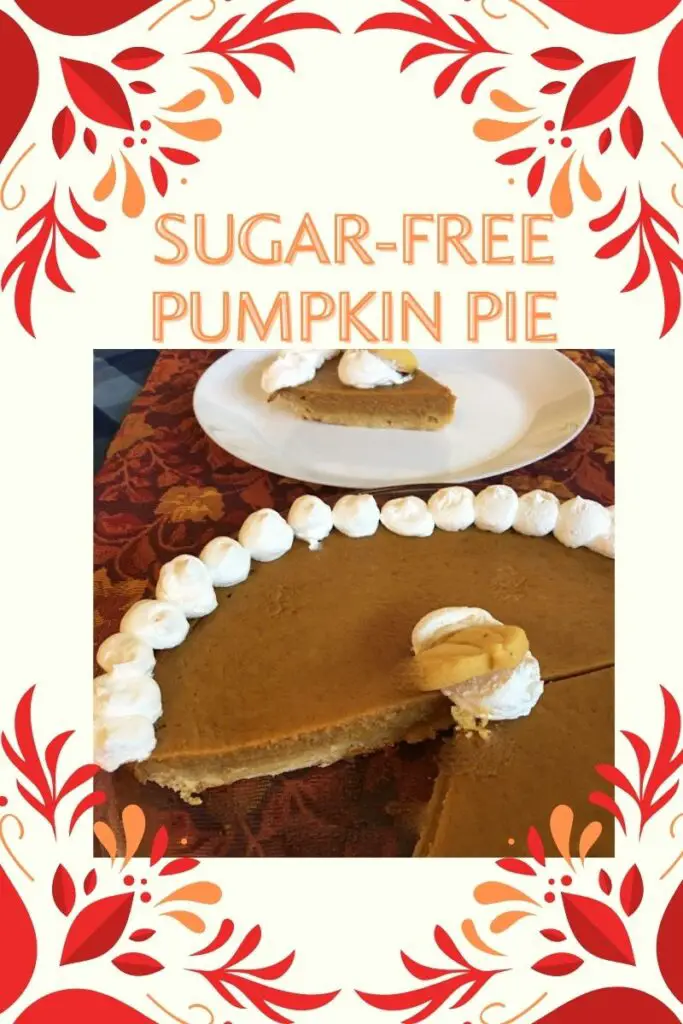 Nutritional Information
The nutritional information listed below does not include the whipped topping. Add the appropriate carbs and calories according to your topping choice.
The nutritional information is for one slice (1/8th) of our Sugar-Free Pumpkin Pie recipe.
We hope you enjoy this diabetic-friendly sugar-free pumpkin pie recipe as much as we do.

Disclaimer -This post may contain affiliate links. When a purchase is made through our links, The Naked Diabetic may receive a commission, at no cost to you.