This website may contain affiliate links. When a purchase is made through our links, The Naked Diabetic may receive a commission, at no cost to you.
Want to bump up a basic sugar-free brownie recipe? These easy Sugar Free Cheesecake Brownies combine two great tastes in one. Get the rich chocolate flavour of a brownie and the creaminess of cheesecake all in one bite!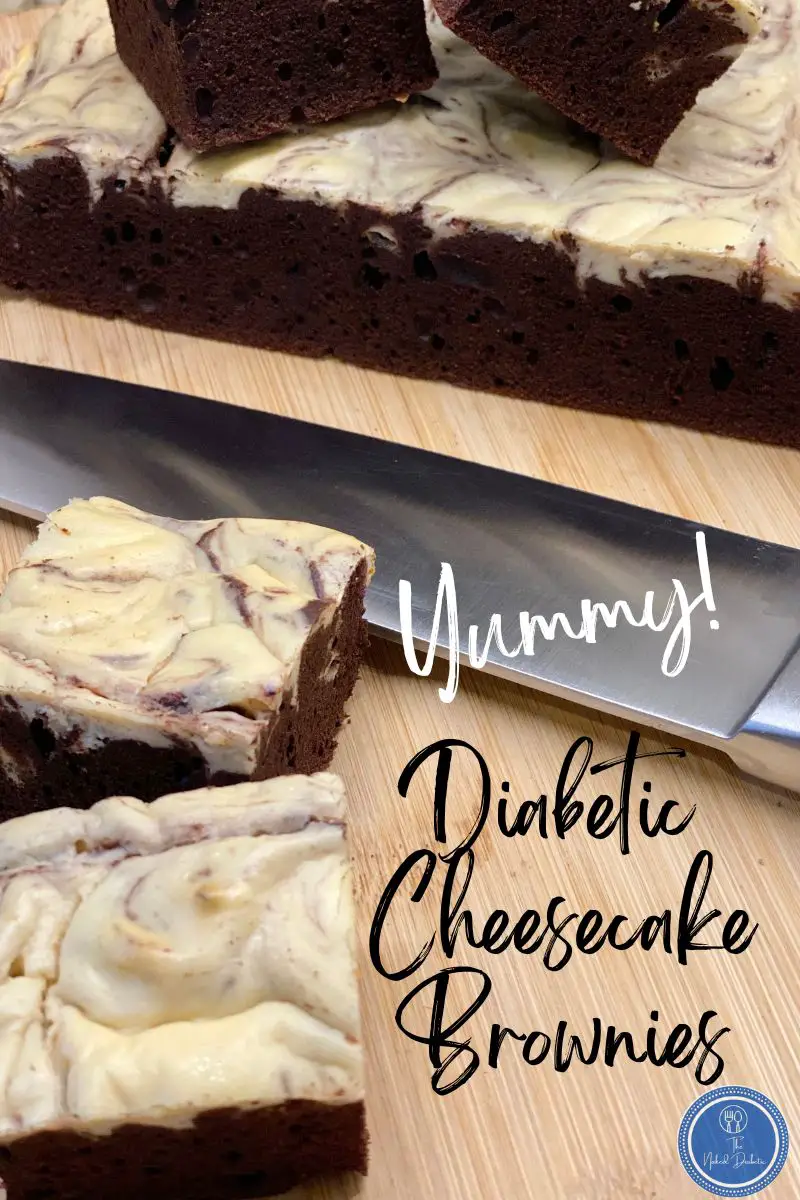 What you'll find in this Sugar Free Cheesecake Brownies post
Table of Contents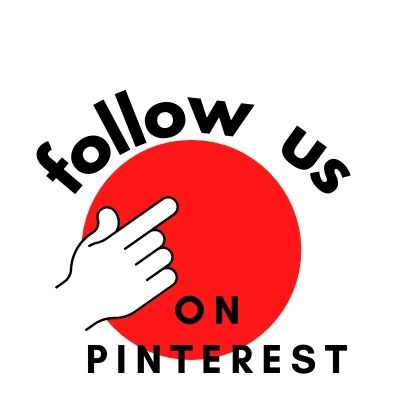 Recommended Kitchen Tools and Equipment
Mixing Bowls
Measuring Cups
Measuring Spoons
Electric Mixer (stand or handheld)
8-inch by 8-inch baking dish
Sieve or sifter
Silicone spatula
Wooden skewer or knife
Parchment paper
Need Kitchen Tools or Supplies?

Shopping List of Ingredients
Low fat Cream Cheese – 6 ounces
Eggs – 7 large
Vanilla Extract
Baking Powder
Salt
Butter
Need Diabetic Friendly Ingredients?

Information About the Ingredients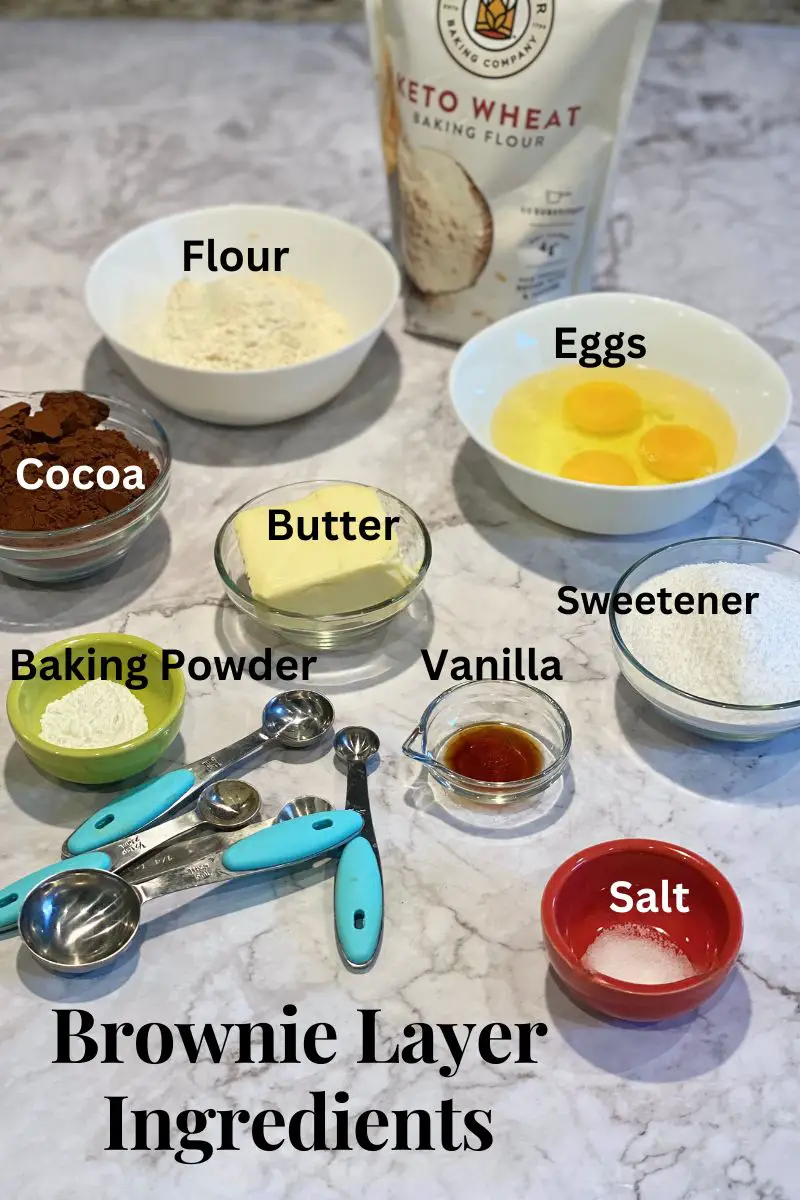 Splenda Granulated Sweetener – Splenda sweetener is our substitute for real sugar which is one of the ley components to making our recipe diabetic-friendly. I use Splenda granulated sweetener in most of my recipes.
King Arthur Keto Wheat Flour – King Arthur Keto Wheat flour is our all-purpose flour replacement. It is a low-carb flour that works very well in most recipes. It is nut-free and works very well in recipes that use yeast. If using K.A. Keto Wheat Flour, use it in a 1:1 ratio, add extra liquid and be careful to not overmix.
Vanilla Extract – Vanilla extract is a flavour enhancer and helps to remove bitterness from ingredients, such as sweeteners. It also enhances other flavours and aromas. Pure extract is preferred but can be cost-prohibitive. Artificial Vanilla Extract can be used in place of pure extract.
Cocoa Powder – I like to use Dutch or Dark Cocoa, as I find that it has a rich chocolate flavour. If it is not available,e to use, standard or dark cocoa is fine.
Butter – I used salted butter in this recipe. If you use unsalted, add a pinch of extra salt for a flavour enhancer.
Eggs – Use large eggs if possible. If you only have medium-sized eggs, add extra egg white to compensate for the liquid. Eggs act as a binding agent in this recipe as well as adding moisture.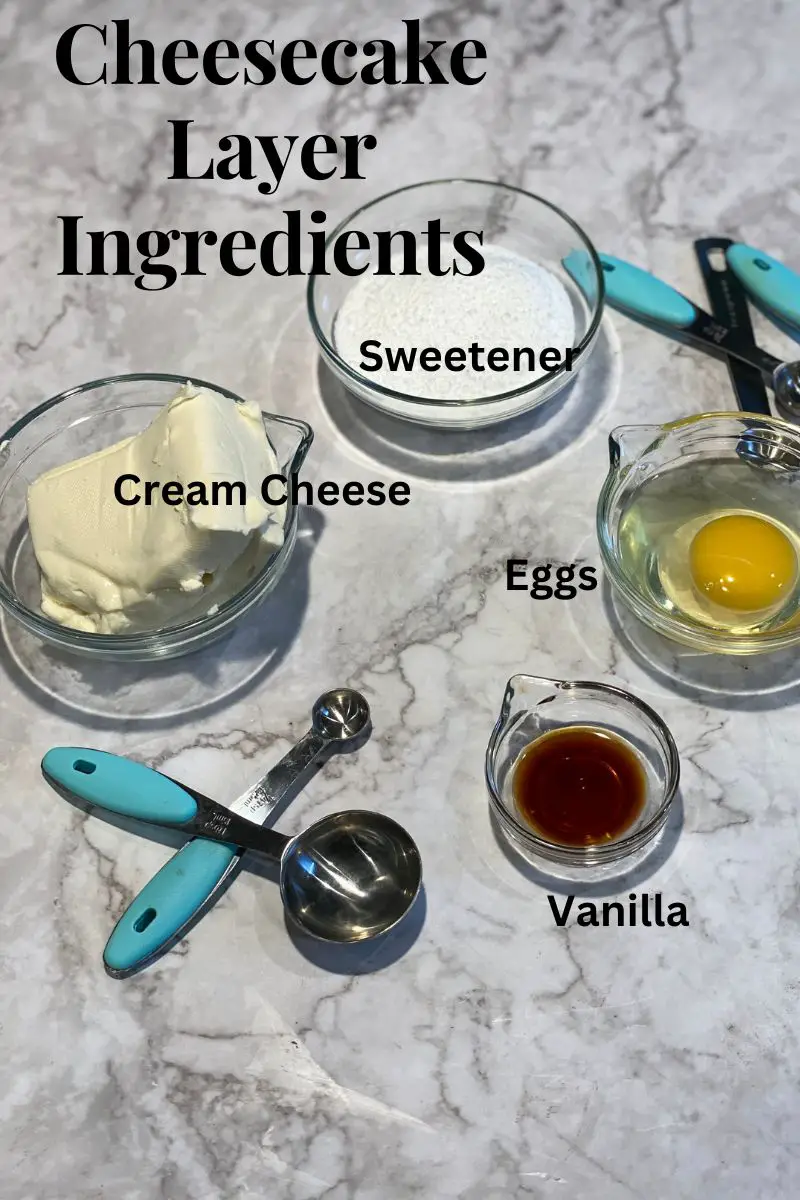 Cream Cheese – I recommend Low Fat Cream Cheese but if you have a preference for another type of cream cheese feel free to substitute. Keep in mind, it may change the nutritional values.
Helpful Tips and FAQs
Substituting the flour
If you have a preferred flour feel free to substitute it for the flour listed in our recipe. When baking for diabetics, you will likely want to keep the net carbs as low as possible. Using low-carb flour will help you achieve lower carbs in the overall finished recipe. Understanding the best flours to use in low-carb baking will help you make the best choice for you. Always keep in mind, changing the ingredients in our recipes will also change the nutritional value
Using a different sweetener
As mentioned above, I like to use Splenda granulated sweetener. I find that sweeteners that contain sugar alcohols impact my blood sugar negatively. I know that this is not the case for everyone, so make substitutions to fit your own lifestyle and preferences. Keep in mind, the final nutritional information per serving may differ after making substitutions.
Using full-fat cream cheese
Feel free to substitute the low-fat cream cheese with your preferred cream cheese. It will likely change the nutritional values, but will not change the delicious flavour of our sugar free cheesecake brownies.
Adding nuts to this recipe
It is easy to add nuts to this recipe. For the best results, add nuts to the brownie batter and not the cream cheese batter. Don't forget to account for the nutritional values that are contained in the nuts.
Adding Chocolate Chips to this recipe.
Feel free to add chocolate chips as desired. Opt for sugar-free chocolate chips and make sure that you add the nutritional information from the chocolate chips to the nutrition info in this recipe.
Storage and freezing instructions.
Store in an airtight container or covered with plastic wrap for 4 to 5 days refrigerated. For serving, reheat in a microwave on half power for 20 seconds.
These sugar free cheesecake brownies can be frozen for up to two weeks. My experience has been that baked recipes that contain cream cheese can absorb a lot of moisture when freezing. If when thawing, you find them too moist, either microwave them or place them on a wire cooling rack in a warm oven for 20 minutes.
How To Make Sugar Free Cheesecake Brownies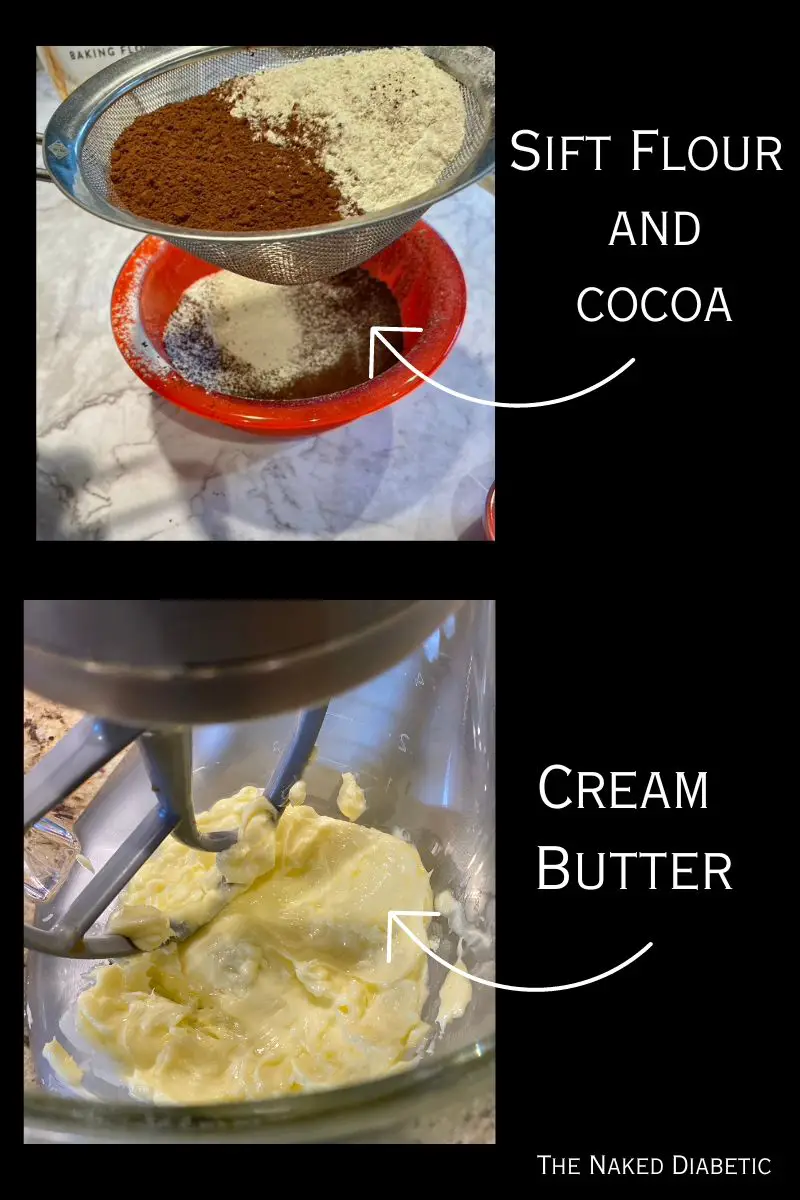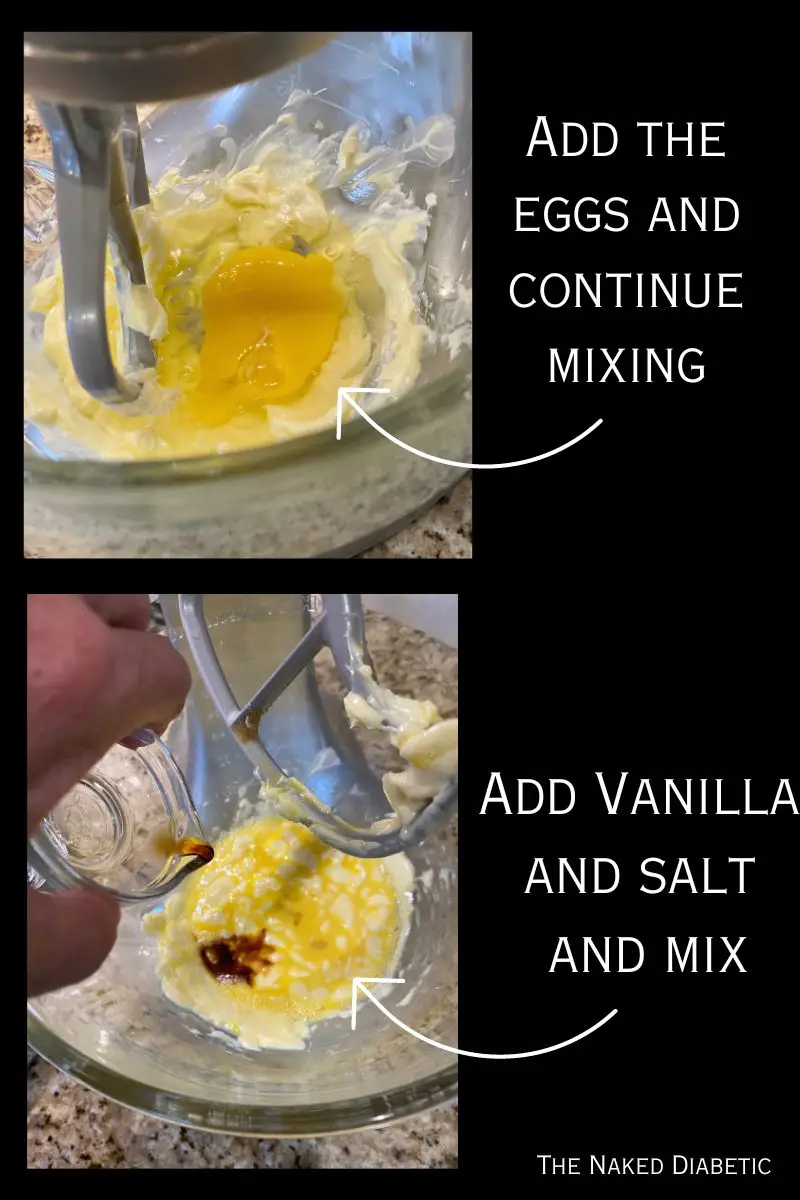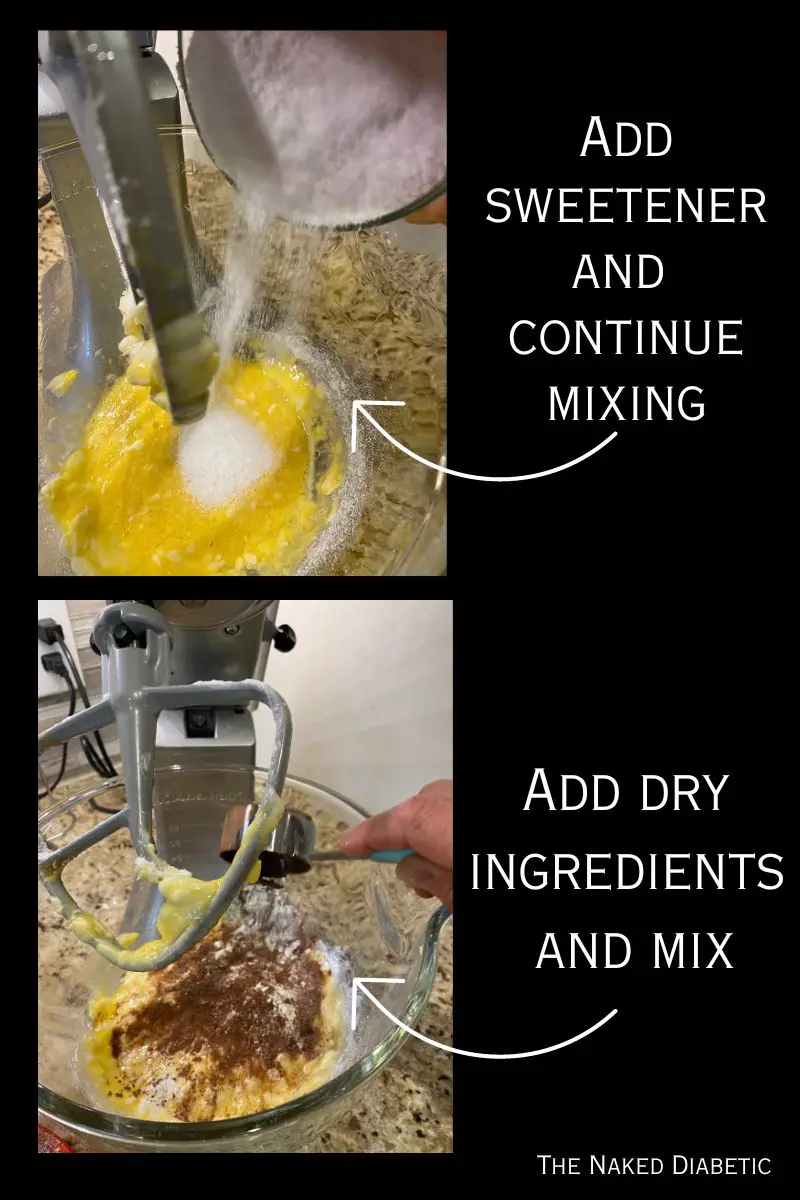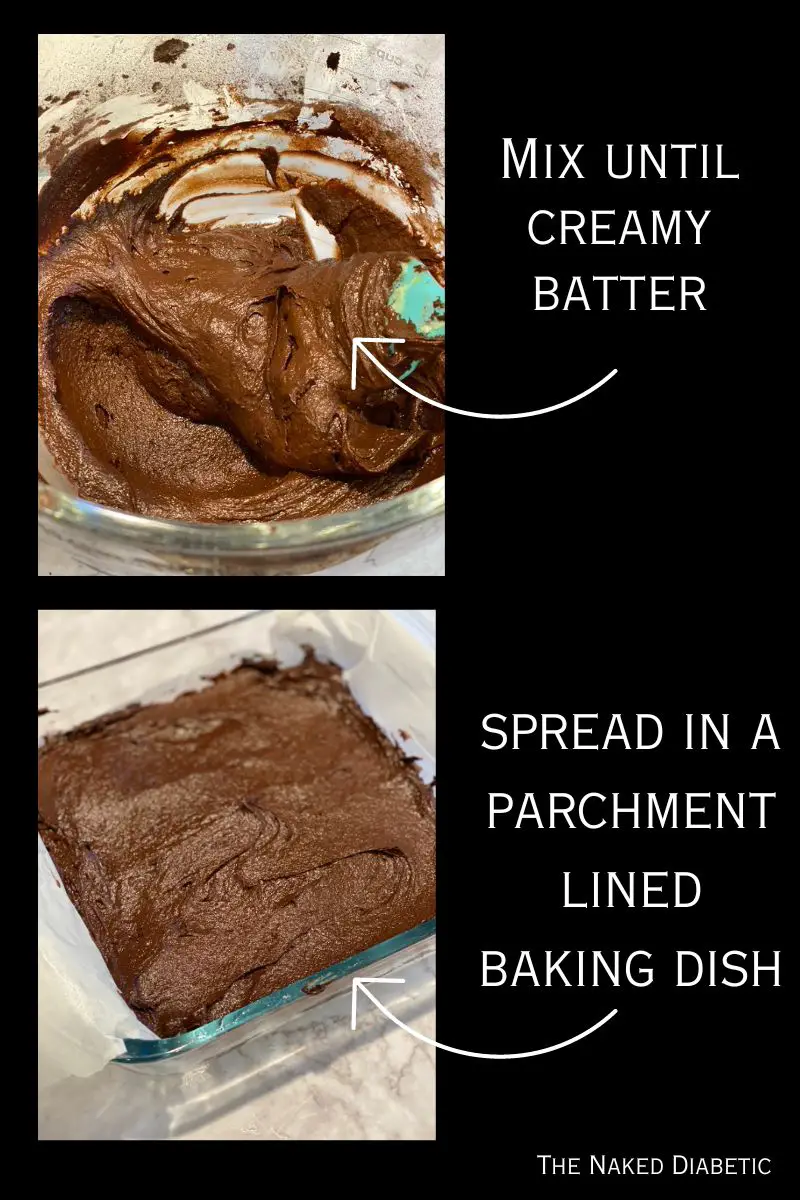 Make the Cheesecake Layer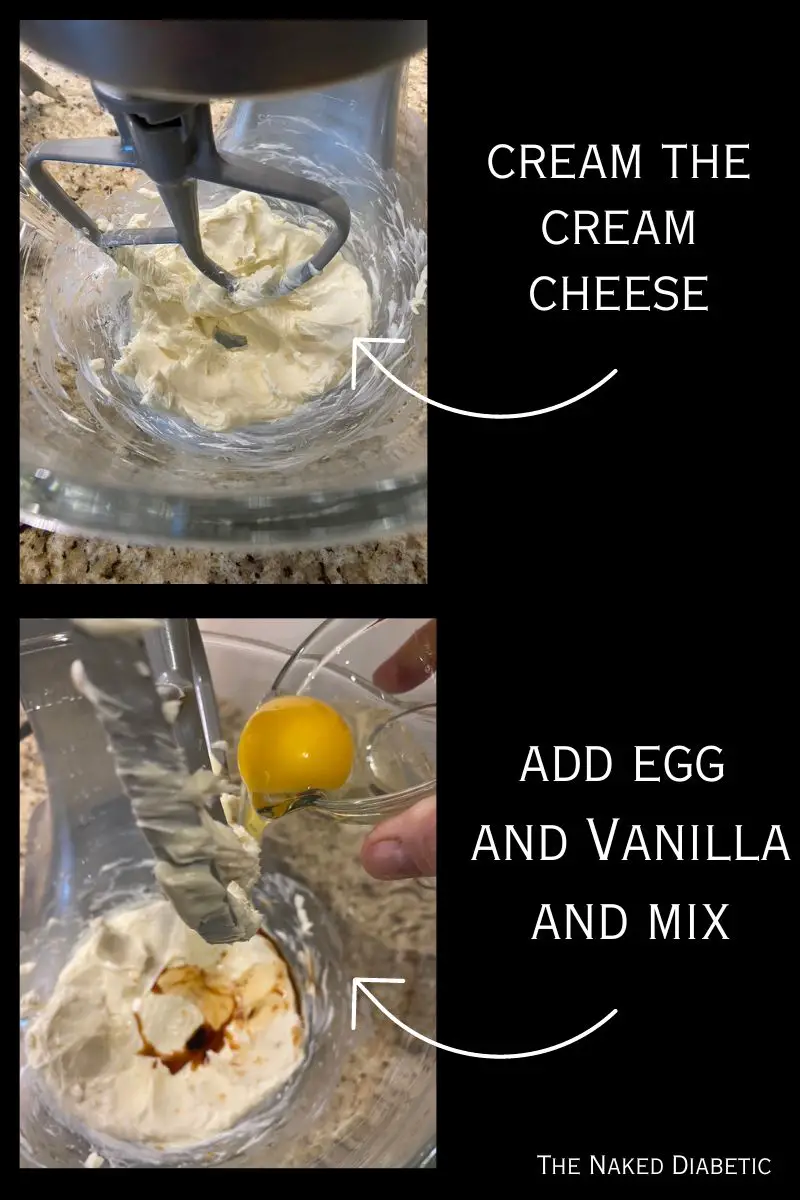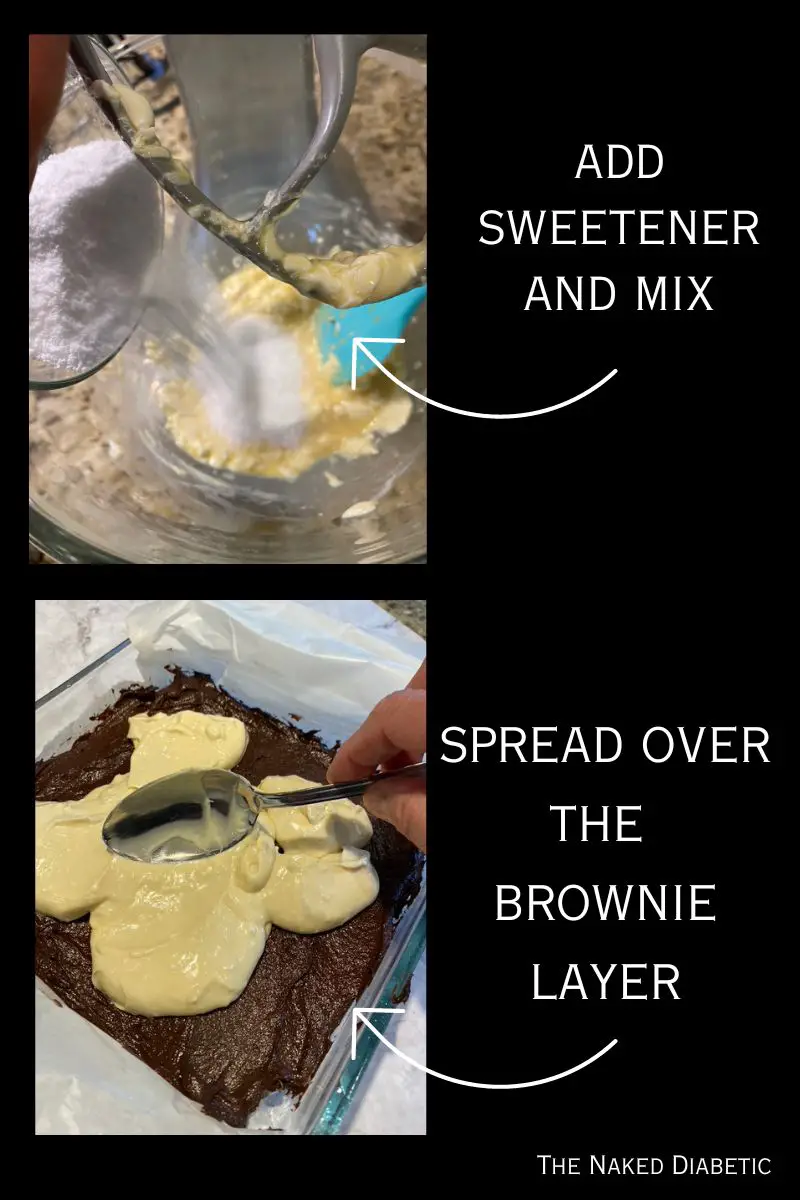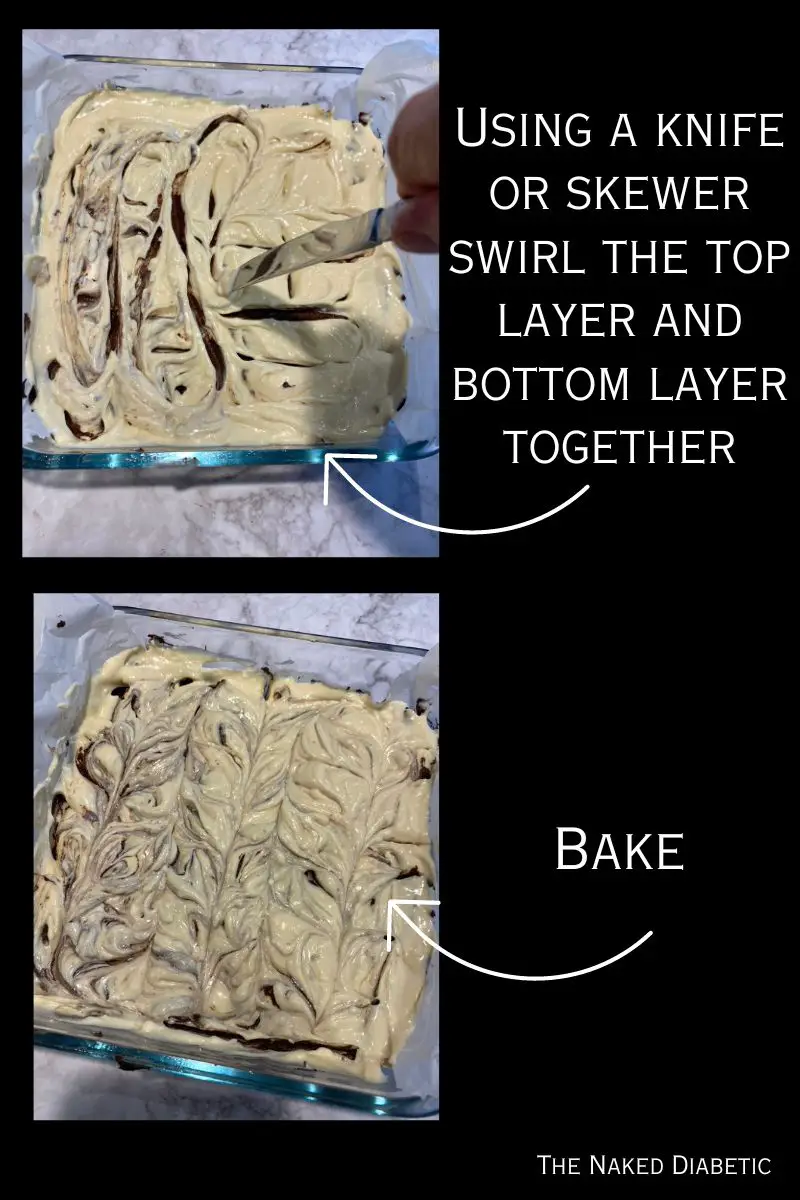 The Sugar Free Cheesecake Brownies Recipe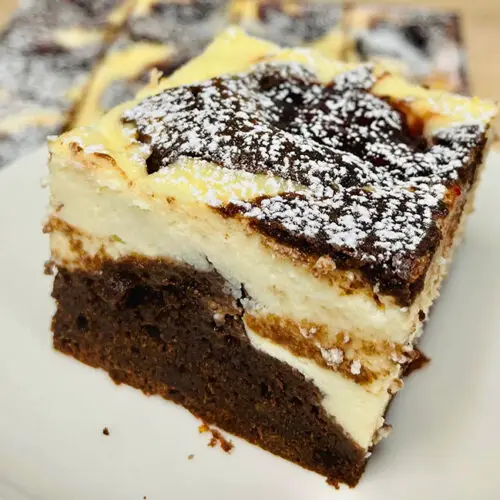 Diabetic Friendly Sugar Free Cheesecake Brownies Recipe.
An easy low carb recipe for Sugar Free Cheesecake Brownies that is suitable for diabetics and low carb diets. (nut free)
Ingredients  
½

cup

Butter – softened

3

large

Eggs – room temperature

3

large

Egg whites

1

tsp

Vanilla Extract

¾

cup

King Arthur Keto Wheat Flour

⅔

cup

Dark Cocoa Powder

⅔

cup

Splenda Granulated sweetener

1

tsp

Baking Powder

½

tsp

Salt
Cream Cheese layer
6

ounces

Low Fat Cream Cheese – softened

1

large

egg

½

tsp

Vanilla Extract

¼

cup

Splenda Granulated Sweetener
Instructions 
Preheat oven to

350

°F

(175 C)

Line an 8 inch by 8 inch baking dish with parchment paper.

Coat the parchment paper with cooking spray.
Brownie batter
Sift the flour, cocoa powder and baking powder over a mixing bowl and set aside.

In a mixing bowl, cream the butter, using an electric mixer.

Add eggs one at a time, followed by the egg whites and continue mixing.

Add vanilla extract and salt and mix.

Slowly add the dry ingredients, a scoop at a time, mixing in between additions.

Mix until you have a smooth batter. (if the batter seems dry, add up to 2 tablespoons of water)

Spread the batter into the parchment lined baking pan.
Cheesecake Layer
In a mixing bowl, cream the cream cheese until smooth.

Add the egg and continue to mix.

Add the remaining ingredients and mix until smooth.

Scoop small dollops of the cream cheese mixture, onto the brownie mixture and spread it evenly over the brownie layer

Using a wooden skewer or knife, swirls the cheesecake layer, partially into the brownie. Be careful not to over mix.

Bake in oven for 30-35 minutes or until a toothpick comes out clean when inserted into the brownies.

Remove from the oven and let cool for a few minutes, to allow the brownies to firm up.

Using the parchment as handles, lift the brownies from the baking dish.

Cut brownies into 16 equal portions.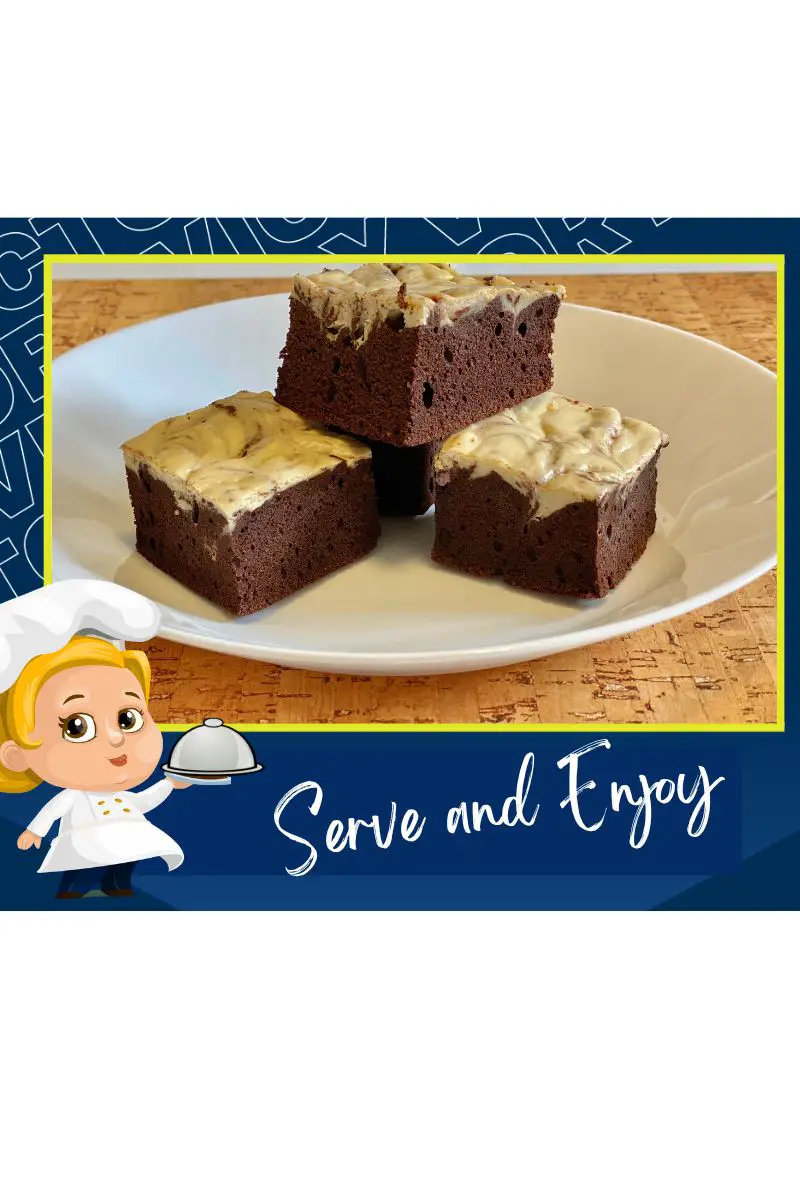 Nutritional Information
The following information is the approximate nutritional information for one serving, using ingredients as directed.
Calories – 107
Total fat – 7.5 gr
Saturated fat – 4 gr
Total Carbs – 4.6 gr
Fibre – 1.3 gr
Net Carbs – 3.3 gr
Protein – 7 gr
Sodium – 367 mg
Nutrition information is provided as a courtesy and is automatically calculated using an online nutrition calculator. We encourage you to calculate nutrition data with your specific brand ingredients as nutritional information can vary between brands

This website may contain affiliate links. When a purchase is made through our links, The Naked Diabetic may receive a commission, at no cost to you.