This is an easy recipe for Sugar-Free Coconut Macaroons. They are light and tasty with a crispy outside and soft gooey center. These taste so good even non-diabetics won't be able to tell the difference between the sugary version. Drizzled with a touch of dark chocolate adds just the right touch of decadence. Serve this with our Sugar-Free Hot Chocolate or our Sugar-Free Caramel Latte, for an extra special treat.
The ingredients in this recipe can be found in most diabetic-friendly pantries. If you have eggs in your refrigerator, you will have all you need to make this recipe. If you are looking for diabetic-friendly cookie recipes or dessert recipes, you have come to the right place. All of our recipes are made especially for diabetics with blood sugar control in mind. We make every effort to keep the carbs as low as possible without compromising taste.
In this post, I will provide a shopping list of ingredients, a list of kitchen tools needed, tips for beating egg whites, the recipe for Sugar-Free Coconut macaroons, and the nutritional values per serving.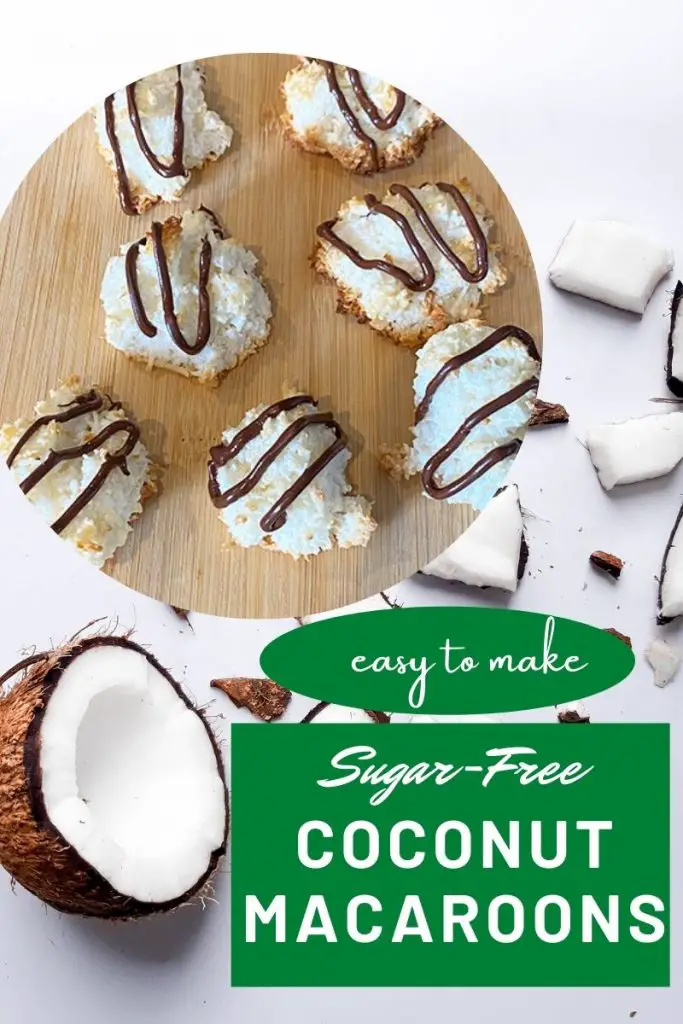 Disclaimer -This post may contain affiliate links. When a purchase is made through our links, The Naked Diabetic may receive a commission, at no cost to you.
Shopping List for this recipe
Kitchen tools needed (with links)
Tips for beating egg whites (where you could go wrong)
To get the best results when beating the egg whites, they should be at room temperature. Cold egg whites will not get the same amount of volume, which is important for a fluffy-centred macaroon. I have been told to separate them when cold and then let the egg whites come to room temperature. I haven't noticed a big difference in the meringue when they've been repeated cold or at room temperature, but the egg whites will not peak fully if beaten when cold.
Make certain that you do not get any egg yolk into the mix. Even the tiniest amount of yolk in your egg whites will affect the ability to come to a full peak.
If your egg whites don't come to a stiff peak, you have likely not had your mixer at a high enough speed or you haven't beaten them long enough. they could also be overbeaten. If you have beaten them to a nice peak and you keep beating them, they will become saggy and can not be brought back to a stiff peak.
Cream of Tartar – Cream of tartar acts as a stabilizer. You can make this recipe without it, but you will achieve a better result when you use it. Cream of tartar is an acidic product. Cream of tartar is often used in recipes that use egg whites, such as angel food cake and meringues.
Make sure your bowl is clean. Even dust particles in the bowl can affect how the egg whites peak. To be extra sure the bowl is clean, I wipe it out with a damp paper towel before using it, just to be on the safe side.
Adding the sweetener – I always sift m,y sweetener when using with egg whites. I want to make sure there are no lumps and the sweetener is as fluffy as possible before adding to the egg whites. Adding the sweetener too fast can also affect the fluffiness of the beaten whites. Add the sweetener by tablespoons, beating in between additions.
YOU MIGHT ALSO LIKE
A note about the coconut.
The best coconut for this recipe is medium shredded. Flaked coconut may result in a wetter macaroon and the fine or extra-fine can end up too dry. The medium shredded with result in the best-baked macaroon.
A note about using different Sweeteners
I always use Splenda or powdered stevia in this recipe. You are welcome to use whatever sweetener you wish. Keep in mind, the egg whites may not be as fluffy as a result of the different consistency of various sweeteners. I find that the Splenda or powdered Stevia both yield a fluffy meringue. If you use a different sweetener and find that the egg whites don't get a nice stiff peak, you may want to consider trying the recipe with the Splenda or powdered stevia (sifted)
Recipe for Sugar-Free Coconut macaroons
Sugar-Free Coconut Macaroons Recipe
Ingredients  
4

large

egg whites (room temperature)

1/4

tsp

cream of tartar

1/3

cup

Splenda – powdered sweetener

2

cups

medium shredded unsweetened coconut
Drizzle
1/4

cup

unsweetened chocolate chips
Instructions 
Preheat oven to 350°F (175°F)

In a mixing bowl, beat the room temperature egg whites and the cream of tartar at high speed.

When soft peaks begin to form, add the sweetener by tablespoons

Continue beating at high speed until stiff peaks form (about 4 minutes)and all the sweetener is dissolved.

Gently fold the coconut into the whipped egg whites.

Line a baking sheet with parchment paper.

Drop the coconut mixture by tablespoons about 1 inch apart.

Bake in the oven for about 8 to 10 minutes, until they are just beginning to turn a golden colour around the4 edges.

Once baked, place on a wire cooling rack.
Drizzle
Melt the chocolate chips in the microwave, using 30-second bursts until melted.

Using a drizzler tool, drizzle a small amount over each cooled macaroon.
What if your batter is runny?
If you have added the coconut to the whipped egg whites and the batter is too wet and doesn't clump together, you can add more coconut. This has occurred because you either under beat the egg whites or overbeat the egg whites. They will still bake alright, but they will be denser.
Adding more coconut will also impact the calorie and carbs in this recipe, due to the extra coconut.
Melting and drizzling the chocolate.
Melt the unsweetened chocolate in the microwave oven. You can also use the stovetop method, but the amount of chocolate you are melting is so small, you may lose some of the chocolate, as it sticks to the sides of the pan.
Use a chocolate scoop drizzler or a pampered chef drizzler (my first choice( to drizzle a couple of lines of chocolate over each cookie.
Storing Sugar-Free Coconut Macaroons
Store these macaroons in the refrigerator for up to 5 days. Always use an airtight container.
Nutritional Value for Sugar-Free Coconut Macaroons
One serving is 1 macaroon. (recipe makes 24)
Calories – 66 KCal
Carbs – 6 gram
Fibre – 3 grams
Net carbs – 3 grams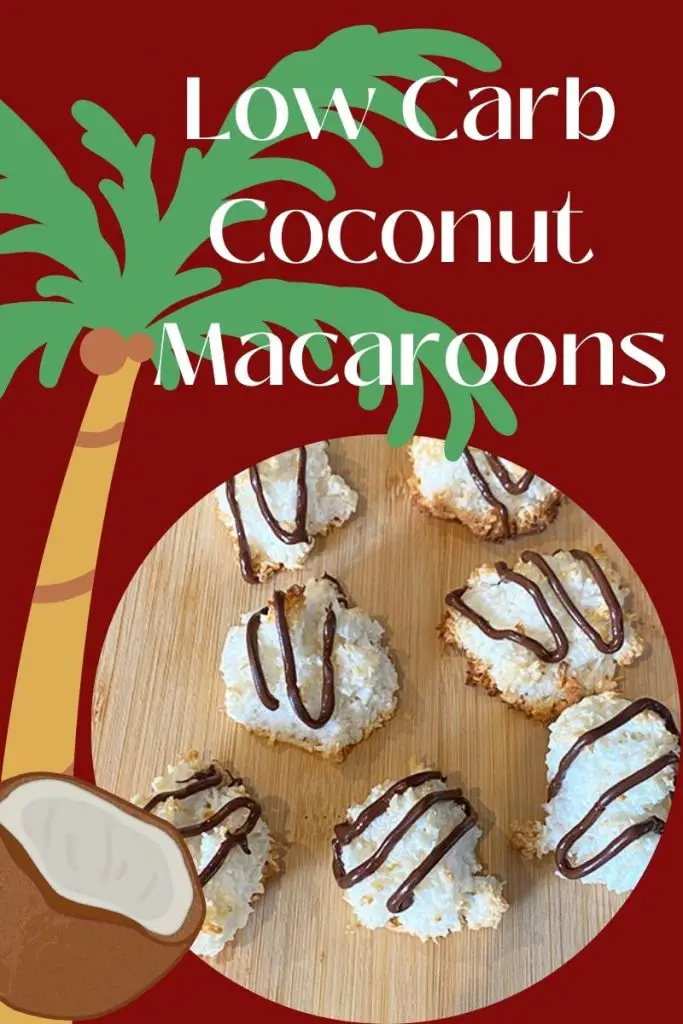 I hope you enjoyed this recipe for Sugar-Free Coconut Macaroons. They are perfect any time of day but are a great accompaniment to our Sugar-Free Hot Chocolate.
Thank you for visiting The Naked Diabetic
Disclaimer -This post may contain affiliate links. When a purchase is made through our links, The Naked Diabetic may receive a commission, at no cost to you.