Disclaimer -This post may contain affiliate links. When a purchase is made through our links, The Naked Diabetic may receive a commission, at no cost to you.
This Sugar-free Caramel Latte will make you feel like you are not a diabetic. It is sweet and delightful. Having diabetes doesn't mean you have to deprive yourself of all of those relaxing and enjoyable treats. This sugar-free Caramel Latte only takes and few minutes to make and is so good you will want one every day.
Like Lattes? Try our Sugar-free Pumpkin Spice Latte. It's so delish…
All of the ingredients in the recipe are found in our Diabetic-Friendly pantry. having low-carb-friendly products on hand makes cooking for diabetics or carb watchers much simpler.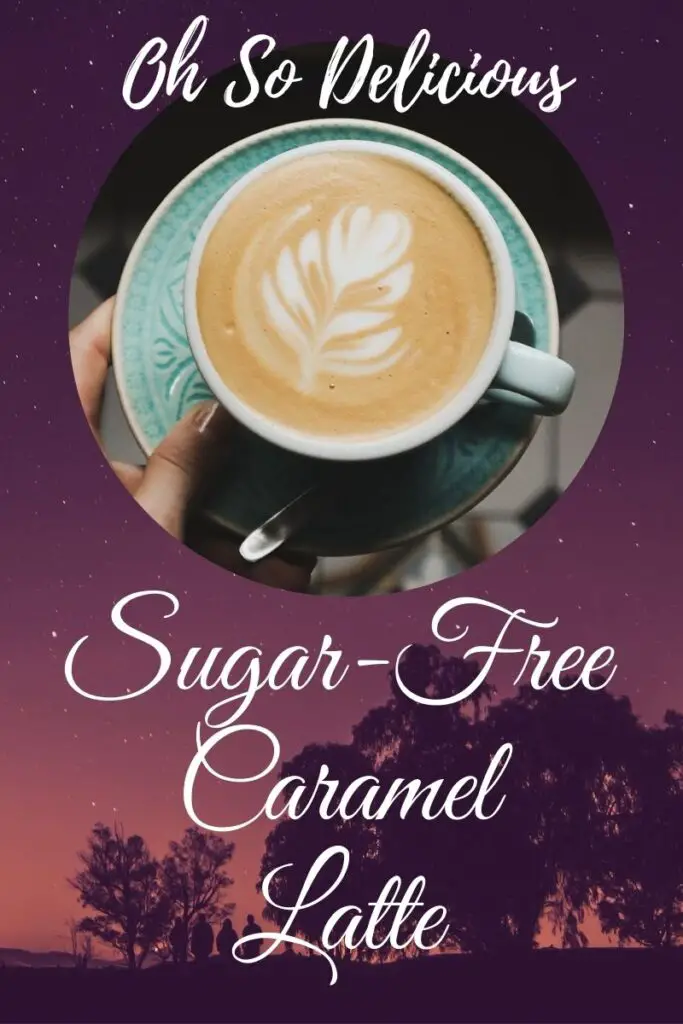 For this sugar-free Caramel Latte, I used a traditional Italian Moka pot espresso maker.
I have a friend who was born in Italy and his parents use traditional methods to make espresso. I have tested both, machine-made and stovetop-made, and by fat, I prefer the taste and smoothness of the stovetop Moka pot method.
There are other methods of making espresso as well, such as using a french press, Aeropress and as my friend says the local drive-thru.
The point is you don't need a fancy machine to make an excellent cup of espresso.
What you will need to make this simple sugar-free Caramel Latte.
Kitchen Tools
Espresso Maker – we used a Bialetti Moka pot
measuring spoons
Ingredients List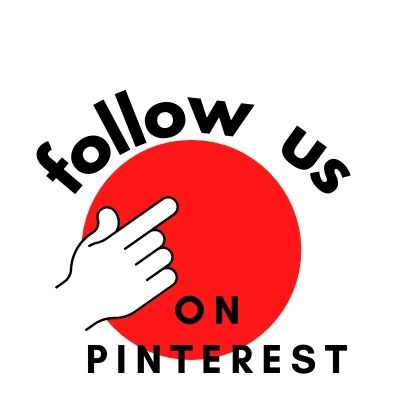 Steps to make this simple Sugar-Free Caramel Latte
Using a Moka Maker
Fill the water reservoir of the Moka Pot with water to the fill line
Fill the coffee filter with ground espresso coffee. (If you are using a grinder see notes below on grinding coffee beans), and place them onto the water reservoir.
Screw the top coffee reservoir onto the water reservoir.
On the stovetop, place your pot over high heat. If using an induction stove, be sure to get the correct pot for induction
As the water begins to boil you will hear the boiling sounds.
Do not leave your pet unattended. Once the pot is hot, it takes only a couple of minutes to complete the espresso-making process and you don't want an empty pot on the burner.
You will hear the water coming up through the stem and onto the grounds. when the sounds die down, turn off the heat.
You Might Also Like
If using another method to make the espresso start here
In your large latte mug add 2/3 cup of skim milk
Heat the milk in the microwave for approximately 40 seconds.
Add 1 packet of sweetener to your milk.
Using a handheld frother, froth the milk.
Once it is frothed, add the espresso, pouring slowly into the milk.
Add 1 tablespoon of Skinny Caramel cream butter syrup.
Stir the mixture under the foam.
Sprinkle the frothed milk with ground cinnamon (if desired)
Enjoy your sugar-free Caramel Latte
NOTE
You can also pour the espresso into the cup and then add your milk and caramel syrup, followed by spooning on the milk foam, but I have found that as long as your pour the espresso slowly the frothed milk will stay foamy.
Images – steps in making this sugar-free Caramel Latte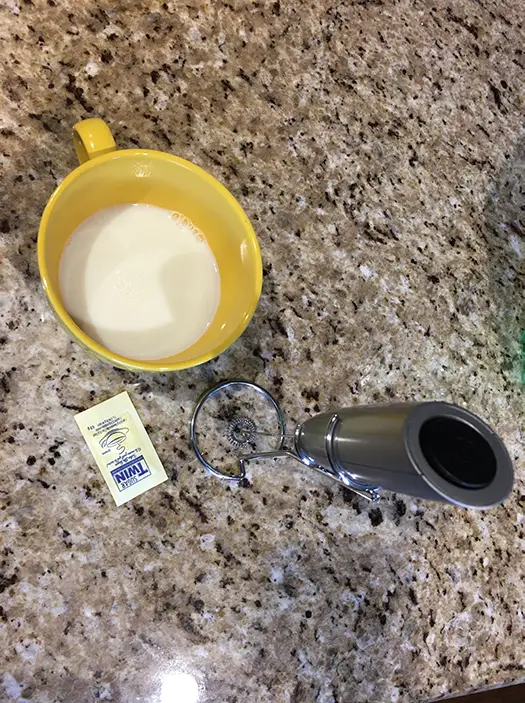 Video of making sugar-free caramel Latte
Grinding Whole beans for espresso
When grinding coffee beans for espresso it is important to get the right grind.
A good cup of Espresso requires finely ground beans.
If the beans are ground too fine, you run the risk of plugging the holes in the filter basket. and too coarse will result in a less smooth flavour as well as some bitterness.
The grind needs to be fine enough for the steam pressure to extract the flavour from the grounds. I use a burr grinder and have found that I get the best results from it. I have tried blade grinders but in comparison, the Burr grinder is best.
I love the line of Jordan's Skinny Syrups! They taste so good, you can not tell that they have no sugar or calories, A win-win for a diabetic. The Caramel flavour that we used in the sugar-free Caramel Latte can be added to many drinks, like cappuccinos. mochas. or used in deserts or to drizzle on ice cream. the best part is it's sugar-free and carb-free.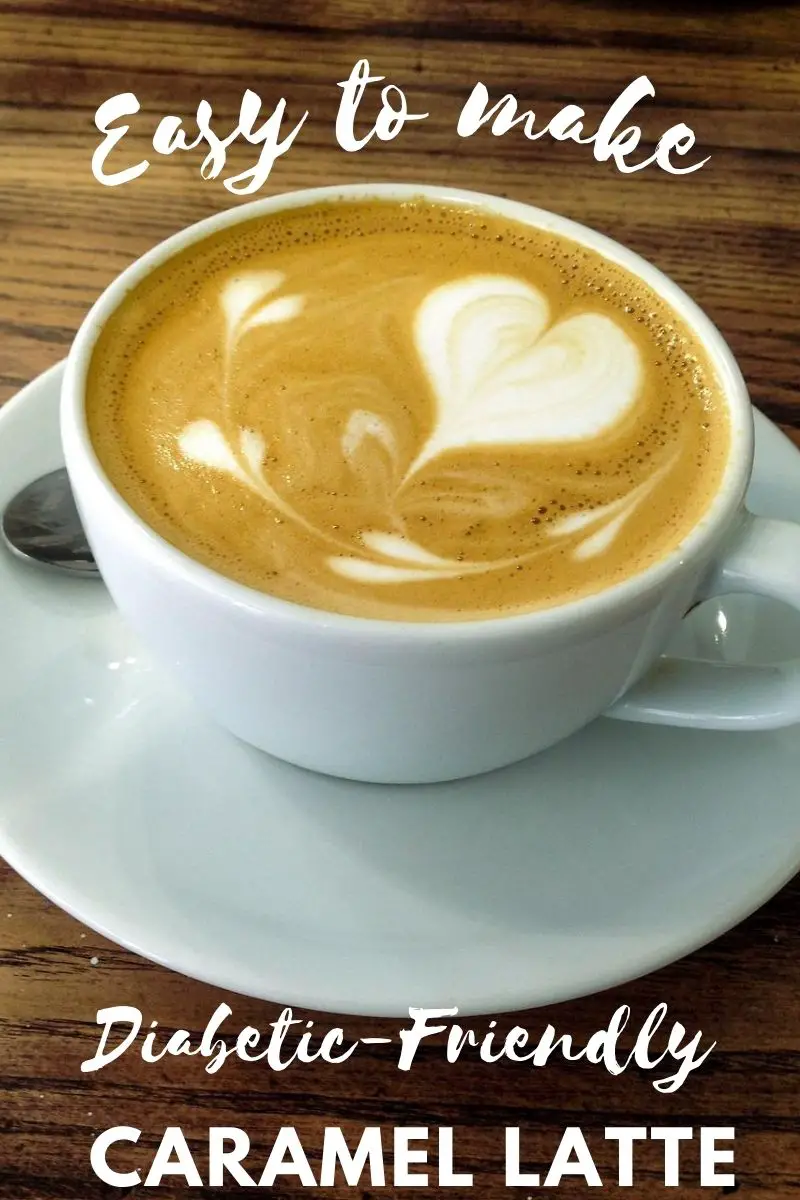 Check them out. There are lots of flavours and great uses for them year-round.
Thanks for visiting The Naked Diabetic, where we are simplifying diabetic life
Disclaimer -This post may contain affiliate links. When a purchase is made through our links, The Naked Diabetic may receive a commission, at no cost to you.