This website may contain affiliate links. When a purchase is made through our links, The Naked Diabetic may receive a commission, at no cost to you.
Every holiday meal isn't complete without turkey and cranberry sauce. Our easy-to-make diabetic-friendly sugar-free cranberry sauce recipe is so easy, you will wonder why you never made it before.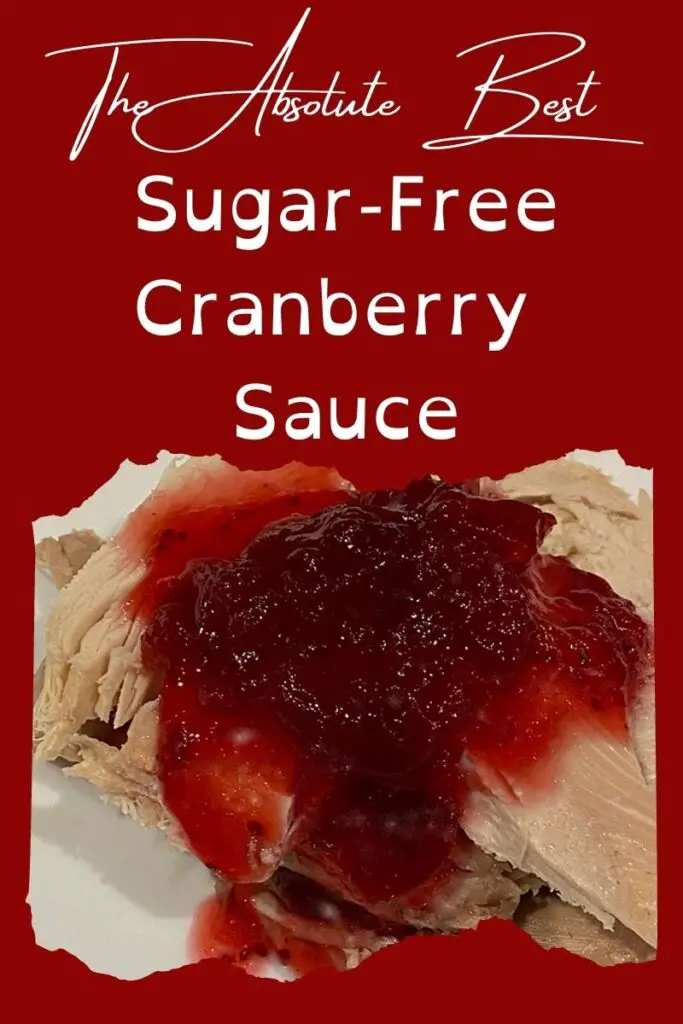 Cooking for diabetics can certainly be a challenge, but if you have all the right essentials in your diabetic-friendly pantry and some great recipes, you will never go wrong.
Our Sugar-Free Cranberry sauce recipe has to be one of the easiest things to make. It is just a few simple ingredients and one pan. it doesn't get much easier than that. Serve it with a perfectly roasted turkey for an awesome diabetic-friendly festive meal.
For dessert try our Sugar-Free Pumpkin Cheesecake recipe and a sugar-free pumpkin spice latte. Wow, what a tasty treat!
Kitchen supplies needed to make this Sugar-Free Cranberry Sauce recipe.
Need Kitchen Supplies

Ingredients list to make this Sugar-Free Cranberry Sauce Recipe
fresh cranberries
orange (zest)
Need Diabetic Friendly Ingredients?

A note about the potato masher.
There are a few different styles of potato mashers. The one that works best for our sugar-free cranberry sauce recipe is one like the one pictured below. The swirled tines allow some of the cranberries to remain uncrushed, which adds a nice texture to your sugar-free cranberry sauce.
The potato mashers that have the waffle bottom of the small grids, mash the cranberries too finely. If you don't have one like the Oxo good grips potato masher pictured below, and you are going to use one with a waffle bottom, be careful not to mash all of the cranberries too finely.
The Oxo Good Grips Potato Masher
Buying the best Cranberries
Unless you live in an area where fresh cranberries are grown, you will have to settle for the bagged or frozen cranberries, that are available in your local supermarket.
Cranberries are grown in bogs, (freshwater wetlands) which makes them difficult in some areas to grow.
Fortunately buying frozen or bagged are just as good as fresh, but there are a few things to watch for.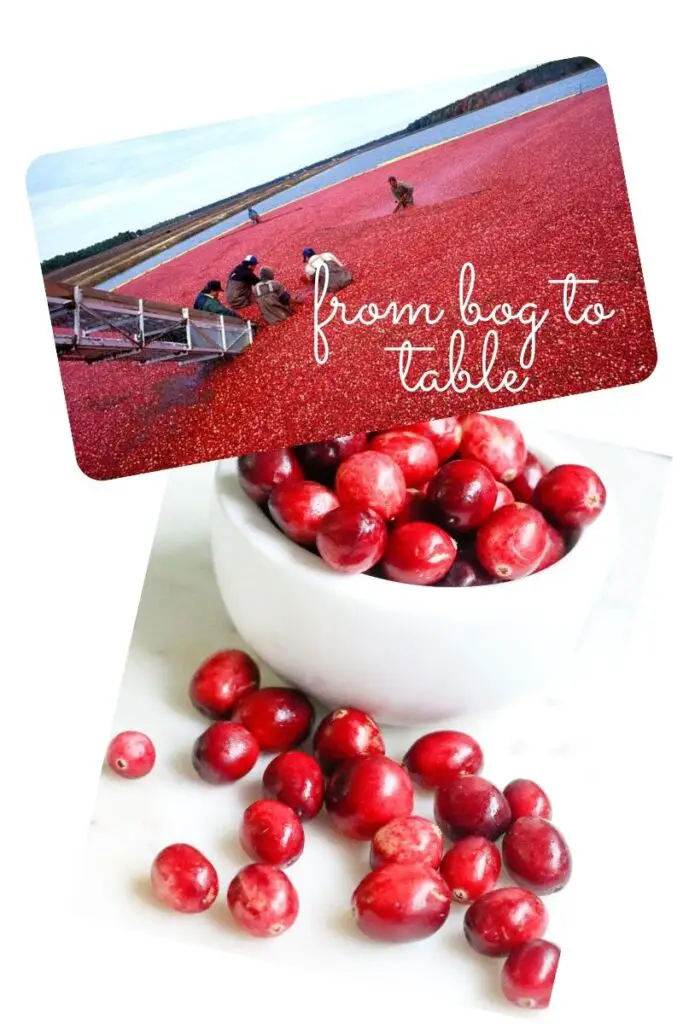 Good quality cranberries should be nice and plump. A fully rounded shape means that they have not dried out and are fairly fresh.
No blemishes or wrinkles on the skin of the cranberries are a good indicator of freshness as well.
The cranberries should also feel firm between your fingers. Soft cranberries mean that they are well past their peak of freshness.
A nice dark red, almost crimson means that they are well-ripened.
If the cranberries are loose or in bulk bins, you can also check if they bounce. Fresh cranberries will have a slight bounce and should spring back if you drop them. (This will not impress the store staff, if you are dropping the cranberries on the floor, that is just a nice-to-know tip)
Freezing Fresh Cranberries
Just like in our post on How to freeze strawberries, the same applies here.
Step by step to freezing Cranberries. (unbagged fresh)
1. Wash the Cranberries.
2. Pat them dry and place them on a clean, rimmed baking tray.
3. Once frozen, place them in a Ziploc freezer storage bag. Don't forget to add the date on the bag or add a label with the date on it.
When using your frozen Cranberries, it is not required to thaw them. You can just go ahead and use your frozen berries, as they don't retain a lot of moisture
Cranberries can last for up to 11 months to a year frozen and still retain their good quality.
.
NOTE – If you have purchased bagged Cranberries, you can freeze them right in the bag. There is no need to take them out of the bag and wash and re-bag, just pop the store bag in the freezer until you are ready to use them.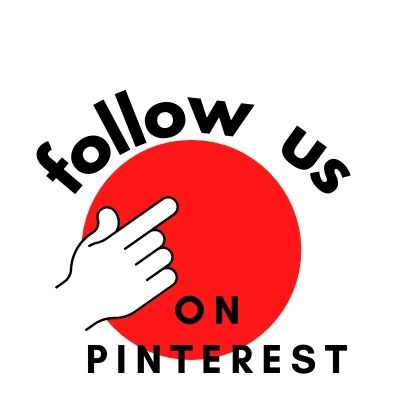 How long do Cranberries last in the fridge?
Cranberries can last up to a month in the refrigerator, depending on how fresh they were when you purchased them. Leave them in their bag or an airtight container until you are ready to use, or pop them in the freezer.
Can dried Cranberries be used instead of fresh or frozen?
Dried cranberries are usually soaked in a sugar bath when they're being processed for drying. They are extremely sweet and not what I would ever use as a substitute for cranberries in recipes. Due to the sugar content, I avoid them at all times. The nutritional information, calories and carbs would be significantly higher if using dried cranberries.
Sugar-Free Cranberry Sauce recipe
Sugar-Free Cranberry Sauce Recipe
Easy to make diabetic-friendly Sugar-Free Cranberry Sauce recipe
Ingredients  
3

cup

fresh cranberries ( one 12 ounce bag)

1

cup

water

1

cup

granulated sweetener

1/4

tsp

orange zest
Instructions 
Place all ingredients into a medium-sized saucepan.

Bring the mixture to a boil.

Cranberries will begin to pop as they are boiling.

Remove from heat and mash about half of the mixture, using a potato masher.

Return to heat and simmer (reduce heat) for about 20 minutes.

Remove from heat and serve hot or let cool and serve cold.
For jelly-style Sugar-Free Cranberry Sauce.
If you prefer to have more of a jelly-type cranberry sauce, mash the cranberries more than in the sauce recipe.
If you don't want any fruit bits in it, use a food processor and then strain.
Add a package of unflavored gelatin or a package of Sugar-Free Cranberry Jello and whisk well. Chill.
You can also add Cranberry flavoured Walden Farms Fruit Spread to your homemade Sugar-Free Cranberry Sauce. This will not cause it to gel, but it will add a more jelly consistency to the sauce.
Heat the contents of a jar of Walden Farms Cranberry Fruit Spread and add it to some of them them. our sauce. Mix in the sauce until you have the thickness that you desire.
Nutritional Value for Sugar-Free Cranberry Sauce recipe
Each serving is approximately 1/4 cup of Sugar-Free Cranberry Sauce.
Other uses for our Sugar Free Cranberry Sauce
Sugar-Free Cranberry sauce obviously goes beautifully with turkey and Ham but did you know it can be used for other things too? It is a great topper on pancakes, ice cream or even added t a cheesecake recipe. You could make Sugar-Free Cranberry Cheesecake. Mmmm sounds delicious. Thin out a bit of sauce and top a piece of cheesecake.
To make a Sugar-Free Cranberry Cheesecake, use our Sugar-Free Blueberry cheesecake recipe and substitute the blueberry sauce for cranberry sauce. It tastes delightful.
Roast Turkey Tips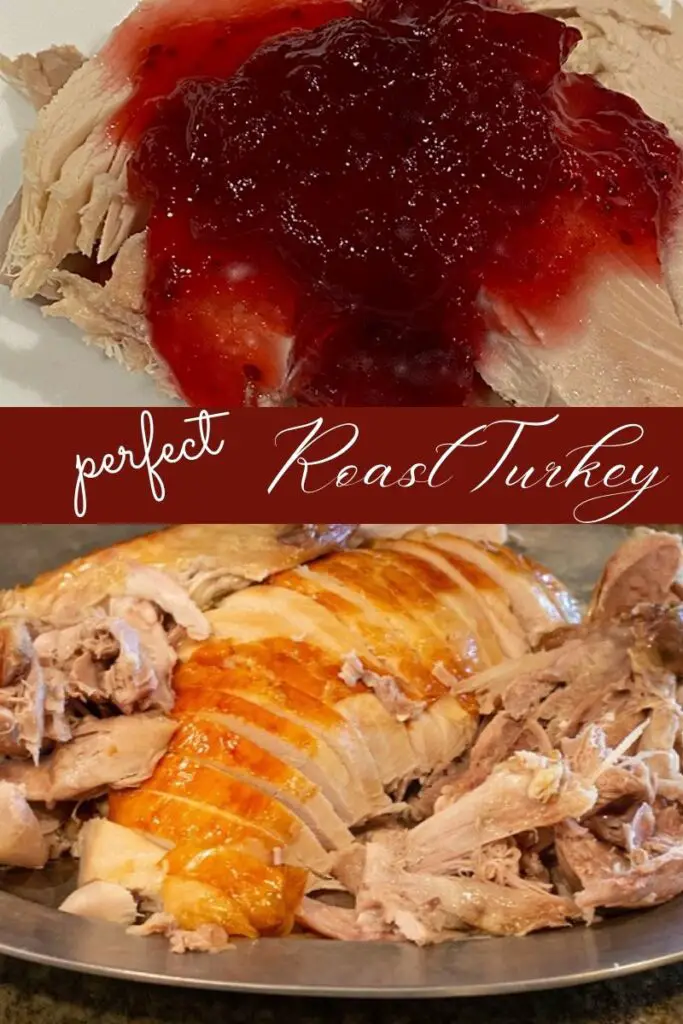 Tips for Turkey to serve with your freshly made Sugar-Free Cranberry Sauce
You are likely going to be serving your sugar-free cranberry sauce with a delicious roasted turkey.
Turkey is an awesome diabetic-friendly meal choice. It tastes good all on its own but is even better with some fresh sugar-free cranberry sauce.
The general rule for turkey is one pound per person.
When purchasing a turkey that is seasoned or basted, check the ingredients label for added sugar. As a rule, most turkeys do not have sugar added to the seasonings, but I have seen it.
The best choice for diabetics is a fresh or whole turkey with no additives.
Tips for preparing the perfect roast turkey.
Rinse the turkey inside and out with cool water.
Pat the turkey dry.
If adding stuffing, choose a low-carb or keto bread. Watch the carbs!
Cross and Secure the turkey legs under the skin
Mix a 1/4 cup of room temperature butter with 1 tsp of fresh thyme and 1 tsp of fresh rosemary.
Rub the entire turkey with the butter mixture, covering the whole bird.
in a large roasting pan place the turkey breast side down.
Add 3 cups of chicken broth to the bottom of the pan. (add more during roasting if needed)
Cover the roasting pan with tin foil and roast according to a specified time for the size of the turkey.
Periodically baste the turkey with a turkey baster.
Cook turkey until internal temperature (use a meat thermometer to check) reaches 180 °F (for unstuffed 170°)
Let rest for about 15 to 20 minutes before carving.
YES, BREAST SIDE DOWN.
I first discovered this about 20 years ago. Every year I would host a large Christmas dinner. I mistakenly put the turkey in my roasting pan upside down, as I had always been told that the breast side goes up. When the breast side is up it is convenient for stuffing, for sure.
That year, I had many compliments on how moist the turkey was. From that day forward I always cooked my turkey breast side down. Many years later I even saw someone mention it on Martha Stewart's television show, so I knew that I was on the right track then.
When you fill the turkey cavity with stuffing (if you do), make sure that you have crossed the legs and placed them under the fold of skin, by the tail. This will help keep the stuffing from falling out. You can also tie the legs together using clean kitchen string. ( as shown in the image below)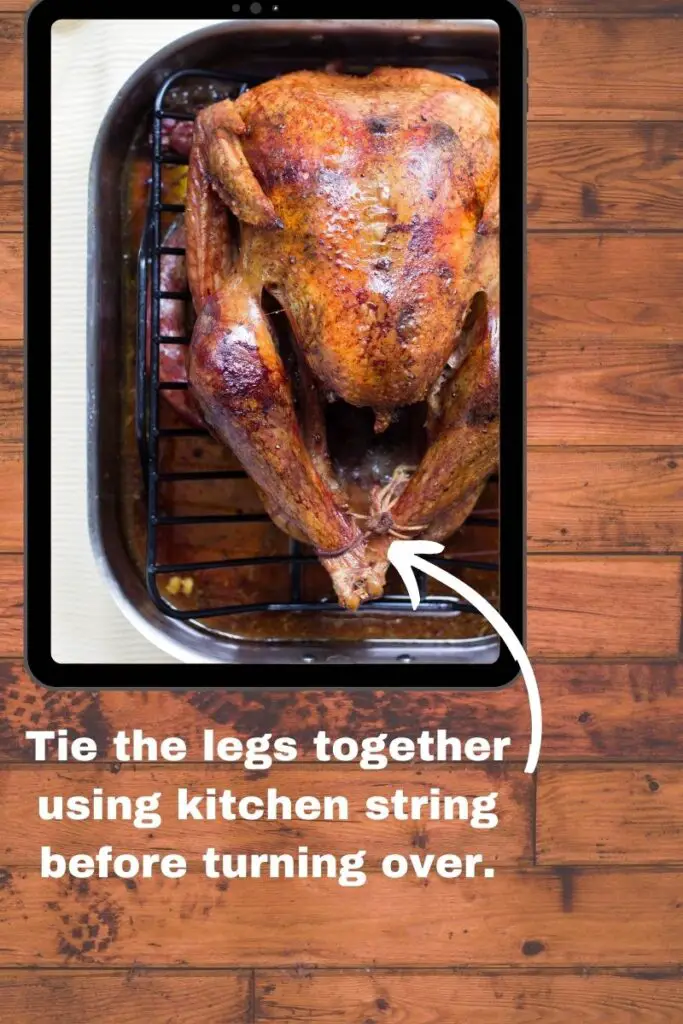 You could always place a piece of tinfoil over the opening to hold the stuffing in. Just make sure that you use a piece of tin foil larg4 enough to cover the entire tail area so that it doesn't fall off when you turn the turkey over.
No more dry white meat! I think you'll agree that this is the best way to roast a turkey.
Roasting the turkey breast side down, allows the juices to run into the breast when cooking. This results in juicier slices of white meat.
I do it every time and it is always my preferred method of roasting poultry.
Quick Turkey Thawing and Roasting Guide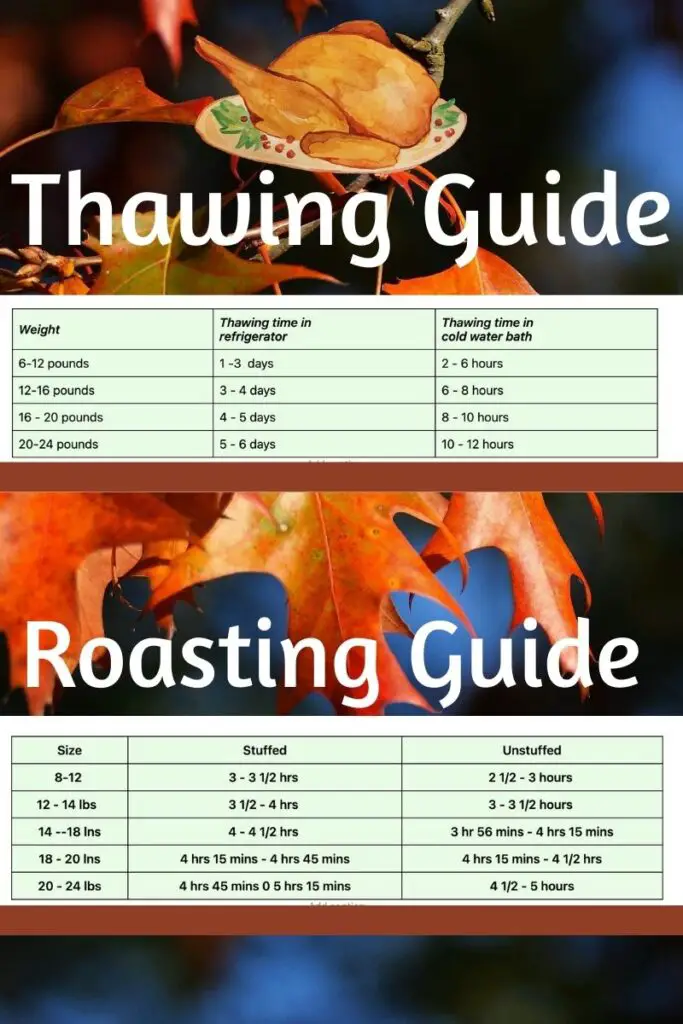 Don't forget to follow us on Pinterest and save our recipes to your boards.
We hope you enjoy our Sugar-Free Cranberry Sauce recipe alongside your perfect roasted turkey.
Thank you for visiting The Naked Diabetic.
Disclaimer -This post may contain affiliate links. When a purchase is made through our links, The Naked Diabetic may receive a commission, at no cost to you.