This website may contain affiliate links. When a purchase is made through our links, The Naked Diabetic may receive a commission, at no cost to you.
The first thing that comes to mind when I think of cinnamon rolls is how the scent from Cinnabon wafts through the mall tempting me to get one. This Sugar Free Cinnamon Roll recipe is topped with our delicious Sugar-Free Glaze and will let you enjoy that delightful smell in your own home. Just head over to your Diabetic Friendly pantry and start pulling out the ingredients so you can get started.
Did you know that the average size Cinnamon Roll has approximately 440 calories and 70 grams of carbs? WHOA! A Cinnabon Classic cinnamon roll has 880 calories and 127 grams of total carbs. That is hard to imagine that one little bun has more than a couple of days of carbs for me. All the more reason I need a diabetic Friendly Cinnamon Roll recipe.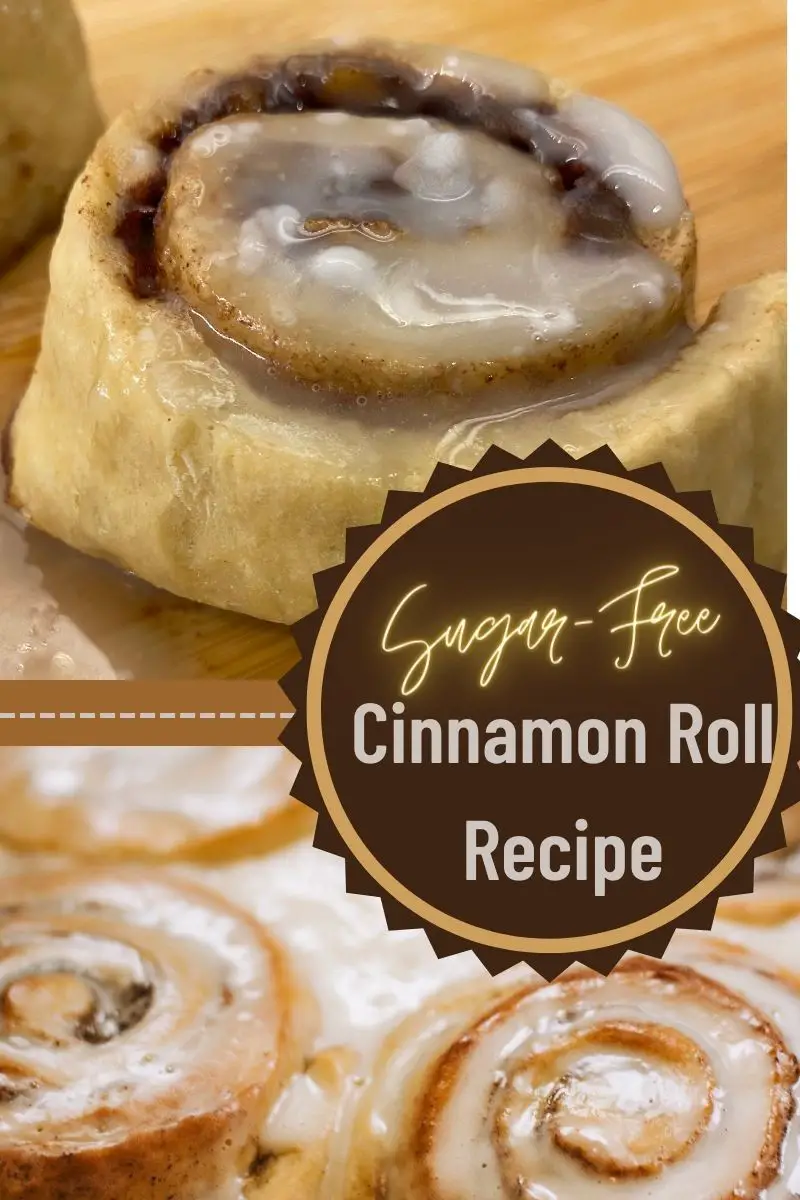 In this post, I will provide a list of recommended kitchen tools used to make this recipe, a shopping list of ingredients, the Sugar Free Cinnamon Roll recipe, nutritional information, quick links for hard-to-find items and some helpful tips on substitutions and information on how to store your sugar free cinnamon rolls properly. I also provide the recipe for Sugar-Free Glaze, which you may or may not want to finish off your Sugar Free Cinnamon Rolls.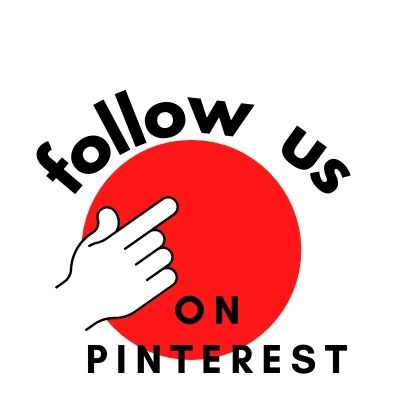 Recommended Kitchen Tools
Shopping List of Ingredients
eggs
Low fat Cottage Cheese
Skim Milk
Canola Oil
Salt
Cinnamon
**See notes below on How to Use Carbalose Flour**
Links for hard-to-find products
The Sugar Free Cinnamon Roll Recipe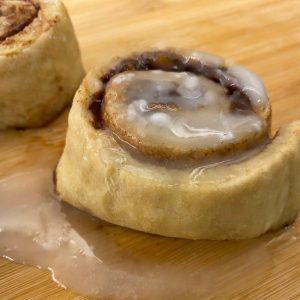 Sugar Free Cinnamon Roll recipe
An easy diabetic-friendly recipe for delicious Sugar Free Cinnamon rolls.
Ingredients  
Dough
2 1/2

cups

Carbalose Flour

2

pkgs

Dry Yeast

1/4

cup

Low Fat Cottage Cheese

1/2

cup

Skim Milk

1/4

cup

Splenda Sweetener

1

tbsp

Canola Oil

1/4

tsp

Salt

1

large

egg – beaten

1

large

egg white
Filling
1/3

cup

Sugar Twin Brown Sweetener

1/3

cup

Walden farms Maple walnut Syrup

1

tbsp

Ground Cinnamon

1/3

cup

Chopped Pecans
Instructions 
Instructions to make the dough
Using a sieve, sift the Carbalose Flour into a large mixing bowl.

Add the yeast to the Carbalose flour and mix it in.

In a small sieve, press the cottage cheese, draining the liquid from the cheese.

In a small saucepan, combine the pressed cottage cheese, skim milk, granulated sweetener, oil and salt.

Heat on medium heat, until warm (120° -130°F or 48°to °C)

Remove from heat and add to the flour mixture.

Add the beaten egg and egg white.

Mix on high speed with an electric mixer. (use a dough hook attachment if you have one available)

Turn the dough out onto a lightly floured surface.

Knead for about 5 to 8 minutes, until the dough is smooth.

Form the dough into a ball.

Lightly grease a large mixing bowl, using a bit of canola oil.

Place the dough ball into the bowl and cover with plastic wrap.

Place in a warm place and let rise for about an hour. (dough should appear almost double in size)
Filling
In a small mixing bowl, combine, sweetener, Walden farms syrup, and ground cinnamon.
Dough
Remove the risen dough from the mixing bowl and punch down.

Let the dough rest for about 8 to 10 minutes, covered in a lightweight linen towel.

Roll the dough out into a rectangle (approximately 8" by 14" in size)

Spread the filling mixture over the dough, using a brush to get it to the edges.

Sprinkle the chopped pecans over the filling.

Starting at the long side, roll up carefully (like a jelly roll)

Once rolled up, place it on a cutting board, seam side down.

Mark with a knife and cut into 10 even sized slices.

Spray the pie plate with non-stick cooking spray.

Place the cut slices on the pie plate an even distance apart. (usually about 3/4 inch apart)

Cover with a linen towel and let rise in a warm place for about 45 minutes or up to an hour.

While the buns are rising, preheat the oven to 350°F (175°C)

Brush rolls with skim milk (about 1 tsp) before placing them in the oven.

Bake in the center of the oven for approximately 20 minutes. (may take 25)

When rolls are lightly golden, remove and allow to cool while still in the pie plate.

*To check for doneness, insert a clean toothpick into the dough. When it comes out clean, they are baked

Glaze with Sugar Free Glaze if desired.
Notes
*If you are unable to obtain Carbalose flour, you can use King Arthur Keto Flour
Easy Steps to Make Sugar Free Cinnamon Rolls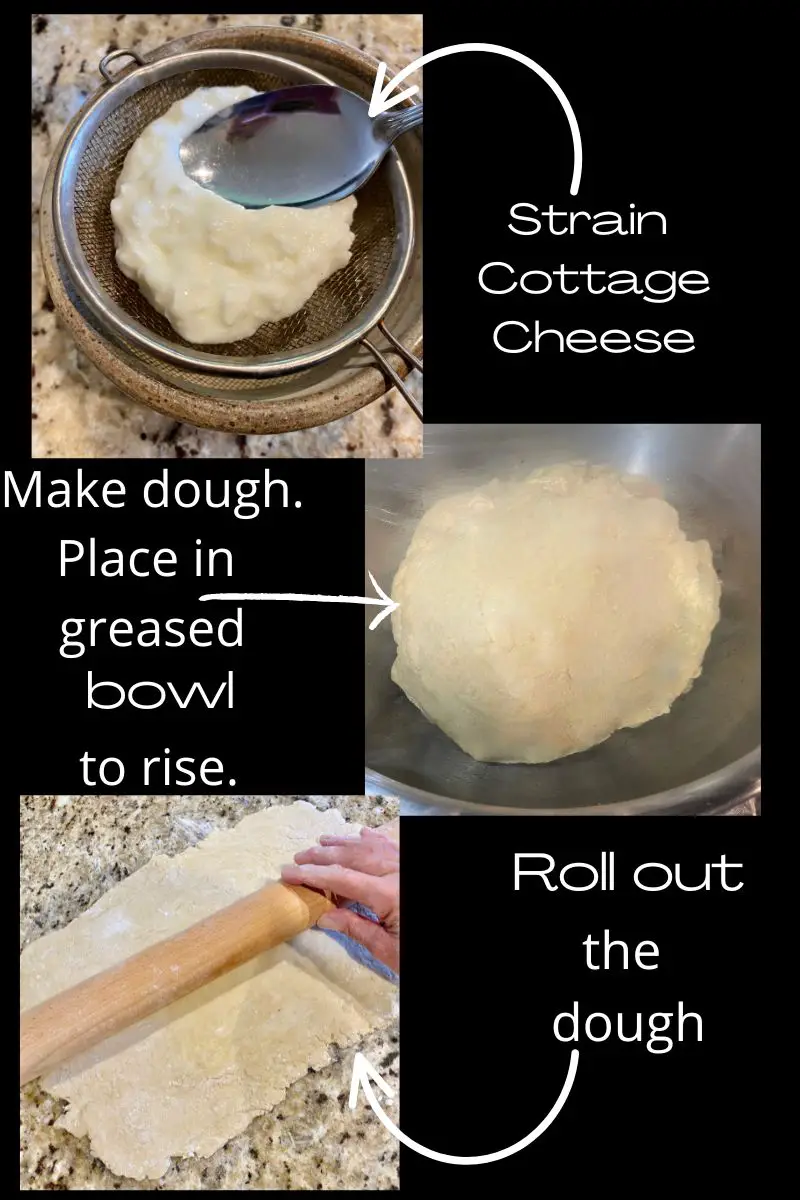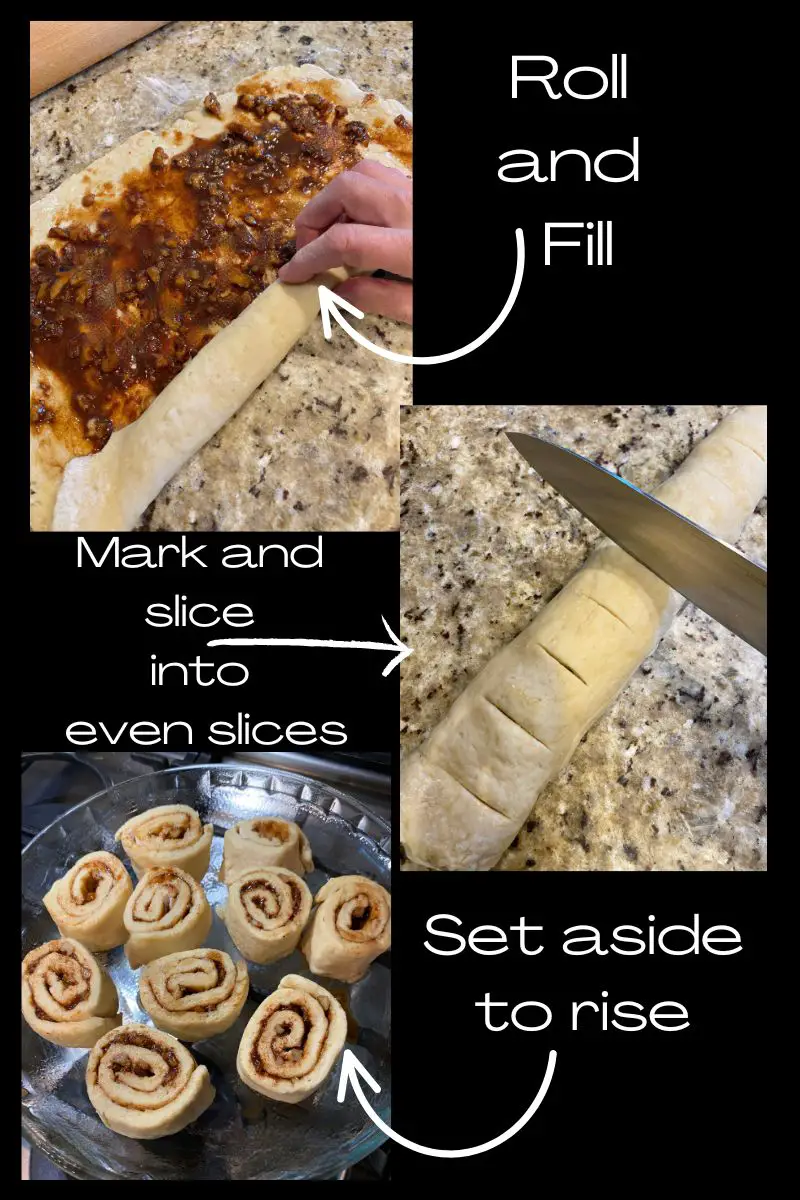 Sugar Free Glaze Recipe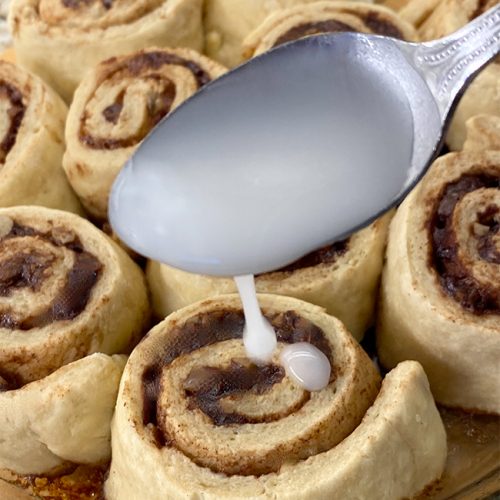 Sugar Free Glaze Recipe
A perfect Sugar Free Glaze for Diabetic Friendly Desserts or baked goods. Use as a drizzle or glaze your favourite cakes.
Ingredients  
1

Cup

Splenda Granulated Sweetener

2

Tbsp

Liquid (water or milk)

(add more if needed)

1

tsp

clear vanilla Extract
Instructions 
In a food processor or blender, pulse the sweetener into a fine powder. (let settle before opening the lid)

Pour sweetener into a mixing bowl.

Add the vanilla extract and beat.

Slowly add the water, a tablespoon at a time. Mix thoroughly. If consistency is too thick, add more liquid, a scant amount at a time, until you reach the desired consistency.
Nutritional Information
The information listed here is per serving, (one unglazed cinnamon bun) using products listed in the recipe. Any substitutions, additions or omissions should always be taken into consideration.
Calories – 140
Total Fat – 7.3 gr
Saturated Fat – 1 gr
Total Carbs – 21 gr
Fibre – 8. gr
Net Carbs – 13 gr
Protein – 10 gr
If Using Splenda Brown Sugar Blend add 24 Calories, 4 gr Carbs, 0 Fibre, 0 fat, and 0 protein per serving.
How to Store Sugar Free Cinnamon Rolls
Sugar Free Cinnamon Rolls can be stored in an airtight container at room temperature for up to 4 days, If you add Sugar-Free Glaze made with milk or other dairy products, store them in the refrigerator, covered for the same period of time.
Helpful Tips
How to Use Carbalose Flour.
Carbalose flour is a wheat-based flour that has gone through an enzyme medication process. When I compare the density of Carbalose, I would say it is heavier and feels more like a cake and pastry flour.
It can be used 1 to 1 with regular all-purpose flour.
There are some recipes that make Carbalose more of a challenge but as long as you know that ahead of time, you will be less frustrated.
Carbalose does not rise the same way all purposes flour does. It does rise better than almond flour and many other low-carb flour options. I have found that if you double the amount of yeast needed you will get some rising.
Carbalose Substitution
Carbalose can be hard to find. King Arthur Keto flour, is also a wheat-based low-carb flour. It has a similar carb content to Carbalose flour.
King Arthur Keto Flour is also used 1 to 1 with regular all-purpose flour. It is easily interchangeable with Carbalose in our recipes.
What to do if you can't find Brown Sweetener? Substitutions for Brown Sugar Sweetener.
You can make your own low-carb brown sugar sweetener.
When making the filling for our Sugar Free Cinnamon Rolls, add 1 teaspoon of dark molasses to the mixture. Mix well. This will give you a dark appearance in your cinnamon rolls and the brown sugar taste. This will add 4 grams of carbs (net) to your finished recipe of Sugar Free Cinnamon rolls. This will then be divided among the total servings.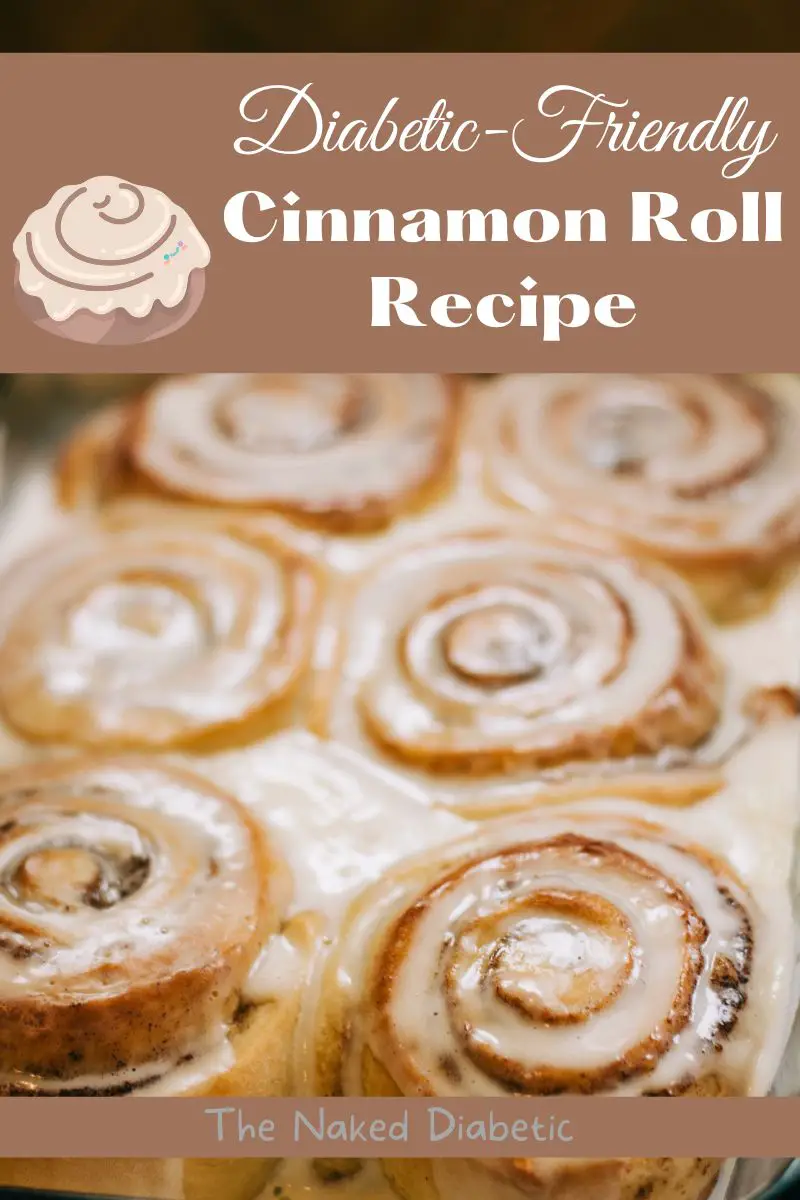 Using other baking dishes.
You can use any size of baking dish you like. I used a 9-inch pie plate or a 9-inch springform pan as it provided the right amount of space for rising. If you want your Sugar Free Cinnamon Rolls to be a pull-apart roll, you will need to use a dish small enough for them to rise together.
You can also bake this in small single ramekins, or muffin trays, for individual Sugar Free Cinnamon Rolls.
Substitutions for Chopped pecans.
The chopped pecans are not required. If you choose to you can substitute with other nuts such as walnuts, pecans, or hazelnuts. Peanuts are not recommended.
Feel free to omit the nuts if desired.
Alteration to the nutritional information for omitting the nuts
1/3 cup of Chopped Pecans contains 228 calories and 4.5 total carbs. 3 grams fibre and 1.5 gram net carbs, 22 grams of total fat. If omitting the pecans, you can deduct this from your nutritional values. Divide the nutritional information for the pecans by the number of servings in the recipe to obtain the amount that needs to be deducted per serving.
I hope that you enjoy our easy Diabetic-Friendly Recipe for Sugar Free Cinnamon Rolls.
This website may contain affiliate links. When a purchase is made through our links, The Naked Diabetic may receive a commission, at no cost to you.