This website may contain affiliate links. When a purchase is made through our links, The Naked Diabetic may receive a commission, at no cost to you.
This easy diabetic Sugar-Free Shortbread cookie recipe is perfect to make and add to a tray of cookies, or just for an afternoon coffee break. I know whenever family functions or potluck events come along, it is always nice to take along some diabetic-friendly treats and that way I am certain that there is always something available that is diabetic-friendly. Decorate them with our Sugar-Free Royal icing, for an extra special treat.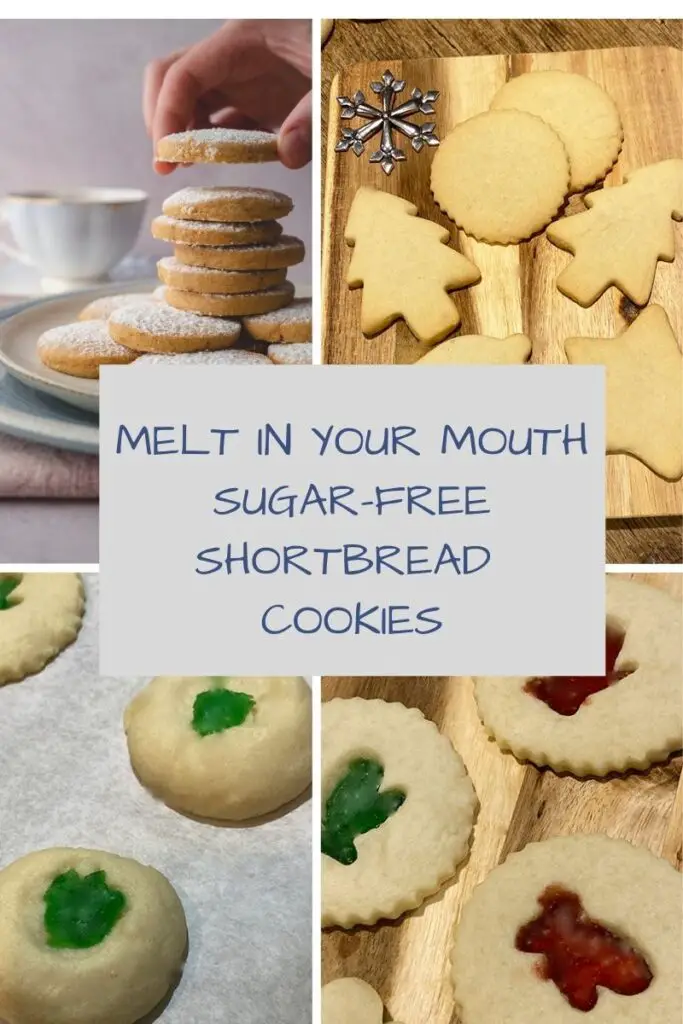 For a take-along tray of sweets to a family function or another potluck event, think about a tray that has some of our Sugar-Free Butter tart Squares, our Sugar-Free Lemon Squares, some Sugar-free lemon cream cheese bites, sugar-free chocolate brownies and some of these fantastic sugar-free shortbread cookies. What a beautiful tray of shareable treats, and all the recipes are available right here.
The first time I made this recipe, I couldn't believe that the cookies tasted just like regular shortbread cookies. I had a recipe that was my mother's many years ago and was able to make some substitutions and tweaks to make it diabetic-friendly. It turned out so good that I had to make another batch the next day.
Many of the ingredients we use, we have stocked in our diabetic-friendly pantry. It is always essential to have the right stuff on hand, to make diabetic-friendly recipes, whenever the mood or the need occurs.
What you will find in this post.
Table of Contents
Kitchen Supplies you will need to make this Sugar-Free Shortbread cookie recipe
Mixing Bowls
silicone spatula
rolling pin thickness guides (optional)
Measuring Cups
Measuring Spoons
baking sheet
parchment paper
wire cooling rack
Need Kitchen Supplies?

Shopping List of Ingredients
butter
almond flour (fine grind)
cornstarch
all-purpose flour
vanilla extract
Need Diabetic Friendly ingredients?

Choosing a cookie style for your Sugar-Free Shortbread Cookies.
There are a few different ways to shape your shortbread cookies. My personal favourite is rolled and cut with a cookie cutter. Here are a few options that you mind find inspiring and useful.
Rolled and Cut
Once you have your cookie dough made and you've decided to roll the dough and cut using cookie cutters, there are a couple of tips that will help you keep the process simple.
Traditionally you place the dough onto a floured surface and flour your rolling pin to keep everything from sticking. There are two problems with the traditional method.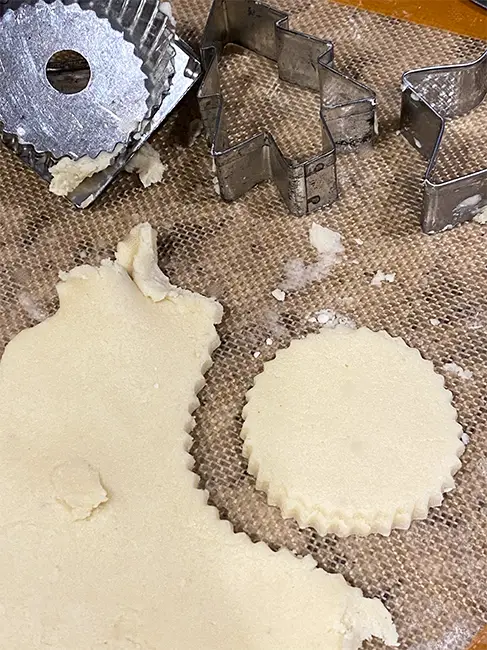 The first is, the added flour can add carbs that are difficult to track. In our sugar-free shortbread cookie recipe, we have tracked and calculated the carbs and calories. Even though it would only be a small number of carbs, every bit counts when you are diabetic.
The second issue is that the extra flour can dry out your dough. We want to keep our dough soft and light, especially since we are using artificial sweeteners in our recipe. Artificial sweetener does not melt during baking, so we need to keep the dough as moist as possible.
To solve the problem we are using a silicone rolling mat and a silicone rolling pin. I have been using these in my kitchen for a long time and they are great items to have on hand. The dough can be easily placed onto the silicone mat and rolled without becoming dry or adding any carbs.
How thick do you roll the cookie dough for cookie cutters?
I like to roll my cookie dough about 1/4 to 1/3 of an inch thick. I have rolled a lot of cookie dough, so I can just eyeball it, but if you want to be certain, I recommend using thickness guides on your rolling pin. The thickness rings make it easy to get a consistent thickness on all of your cookies. You will want the thickness to be consistent, as it makes for even baking of all your cookies on your baking sheet.
What type of cookie cutter works best?
This is a matter of personal choice, but I find that I get the best results, when using metal cookie cutters. I find that when I roll out the dough for this sugar-free shortbread cookie recipe, the plastic cookie cutters often stick to the dough. The metal cutters are sharper and give a nice smooth cut.
Quick steps for rolling and cutting the dough
1- On a non-stick cutting mat, roll your dough to 1/4 to 1/3 of an inch thick
2- cut out the desired shapes with a metal cookie cutter.
3- Use a thin metal spatula to lift the individual cut cookies off of the silicone mat.
4- Place the cut cookies (carefully) onto a parchment-lined baking tray, spaced about an inch or two apart.
5- Bake.
6 – After baking, let cool slightly before removing the cookies to a wire cooling rack. (this lets them set and keeps them from breaking)
An easy way to make a specialized cookie is to use a tiny cookie cutter to remove the center of a cookie and pour in some crushed sugar-free candy. The candy will melt during baking and leave a smooth window effect. The ones in the image at the beginning of this post were tiny mittens. I crushed one sugar-free Jolly Rancher candy and placed some of the crushed candy into the cutout and after baking, I had a cool Christmas-themed cookie.
If you make cutouts – allow the cookie to cool on the parchment paper. Do not try and remove the cookie before the candy has cooled.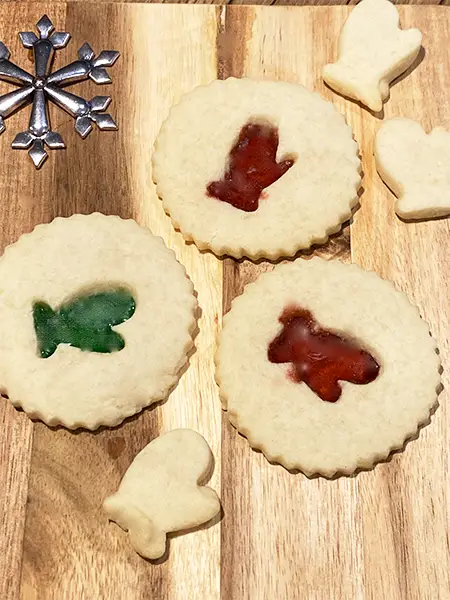 Remember to take into account the carbs from the sugar-free candy. When I made the cookies in the image, I used one crushed sugar-free jolly rancher candy for 3 two-inch-sized cookies. The crushed candy can be spread out fairly thin, but you should still count it. For my cookies, it worked out to an extra 1.25 carbs per cookie.
Rolled and sliced
This cookie dough can easily be rolled and then sliced for baking round cookies. After making the dough, roll it into a cylinder-shaped roll. Wrap the dough tightly in plastic wrap (make it airtight to prevent drying) and refrigerate for a couple of hours or until the cookie dough feels hard.
Once the dough is hard, slice the cookies into slices about 1/3 an inch thick. (or desired thickness)
The dough will not spread a lot during baking but it will spread enough to give the cookies a nice rounded shape.
Once sliced, place on a parchment-lined baking tray about one to two inches apart.
This method is perfect for making uniform slices for stacking and gifting.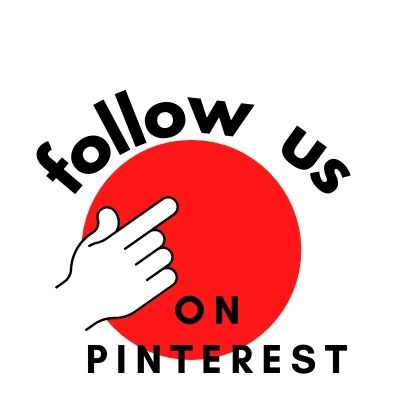 Follow The Naked Diabetic on Pinterest
Using a cookie Press.
If you are planning on using this method, add one extra tablespoon of butter when making the dough.
Remember Spritz cookies? This is a perfect recipe for a cookie press. The dough is moist enough to make a nice shape when the cookie comes out of the press. This is the most difficult style of all. The dough has to be just right to squeeze through the press.
Roll the dough by hand into a log shape. The dough needs to be warm and supple when pressing, so do not refrigerate the dough. The warmth from your hands will keep the dough soft while rolling.
Press onto a parchment-lined baking tray about 1 1/2 to 2 inches apart. Keep an eye on them as they are baking. The small cookies will likely bake faster, reducing the time in the oven.
Using a Shortbread Pan.
Using our Sugar-Free Shortbread Cookie recipe in a shortbread pan is another great option. many shortbread pans had a pressed design in the pan, which makes for an attractive finished look. You can also bake them in a plain baking square pan and poke them with a fork, giving them a Scottish Shortbread appearance.
For baking our sugar-free shortbread recipe in a shortbread pan, make sure you get the dough as even as possible, to allow for consistent baking. Bake for approximately 40 minutes ( time varies depending on the pan). Make sure when you poke the cookies, that you go right to the bottom of the pan. The cookies are done when they are just turning golden in colour.
While the cookies are still hot, cut them into desired slices. Let them cool completely before you attempt to remove them from the pan.
Using Almond Flour in this recipe.
I use half almond flour and half all-purpose flour in this recipe. You can omit the all-purpose flour and substitute it with Almond flour to cut the carbs even more. The cookie will be denser and have a few spots on the surface (from the ground almonds), but it is up to you.
Make sure that you choose almond flour, which is sometimes also labelled ground almonds. There are a couple of grinds available and the finely ground almonds are best as they more closely resemble the consistency of flour.
What about using other sweeteners in this Sugar-Free Shortbread cookie recipe?
In many, if not all of my recipes I use 0-calorie Splenda sweetener. It is my preferred sweetener as it does not contain sugar alcohols. Many people see no adverse effect on their blood glucose levels with other sweeteners, but I do. Whenever I use a sweetener with sugar alcohols I notice an increase in my blood glucose. Feel free to make sweetener substitutions according to your own personal preferences. You may need to adjust amounts according to your desired sweetness.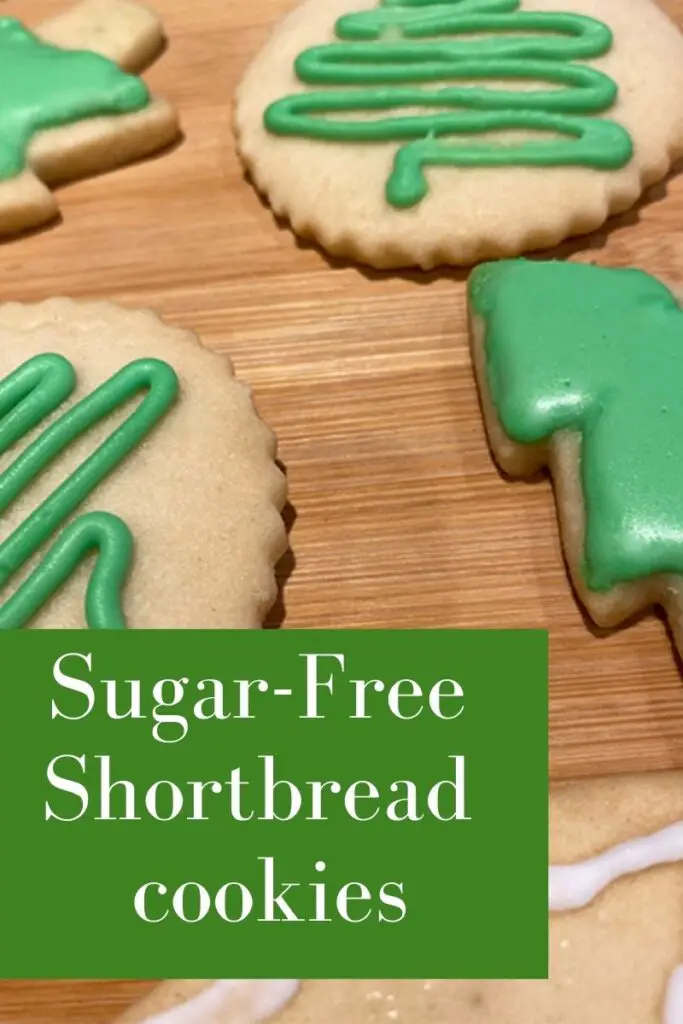 Sugar-Free Shortbread Cookie Recipe
Sugar-Free Shortbread Cookie Recipe
A diabetic-Friendly recipe for Sugar-Free Shortbread cookies.
Ingredients  
3/4

cup

unsalted butter – softened

1/2

cup

Splenda sweetener

1/2

cup

cornstarch

1/2

cup

Almond Flour

1/2

`cup

All-Purpose flour

1/2

tsp

vanilla extract

pinch

salt
Instructions 
Preheat oven to 325°F (160 °C)

In a large mixing bowl, cream the butter and sweetener together.

Sift the almond flour, all-purpose flour and cornstarch.

Add dry ingredients into wet, in intervals, using your mixer on low speed.

Turn out onto silicone mat and roll 1/4 to 1/3 inch thick.

Cut cookies into similar sizes, and place onto a parchment-lined baking sheet, approximately 2 inches apart.

Bake for approximately 20 minutes

Nutritional value for one serving
This sugar-free Shortbread Cookie recipe made 20 medium to large-sized sugar-free Shortbread Cookies. If you choose to make a different quantity, the nutritional values will be different per serving. (math time!)
Nutrition information is provided as a courtesy and is automatically calculated using an online nutrition calculator. We encourage you to calculate nutrition data with your specific brand ingredients as nutritional information can vary between brands
How to store Sugar-Free Shortbread Cookies.
Store these sugar-free shortbread cookies just like regular shortbread cookies. Place them in an airtight container and keep them at room temperature. They keep nicely for a few days.
These cookies also freeze well. Freeze them in an airtight container (un-iced), for a couple of weeks to a month.
I hope you enjoy this recipe and have fun making some of your Sugar-Free Shortbread cookies using our Sugar-Free Shortbread Cookie recipe. These are great year-round. Make hearts on valentines day, shamrocks for St.patricks Day and Summer Themed cookies and of course, Christmas cookies are a must. Don't forget to decorate them using our sugar-free Royal Icing recipe.

Disclaimer -This post may contain affiliate links. When a purchase is made through our links, The Naked Diabetic may receive a commission, at no cost to you.