This website may contain affiliate links. When a purchase is made through our links, The Naked Diabetic may receive a commission, at no cost to you.
Whether you are looking for an appetizer or a great diabetic friendly side dish, these easy Low Carb Diabetic Stuffed Mushrooms will hit the spot.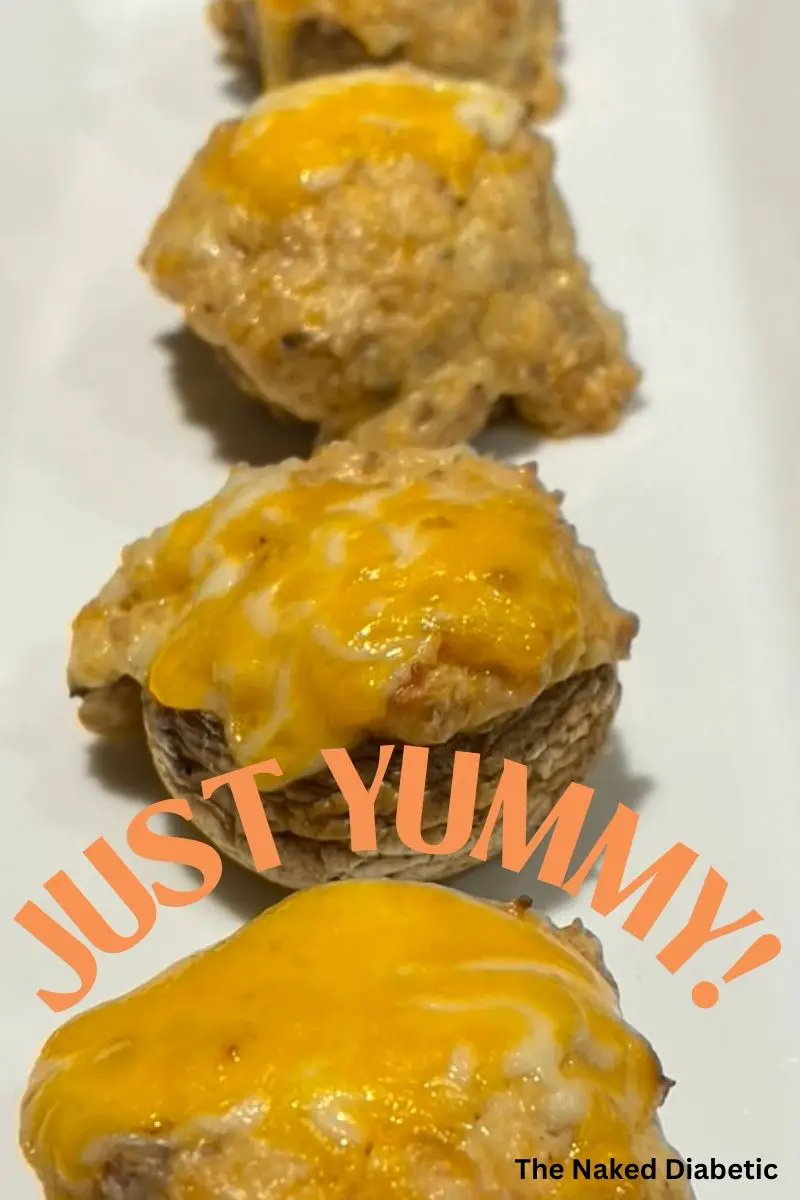 In this post, I share a list of recommended kitchen accessories, a shopping list of ingredients, some helpful tips for the best results, the recipe for Low Carb Diabetic Stuffed Mushrooms and nutritional information.
Recommended Kitchen Tools and Accessories.
Cutting board
Chefs Knife
Skillet
Mini chopper (optional)
Spatula or wooden spoon
Baking Sheet
Mixing bowl (medium Sized)
Measuring Cups
Measuring Spoons
Aluminum foil or Parchment Paper
Need Kitchen Tools or accessories?

Shopping list of Ingredients
Fresh Mushrooms
Onion
Garlic
Canola Oil
Cream Cheese (Low fat)
Bacon (thick sliced Canadian)
Onion Powder
Salt
Ground Black Pepper
Egg
Cheddar Cheese
Need to Stock Your Diabetic-Friendly pantry?

Helpful Tips and FAQs
The best size of Mushrooms for this recipe
We used a combination of Cremini Mushrooms and white mushrooms in this recipe. Mushrooms that are 1.5 to 2 inches in size work best for the cooking times in this recipe. If you use a larger or smaller mushroom, be aware that the time required in the oven may differ.
Can I use real bacon bits in place of frying bacon?
Using fresh bacon provides flavour to the low-carb stuffed mushrooms. If you use real bacon pieces, make sure to add a little extra oil to the skillet to compensate for the lack of bacon grease in the pan. Be mindful that any substitutions or changes to the original recipe can alter the final nutritional information.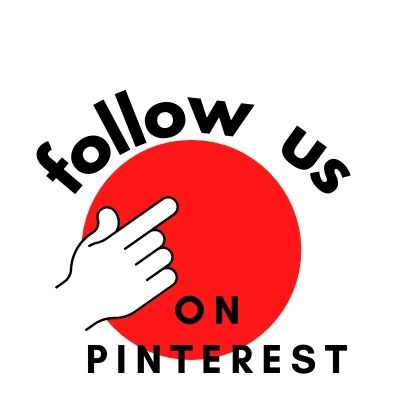 How to clean mushrooms.
Many people say not to wash mushrooms but to use a mushroom brush instead. I prefer washing them thoroughly before using them in recipes or eating them raw in salads etc. I wash them in a colander under running water, using a brush to remove any stubborn dirt. I find the key yo preventing sogginess is to always thoroughly dry them after washing. I use a clean kitchen towel or a paper towel and pat them dry. Mushrooms bruise easily, so a gentle wash is preferred.
You can also put them into a bowl of water and soak them for a few minutes and then dry them. If you choose this method, give the mushrooms a shake to remove any water from the underside and then dry them.
Removing troublesome stems
If the stems of your mushrooms break off or don't remove easily, use a melon baller or small spoon to remove any bits of remaining stem pieces.
Reducing Sodium
If you are on a sodium-restricted diet, use low-sodium cheeses and salt-free bacon (if available) or omit the bacon altogether. The bacon does not contain carbs, so it will not affect the carbs. Removal of the bacon will reduce the other nutritional values.
Substituting the Cheddar Cheese with other cheeses.
Feel free to substitute the cheddar cheese with a different cheese. It is important to choose a cheese that melts well, as not all cheese melts the same, such as feta cheese. Mozzarella is a good alternative or a mozzarella-cheddar combination works well.
Storing and Freezing instructions.
Freezing mushrooms, stuffed or unstuffed, is a gamble. Mushrooms do not handle moisture very well, so there are a couple of things that will give you the best results.
Make sure the mushrooms are very dry before freezing.
If you wish to freeze these stuffed mushrooms, without baking them. Simply place them in an airtight container that is lined with a paper towel and cover and freeze for up to 2 weeks.
For the best results freeze baked or unbaked low carb stuffed mushrooms in a vacuum-sealed bag. The vacuum-sealed bag will eliminate some of the moisture that collects during freezing.
To store leftover stuffed mushrooms in the refrigerator, place them in an airtight container for up to 4 days. Reheat in a warm oven or microwave.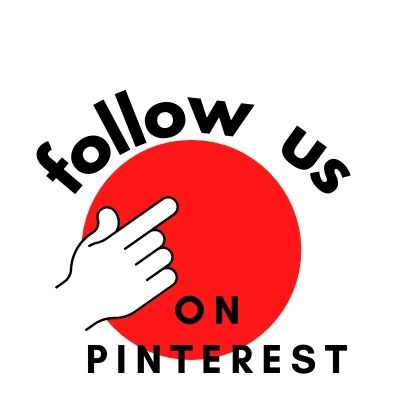 How to make Low Carb Diabetic Stuffed Mushrooms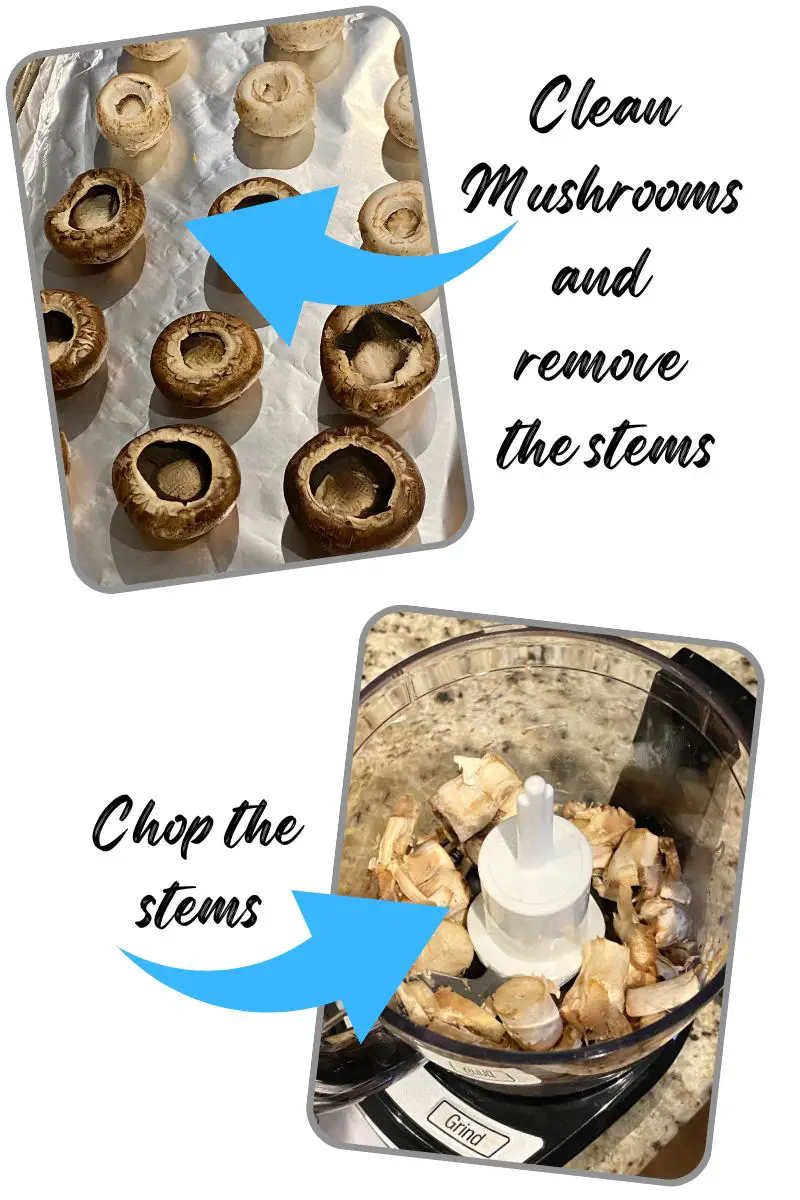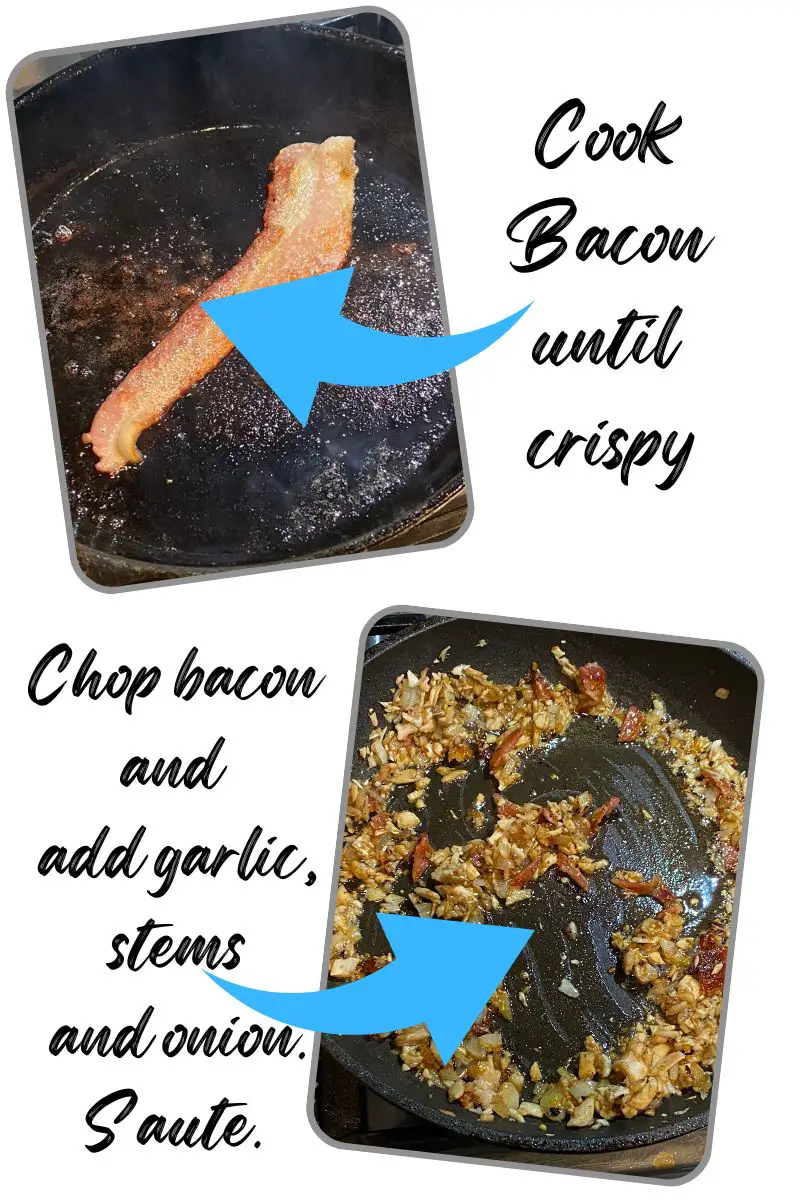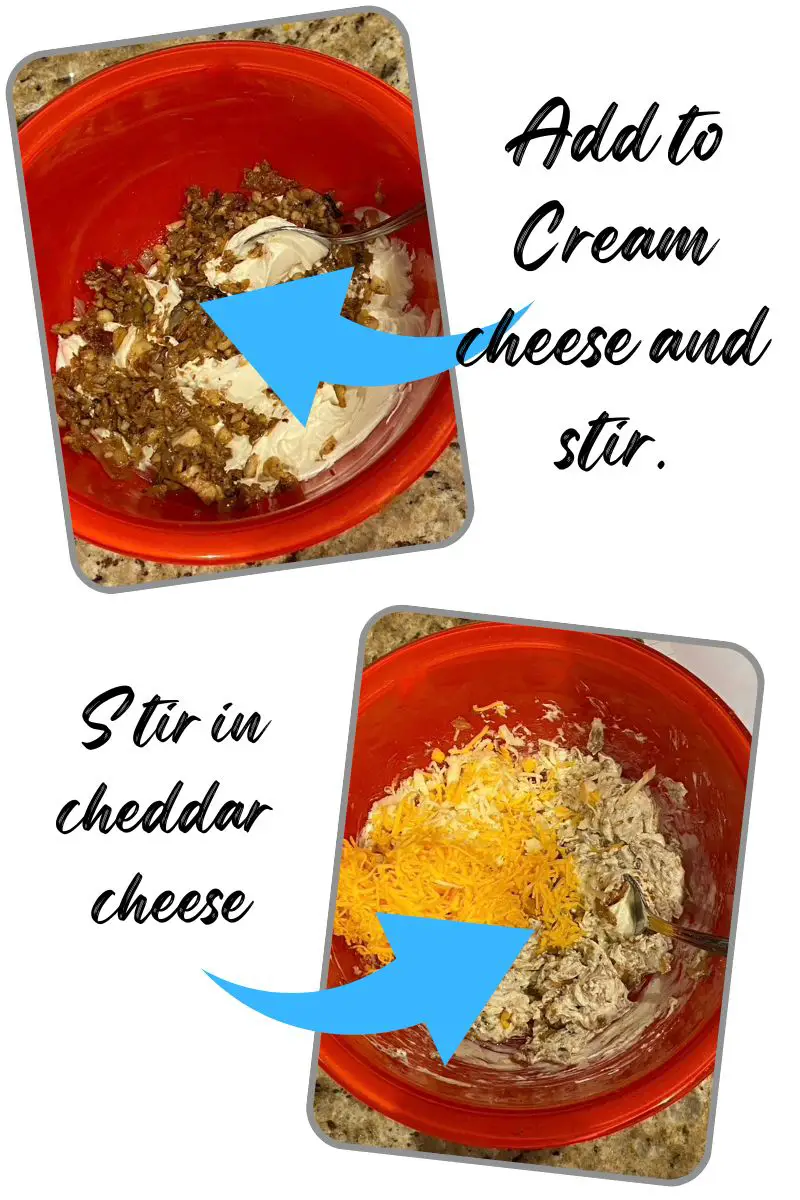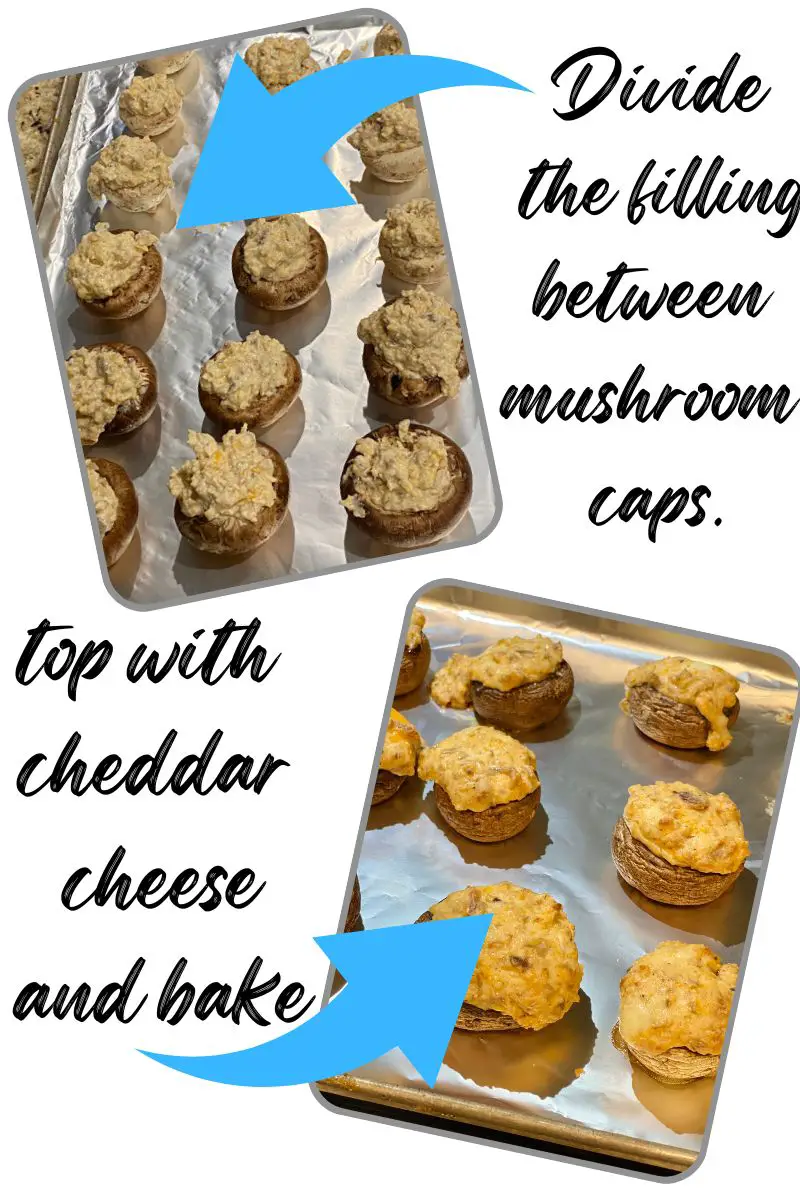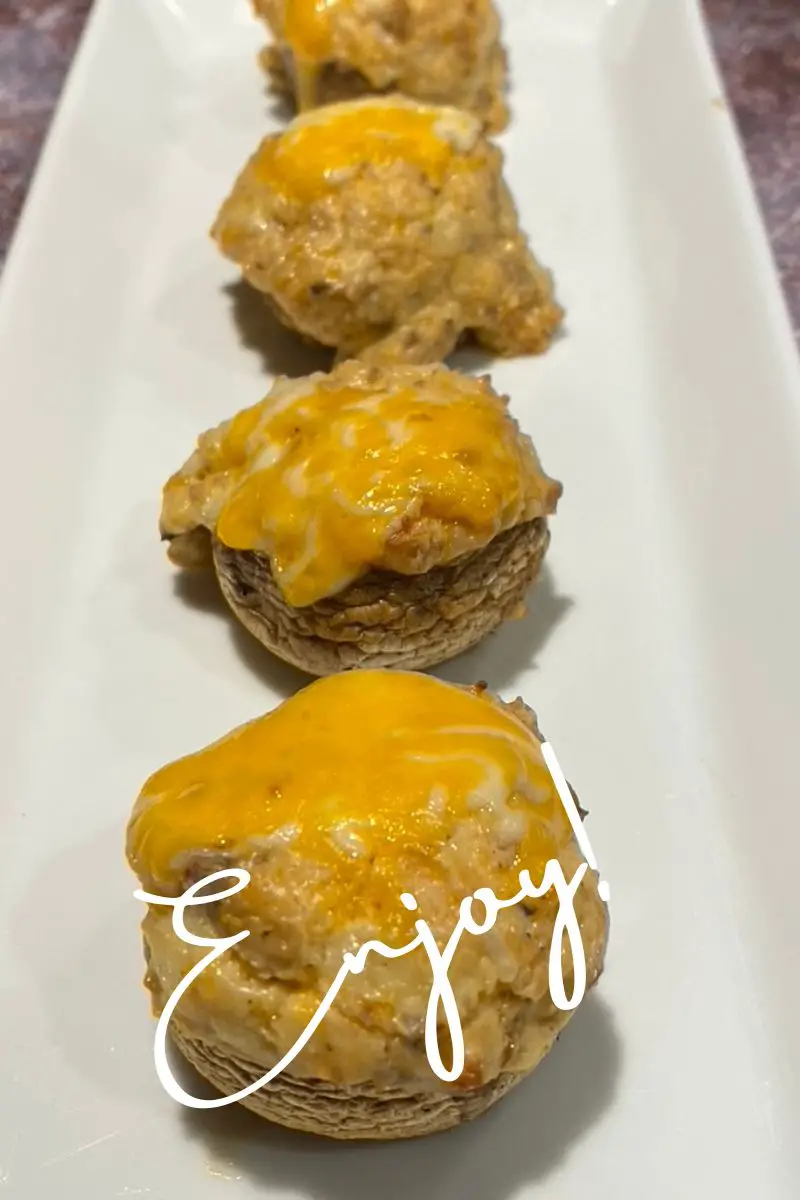 Our Easy Low Carb Diabetic Stuffed Mushrooms Recipe
Easy Low Carb Diabetic Stuffed Mushrooms Recipe
A diabetic friendly recipe for low carb cheesy stuffed mushrooms
Ingredients  
16

Large

Fresh Cremini or White Mushrooms

1

tbsp

Canola Oil

1

Slice

Thick Canadian Bacon (or 2 thin slices)

2

tsp

Minced Garlic

¼

Cup

Minced Onion (fresh)

4

ounces

Cream Cheese (low fat)

½

tsp

Onion Powder

1½

cup

Cheddar Cheese – Grated

1

medium

Egg White

⅛

tsp

Ground Black Pepper

⅛

tsp

Salt
Instructions 
Preheat the oven to

375

°F

(190 C)

Line a sheet pan with aluminum foil or parchment paper.

Clean the mushrooms and remove the stems and place caps on the baking sheet.

Slice off the dried bottom of each of the stems and discard.

Finely chop the remaining stem pieces (by hand or in a chopper)

In a skillet, fry the bacon until crispy.

Remove the bacon, chop it and return it to the pan.

Add the canola oil to the pan along with the chopped stems, minced onion and garlic.

Over medium heat, saute until cooked through. (About 5 minutes) and then remove from the heat.

Add the softened cream cheese to a mixing bowl.

Stir in the egg white, salt, pepper and onion powder and mix well.

Pour in the sauteed mushroom stems mixture from the pan and stir.

Stir in 1 cup of the grated cheddar cheese. Reserve the remaining cheese for topping the mushrooms.

Combine until thoroughly mixed.

Divide the filling between the 16 mushroom caps, making sure the filling is packed into each mushroom.

Divide the remaining shredded cheddar cheese between the stuffed mushroom caps.

Bake in the oven for 25 minutes. (you should see a melted cheese top and a small amount of liquid under the baked mushroom.)

Remove from the oven and cool for a few minutes before serving.
Nutritional Information.
The nutritional information below is for 1 stuffed mushroom (this Diabetic Stuffed Mushrooms recipe makes 16 )
Calories – 73
Total Fat – 5.7 gr
Saturated fat – 2.8 gr
Total Carbs – 2. gr
Fibre – 0
Net Carbs – 2. gr
Protein – 5 gr
Sodium – 164 mg
Nutrition information is provided as a courtesy and is automatically calculated using an online nutrition calculator. We encourage you to calculate nutrition data with your specific brand ingredients as nutritional information can vary between brands
I hope you enjoy this easy recipe for Low Carb Diabetic Stuffed Mushrooms. (we love them)
Thank You for visiting The Naked Diabetic
This website may contain affiliate links. When a purchase is made through our links, The Naked Diabetic may receive a commission, at no cost to you.