This website may contain affiliate links. When a purchase is made through our links, The Naked Diabetic may receive a commission, at no cost to you.
No matter the occasion, these easy Low carb Mini Taco Bites are sure to please. They are diabetic-friendly, but everyone will love them.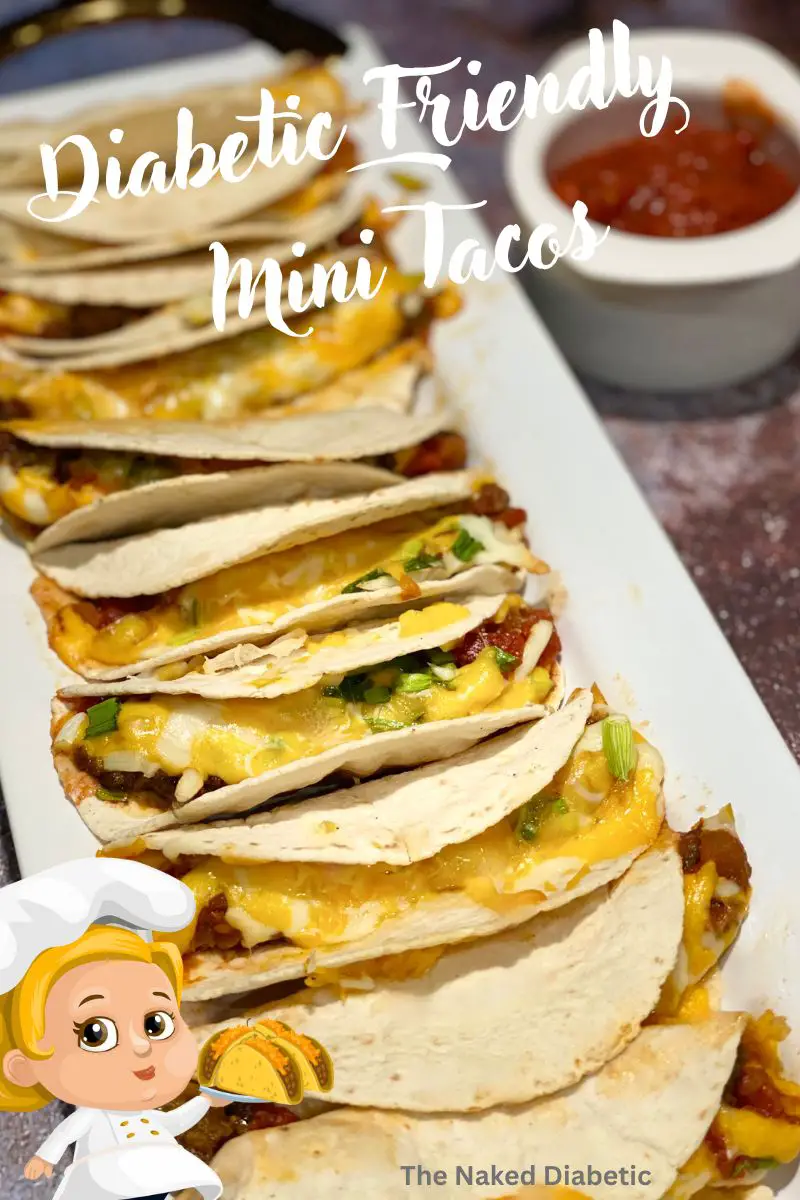 Make a big platter of these and add them to your party table, serve them at a Superbowl Party or just a night in at home. One of the great things about these Low Carb Mini Taco Bites is that no one needs to know that they are diabetic-friendly. Only you know and you can count the carbs yourself. Easy Peasy!
In this post, I share a list of recommended kitchen supplies, a shopping list of ingredients, the recipe and instructions for making Low Carb Mini Tacos Bites, nutritional information, and a few helpful tips.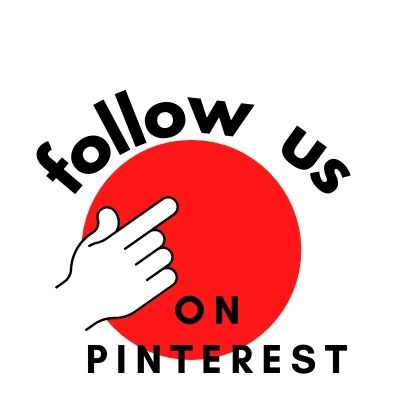 Recommended Kitchen Supplies
Measuring Spoons
Measuring Cups
Mixing Bowl
Spoon for mixing
Grater
Frying pan
Wooden spoon or spatula
Baking Pan (9″by 13″ works best for 16)
Need Kitchen Accessories?

Shopping List of Ingredients
Ground Beef (Lean -1 pound)
Cheddar cheese (1.5 cups grated)
Tostitos Chunky Salsa
Green Onions
Chili Powder
Ground Cumin
Garlic Salt
Onion Powder
Smoked paprika
Cayenne pepper
Salt
Ground Black Pepper
Need Diabetic Friendly Ingredients?

Helpful Tips and FAQs
Can I use packaged taco seasoning?
Yes, you can, just omit the spices in our recipe and use a pre-packaged spice mix. Keep in mind, a lot of pre-packaged spice mixes may contain corn flour and sugar. It is a good idea to read the label and nutritional information before buying. Using a pre-packaged taco seasoning mix may change nutritional values.
Can I substitute the Ground Beef with other meat?
Any ground meat, such as ground chicken, ground turkey or ground pork can easily be used in place of ground beef. Be mindful that substitutions and alterations to our recipe may change the overall nutritional values.
If using beef strips or chicken strips, make sure you cut them very thin and into small short pieces. Ground meat works better with mini tacos because it is already a small crumble, but you can use whichever meat you like.
Speed up the process.
If you have the space, lay out all 16 of the tortillas and add all of the filling ingredients to the tortillas. Fold over one by one and place into the baking dish.
Suggestions for serving.
These Low Carb Mini Taco Bites are not just a great appetizer, but can also be served as a meal. These are a great side to our Low Carb Chili or served along with a bowl of your favourite soup.
Serving with taco dips
It's hard to eat these little gems alone. Adding a great dip can take your taco bite to the next level. Some popular taco sides include salsa, sour cream, 7-layer dip and guacamole. Most are low carb but they all add up. Always read labels and be mindful of what a tablespoon or two looks like. One of my biggest mistakes is misjudging amounts.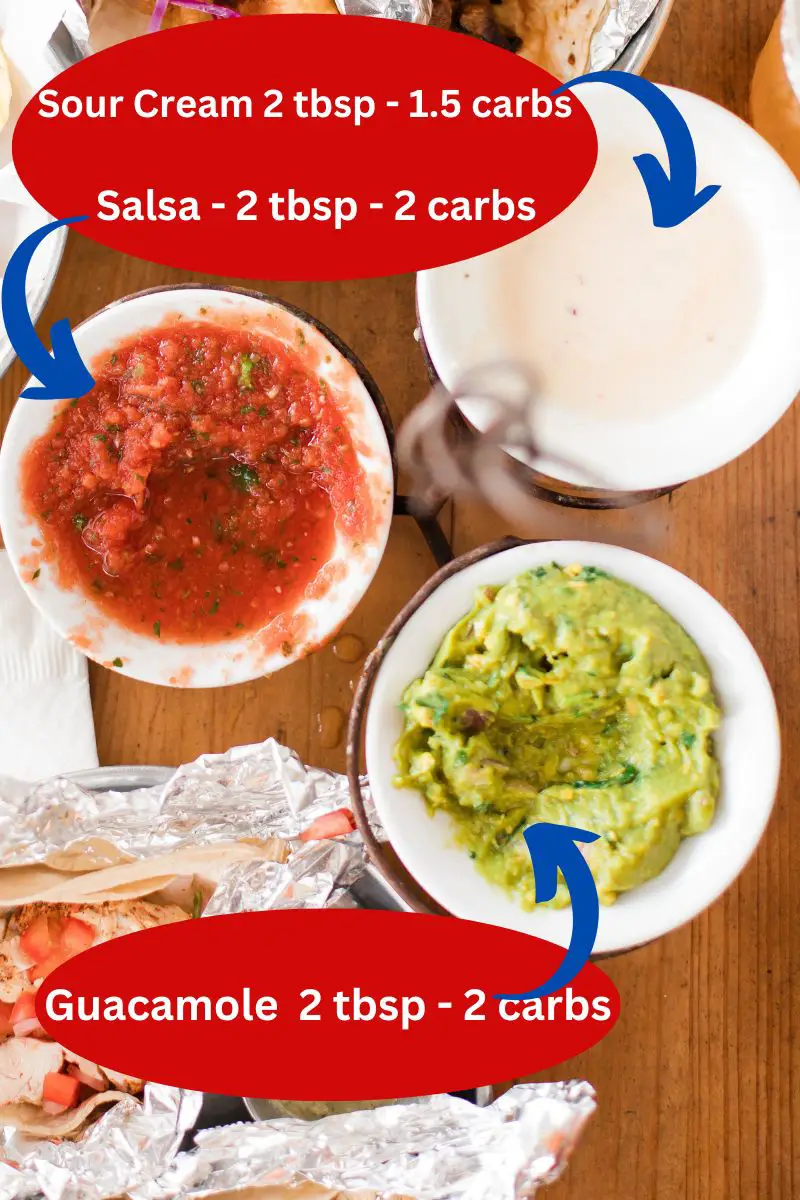 Storage and freezing recommendations.
Our Mini Tacos are best served fresh, but if you choose to store them, use an airtight container. They can be stored for 3 to 4 days in your refrigerator.
For freezing.- Tightly wrap the mini tacos in plastic wrap and then store them in an airtight container for up to one month. Reheat in a warm oven or the microwave after thawing.

How to Make Low Carb Mini Taco Bites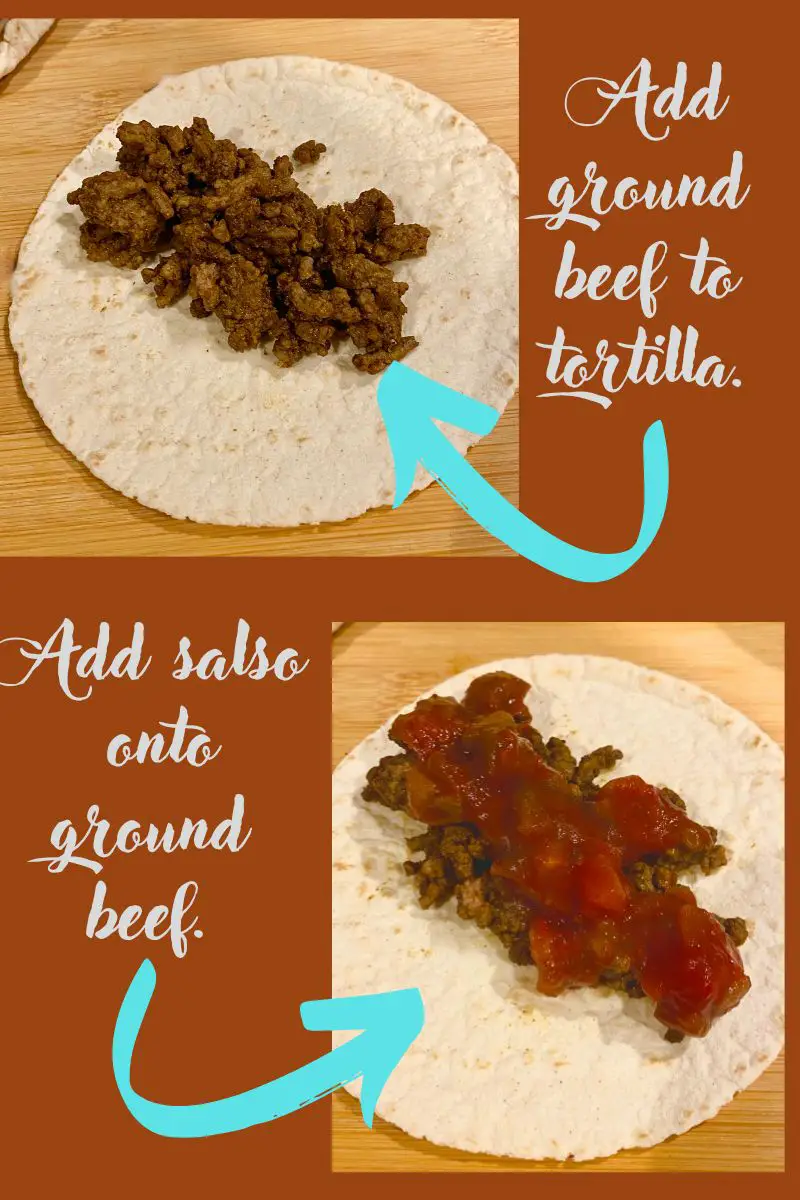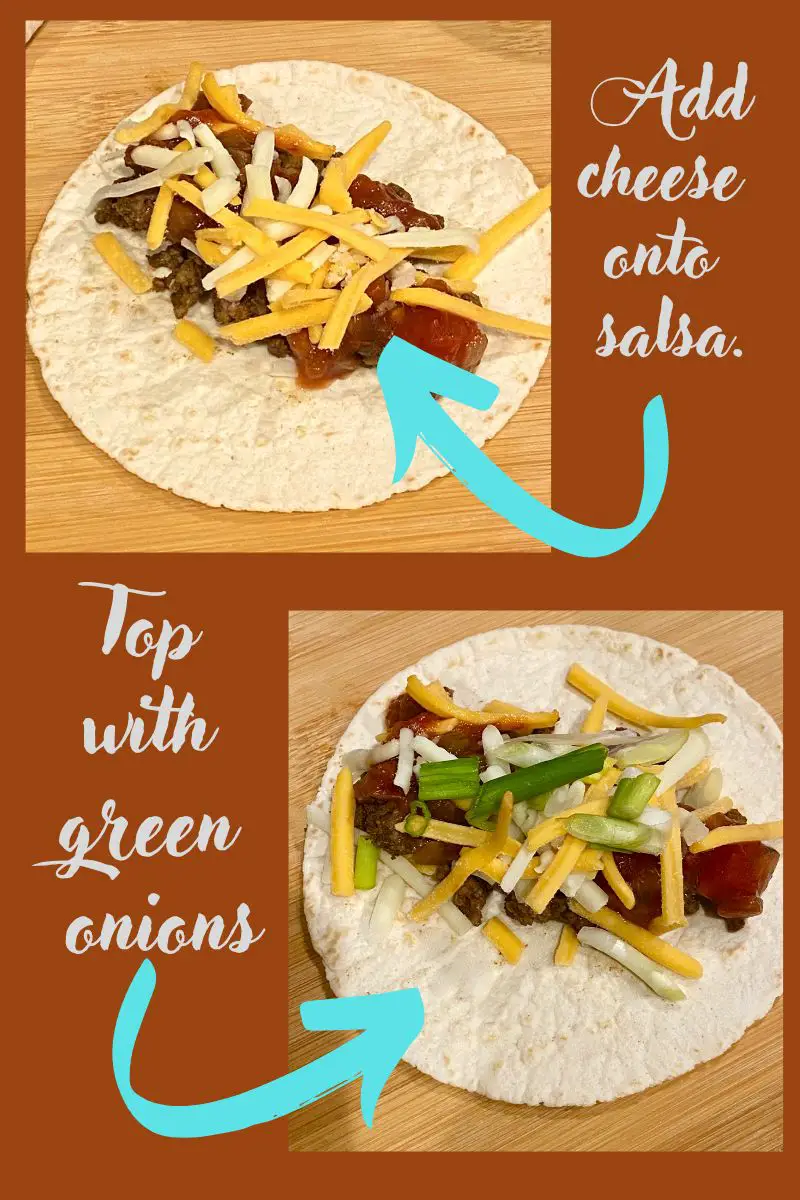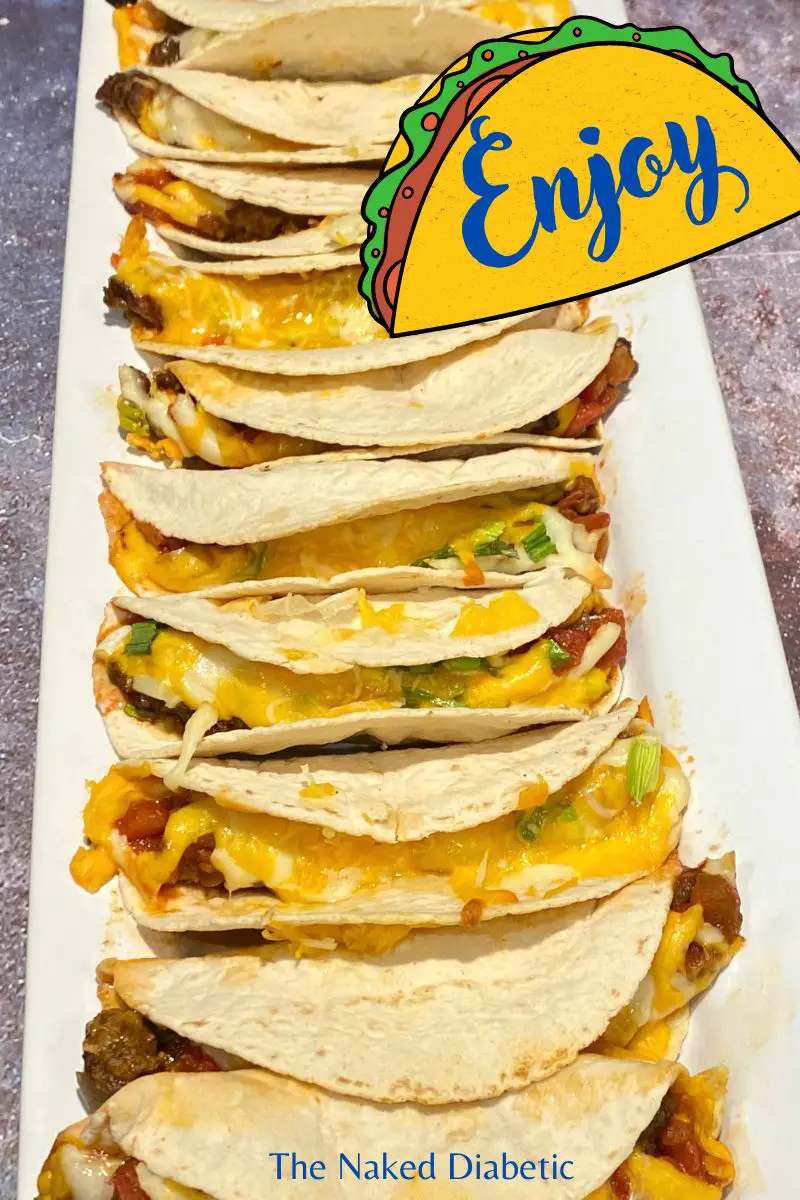 The Low Carb Mini Taco Bites Recipe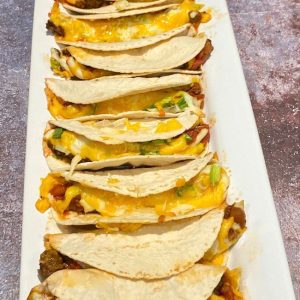 Low Carb Mini Taco Bites Recipe
Delicious Low Carb Mini Tacos, suitable for a diabetic friendly diet.
Ingredients  
16

–

4 inch La Banderita Carb Counter Zero Net Carbs tortillas

1 ½

Cups

Shredded or Grated Cheddar Cheese

1

Cup

Tostitos Chunky Salsa

½

Cup

Green Onions – Thinly Sliced

1

tsp

Chili Powder

½

tsp

Cumin – ground

1

tsp

Onion Powder

½

tsp

Garlic salt

½

tsp

Smoked Paprika

¼

tsp

Cayenne Pepper

⅓

cup

Water

1

tsp

Salt

¼

tsp

Ground Black pepper
Instructions 
Line a 9 by 13 inch baking dish with parchment paper and set aside.

Preheat oven to

350

°F

. (175C),

In a large skillet, brown the ground beef.

Add the Salt, pepper and all of the spices and stir until thoroughly mixed in the meat.

Add the water and mix it into the meat.

Simmer meat for about 3-4 minutes and remove the pan from the heat.

Spoon one tablespoon of the meat mixture into the center of the tortilla.

Spoon 1 tablespoon of salsa onto the meat

Spoon 1 tablespoon of shredded cheese over the salsa.

Sprinkle a few sliced onions over the cheese.

Fold the tortilla in half and stand up in the foil lined loaf pan.

Repeat with each tortilla and stand the tacos up against each other in a parchment lined baking dish.

Sprinkle any remaining cheese evenly over the tacos.

Bake in the oven for approximately 10 minutes.

Remove from the oven and plate for serving.
Nutritional Information
The following information is for one of the Low Carb Mini Taco Bites using the ingredients listed in the recipe. Always take into account any alterations you choose to make.
Serving = 1 of the Low Carb Mini Taco Bites
Calories. – 130
Total fat – 7 gr
Saturated fat – 3.3 gr
Total Carbs – 7 gr
Fibre – 5 gr
Net Carbs – 2 gr
Protein – 12 gr
Sodium – 341 mg
Nutrition information is provided as a courtesy and is automatically calculated using an online nutrition calculator. We encourage you to calculate nutrition data with your specific brand ingredients as nutritional information can vary between brands
I hope you enjoy this easy recipe for Low Carb Mini Taco Bites. These are one of our favourite diabetic-friendly snacks.
Thank You for visiting The Naked Diabetic.