Are you considering a Medtronic 770G upgrade from your current insulin pump? Do you wonder what comes in the box and how much it costs? I have just received mine and want to share what came in my upgrade and the differences between the Medtronic 670G and the Medtronic 770G.
What is the price of the Medtronic 770G upgrade?
There are criteria that must be met to be eligible for the Medtronic 770G upgrade.
I had only had my Medtronic 670G for about 9 months when the offer to upgrade o the new Medtronic 770G came out. My total out-of-pocket costs to upgrade was 899$. CDN. YIKES.
Important things to consider when calculating your upgrade cost.
If you are able to swing the out-of-pocket costs for the Medtronic 770G upgrade and choose to go ahead with it, keep your documentation.
In Canada, the cost that is incurred by you for the Medtronic 770G upgrade is a medical expense, for tax purposes. The costs of the insulin pump and peripherals are a claimable medical expense in Canada.
The exact wording from the Government of Canada for tax claims – Infusion pump including disposable peripherals used in treating diabetes, or a device designed to allow a person with diabetes to measure their blood sugar levels – prescription needed.
Remember – Insulin is also a tax-deductible expense. (prescription proof required)
You will be allowed to keep your Medtronic 670G. If you travel frequently, this can be comforting to have a spare on hand, in case of an emergency. (depending on where you travel, Medtronic may not be able to ship immediately to you.)
To read further – Click the link below
https://www.canada.ca/en/revenue-agency/services/tax/individuals/topics/about-your-tax-return/tax-return/completing-a-tax-return/deductions-credits-expenses/lines-33099-33199-eligible-medical-expenses-you-claim-on-your-tax-return.html#wb-auto-4
The Upgrade to the Medtronic 770G package contains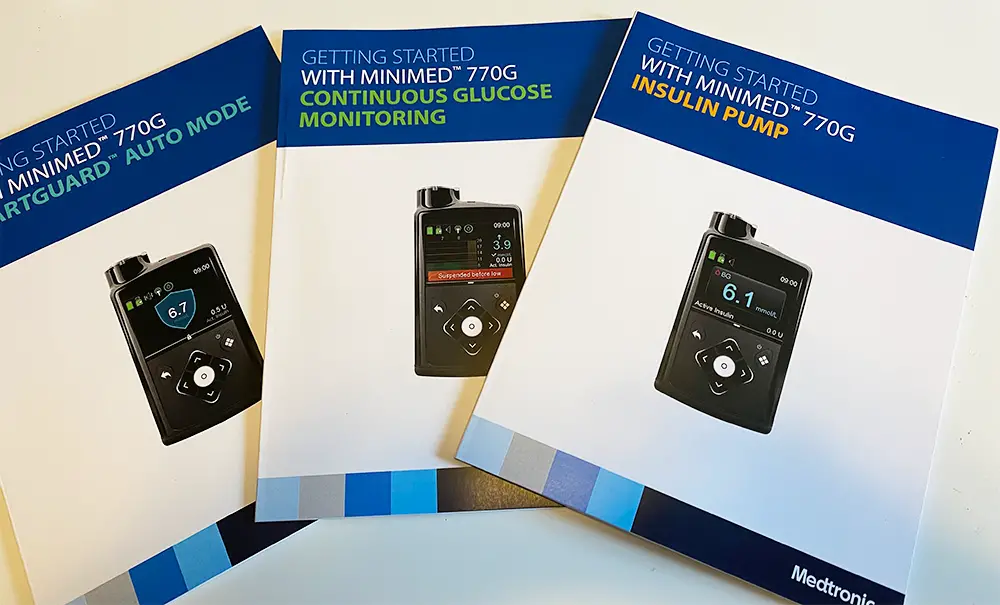 If you have ever looked at the Medtronic setup guides for previous modes of insulin pumps, these are pretty much the same. They have easy-to-follow instructions with diagrams.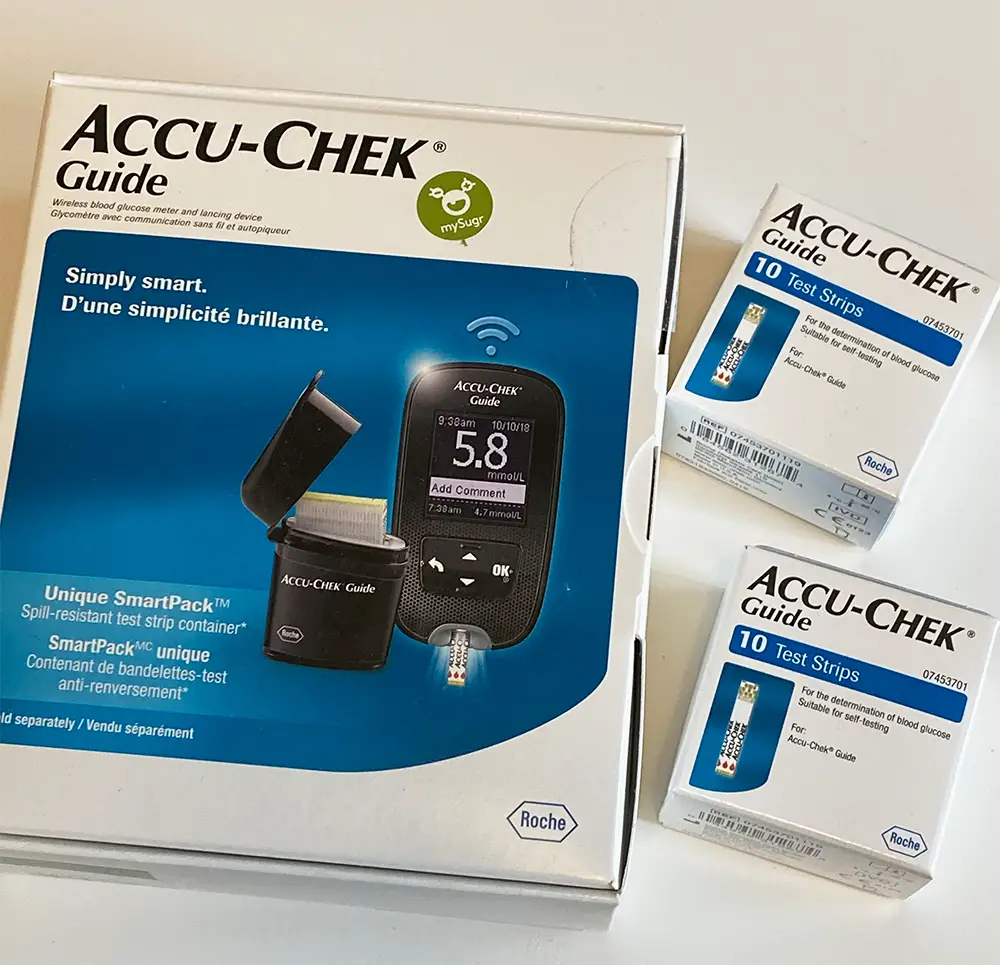 This is not the Contour Next Link smart meter. Medtronic did not have any in stock but will be sending them when they have them. When conducting calibrations you will have to enter the Blood Glucose results into the pump manually.
A Contour link meter will be sent by Medtronic when they become available.
You can also link your current contour link meter to your new Medtronic 770G if you have one.
In the Guardian Sensor kit box, there is the Guardian Bluetooth sensor, transmitter, one-press serter, two testers, a setup manual and warranty information.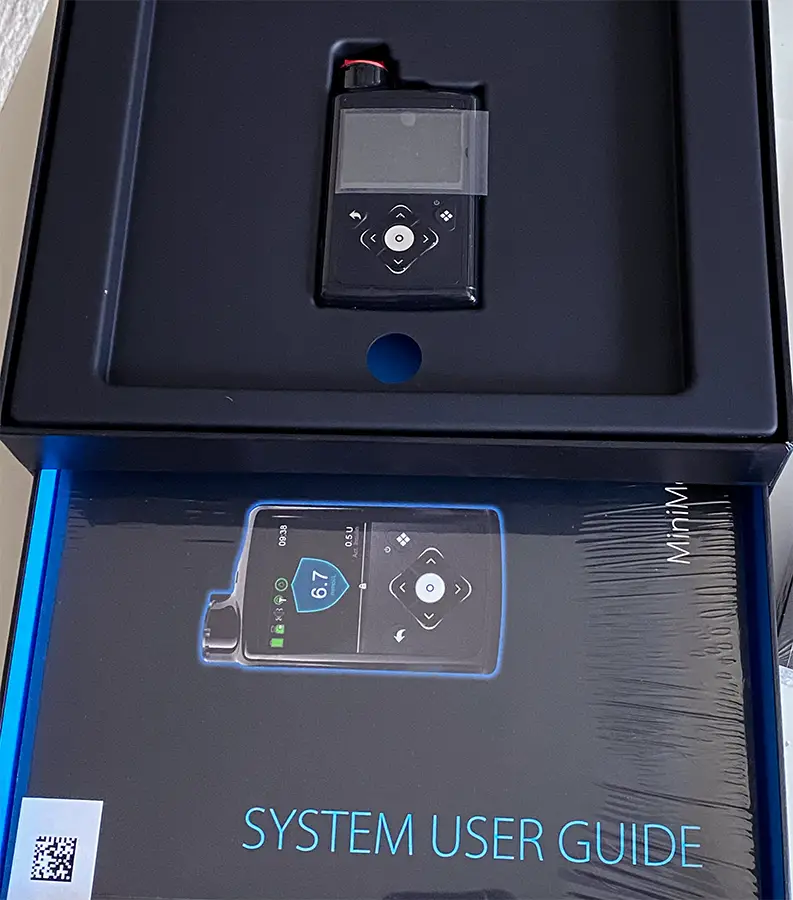 The Medtronic insulin pump box comes conveniently packaged with the necessary accessories and guide. The guide is in the box drawer and the accessories are packaged under the pump.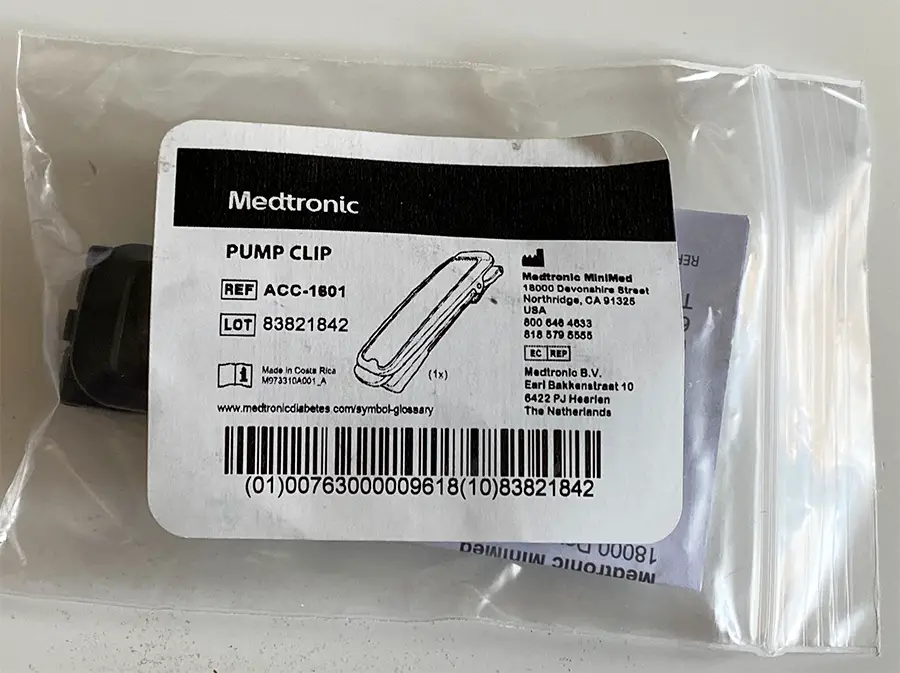 The Medtronic pump clip for the 770G is the same as the 670G, It slides securely into the back. The activity guard and tubing clamps are also the same. It also comes with batteries and a battery compartment screw-in lid.
Training on using the new Medtronic 770G.
After receiving my Medtronic 770G upgrade, I was given information on the Medtronic Startright program. The Startright program consists of 3 components. READY< SET and GO.
READY
READY is the pre-training component and has useful information and videos on what to expect and how to set up the Mini-Med Mobile and CareLink (if you don't already have it)
SET
Set is the next training stage, to get your pump up and running. There are 3 options for training.
Self-start: utilizing the Medtronic training website
Virtual group class– these are done over Zoom. You register and then attend an online class.
1 to 1 training – If you have access to a diabetic clinic or trainer, you can make a one-on-one appointment. If you don't but still want a one-on-one appointment, Medtronic has a virtual one-on-one training option.
GO
Putting all your training into practice. If needed, customer support is still available for additional assistance.
BLUETOOTH
I have had a number of issues with "lost sensor status", particularly at night, when trying to use the sensor with my 670G.
I have been told that the Bluetooth option has a better signal as there is less chance of electrical interference. I am looking forward to finding that out.
Prior to setting up a Medtronic 770-G update, make sure that your smartphone is compatible. For a list of compatible smartphones, check the link below to the Medtronic website.
https://www.medtronic.com/content/dam/medtronic-com/ca-en/patients/education/diabetes/770g-support/MM770G-Phone-Compatibility-032021.pdf
Stay Tuned for an update and review on the new Medtronic 770G.
For more great tips and diabetic-friendly recipes – follow us on Pinterest. https://www.pinterest.ca/thenakeddiabetic/_created/
Looking for diabetic-friendly recipes? Check out our recipe for Sugar-Free Lemon Squares. https://thenakeddiabetic.com/easy-to-make-sugar-free-low-carb-lemon-squares/
Disclaimer: This website contains affiliate links. We receive a small commission on purchases made using or links. We do not recommend products that we haven't tested and approved prior to posting them here.
Thanks for visiting The Naked Diabetic….