This website may contain affiliate links. When a purchase is made through our links, The Naked Diabetic may receive a commission, at no cost to you.
Finding healthy snack bars for diabetics can be a real challenge. Many nutritional bars that claim to be healthy often are high in carbs. If you are a diabetic trying to control your blood sugar levels mainly by making the right dietary choices, it can be even harder to control your blood sugar.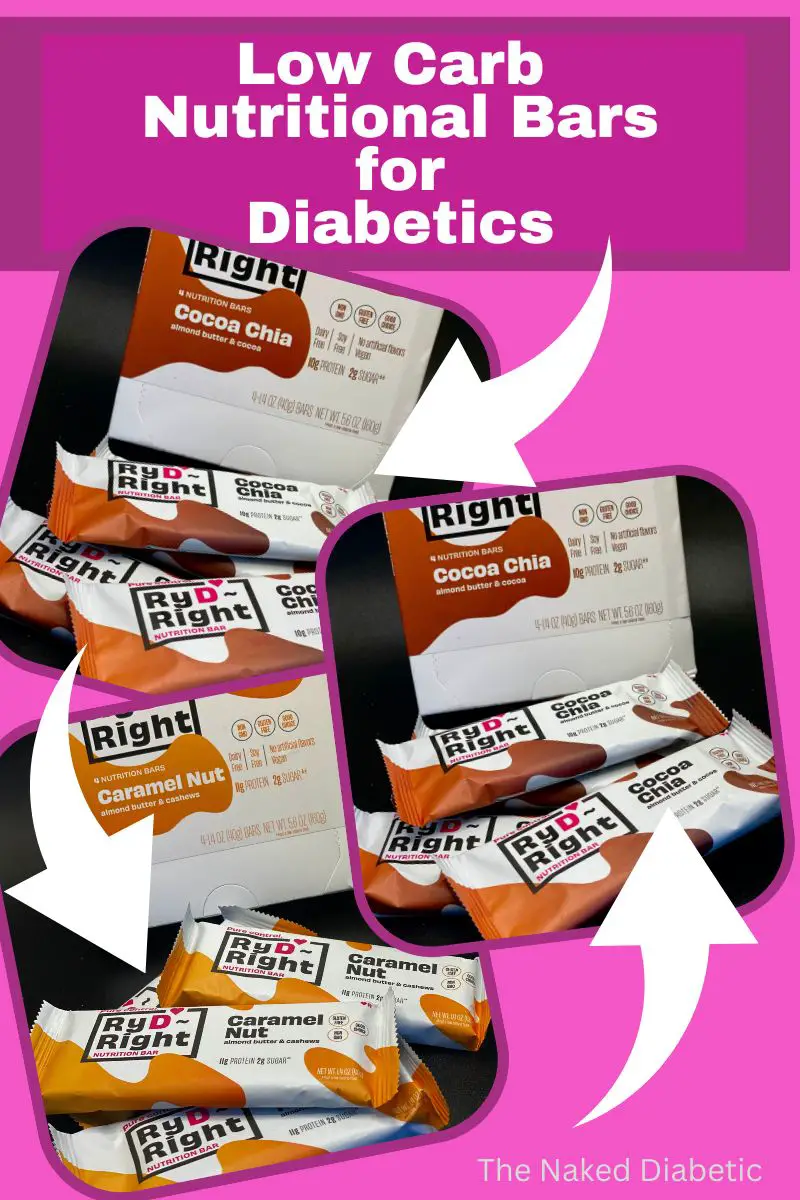 I am not an affiliate of RyD Right Nutritional bars, but value products that are made for diabetics by those who understand the daily challenges that come with living with diabetes.
If you have ever asked "What can a diabetic snack on without raising their blood sugar?', you may want to check out. these bars.
What are RyD Right Nutritional bars?
RyD Right Nutritional bars are Gluten Free, Soy Free and plant-based bars that are made with diabetic living in mind. They are low calorie and low carb and can be an asset when controlling blood sugar.
These bars are made with organic ingredients that are wholesome and nutritious. Their ingredients include Almond butter, pea protein, Chicory root, organic cashews and almonds, organic quinoa crisps, black beans, coconut oil, Goji berries, green tea, Chia seeds, Spirulina, strawberries, cherries, cocoa, caramel and Stevia.
Each of these bars has at least 10 grams of protein. Many of us struggle to get the recommended daily amount of protein, so having alternative ways to increase protein is always a bonus. Studies have shown that protein has hunger reducing characteristics which mean you feel fuller longer, making you less likely to overeat or make bad choices.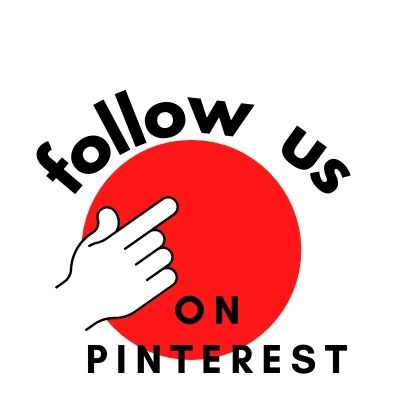 Make Your Kitchen Diabetic Friendly by stocking up on diabetic-friendly recipe ingredients.

Compliment these Snack Bars for Diabetics with these Sugar-Free Drink recipes
What makes RyD Right bars different than other nutritional bars?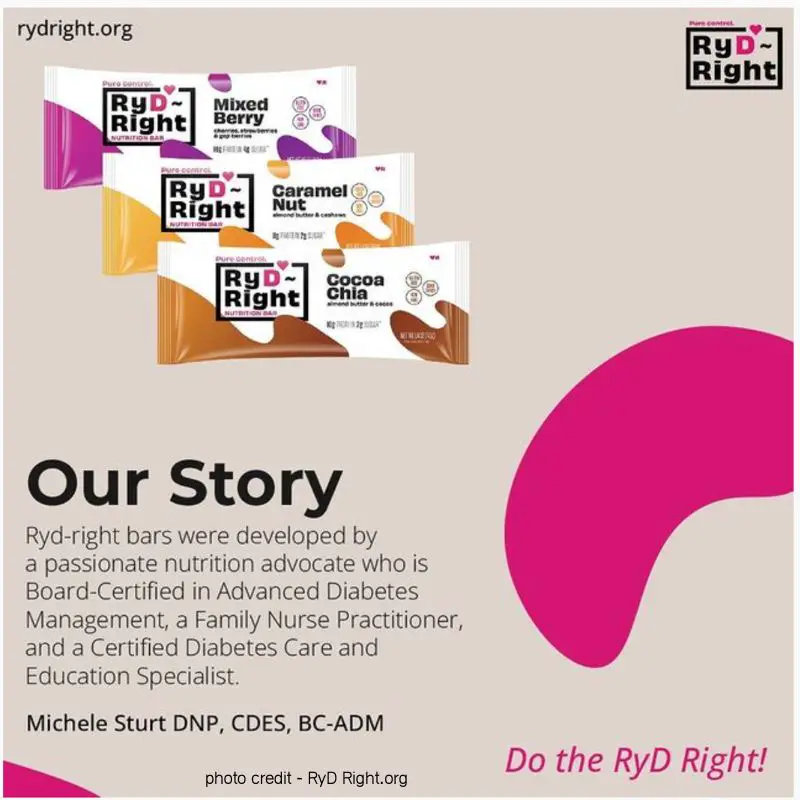 These nutritional bars were created with Low Carb diabetic-friendly eating in mind. The founder and creator of RyD Right Bars is a licenced Nurse Practitioner, who is a board-certified Diabetes Care and Education Specialist and Advanced Diabetes management as well as an advocate for healthy living. Clearly, that is a great foundation for creating a diabetic-friendly product.
RyD Right nutrition bars are also non-GMO, gluten-free, soy-free and refined sugar-free, which are compatible with many health-related diets, not just for those living with diabetes.
Are RyD Right Nutritional Bars good for diabetics?
These bars are low in calories, and carbs and are higher in protein than many other bars. They are made with natural ingredients which is a bonus. So, yes they are a good choice for diabetics.
I found the listed net carbs to be accurate for me. I bolused for the net carbs and did not get a spike in my blood sugar, which for me was a definite plus.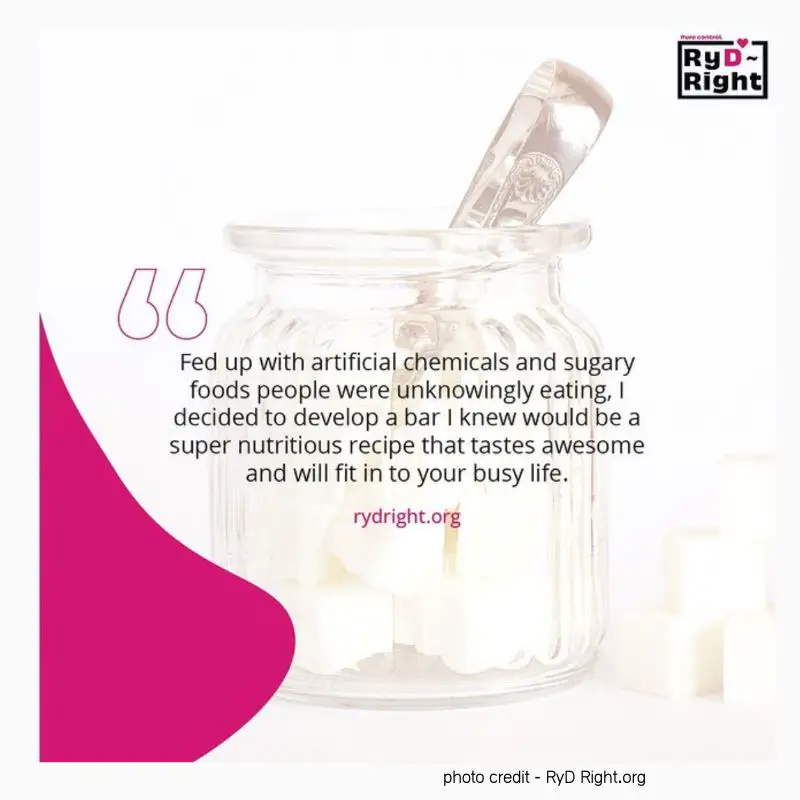 What Flavours of RyD Right bars are available?
RyD Right nutritional bars come In three flavours, Cocoa Chia, Mixed Berry and Caramel Nut. All are diabetic-friendly and a great addition to a diabetic-friendly lifestyle.
Cocoa Chia Nutritional Scnack Bars f Diabetics.
These Cocoa Chia bars have 160 calories, 11 grams of net carbs and 10 grams of protein. They have a nice chocolatey taste with the mild nutty flavour of chia seeds. I recommend refrigerating this bar as it is quite soft. Storing products that do not contain preservatives in the refrigerator is always a good practice.
Chia seeds are widely known for their health benefits and are found in many keto and health-related recipes. These bars are a great way to get the benefits of chia seeds without having to make your own recipes..
These bars have 160 calories, 11 grams of net carbs and 10 grams of protein.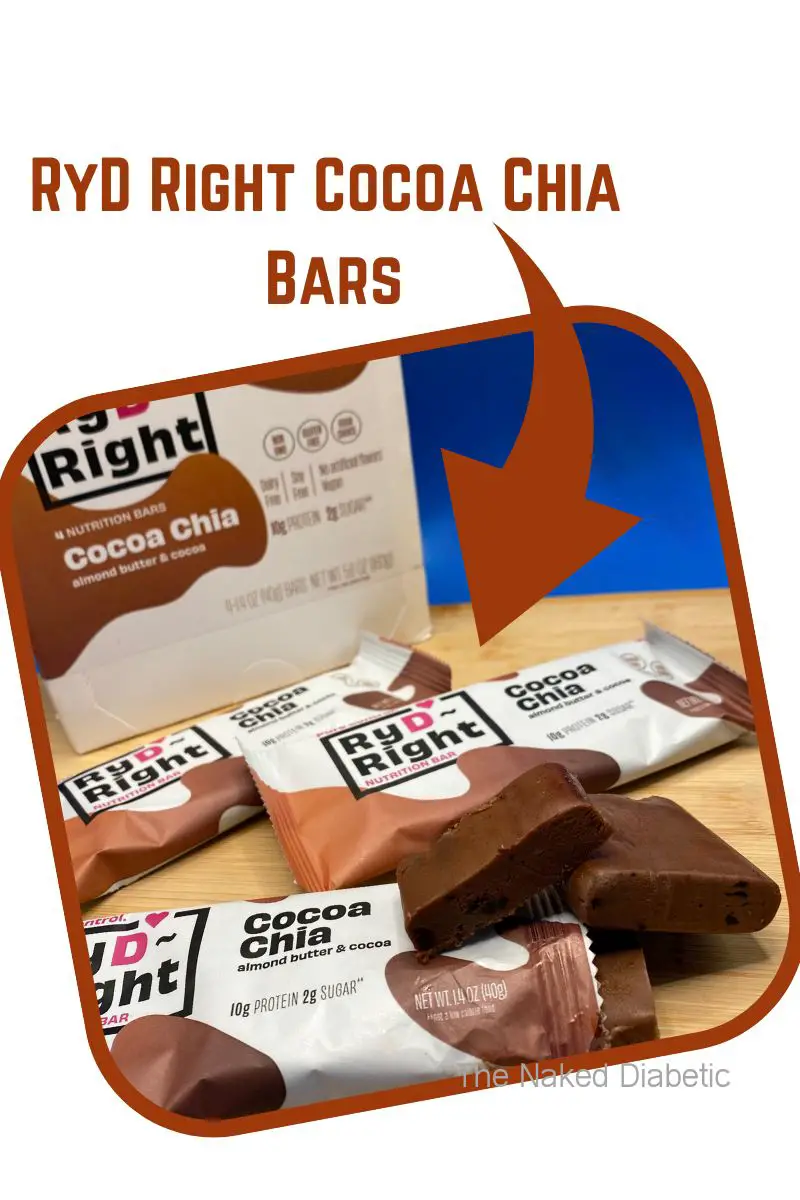 Caramel Nut Nutritional Snack bars for Diabetics.
These bars have 160 calories, 10 grams of net carbs and 11 grams of protein.
This bar was my husband's favourite. It is smooth and has small bits of nuts throughout the bar. My husband is not a diabetic but chose this bar over the sugary bar he could have had. Wise choice, I'd say!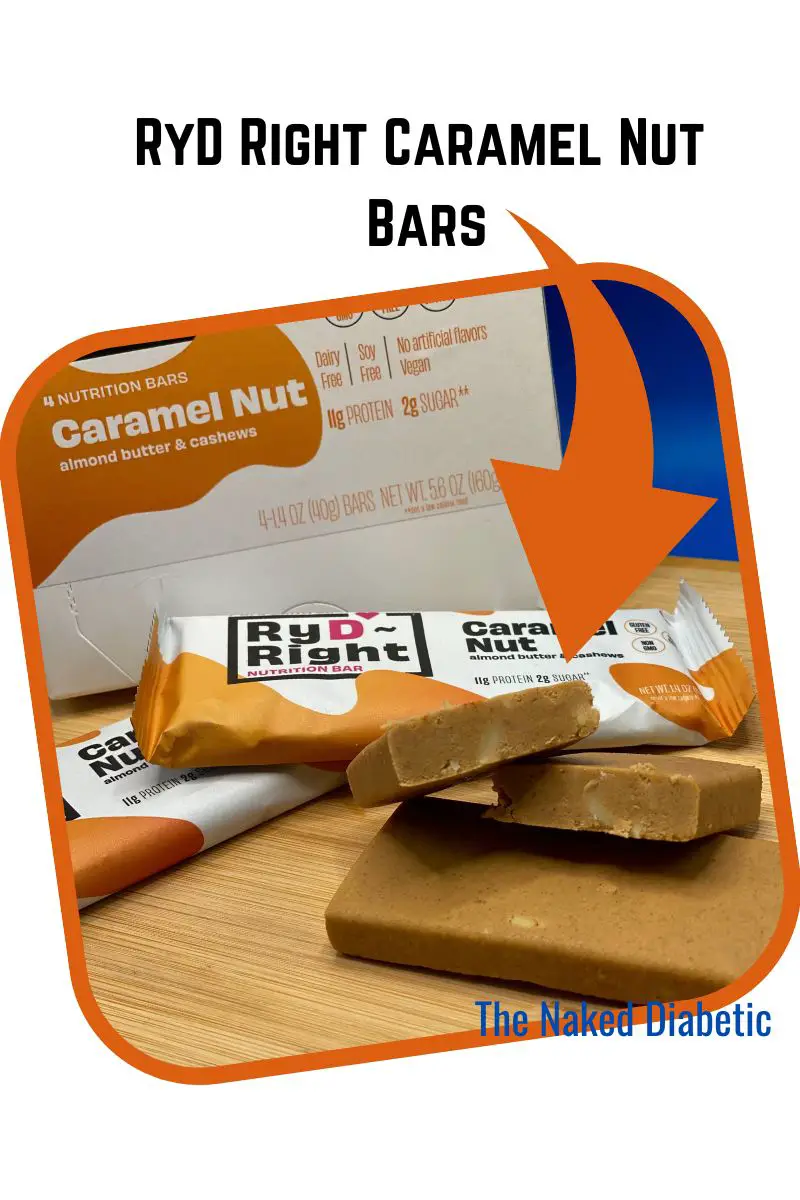 Mixed berry Nutritional Snack Bars for Diabetics.
The RyD Right Mixed Berry bar was my favourite. It has a smooth berry flavour but isn't overpowering. It is sweet enough to taste like you're getting a treat but not overly sweet. It goes great with a cup of espresso. I cut this bar in half to enjoy after dinner, just like dessert!
This bar has 150 calories, 12 grams of net carbs and 10 grams of protein.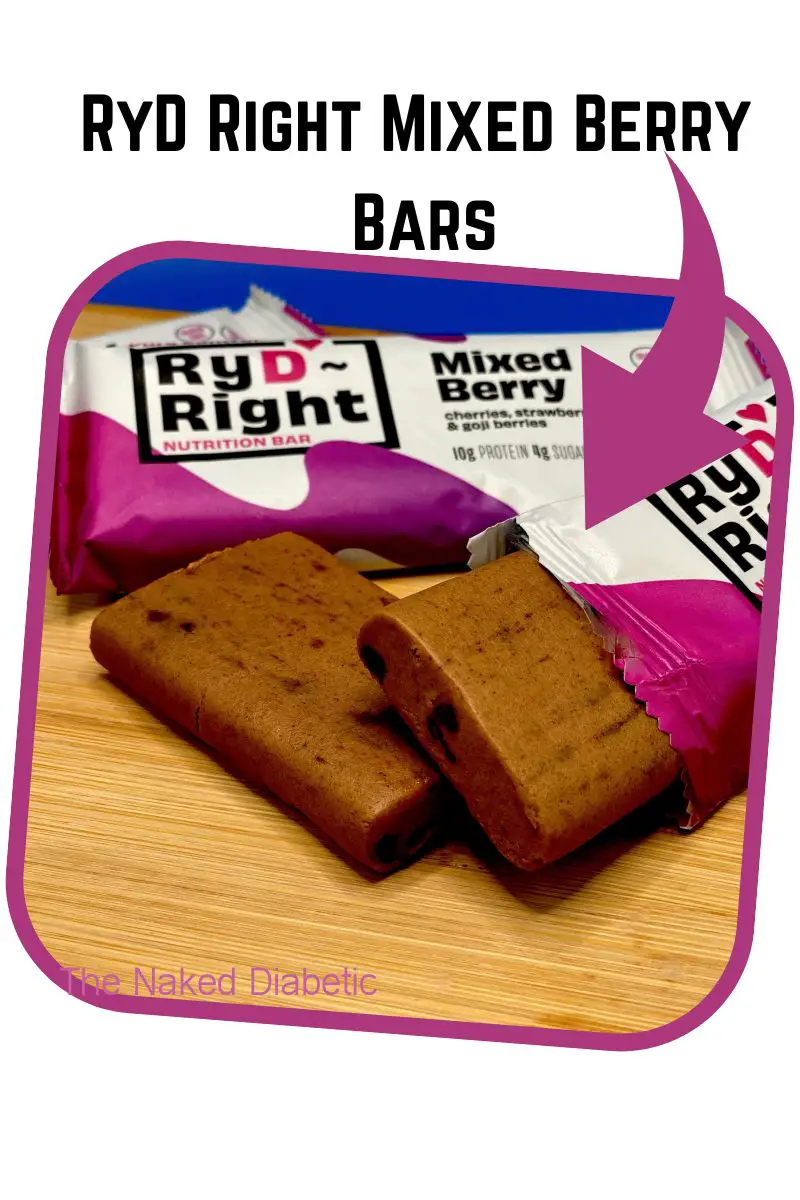 Where can I buy RyD Right nutritional bars?
Currently, RyD Right nutritional bars are available online through their website at rydright.org. I'll be keeping an eye on their products and if they become available in stores near you, I'll be sure to post an update.
For all orders over 75 USD, you receive free shipping.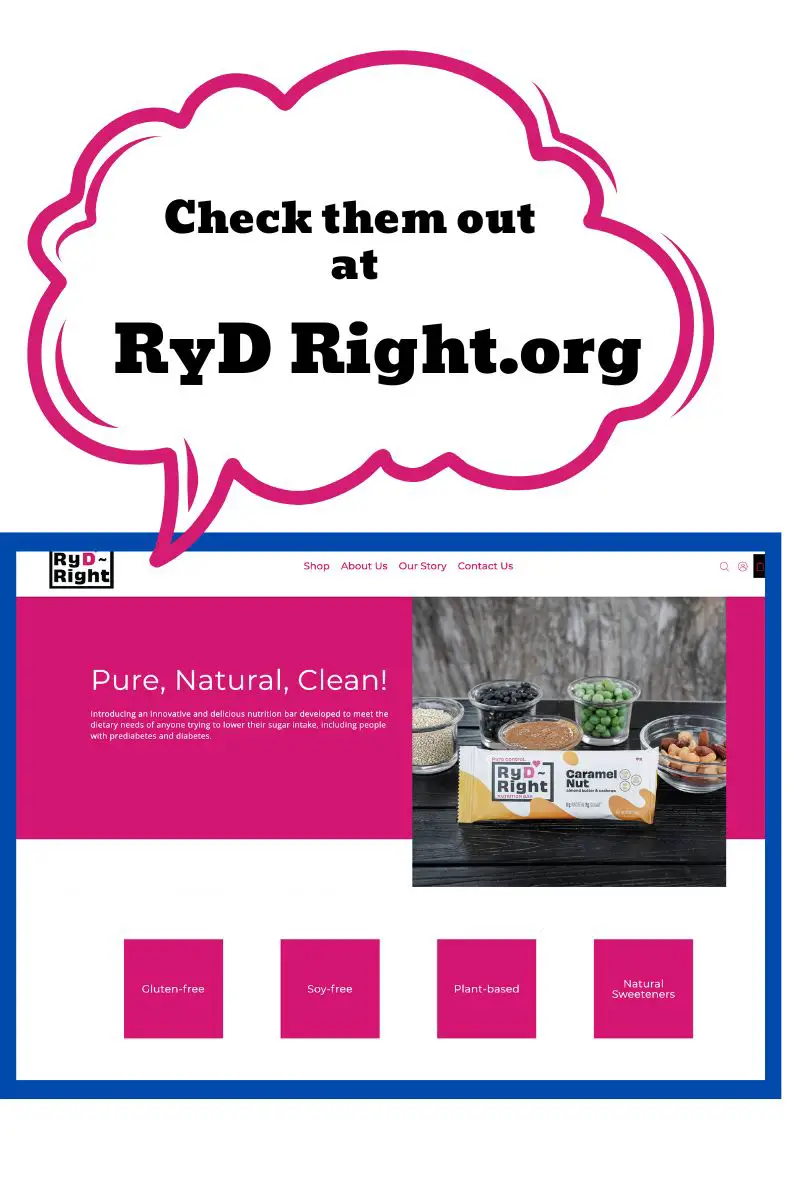 RyD Right can also be found on Facebook and Instagram
Can RyD Right Bars be shipped to Canada?
The short answer is yes. The long answer is that it will cost you! Once the bars get to the border, they will need to go through a customs process. The process includes a number of fees including but not limited to, brokerage fees, agricultural processing fees, bond fees, entry prep fees and other government fees and last but not least tax.
It also can take a week or more for the processing to complete, meaning the bars will sit at the border waiting for clearance.
Just be sure to do your due diligence before you order.
Sum it up
These bars can be a great addition to a health-minded diabetic or anyone looking to eat healthier without missing out on all the good stuff. They are a great grab-and-go snack that you can enjoy without feeling like you blew your diet.
Thanks for visiting The Naked Diabetic
This website may contain affiliate links. When a purchase is made through our links, The Naked Diabetic may receive a commission, at no cost to you.