This website may contain affiliate links. When a purchase is made through our links, The Naked Diabetic may receive a commission, at no cost to you.
These easy to make Sugar Free Candied Pecans are not just a great snack but also a perfect addition to sugar-free desserts. Add a couple on top of a slice of diabetic friendly cheesecake or garnish a slice of sugar-free pumpkin pie, add them to salads or just eat them on their own.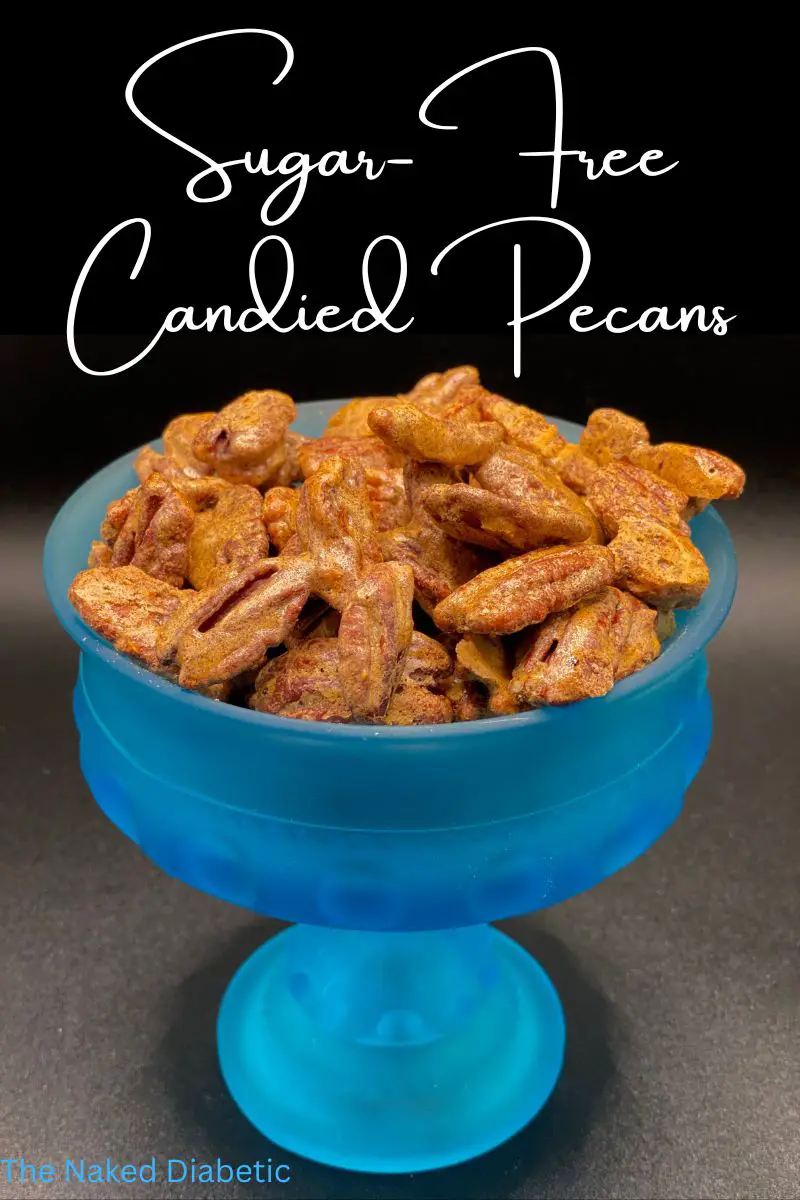 In this post, I will share a list of kitchen supplies that are recommended. a shopping list of ingredients, helpful tips for the best results, the recipe for Sugar Free Candied pecans, and nutritional information.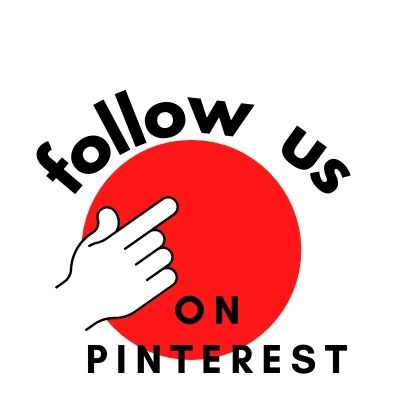 Recommended Kitchen Tools
Mixing Bowl x2 (one large, one small)
Measuring Cups
Measuring Spoons
Whisk
Drying rack (See notes)
Parchment paper
large spoon
Need kitchen accessories and Tools?

Shopping List of Ingredients
Pecan halves – 2 cups
Ground Cinnamon
Salt
Egg – Egg White
Need to get Diabetic Friendly Ingredients?

How to make Sugar Free Candied Pecans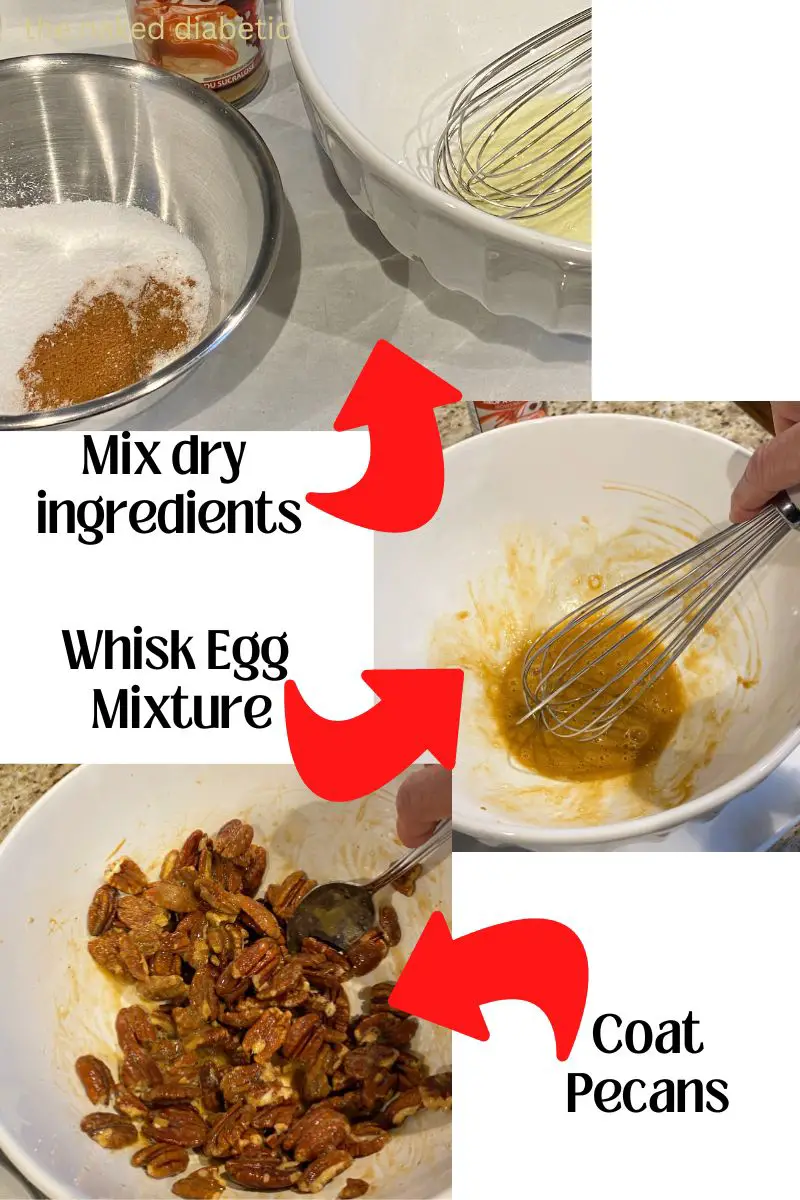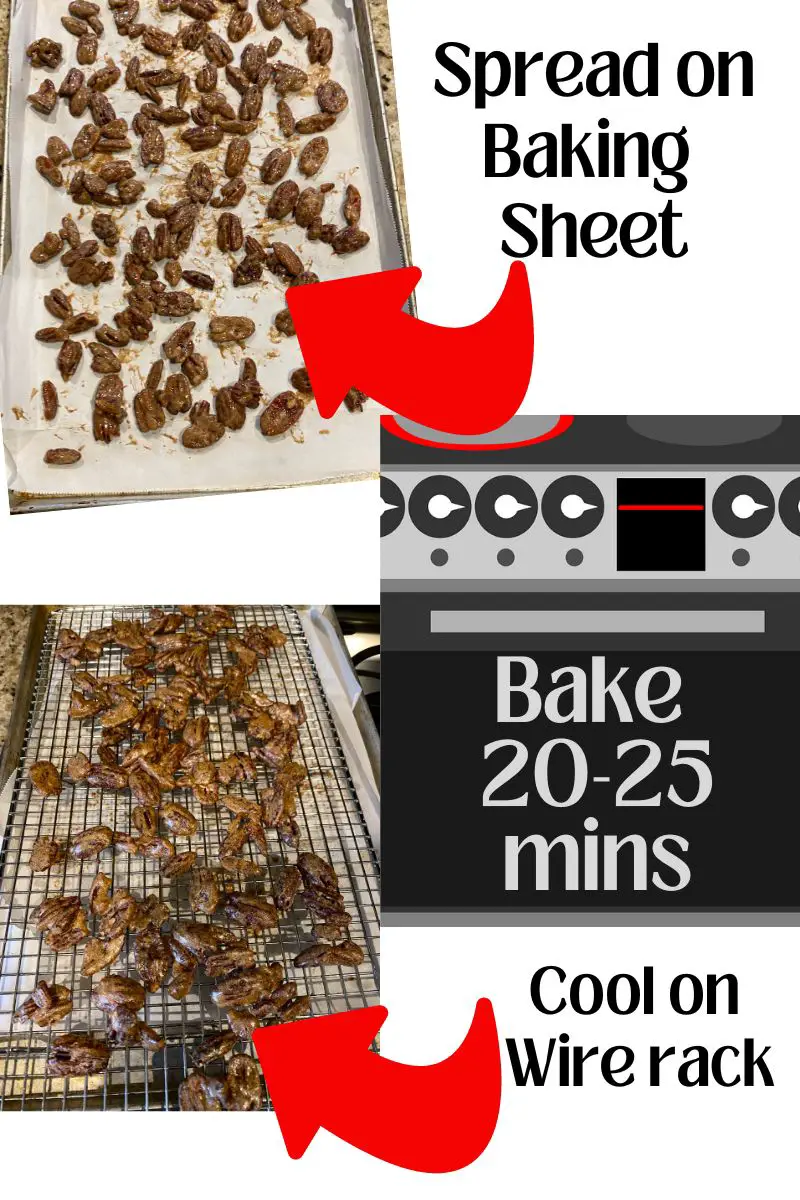 Helpful Tips and FAQs
What kind of drying rack is best?
A drying rack that has a tight grid is best for drying our sugar free candied pecans. The grill-style pecans do not work well due to the amount of space between the grills causing the pecans to fall through the grill.
To minimize the mess under the grill from dripping, place your baking tray under the cooling rack to catch the drips if any happen to fall from the pecans.
Do I really need to bake my candied pecans?
I have seen many recipes that do not require baking. They are stove-top recipes and once mixed are left to air dry. For the best sugar free candied pecans baking is a must. The baking causes the flavour and sweetener to penetrate the pecans, giving you that traditional hard sweet pecan that is perfect.
Why are my sugar free candied pecans soft?
If your pecans are not crunchy there are a couple of reasons. Some ovens differ in temperatures and the nuts may need to be baked longer. If your pecans were old when you started to make this recipe, you may not get a crisp candied pecan. It is a good idea to check the pecans before making this recipe. break one in half to check. A fresh pecan will snap in half when broken.
Another reason could be that you have not allowed the pecans to fully dry. You may need to leave them overnight. Different humidity levels can change the drying times.
You can place the cooling rack (if it is oven safe) onto the baking pan and place it back in the oven. To do this, heat the oven to 300 degrees F and then turn the oven off. Place the baking tray in the oven with the door partially open and allow them to remain in the oven until the oven has completely cooled.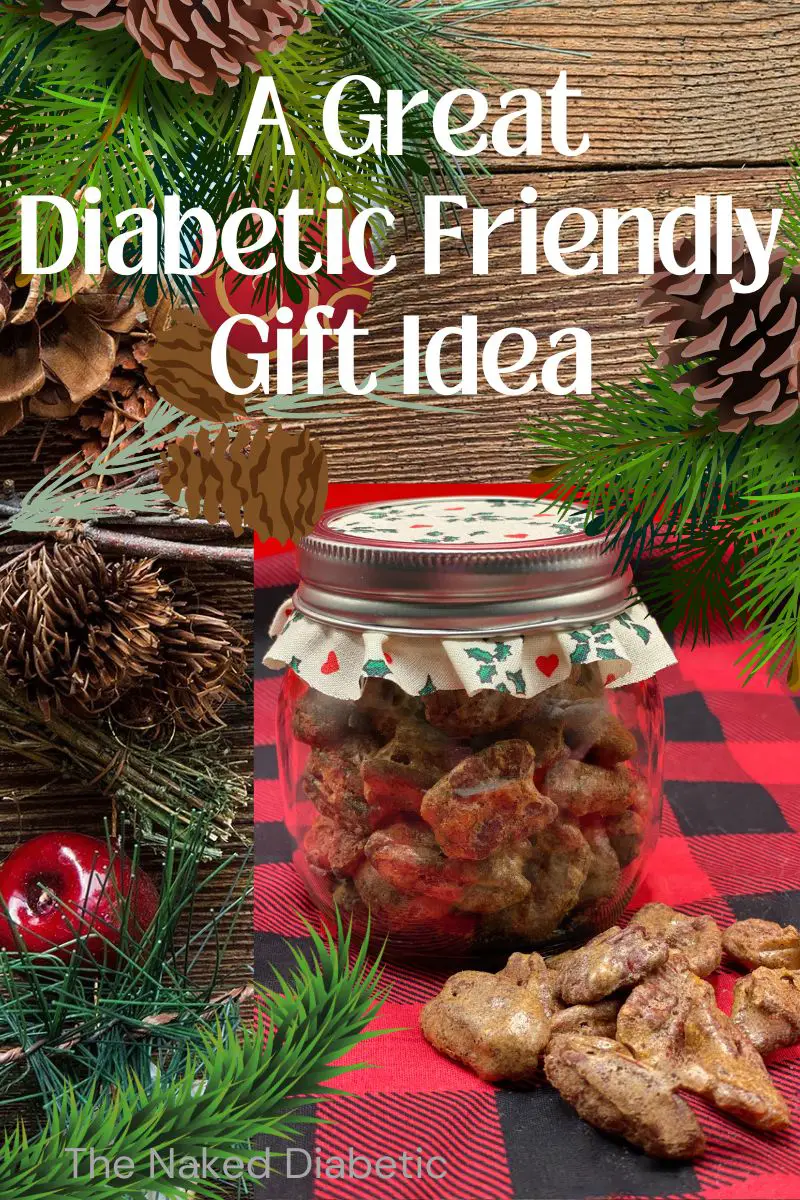 Can I substitute the pecans with other nuts?
Yes, you can use walnuts, almonds, hazelnuts, peanuts or whichever nuts you prefer. The nutritional information will differ when changing ingredients, but by all means feel free.
You can also use chopped nuts. This is particularly nice if you are making cookies and would rather use candied nuts in place of chocolate chips in your favourite sugar-free chocolate chip cookie recipe.
How to store Sugar Free Candied Pecans
Once your sugar free candied pecans are completely dry, store them in an airtight container at room temperature for about 3 weeks.
Freezing – Freeze sugar free candied pecans in a Ziploc bag with all of the air removed. Freeze for up to a month. When thawing, place the nuts on a wire rack and allow them to thoroughly thaw and dry if there is any moisture on the nuts. Sometimes freezing can cause the pecans to be less crunchy, but it is great to have some on hand to use in recipes.
What's the difference between candied pecans and pralines?
Candied Pecans are made by using egg whites and then baked in the oven. Pralines are made using a candy-making method. Pralines are coated with caramel candy and use a drop candy method. Pralines are dropped onto waxed paper where they solidify while drying.
Can I substitute the cinnamon?
Cinnamon is recommended, but if you would rather use a different spice feel free. If you like cinnamon but just want to add a bit of a punch try adding a pinch of cayenne pepper or chilli powder. This is a great flavour, especially if you are using your sugar free candied pecans in salads.

The Sugar Free Candied Pecans Recipe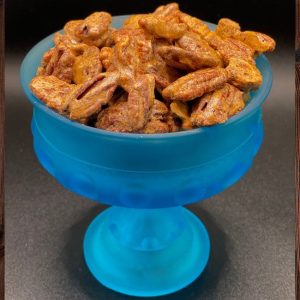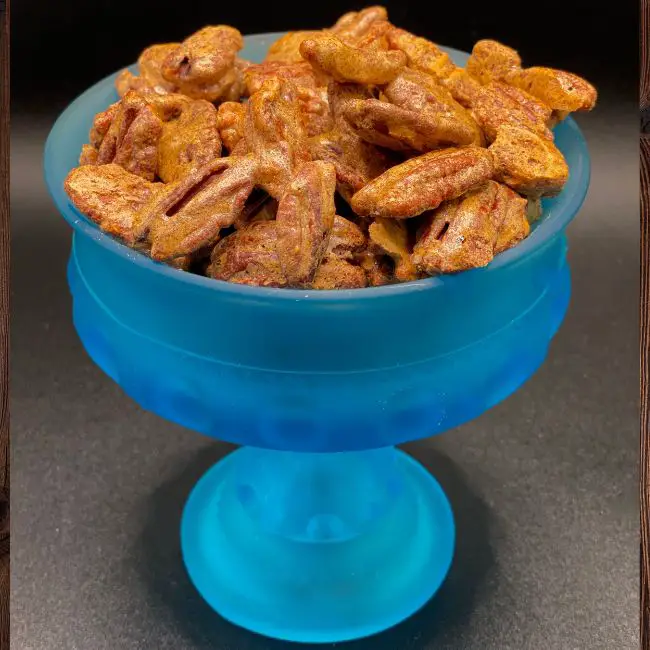 Easy Diabetic Friendly Sugar Free Candied Pecans Recipe
A diabetic friendly recipe for sweet crunch sugar free candied pecans.
Ingredients  
2

Cups

Pecan Halves (raw)

½

Cup

Splenda Granulated Sweetener

1

tsp

Ground Cinnamon

1

small

egg white

¼

tsp

Salt

2

tsp

Walden Farms Maple Walnut Syrup
Instructions 
Preheat oven to (175 degrees C)

350

°F

In a small mixing bowl, whisk together the sweetener, cinnamon and salt

In a separate mixing bowl whisk the egg white and the Walden Farms Maple Walnut syrup together.

Add the pecan halves to the egg white mixture and stir until all of the pecan halves are well covered.

Add the sweetener mixture and toss until all the pecans are well coated with the sweetener-spice mixture.

Cover your baking sheet with a piece of parchment paper.

Spread the coated pecans out on the baking sheet. Make sure that they are a single layer and are not touching each other. (you may need a second baking sheet)

Bake the pecans for 25-25 minutes.

Remove the pan from the oven.

Using a spatula, transfer the nuts onto a drying rack.

Allow the pecans to completely dry before using or storing.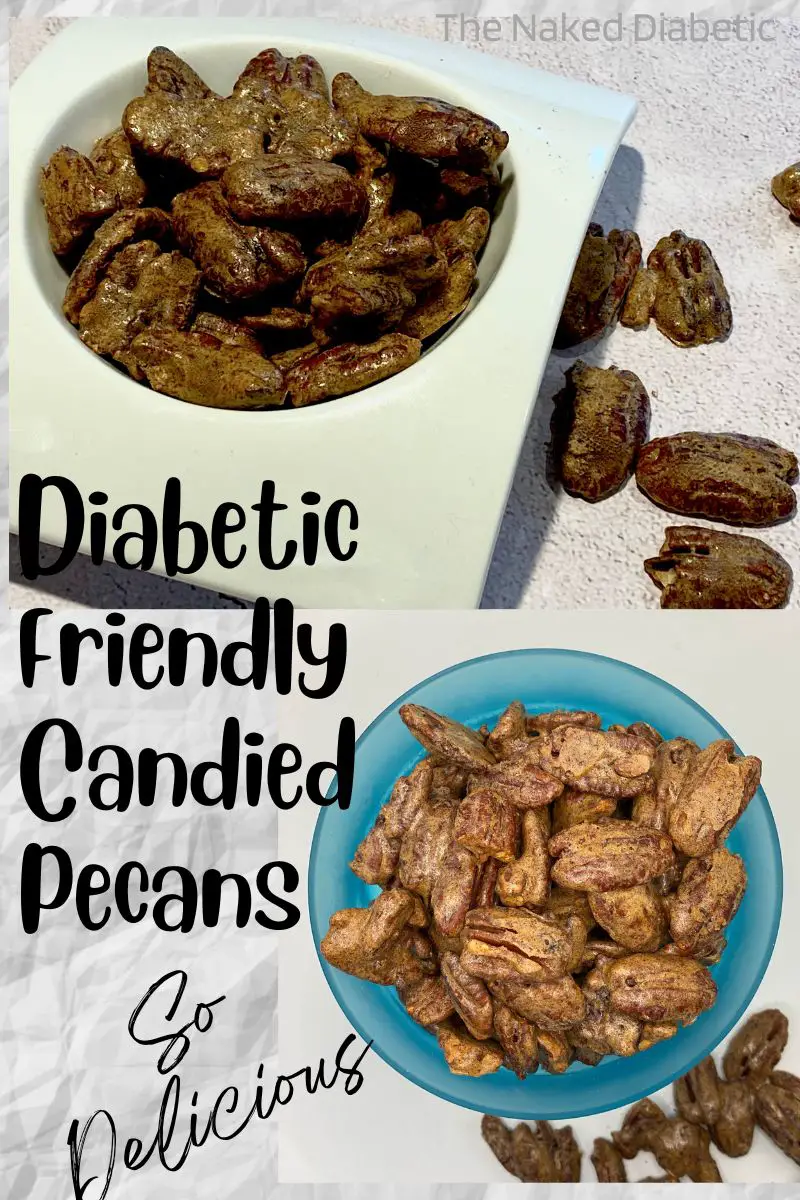 Nutritional Information
The information listed below is for one 1/4 cup serving.
Calories – 174
Total fat – 17 gr
Saturated fat – 1.5 gr
Total Carbohydrates – 4. gr
Fibre – 2. gr
Net Carbs -2 gr
Protein – 3 gr
I hope you enjoy this recipe for Sugar Free Candied Pecans. Use them in your holiday baking, salads, garnishes for desserts or just on their own. They are just that yummy!
Thank You for visiting The Naked Diabetic.
This website may contain affiliate links. When a purchase is made through our links, The Naked Diabetic may receive a commission, at no cost to you.