Disclaimer -This post may contain affiliate links. When a purchase is made through our links, The Naked Diabetic may receive a commission, at no cost to you.
Anytime there is a special event that involves sweets, it just creates a conflict between the desire to enjoy the sweets and the knowledge of the impact on our blood sugar. As a seasoned diabetic, I know the challenges involved and can honestly say, it doesn't have to be daunting. These are some of the best Halloween ideas for diabetics, that will get you on your way to a fun and successful Halloween night.
Sit back with a Sugar-Free Pumpkin Spice Latte and check out our list of fun Halloween ideas for diabetics.
Don't forget to check out our list of Diabetic-Friendly candy options at the bottom of this article on Halloween ideas for diabetics.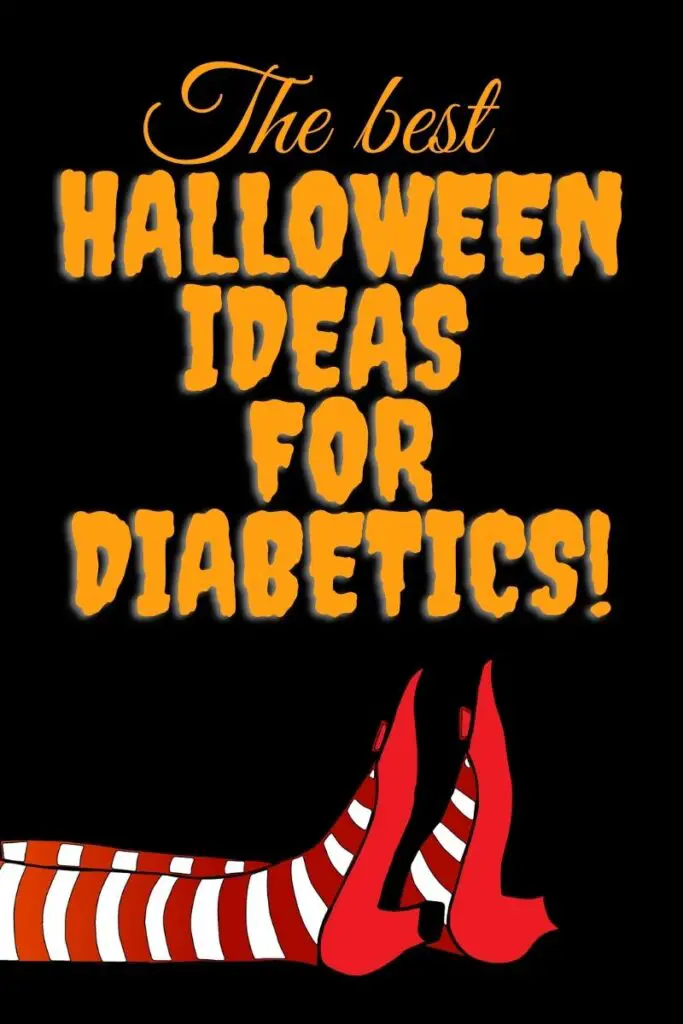 The 10 BEST HALLOWEEN IDEAS FOR DIABETICS.
#1 HAVE A PLAN
Taking the time in advance to make a plan will make everything run smoothly. Plan at least two weeks to a month in advance. Planning that far in advance will give you the time you need to get sugar-free options, make invites (if you are having a party) and get commitments from other people you may want to involve.
#2. ALWAYS HAVE THE "DIABETIC" INVOLVED IN THE PLANNING
This is especially important if you have, or are caring for diabetic children. Ask them what they think would be a good compromise for Halloween. You might be surprised to hear that they like the candy but the real fun is dressing up and showing off their costumes and hanging out with their friends.
I know of one young Type 1 diabetic who didn't want any of her candy. She broke the candy up into pieces and used them to make cookies for a school fundraiser. What a great idea!
#3 NEVER TRICK OR TREAT ON AN EMPTY STOMACH
Always have a good meal or substantial snack before heading out the door. Make sure that there is plenty of protein, as it is long-lasting and will help avoid becoming hungry right away.
Protein takes longer to digest, therefore you feel fuller longer. It is lower in calories and carbs as well. Good sources of protein before trick or treating are lean meats (of course) cheese (non-processed), nuts (almonds are great), yogurt and eggs.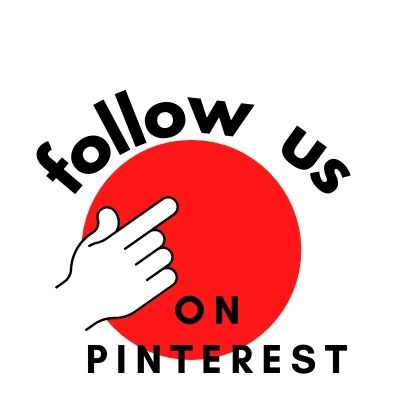 #4. SET UP A CANDY TRADING POST / STORE
Trade-in sugary treats for more diabetic-friendly choices. Before Halloween arrives plan out a variety of snacks that are diabetic-friendly and set up a small area in your home as a Halloween Trading Post. Add some decorations to make it even more fun…
For small candy have a trade-in value of 1 to 1, such as one small chocolate bar trades for 1 small sugar-free chocolate bar.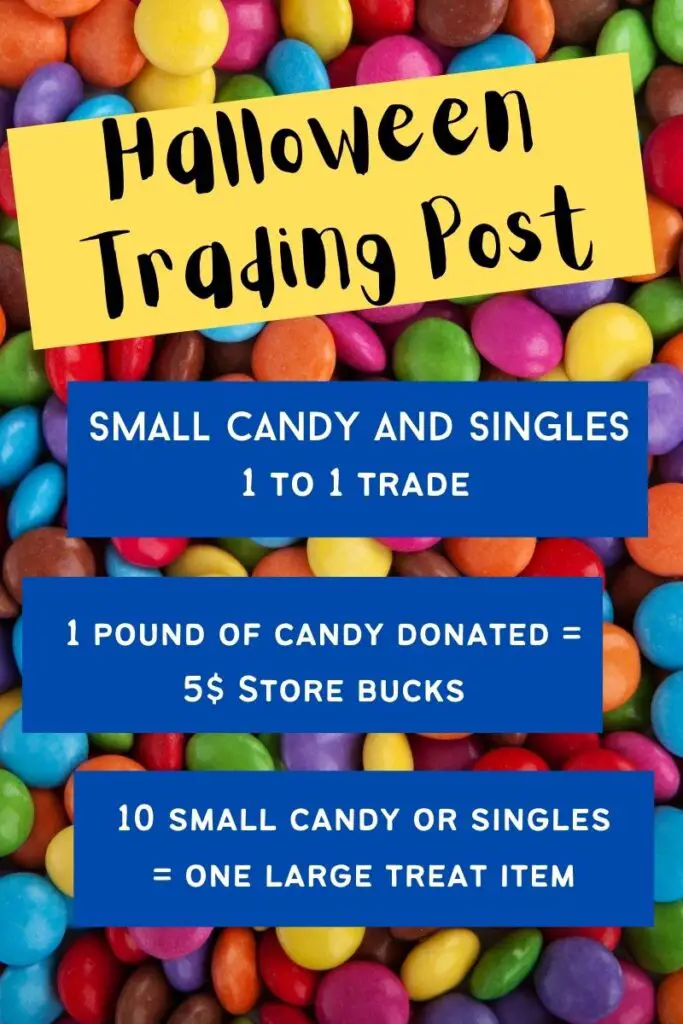 Add non-candy items to the trading post/store, such as gift cards for their favourite store or even for online stores and online games. Candy is traded for store bucks, to be spent, however, you see fit. For a fun surprise give an animated e-card from Amazon for your desired amount (be sure to check out their Halloween designs)
Have a weigh scale handy with a sign that says something like, 1 pound of candy = 5$. (depending on the amount of candy your child has, this may not be a budget-friendly way to go)
Last but not least, create a surprise bag, with some of their favourite things that can be traded for a donation of everything that is not diabetic-friendly.
#5. MAKE ARRANGEMENTS WITH FRIENDS AND FAMILY
This is what my mother did when I was little, and it was always a success. Tell friends and family ahead of time what kind of treats are diabetic-friendly. Give them a list, or even a link to this post. They can purchase some things ahead of time and be ready when they hear the knock on the door.
If you have relatives or friends that are unable to get diabetic-friendly items before Halloween, offer to do it for them and have them reimburse you for the cost (if possible)
#6. HOST A HALLOWEEN COSTUME PARTY
This is always popular with the kids. Every year we held Halloween parties for our kids. I would decorate the house, complete with a fog machine) and make lots of Halloween-themed treats. They would all dress up in their costumes and play games. The kids and their friends looked forward to it every year.
Having a Halloween party, lets you control the treats. You can provide diabetic-friendly treats for all to share and then make up individual treat bags for the kids to take home.
Make some fun sweet treats of your own, like our Sugar-Free Cotton Candy. It is fun to make and so easy the kids can even participate.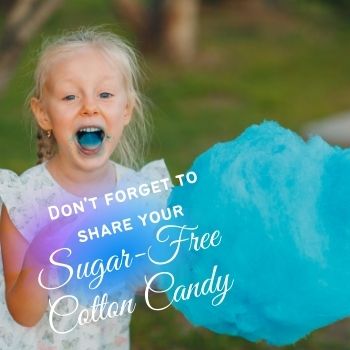 #7. SAVE SOME CANDY FOR TREATING LOW BLOOD SUGAR
Some of the non-diabetic-friendly treats can always be eaten when you are dealing with low blood sugar. Things like Pixy stix, lick-a-maid, and very sugary sweets work well. They do not replace glucagon and should not be used in an emergency.
#8. MAKE PRE-PACKAGED PORTIONS
Not all treats received when trick or treating are bad for diabetics. Treats like, single-serving bags of chips, drink boxes (no-sugar ones), granola bars and even some of the mini chocolate bars can be eaten by diabetics (as long as it is approved by your dietician or physician)
Arrange snack bags with the right portion in them and allow your young diabetic or even yourself, to take a snack bag, when it is snack time. (Perfect for after-school snacking) Each bag should have had the carbs counted and be equal. Having a selection of different bags with different items allows for lots of diabetic-friendly choices.
#9. DONATE TO A LOCAL FOOD BANK OR WOMAN'S SHELTER FOR THE CHILDREN
There are always children that don't have the opportunity to trick or treat. A great option is to donate the candy to these organizations. Many churches have pantries for needy families. Women's shelters often have young children living there and homeless shelters have lots of clients and usually appreciate donations. Many organizations that have after-school programs for children, accept donations for children's snacks, year-round. (some restrictions may apply)
#10. KNOW THE CARBS BEFORE YOU EAT.
If you have some small chocolate bars or other candy that is not diabetic-friendly and you want to use it, figure out the cards. If it doesn't say on the package, the product information is usually available online.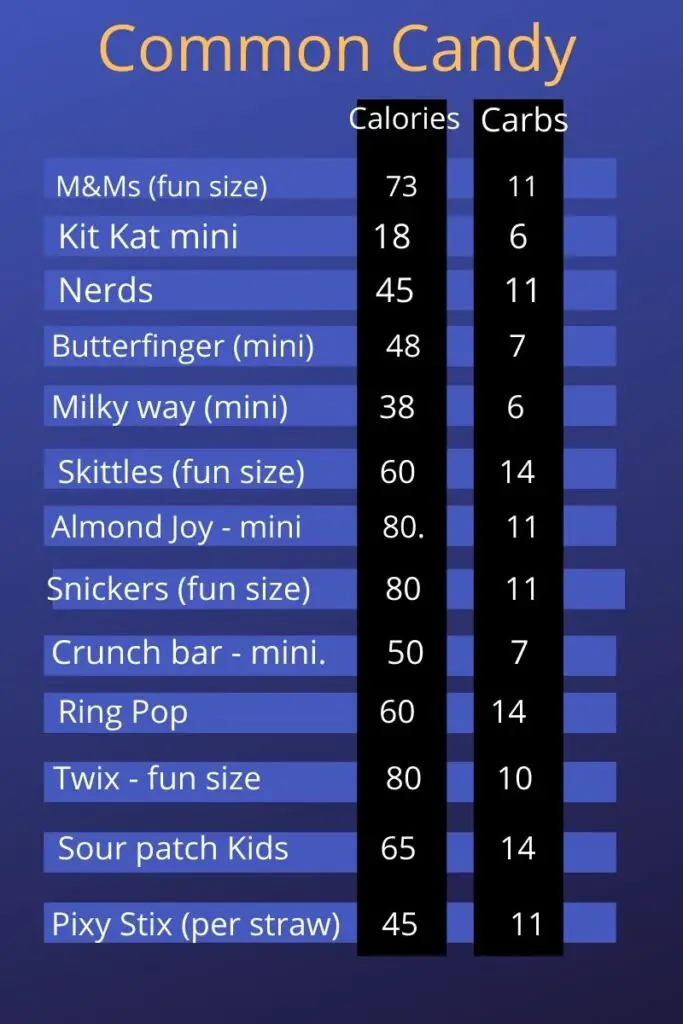 POPULAR DIABETIC-FRIENDLY CANDY
Sugar-Free Twizzlers (red licorice)
Sugar-Free Hershey mini chocolate bars
Zero Sugar Miniature Reece's Peanut Butter cups
Sugar-Free Jelly Belly jelly beans
Smart Sweets Sugar-Free gummy bears
Zero Sugar York Peppermint patties
We hope that you have enjoyed and been inspired by our list of Halloween ideas for diabetics. Halloween is just too fun to not enjoy!
Thanks for visiting The Naked Diabetic.
Disclaimer -This post may contain affiliate links. When a purchase is made through our links, The Naked Diabetic may receive a commission, at no cost to you.