This website may contain affiliate links. When a purchase is made through our links, The Naked Diabetic may receive a commission, at no cost to you.
As a person with diabetes, I understand the frustration you experience when you are just wanting to have a diabetic-friendly snack that you can grab out of your diabetic-friendly pantry and that tastes great.
I am with you there. many years of awful tasting stuff or nothing even available. Sometimes you just want to indulge. I get it Totally! It can be hard to reduce carbs when living with diabetes.
I am always on the lookout for new products that fit the bill for a healthy diabetic-friendly snack. These Hungry Buddha bars ticked all the boxes and were definitely worth a try.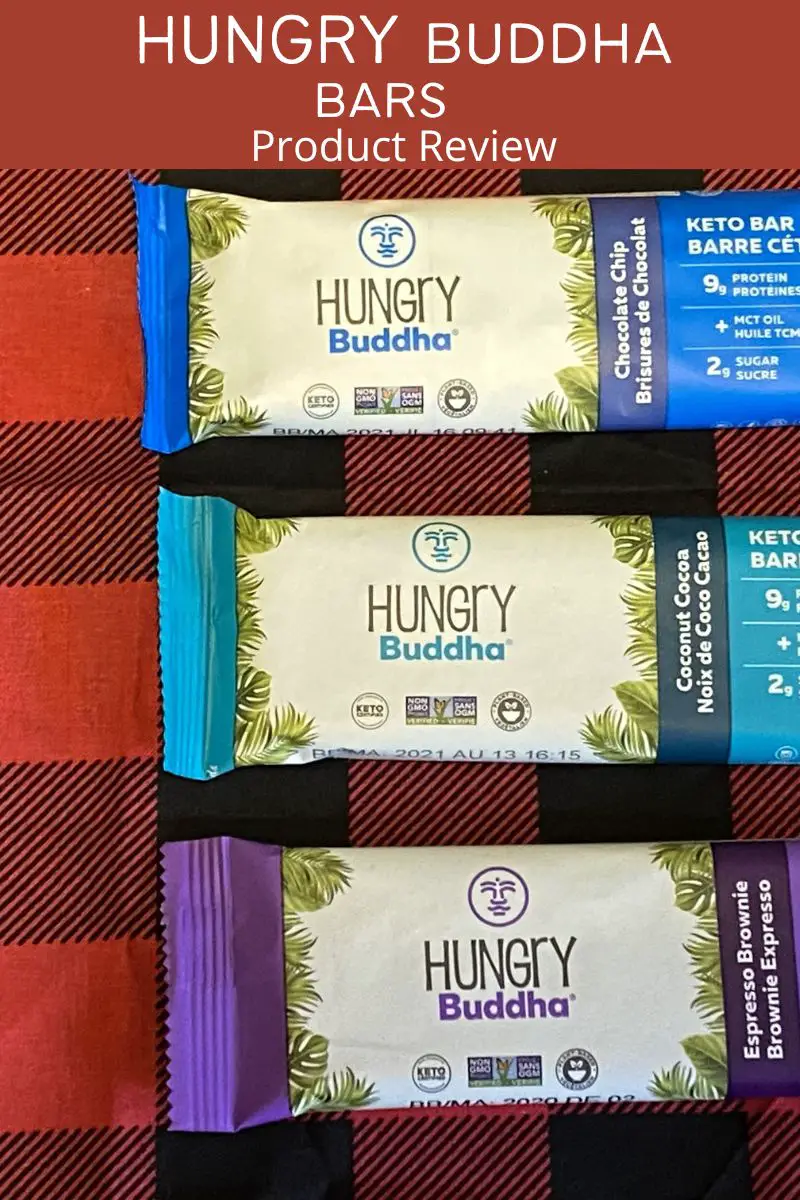 What kind of snacks are diabetic-friendly?
Snacks that don't cause a blood sugar spike are what every diabetic wants.
Snacks that are low in carbs and have some protein or even high in protein and fibre, will help to keep your blood sugar stable.
Recommended snacks are
hard-boiled eggs,
nuts,
sugar-free yogurt,
fruits that are low in carbs, such as berries, veggies, such as celery, radishes and sliced cucumbers.
BUT – sometimes you just need something, like Hungry Buddha bars that will satisfy your sweet tooth and those things just don't cut it.
I have heard pepperoni sticks mentioned by many as a healthy choice, but they are not all made the same. Check the ingredient list and nutritional information first. Varieties, such as Honey Garlic, Sweet Chilli and others may be higher in carbs than you think.
Choosing a snack that isn't high in saturated or trans fats by reading the label before you buy will keep you on track.
Diabetics are at higher risk of heart disease and strokes, so you will want to check the fat type and contents in any snack.
When choosing sweet snacks like granola bars and seed bars the same rules apply. Choose one that is higher in protein, fibre and good fats, and you will notice less of a blood sugar spike.
I routinely buy different products to try them out and if they are good, then I can add them to my diet.
The Hungry Buddha Bars
Buddha Brands is a fairly new Canadian brand that specializes in Keto-based snacks. I have had their Hungry Buddha Coconut Chips and Chocolate Coconut chips and they are very good. I have purchased them many times.
Recently I came across 3 new Buddha Brands products in the local grocery store. I had heard that the Buddha Brands company made Hungry Buddha bars but hadn't been able to find them until now. I was certainly eager to give them a try.
In this post, I will review three different flavours of the Hungry Buddha bars, Coconut Cocoa, Chocolate chip, and Espresso brownie.
All three Hungry buddha bars are 40 grams. Pretty comparable in size to granola bars, which are usually approximately 35-40 grams.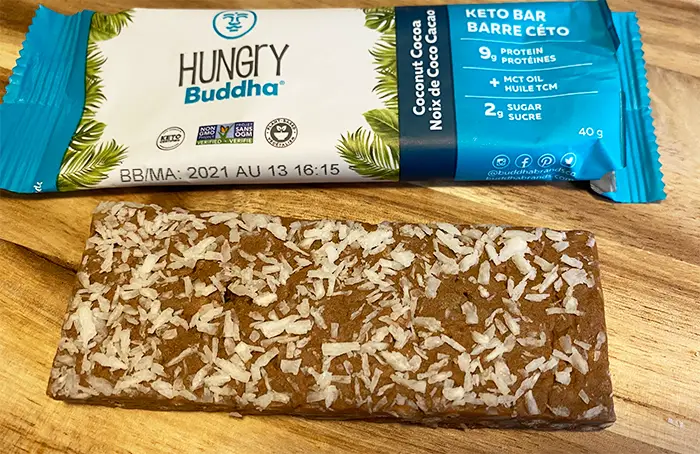 I would describe the Hungry Buddha coconut cocoa bar as rich. Not rich in a sweet way but chewy rich. It has a great coconut flavour and is not too chocolatey.
As you can see from the image above, there is lots of coconut on the outside of the bar. It is not very sweet, which is a good thing for me as I don't like super sweet things.
I would definitely buy it again. I would say that the chocolate tastes more like cocoa made with dark chocolate. If you like coconut and dark chocolate, then you will likely enjoy this Hungary Buddha bar
TIP – this Coconut cocoa bar by Hungry Buddha Bars is fantastic heated up slightly with a cup of coffee. or sugar-free hot chocolate. I will definitely be doing that again!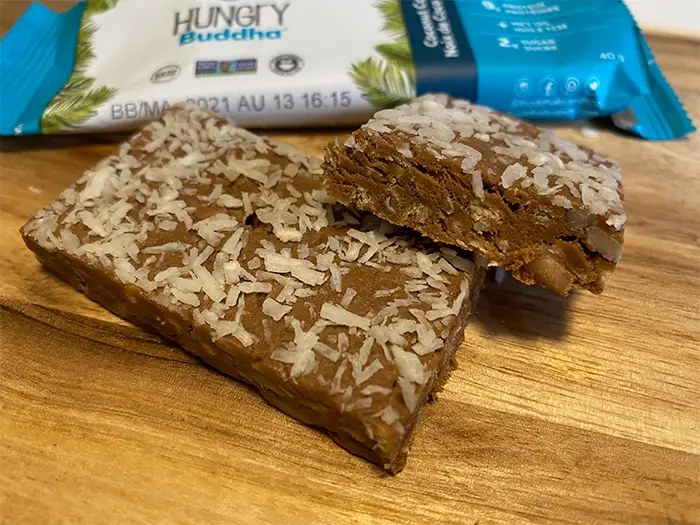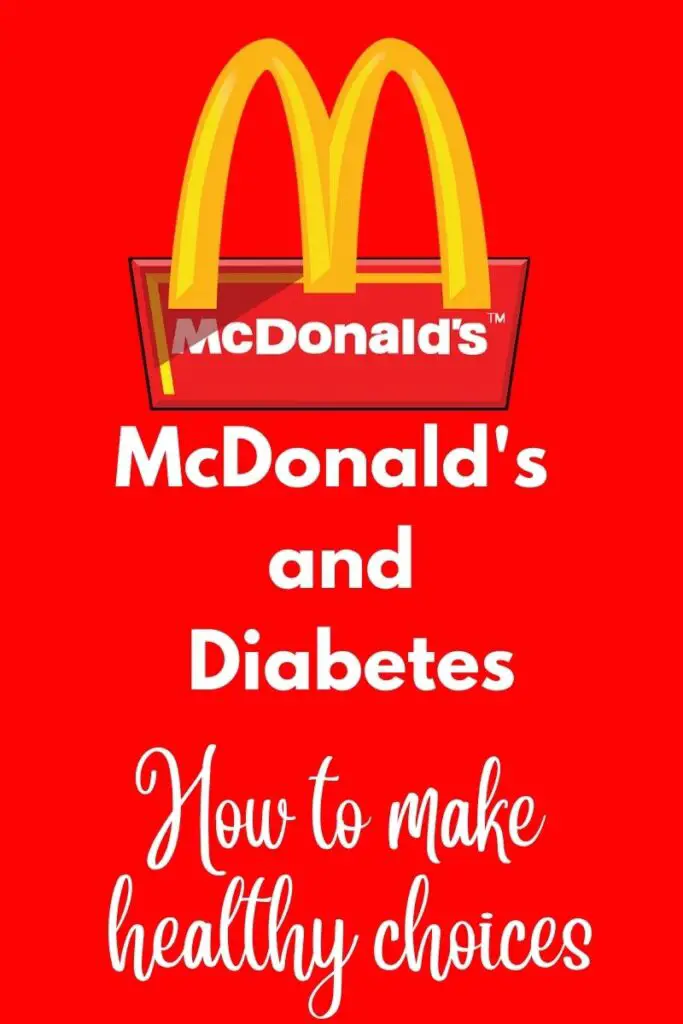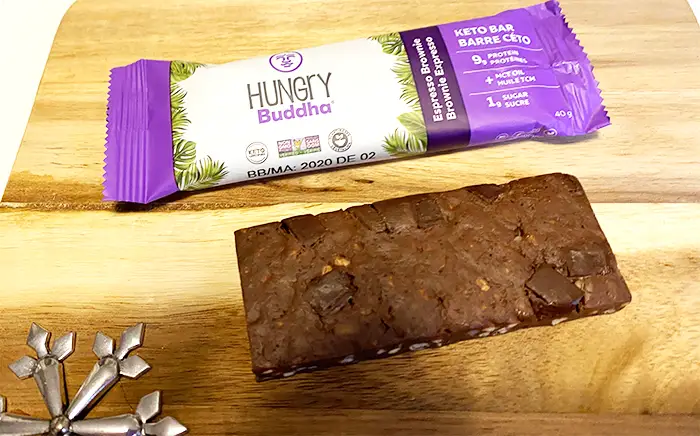 This is also a dense bar and chewy. I did not taste any espresso flavouring in this bar at all. I would say it was more along the lines of dark chocolate. Perhaps similar to an 80 percent dark chocolate or even 70 percent. I could taste the cocoa in it but not the espresso. It was very chewy but not creamy at all. It was not sweet. If you don't like dark chocolate, this is not the bar for you. It also melts in your hands when you take it out of the package. Have a napkin handy as it can get messy while holding onto it.
I like dark chocolate, but I will not buy this one again. I just found that for the price point I could get the same flavour or better from a sugar-free dark chocolate bar with a smoother consistency. I also didn't like the greasy feel of it.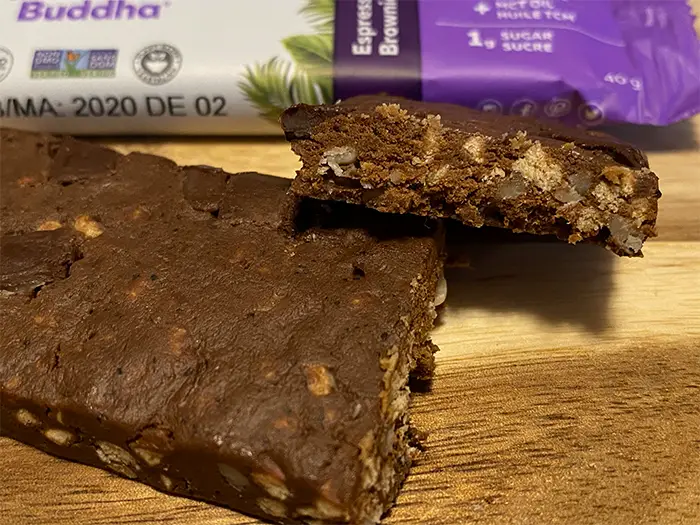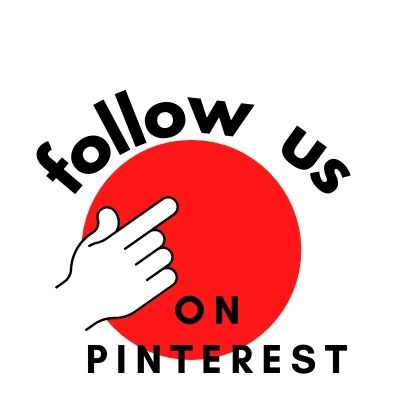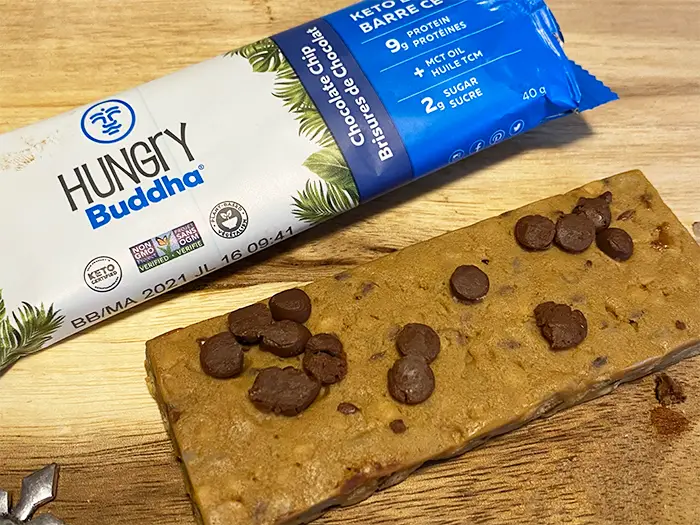 Sometimes when I review a product I try to always find something positive to say about the product. that was a definite struggle for this particular bar.
There were a few chocolate chips on the top but none inside of the bar and I didn't get any chocolate chip flavour at all. Again, it was very greasy.
I found the bar to be pretty flavourless. I tried to eat it but I couldn't finish it. I have no comparison as far as taste goes, perhaps cardboard. I hope that they improve this particular bar, as a chocolate chip low-carb bar would be nice.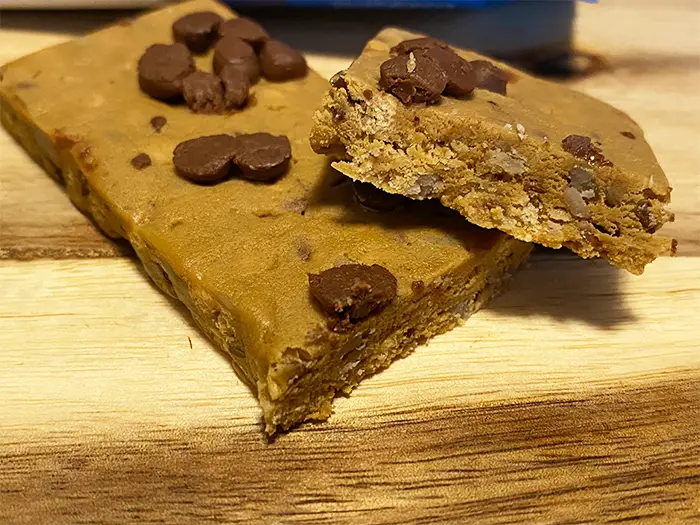 Nutritional information in the Hungry Buddha bars.
The Coconut Cocoa bar
This bar has a total of 180 calories, with 16 grams of total carb and 12 grams of fibre, making the net carbs 4 grams. The protein count is 9 grams.
the total fats are 11 grams with 6 grams of that being saturated fat,
The Espresso Brownie bar
This bar has a total of calories at 160 calories, with 15 grams of carbs and 11 grams of fibre, making the net carbs 4 grams. the protein count is 9 grams.
The total fat content is 10 grams with 4 grams of that being saturated fat.
The Chocolate Chip bar
The total number of calories in this bar is 170. The total carbs are 16 grams and 11 grams of fibre, making the total net carbs 5 grams. This bar also has 9 grams of protein
This bar also has 11 grams of total fat, with 3.5 grams being saturated fat.
Price
Most keto bars seem to be priced around $2.50 to $3.00 per bar. These bars were 3.78 each, which puts them in line with other bars. If you are not looking for a keto bar or vegan option there are lower-priced bars available on the market that have much better flavour for the money.
My Takeaway.
I love the Hungry Buddha coconut chips and I liked the Coconut Cocoa bar and will likely buy it again. I probably won't buy any other products in their snack bar product line.
My favourite all-time bars are the ideal protein bars or the Kind Bars. Kind bars have more carbs but the calorie content is similar and even less to some bars and they are extremely well-made tasty bars.
Good for diabetics or not?
The Hungry Buddha bars are low in carbs, therefore didn't cause a spike in my blood sugar as much as a regular granola bar would.
The extra protein that is usually in Keto bars is also an added bonus. If you are diabetic and also vegan, then they are a great option for you.
So the answer is a definitive yes.
The Hungry Buddha bars fit the bill for a healthy diabetic-friendly snack.
Check out another product review for some healthy snack options for diabetics. Cheese Whisps are one of my favourite diabetic-friendly snacks. They are a great replacement for potato chips. (as long as you like cheese, that is)
Thank you for visiting The Naked Diabetic, where we are simplifying diabetic life.
This website may contain affiliate links. When a purchase is made through our links, The Naked Diabetic may receive a commission, at no cost to you.