There is no reason why you can't enjoy delicious food when you are living with diabetes. These low-carb crab cakes are delicious and a diabetic-friendly meal option.
This post contains affiliate links. As an affiliate, I earn a small commission from qualifying purchases (at no charge to you).
Jump to Recipe
Kitchen supplies needed to make low carb Crab Cakes
Recipe for low carb Crab Cakes
Low Carb Crab Cakes
Easy to make Low Carb crab cakes with homemade tartar sauce.
Ingredients  
1

lb

Crab Meat

1/2

cup

mayonnaise

1

egg

1/3

cup

Panko bread crumbs

1

Tbsp

Grainy mustard

1

Tbsp

Dijon mustard

1

tsp

Worcestershire sauce

1/4

tsp

salt

pinch of ground black pepper
Instructions 
In a medium-sized mixing bowl, combine mayonnaise, both mustards, egg, salt, ground black pepper and Worcestershire sauce

In a separate mixing bowl combine crab meat with panko. Stir well to coat

Add panko covered crab meat to the wet mixture and stir well.

Remove 1/3 to 1/2 of the mixture and pulse in a mini chopper or food processor.

Once the mixture is like a lumpy paste, return it to the bowl with the other crab meat and combine.

Form into 6 patties, using your hands and place on a plate.

In a large skillet, heat oil.

Add crab cakes and cook for approximately 5 minutes and then turn over carefully.

Cook for another 4-6 minutes or until golden brown on both sides.

Serve with fresh tartar sauce.
Crab Vs. imitation Crab Meat.
Real crab meat needs no explanation, but there are certainly differences when it comes to imitation crab meat. Imitation crab meat is made from other types of minced fish. There are many additives and preservatives that cause it to mimic the taste of real crab. Some of those additives are salt, egg whites, sugar and starch. Let's compare imitation crab to Alaskan King Crab (popular crab meat)
| | | |
| --- | --- | --- |
| Nutrition for 3 oz | Alaskan King | Imitation |
| Calories | 82 | 81 |
| Omega 3 | 390 mcg | 25 mcg |
| carbohydrates | 0 | 12.7 g |
| Protein | 16.5 g | 6.5 g |
It's pretty clear after looking at the comparisons in nutritional information for the two, the healthiest option for anyone, but especially diabetics is the real crab meat. The nutritional value stated in my recipe is for using Alaskan king crab meat. If you opt for imitation crab meat, be sure to take that into consideration when counting carbs.
Panko breadcrumbs Vs. regular breadcrumbs
Panko breadcrumbs are lighter and crispier than regular breadcrumbs. This results in a crispier texture when using them for coatings. The advantage when using them for diabetic-friendly recipes is the carbohydrate content. Let's compare regular breadcrumbs with Panko (average from general brands)
| | | |
| --- | --- | --- |
| Nutrition in 1/2 cup | Panko breadcrumbs | Regular breadcrumbs |
| calories | 110 | 229 |
| carbohydrate | 22 (21 net ) | 41 (38 net) |
| fat | 1 g | 6g |
| sodium | 45 mg | 800 |
After comparing panko breadcrumbs against regular breadcrumbs, we can clearly see the benefit of using panko breadcrumbs, whenever possible, especially when cooking for diabetics.
Nutritional information for Low Carb Crab Cakes

Photo gallery of steps to make low carb crab cakes.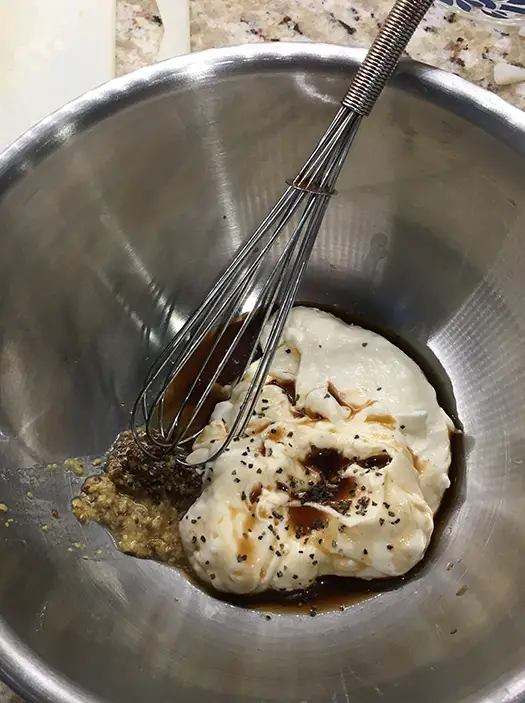 Don't forget to follow us on Pinterest and get more great recipes and tips on managing diabetes to simplify your life. https://www.pinterest.ca/thenakeddiabetic/_created/
Recipe for homemade tartar sauce
Print Recipe
Tartar Sauce
This tartar sauce is the perfect accompaniment for our Homemade low carb crab cakes and low carb fish fillets.
Ingredients  
1/2

cup

mayonnaise

1

tsp

lemon juice

2

tbsp

sweet green relish

1

tsp

yellow mustard
Instructions 
In a small mixing bowl, combine all ingredients and whisk

Chill for 20 minutes or more before serving.
Nutritional value for homemade tartar sauce

Thank you for visiting The Naked diabetic, where we simplify diabetic life.
This post contains affiliate links. As an affiliate, I earn a small commission from qualifying purchases (at no charge to you).