This website may contain affiliate links. When a purchase is made through our links, The Naked Diabetic may receive a commission, at no cost to you.
Healthy diabetic snack ideas can sometimes feel like a challenge. I don't know anyone who doesn't love to have a snack with a movie, at the game, in the car, or just when we need a break. Sometimes it seems hard to find snacks that taste good and aren't loaded with carbs. I am always on the lookout for anything I would consider diabetic-friendly. I like to keep a few options in my diabetic-friendly pantry, for those grab-and-go moments.
With the arrival of the Keto diet craze started there has been an upswing in diabetic snack ideas making their way to grocery store shelves. The main aspect of the keto diet is reducing carbohydrates and that is great for us diabetics, who are always watching for low-carb foods to add to our diet. Now, if we could just get the price down, it'd be perfect!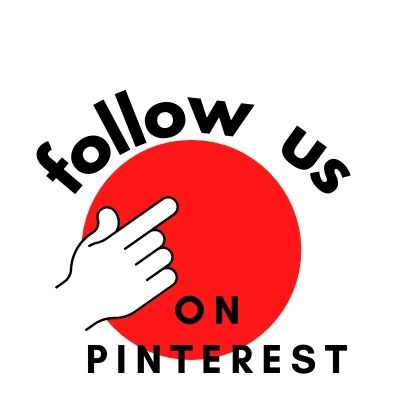 These snack products on our healthy diabetic snack ideas list, that I am reviewing are all found in the health food section at most grocery stores or health food stores. Do you know what that means? They are more expensive of course!
Isn't that always the way? I find it hard to justify paying some of the prices that are charged for things that are supposed to be healthy for you. We would all be better off if the prices of unhealthy foods were higher and the healthy foods were cheaper. More people could afford to eat healthier. That's it for my rant for now.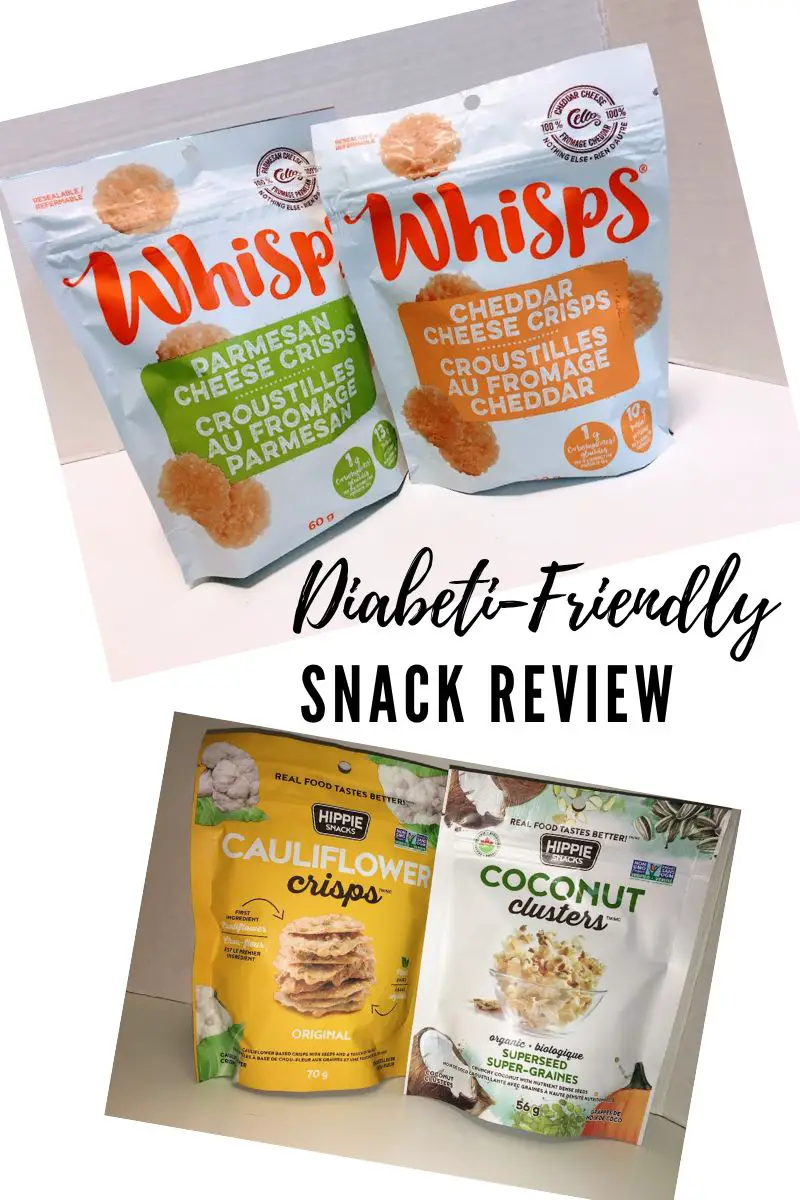 Diabetic Snack Ideas – Product review
Parmesan Whisps and Cheddar Whisps
The first two diabetic snack ideas are Whisps.
The Whisps company is located in the USA and their cheese comes from Wisconsin. Wisconsin is the cheese capital of the USA. They do have some pretty awesome cheese there. I have reviewed two types of Whisps, Parmesan Cheese Crisps, and Cheddar Cheese Crisps.
There are other flavours of whisps as well, which I will review in the future, when available in my store.
If you like cheese, these are really packed with flavour. I give them top marks on flavour.
They are very crisp and fresh tasting.
They are nice and crunchy.
They are small, so they are not something you would use for dipping or spreading something on, but honestly, they don't need anything else.
They are a bit greasy, so a paper towel or napkin is a must.
I am a definite cheese lover, so these are one of my top picks for diabetic snack ideas when I want something like a chip.
Both are pretty salty, which helps satisfy that craving for chips.
They are packaged well, in a resealable bag. That is awesome, as they stay fresh if you have any left. they also have a long shelf life (about a year). just in case you forget you have them, they will be good for a while.
Other flavours that are available, which are also great diabetic snack ideas are Tomato basil crisps, tangy ranch, Nacho and Asiago Pepper Jack. All are excellent and I highly recommend them all.
Other Flavours of Whisps are also healthy diabetic snack ideas.
What makes the Whisps good as diabetic snack ideas is their nutritional value!
For the Parmesan Whisps, there are only 150 calories and 1 gram of carbohydrate in 23 crisps.
That's right 1 gram. Can you believe it? I bet you thought that was a typo. Nope, it's true.
There are two servings (plus 2 grams) in a 60-gram bag and you can eat the whole bag and just have 2 grams of carbs and 300 calories. They are more filling than a bag of potato chips too. Perfect to add to our list of diabetic snack ideas.
Parmesan Crisps and Nutritional Value Label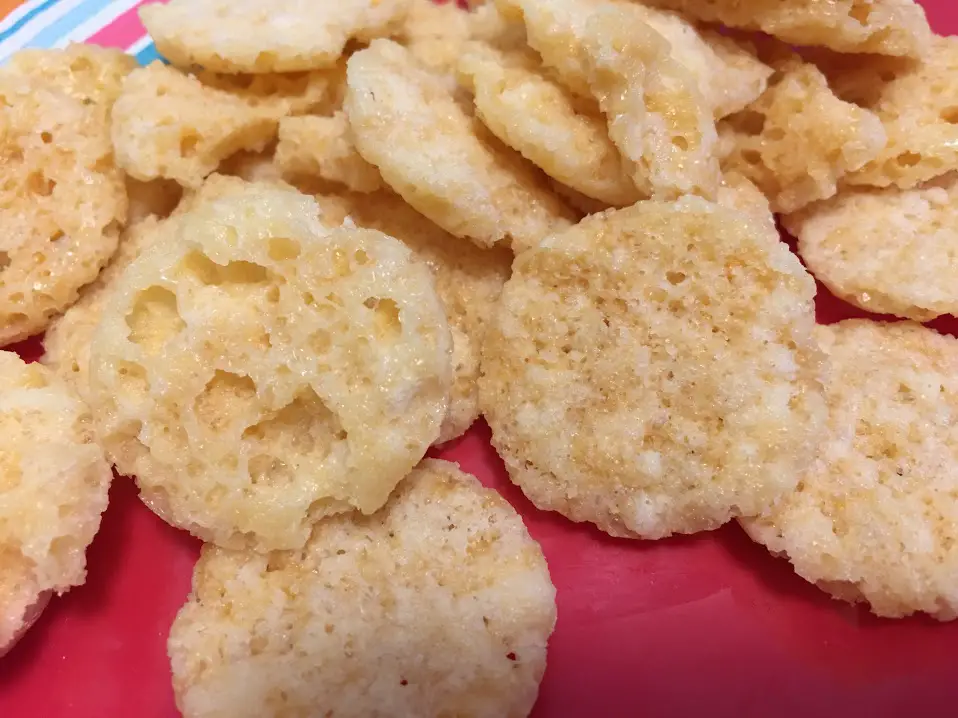 For the diabetic-friendly Cheddar Whisps, the calories for 23 crisps are 170 and the carbohydrates are also 1 gram. Yep, you guessed it 1 gram! That's amazing.
Their texture, crunch, and crispiness are similar to Parmesan Whisps. There is lots of nice cheddar flavour. The calorie count is a little bit more for the cheddar than the parmesan crisps, but overall they are very similar.
Cheddar Crisps and Nutritional Value Label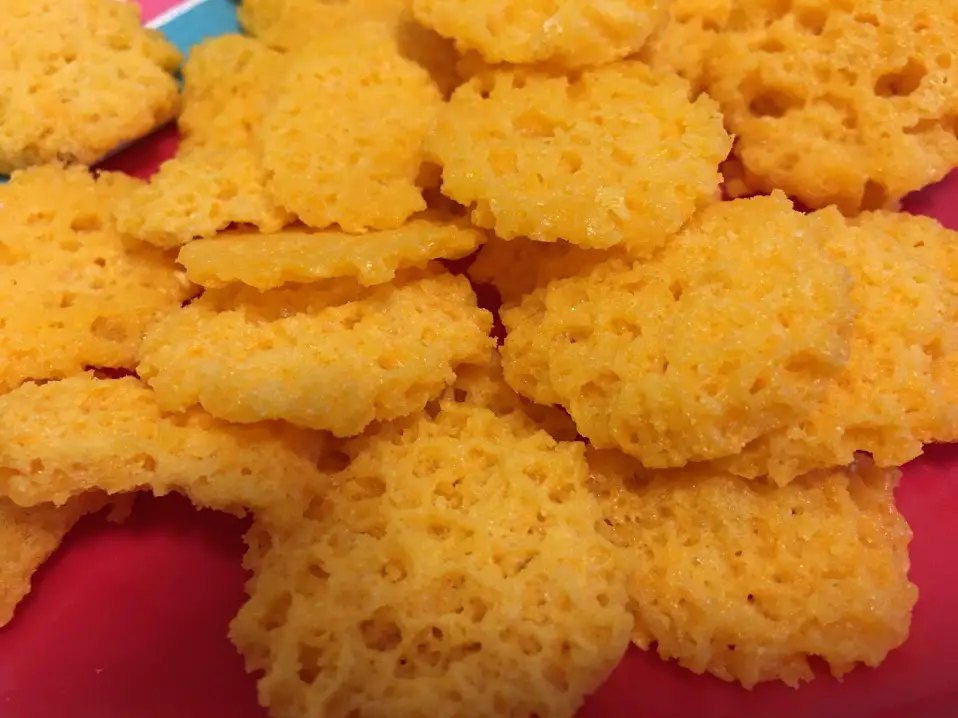 Another thing to note is that there were not many broken crisps at the bottom of the bag. Just think of a bag of potato chips and how many broken chips are at the bottom of the bag. Not so with these. It's nice. if you are serving them in a bowl to guests, the whole bag is usable.
the only negative aspect is the price.
The 60-gram bag was almost 5$ at my local grocery store. That's a pretty consistent price across the various stores near me. I have gotten them at Costco a couple of times and, you can definitely save on the price there. I bought a large oversize bag there for around 7$. Costco doesn't always have them in stock though, so I can't really count on getting them there.
Hippie Snacks Coconut cluster and Cauliflower Crisps
The next two snacks on my diabetic snack ideas list, that I am featuring are made by Hippie Snacks. Hippie Snacks is a company that is based out of British Columbia, Canada. they make a number of products, and many of them are diabetic-friendly. I will be sharing more of their products in the future. The two I chose are Cauliflower Crisps and Coconut Clusters.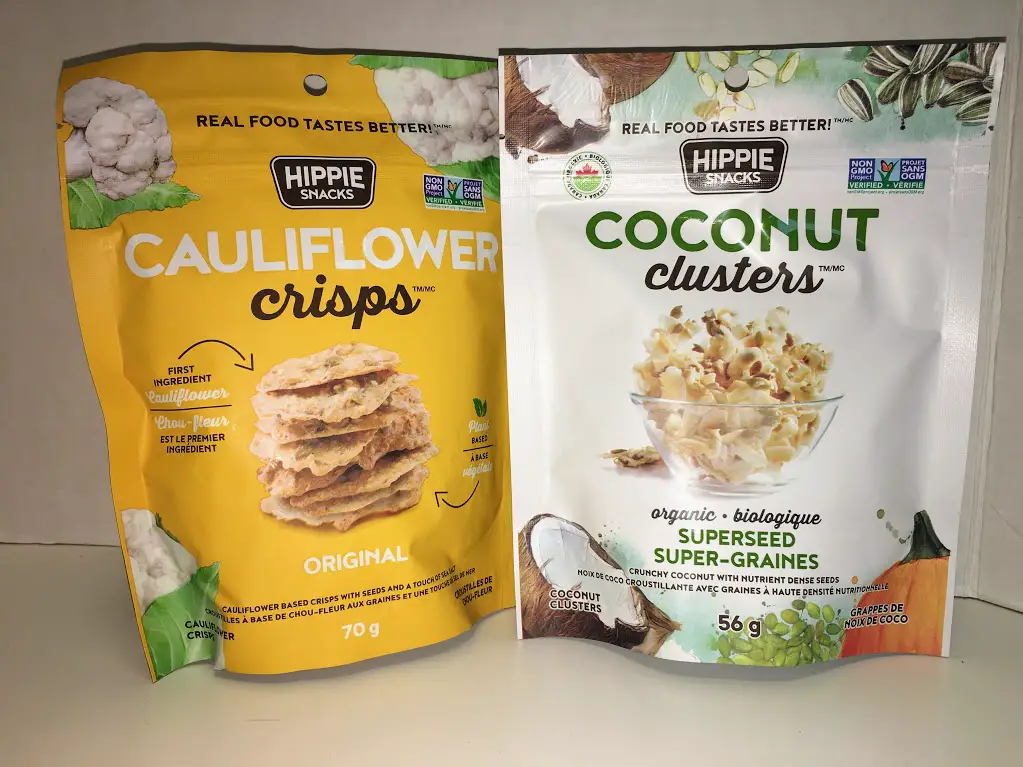 The Coconut Clusters are very tasty.
They have pumpkin seeds, sunflower seeds as well as coconut pieces.
They are sweet with a touch of salt.
They are very satisfying when you want to have something that is a bit sweet but not overly sugary.
I don't agree with the name "Clusters" as they really resemble more like a trail mix. I have purchased three bags at separate times and all have been the same, I will definitely buy them again, but it probably isn't something I would serve guests as the pieces are not easy to take out of a bowl without touching everything else in the bowl.
The flavour is very good. Very coco-nutty.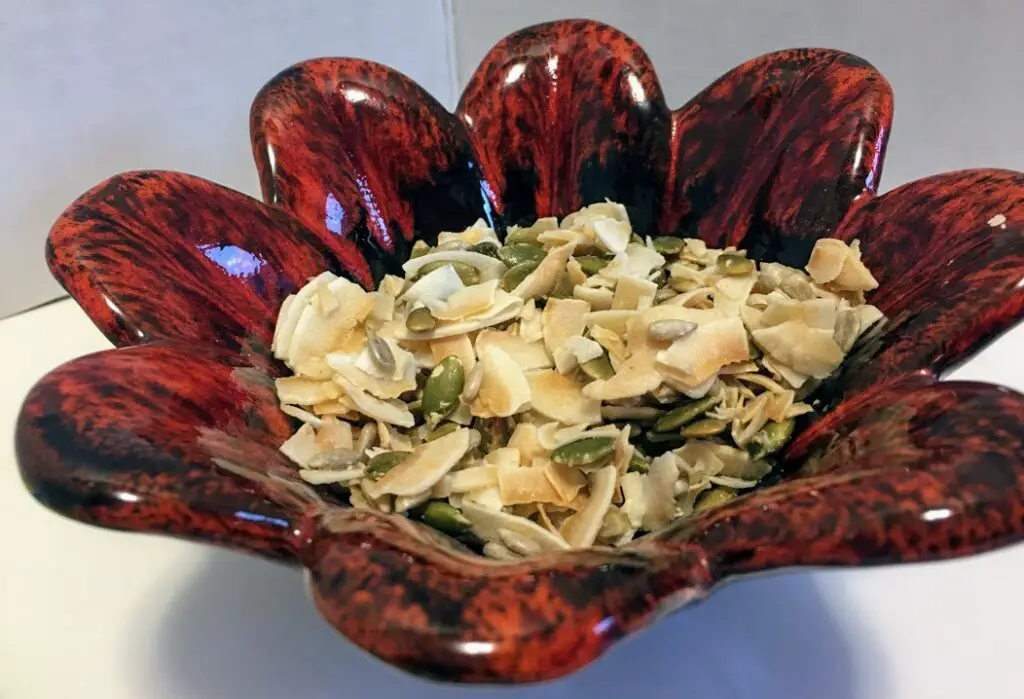 Coconut Clusters nutritional value label
The nutritional value of the Coconut clusters is also pretty good. For 1/3 cup there are 120 calories and 5 net carbs. For that, they get two thumbs Up!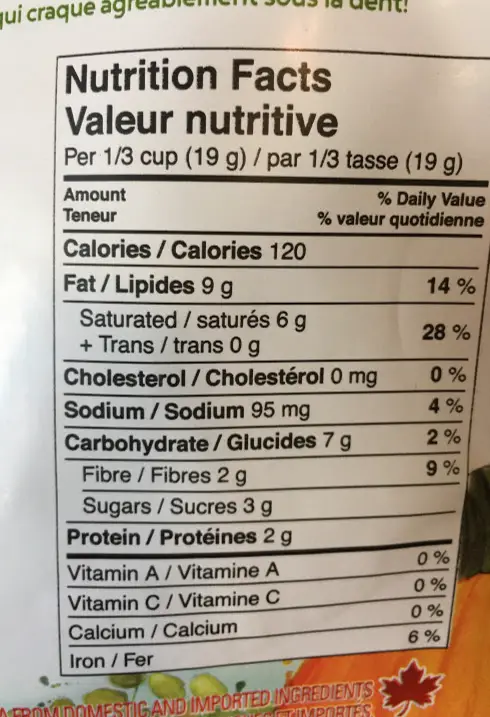 The last product I selected from the diabetic snack ideas list, is Cauliflower Crisps.
These are like thin crackers. The cauliflower taste isn't too strong but it is definitely there.
They aren't very salty. They could use more salt for sure.
It's a bit surprising as they have a higher sodium content than the whisps but the salty taste isn't there.
On their own, they aren't my favourite, but they go well with a dip or sharp cheese spread, such as Imperial cheese spread.
They are packaged well, in a resealable bag.
There weren't many broken ones at the bottom of the bag. They are a bit thin, so if you are planning on spreading something on them, keep that in mind.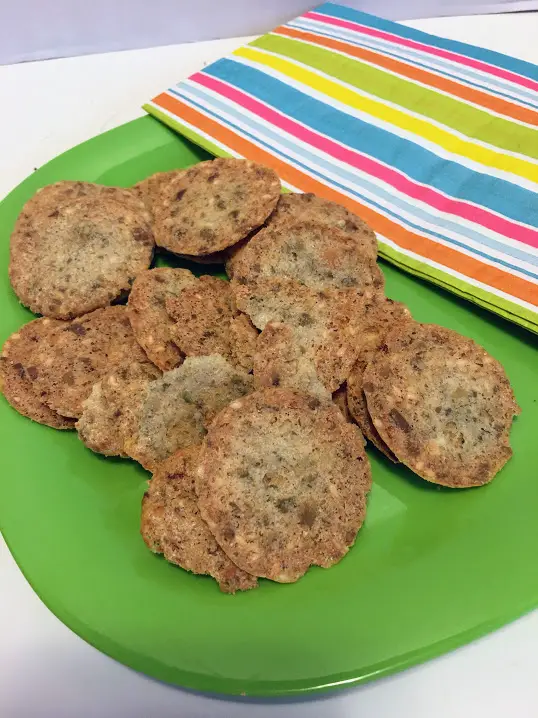 Cauliflower Crisps Nutritional value label
The diabetic-friendly feature again is the nutritional value. For 12 crisps the calorie content is 140 calories and there are 10 net carbs. definitely diabetic-friendly!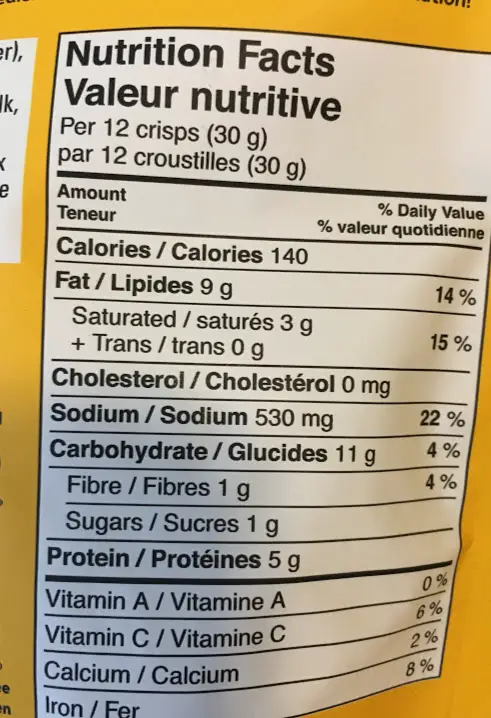 The Cauliflower Crisps and the Coconut Clusters were also, in my opinion, overpriced. I paid almost 6$ for each bag.
To summarize these four products in our diabetic snack ideas list, I would say if you are looking for something salty and like cheese, opt for the Whisps.
If you have a Costco near you and they have them in stock, that is the place to get them.
If you are looking for a bit of sweetness with a hint of salt, and like coconut, the Hippie Snacks, Coconut clusters are a good trail mix style of snack. and lastly, if you are looking for a cracker type of snack that you can use for dipping or spreading, and you like cauliflower, the Cauliflower Crisps are a good option. even though the Cauliflower Crisps are not my favourite, a friend of mine loves them.
Size Comparison (Ritz cracker used for comparison)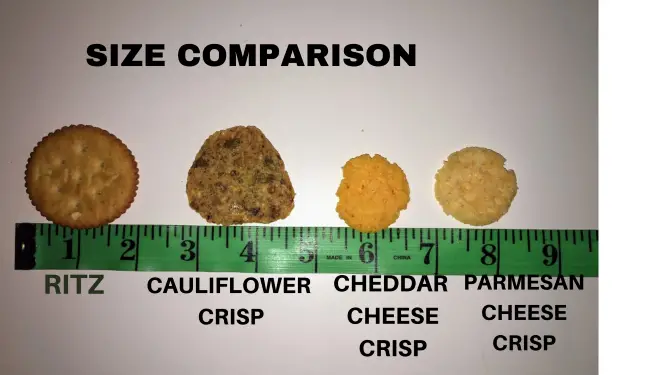 I have tried all of these and I believe the nutritional value to be accurate as I bolused insulin based on what the label said and I did not experience any spike in my blood sugar.
One other great thing is that both of these companies are from North America. It's good to support companies that are providing products and jobs in our own country. I live on the border of the USA and Canada so I want to see healthy business growth in both countries. It is just good sense.
If you are searching for a product or would like to have a product reviewed, let us know. There will be many more in the future, but we are always looking to try new things.
Thank You for visiting The Naked Diabetic, where we are simplifying diabetic life.
This website may contain affiliate links. When a purchase is made through our links, The Naked Diabetic may receive a commission, at no cost to you.