Disclaimer -This post may contain affiliate links. When a purchase is made through our links, The Naked Diabetic may receive a commission, at no cost to you.
Strawberry season isn't over yet. I've enjoyed many fresh berries right out of the field. Strawberries are absolutely best when they are just freshly picked. Strawberries (fresh or even frozen) are a fantastic fruit to use in diabetic-friendly desserts. This easy Diabetic-Friendly Strawberry Shortcake recipe is a delight during strawberry season.
Fresh strawberries are also great in Diabetic-Friendly Strawberry Cheesecake, Diabetic Strawberry Cheesecake squares, Diabetic Friendly Strawberry Rhubarb Crisp and so on. The list goes on and on.
Seasonal desserts are always a favourite around our house. This diabetic-friendly Strawberry Shortcake is easy to make and tastes great. We use Carbalose flour in this recipe, which allows us to maintain the flavour of all-purpose flour and the luxury of lower carbs. We love this product and use it in many of our diabetic-friendly recipes.
I can remember growing up always looking forward to rhubarb pie, strawberry shortcake, fresh beans, and cucumbers and the list goes on and on. I may have grown older but my enthusiasm for picking and enjoying whatever is in the season hasn't changed.
As a diabetic, sometimes it just takes a little creativity to make all-time favourite recipes, diabetic-friendly, but there is no reason that you can't enjoy a wide selection of diabetic-friendly dessert options.
I have altered this recipe to lower the number of carbs and replace the sugar, making it a diabetic-friendly Strawberry Shortcake. After all, if we can control the almighty blood sugar, we can eat guilt-free and stress-free. Even though I am the only diabetic in the house, my family enjoys the diabetic-friendly version as well. Sugar really isn't healthy for anyone, so why not enjoy alternative recipes together?
When can you buy the best fresh Strawberries (in season)
Strawberry season typically starts in June and lasts into July in the region that I live in. In the southern states of the US, look for fresh strawberries in April and May.
For making sugar-free jams or jelly or other sugar-free recipes, I recommend a pick-your-own farmers market, if you have one available.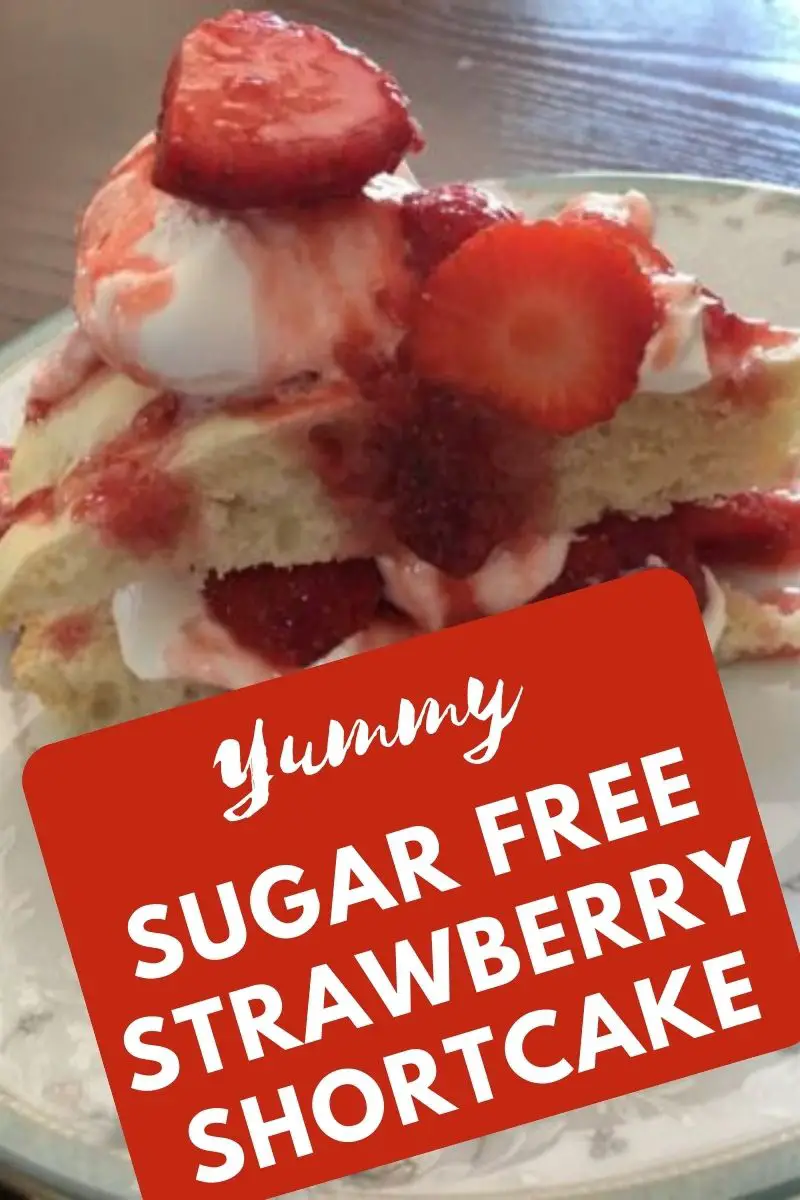 Being able to pick your own ensures that you get the freshest sweetest berries on the vine.
Choose an organic farm if possible, to avoid pesticides and chemicals that have been used on the strawberry fields during the growing process.
When hand-p[icking strawberries, pull the stem from the plant. Don't pull on the berry, as this can bruise the fruit.
How to pick the best strawberries at the market
If you are able to get your strawberries at a farmer's market, as opposed to a supermarket, they will be fresher. Strawberries do not have a long shelf life and at a farmer's market, they are likely to have been p[icked more recently.
Look for strawberries that are bright red with no white spots. Many fruits when picked will continue to ripen after picking, but unfortunately, strawberries aren't one of them.
The tips of the strawberries are the last area to ripen, so if the tips are white, they are not quite ripe. You also don't want white around the stem.
Choose strawberries that have fresh green leaves. If the leaves are dry or have brown or black spots, keep looking.
If you are able to smell the strawberries, a nice ripe strawberry will have a strong, sweet strawberry smell.
If you are buying strawberries in a plastic container (clamshell), be sure to check underneath and as much of the inside as possible. Strawberries only last a few days and can get mouldy quickly.
The size of the strawberry doesn't mean it is any sweeter than the others. The only benefit is, that a nice large plump strawberry has a much nicer presentation than the small ones. I tend to try and pick medium-sized strawberries.
Choose strawberries that are firm but not hard. A soft strawberry or a strawberry with a soft spot is on the very of rotting. When they are soft, they have lost some of their flavour and will likely only last a day or two at best.
How to store strawberries
Store your strawberries in a clean container in the refrigerator for up to three days. As strawberries age, they tend to lose some of their sweetness. It is best to use them as soon as possible, so you get the full flavour of the strawberry.
Kitchen tools needed to make this diabetic-friendly Strawberry Shortcake
measuring cups
measuring spoons
medium-sized saucepan
strawberry huller
strawberry slicer

Grocery list for diabetic-friendly Strawberry Shortcake
baking powder
salt
egg
butter
vanilla extract
whipped topping (sugar-free)
strawberries (fresh)

NOTE
This recipe uses Carbalose Flour. It is a low-carb alternative flour. For the best results, always sift Carbalose Flour.
If using frozen strawberries, drain thoroughly to remove as much liquid as possible.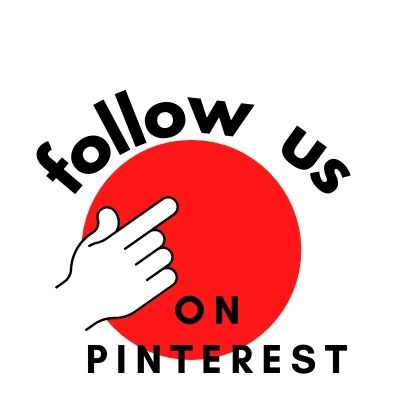 Recipe for diabetic-friendly Strawberry Shortcake
Diabetic Friendly Strawberry Shortcake
This recipe uses Carbalose Flour, Splenda. and sugar-free cool whip. Cutting out some of the sugar doesn't mean compromising on taste. Make and enjoy this delicious summertime favourite.
Ingredients  
1/4

cup

butter

2/3

cup

Splenda

1

egg

(best at room temperature)

1/2

tsp

vanilla extract

1 1/2

cup

Carbalose Flour

2

tsp

baking powder

1/4

tsp

salt

1/2

cup

skim milk

4

cups

Cool Whip – Sugar-free (1L container)

(regular or other brand can br used but will affect nutritional value)

4

cups

strawberries – sliced
Strawberry Drizzle
2

cups

strawberries,mashed

(using a potato masher is a good way to mash them, leaving a few pieces in the mash)

2

Tbsp

Splenda
Instructions 
In a small mixing bowl, cream together butter and Splenda.

Add egg and vanilla and beat well.

Sift the Carbalose Flour, using a sieve.

In a small bowl, whisk together, flour, baking powder and salt

In mixing bowl, alternate adding flour and skim milk, a little at a time, mixing in between additions Continue until mixed thoroughly. mixing well

Grease a 9 inch pie plate.

Pour mixture into the pie plate and bake on center rack in oven for 20-25 minutes.

Once baked ( check to make sure a toothpick comes out clean), let cool on a wire rack.

Once cooled, slice horizontally and then cut into 8 triangular pieces (like a pie)
Strawberry Drizzle
In a small saucepan add mashed strawberries and Splenda and stir.

Bring to a boil and remove from heat, stirring to keep from burning.
Serve!
Place a bottom slice of cake onto a dessert plate. Spoon about 2 tbsp cool whip onto the piece of cake.

Spoon on 3 tbsp of sliced strawberries onto cool whip.

Place the top piece of cake onto strawberries and cool whip

Spoon 3 tbsp of Cool whip onto the top piece and top with 3 tbsp strawberries.

Drizzle 2 tbsp of strawberry drizzle over top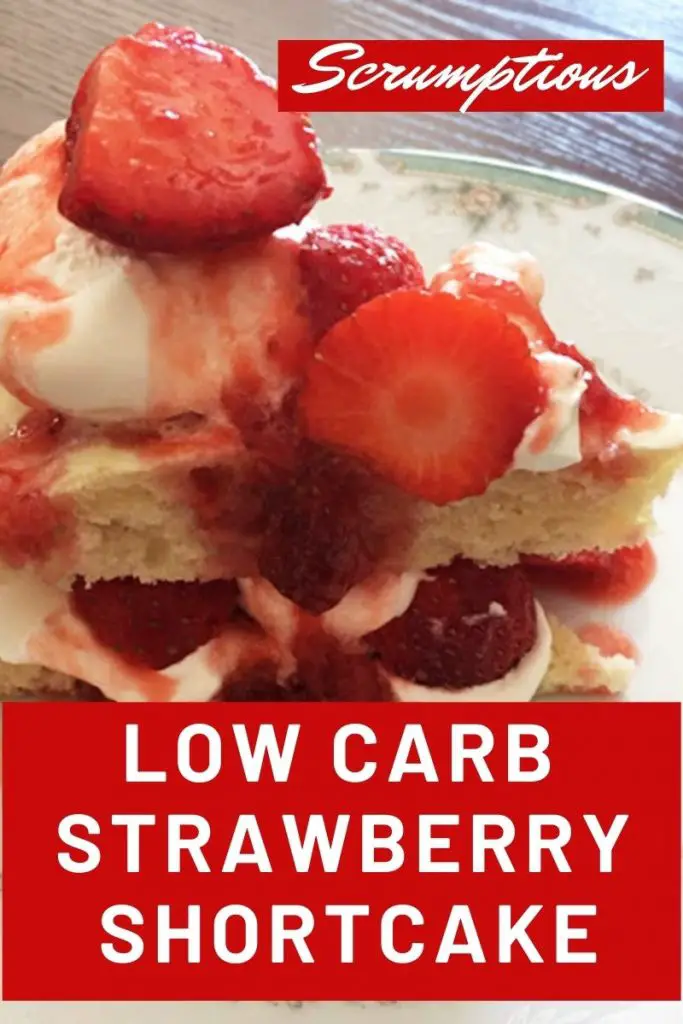 Nutritional value of diabetic-friendly Strawberry Shortcake
Nutritional value of One Serving (recipe makes 8 equal portions)
Calories – 247
Total Fat13 gr
Sarurated Fat – 8.1 gr
Total Carbs – 37 gr
Fibre – 11.4 gr
Net Carbs – 25.6 gr
Protein – 8.8 gr
Sugars – 17 gr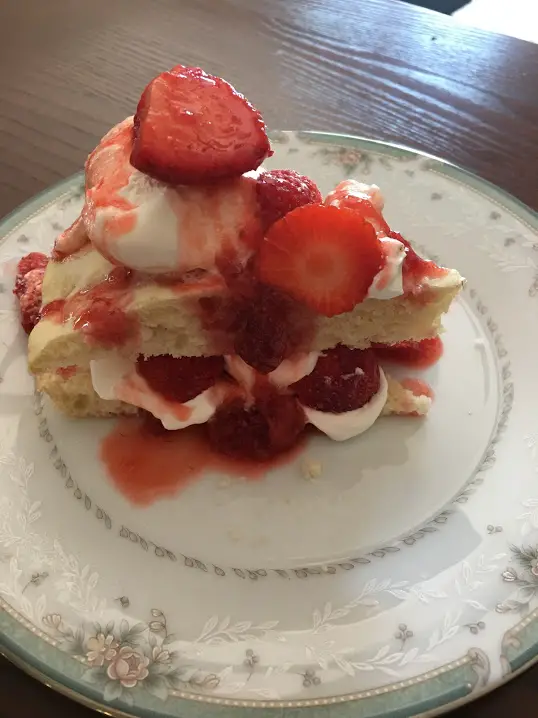 Comparing regular strawberry shortcakes to our diabetic-friendly strawberry shortcake version reduced the carbs and the calories by half.
I have experimented with using Almond flour but found the result heavy and unsatisfying. To reduce the carbs even further, feel free to substitute the all-purpose flour for almond flour.
Thank you for visiting The Naked Diabetic, where we are simplifying diabetic life.
Disclaimer: This post contains affiliate links. We receive a small commission when purchases are made through our links. at no charge to you.