This website may contain affiliate links. When a purchase is made through our links, The Naked Diabetic may receive a commission, at no cost to you.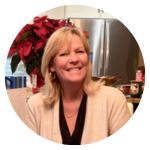 . Recipe created by Tracey of The Naked Diabetic
This Low Carb Creamy Lemon Chicken is a great at-home gourmet meal idea for any night of the week. It is quick and easy and served over a bed of cauliflower rice is super satisfying.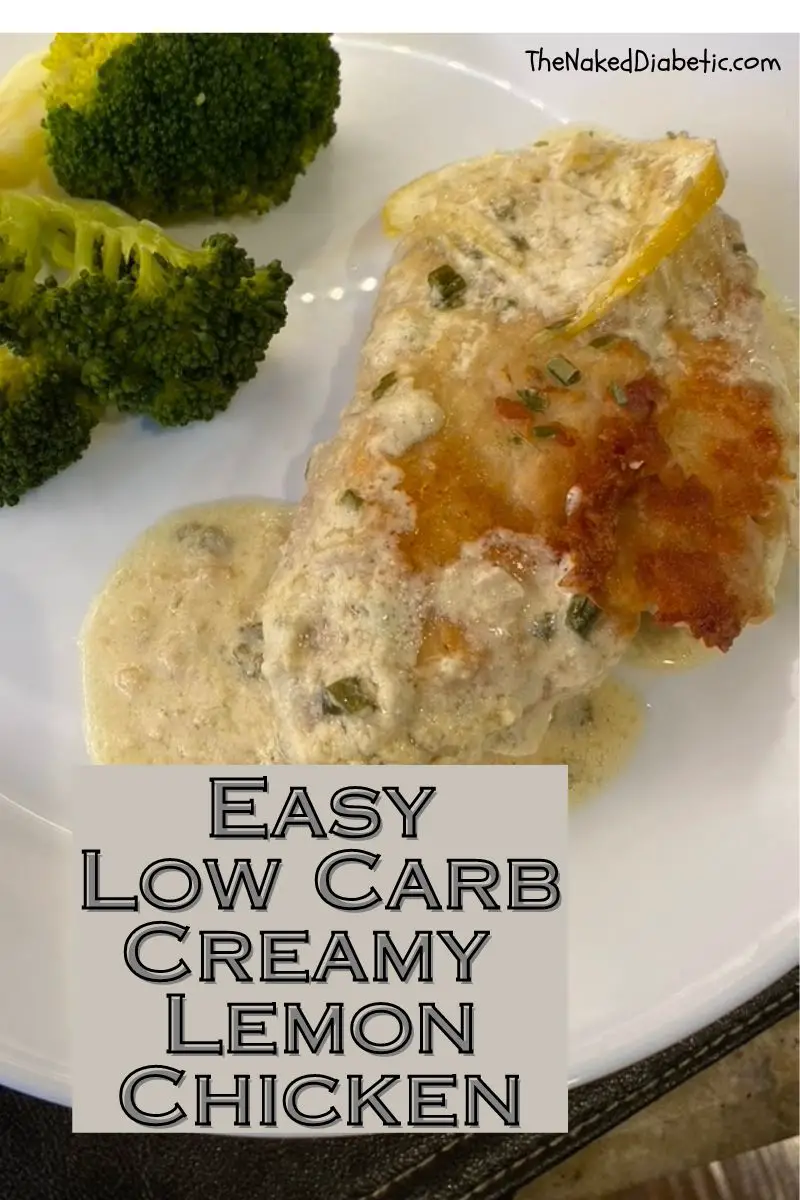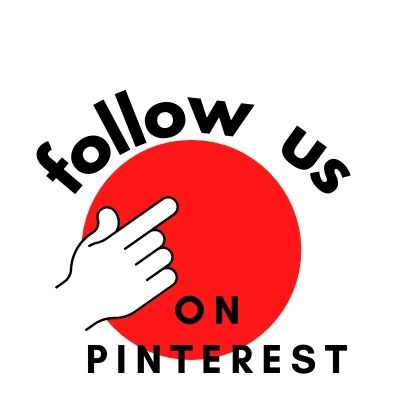 What you will find in this post
Table of Contents
Low Carb Creamy Lemon Chicken Ingredients
3 Large Boneless skinless chicken breasts
Garlic – minced
Canola Oil
Salt
Garlic Plus Seasoning
Chives
Lemons – 2 whole
Heavy Cream
Chicken Broth
Need Diabetic Friendly Ingredients?

Recommended Kitchen Tools and Accessories
Cutting Board
Kitchen Knife
Measuring Cups
Measuring Spoons
Whisk
Need Kitchen Tools?

How to make it
Cooking the Chicken
Cut and Tenderize the chicken.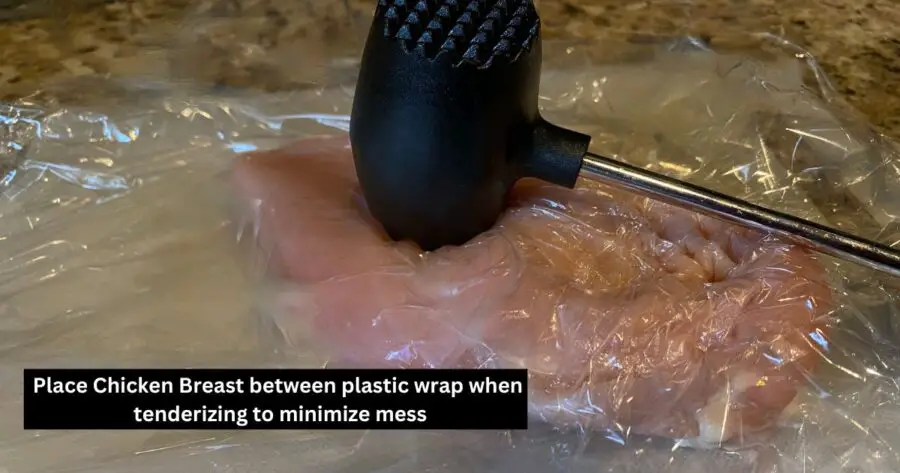 Slice the 3 large chicken breasts into 6 evenly sized pieces. Place your chicken on a cutting board and use a meat tenderizing hammer to pound it out to an even thickness. Having all pieces of chicken a similar thickness will ensure even cooking as well as making the chicken more tender and juicy
Dredge in Flour and Brown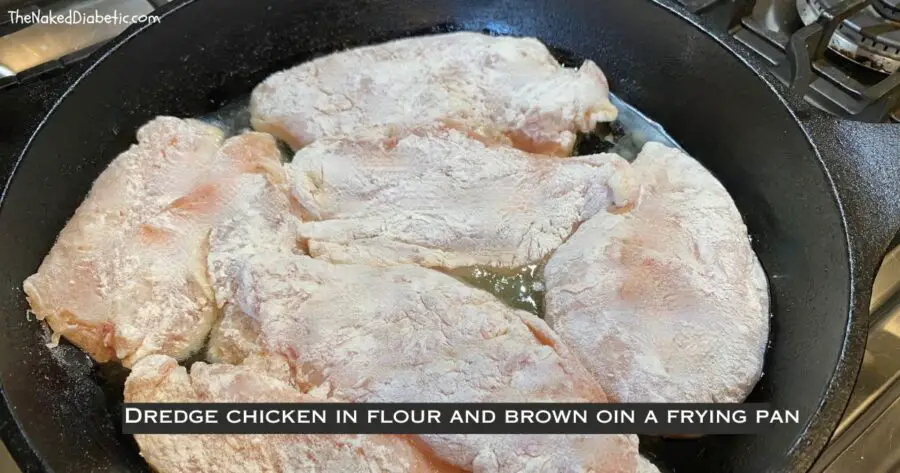 Pour the King Arthur Keto Flour and Garlic Plus seasoning into a dredging dish. Dredge the chicken in the flour, covering both sides.
Cook the Chicken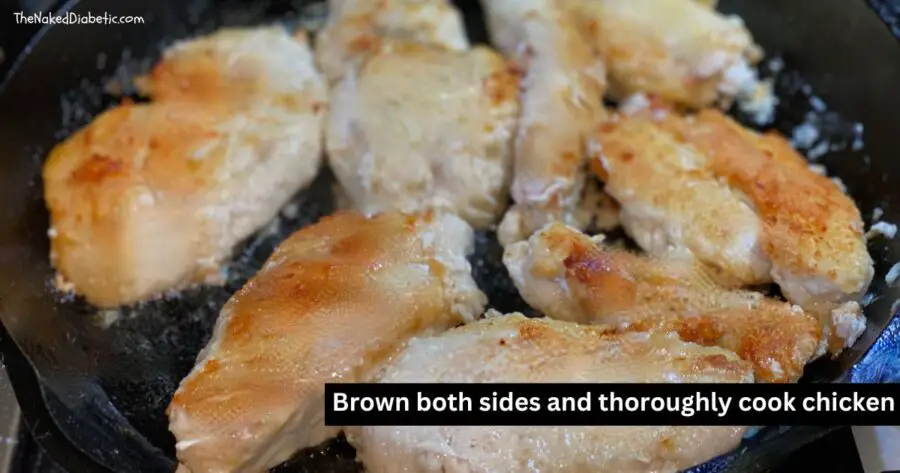 Heat oil in a large frying pan heat the oil and brown the chicken on both sides. Continue to cook the chicken until the internal temperature is 170 degrees F. Remove the chicken and set it aside. Leave all remaining bits in the pan.
Making the Sauce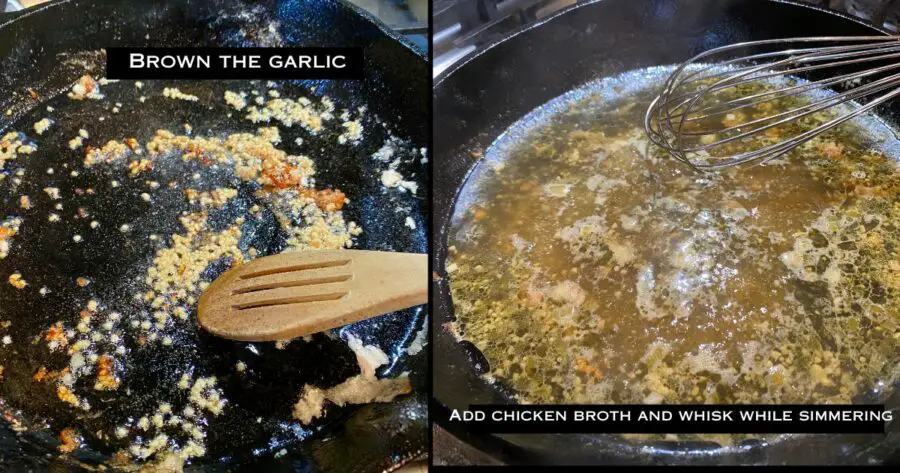 In the same frying pan, add garlic and brown for a couple of minutes. If you have any flour left from your dredging plate, sprinkle it over the sauteed garlic just before adding the broth.Add the chicken broth and simmer.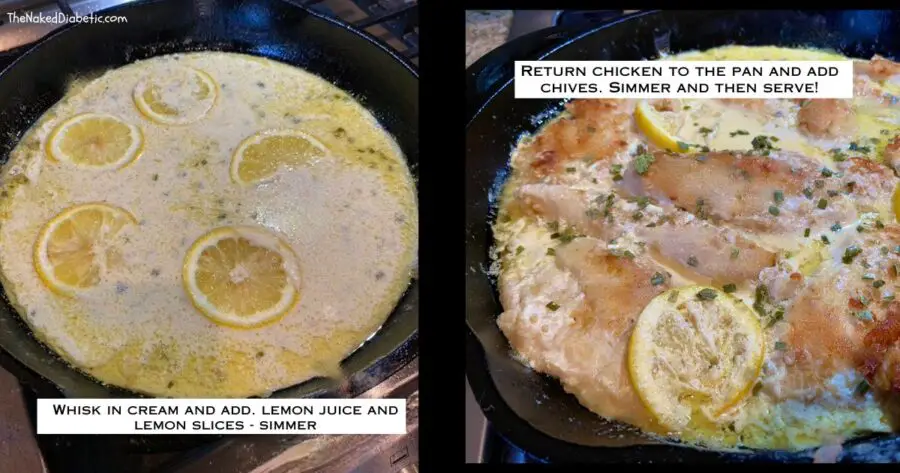 Juice 1 1/2 of the lemons. Slice the remaining half of the lemon into thin slices.
Whisk in the cream and lemon juice, salt, add lemons and bring to a simmer. Return the chicken to the pan and add chives simmer for a few minutes and then serve.
Serving Suggestions
Not all vegetables go well with lemon flavours. some ideal choices include:
Broccoli
Asparagus
spinach
Steamed collards
Baby Bok Choy
Avacado Salad
Serve the Low Carb Creamy Lemon Chicken over a bed of cauliflower Rice to finish off your diabetic-friendly plate.
Storing Instructions
Store your cooked low carb creamy lemon chicken in an airtight container refrigerated for up to 3 days.
Freezing? – Freeze in an airtight container for up to one month. Reheat in a large pan or the microwave.

The Low Carb Creamy Lemon Chicken Recipe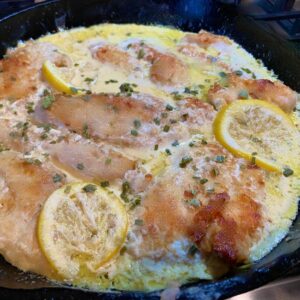 Low Carb Creamy Lemon Chicken Recipe
An easy gourmet style Creamy Lemon Chicken that is low carb and diabetic friendly.
Ingredients  
3

large

Boneless Skinless Chicken Breasts

3/4

cup

King Arthur Keto Wheat Flour

1

tsp

Garlic Plus Seasoning

1 1/2

tsp

Minced Garlic

2

fresh

lemons

3/4

cup

Heavy Cream

3/4

cup

Chicken Broth

1/4

cup

Canola Oil

1/2

tsp

Salt
Instructions 
Slice the chicken breasts in half lengthwise.

Using a meat mallet, tenderize and make all chicken pieces similar width. (cover with plastic wrap to keep chicken pieces from drying out)

In a dredging dish, mix the K.A Flour and Garlic Plus Seasoning

Dredge chicken pieces through the flour mixture.

Heat oil in a large frying pan.

Pan fry the chicken pieces until cooked through (time varies dependant on width of chicken).

While the chicken is cooking, slice the lemons in half and juice 1 1/2 of the lemons.

Slice the remaining 1/2 of the lemon into thin slices.

Remove cooked chicken and set aside.

Saute garlic in same pan. (do not remove chicken bits left from frying pan)

Sprinkle any leftover flour mixture, from the dredging plate over the garlic

Add the chicken broth and bring to a simmer.

Whisk in the lemon juice, salt and cream and continue to simmer.

Add the lemon slices while simmering.

Allow the sauce to simmer for 2-3 minutes.

Return the chicken to the pan, spooning the sauce around and on the breasts.

Continue to heat until the chicken is thoroughly reheated.
Nutritional Information
The following information is for 1/6th of the recipe.
Calories – 290
Total Fat – 18 gr
Saturated fat – 5 gr
Total carbs – 3.5 gr
Fibre – 1 gr
Net Carbs – 2.5 gr
Protein – 29 gr
Sodium – 183 gr
Nutrition information is provided as a courtesy and is automatically calculated using an online nutrition calculator. We encourage you to calculate nutrition data with your specific brand ingredients as nutritional information can vary between brands