Chicken strips are an all-time favourite at my house. They are great for all ages and even appetizers if you make them small, served with some of our Sugar-Free Classic Dipping Sauce. These low carb chicken strips are yummy and healthy, not to mention, simple to make.
This post contains affiliate links. As an affiliate, I earn a small commission from qualifying purchases (at no charge to you).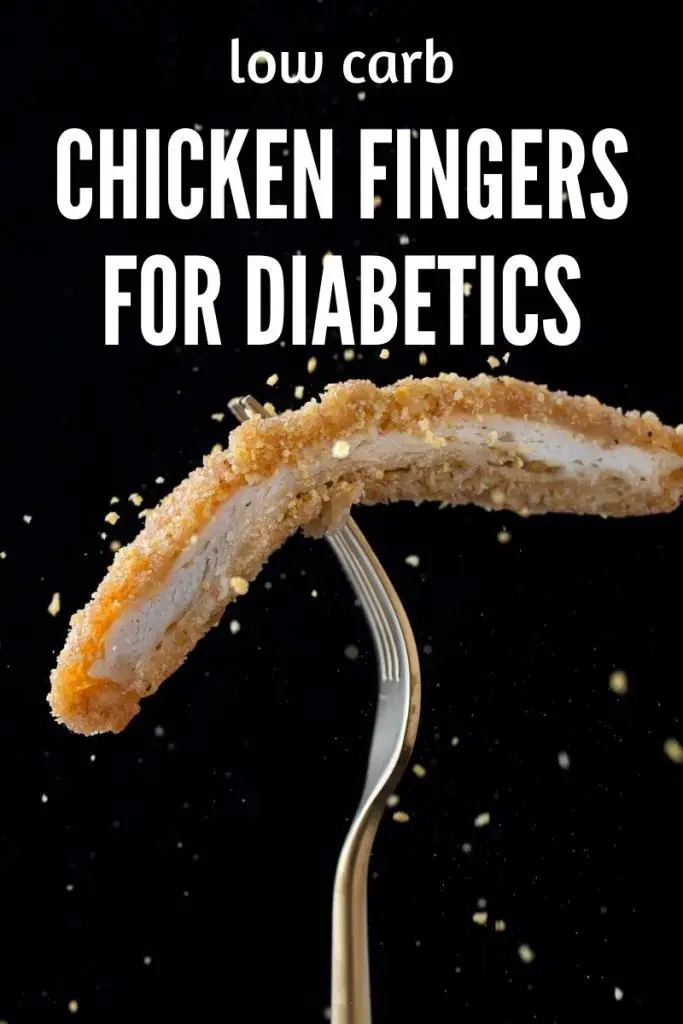 Chicken strips are great for children with their little hands. Besides, who doesn't like to eat with their hands? Since you are making them from scratch you can cut them to whatever size you like. If you want nuggets, just cut them in nugget shapes instead of strips. You can find many of the ingredients in our diabetic-friendly Pantry.
In this post, you will find, a shopping list of ingredients, kitchen tools needed to make this recipe, a printable recipe for Low Carb Chicken Strips, nutritional value per serving and our recipe for Classic Sugar-FGree Dipping Sauce (a must for this recipe).
This post contains affiliate links. As an affiliate, I earn a small commission from qualifying purchases (at no charge to you).
In this recipe, we use an Actifry air fryer, which we love. If you have another brand of air fryer, follow the instructions for your machine. If you do not have an air fryer, instructions are provided below for the sheet pan oven method.
Kitchen supplies needed for this low carb chicken strips recipe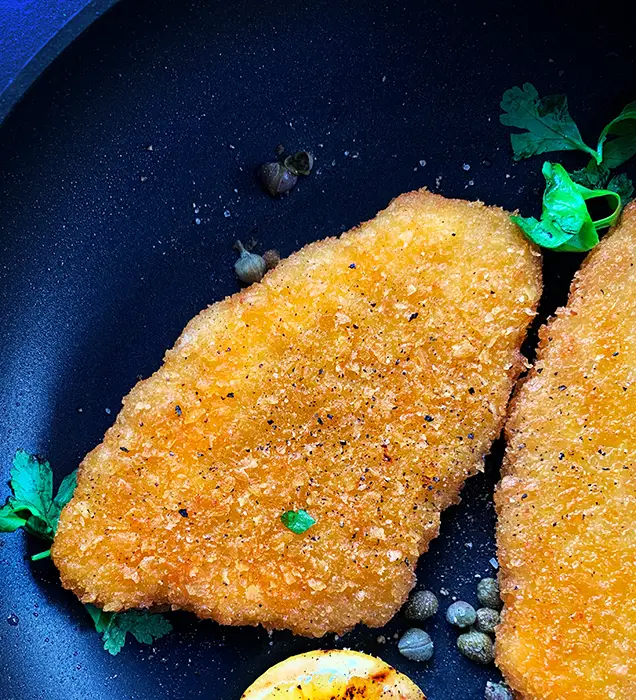 Grocery list for Low carb chicken strips
boneless skinless chicken breast
garlic salt
all-purpose flour
egg
canola oil
Recipe for Low Carb Chicken Strips for diabetics.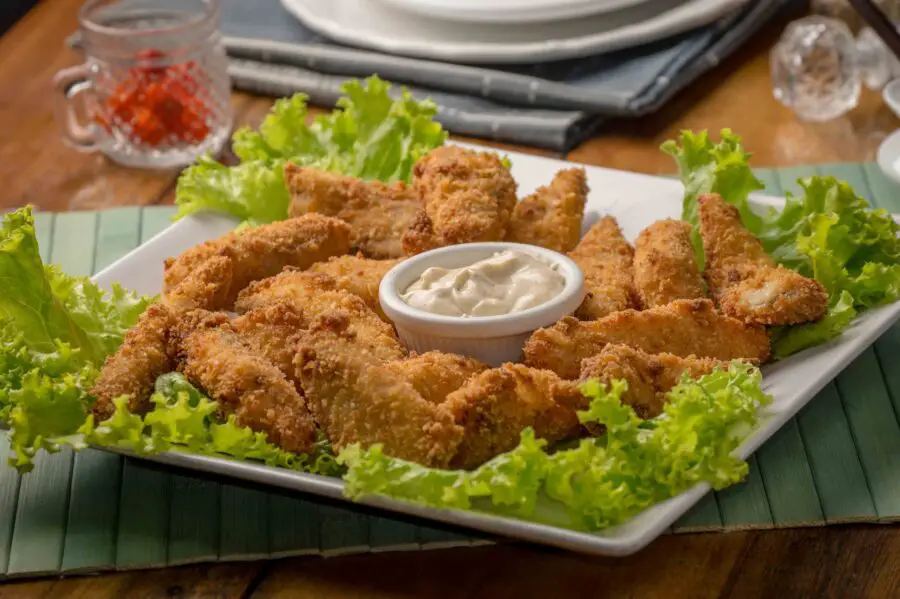 Low carb chicken strips
easy to make, diabetic friendly, low carb chicken strips
Ingredients  
2

lbs

boneless skinless chicken breasts

1/2

cup

panko bread crumbs

1/2

cup

grated parmesan cheese

1

tsp

garlic salt

2

tbsp

garlic plus seasoning

1

egg, lightly beaten

2

tbsp

canola oil
Instructions 
Using a sharp chef's knife, slice chicken breasts into strips ( your desired thickness)

In a bowl to be used for dipping, add the slightly beaten egg.

In a bowl, suitable for dredging, combine panko crumbs, parmesan, garlic plus, and garlic salt

In a third bowl, suitable for dredging, for dredging, add the flour.

Start by dredging a chicken strip in the flour. Shake off excess

Dip the strip into thr egg.

Lastly, coat the strip with the breadcrumb mixture

Repeat with each of the chicken strips.
Air fryer
Add the oil to your air fryerCoat the cooking basket with a light coat of cooking spray.

Fry the strips according to your air fryer instructions.
Using oven
On a baking sheet, place a wire rack, coated with non stick cooking spray

place the breaded chicken strips onto the wire rack.

If not using a wire rack, line the baking sheet with foil and spray with non-stick cooking spray.

Bake in the center of the oven for approximately 10 minutes and then turn them over.

continue baking another 5-10 minutes, until golden brown.

Serve with your favourite dipping sauce.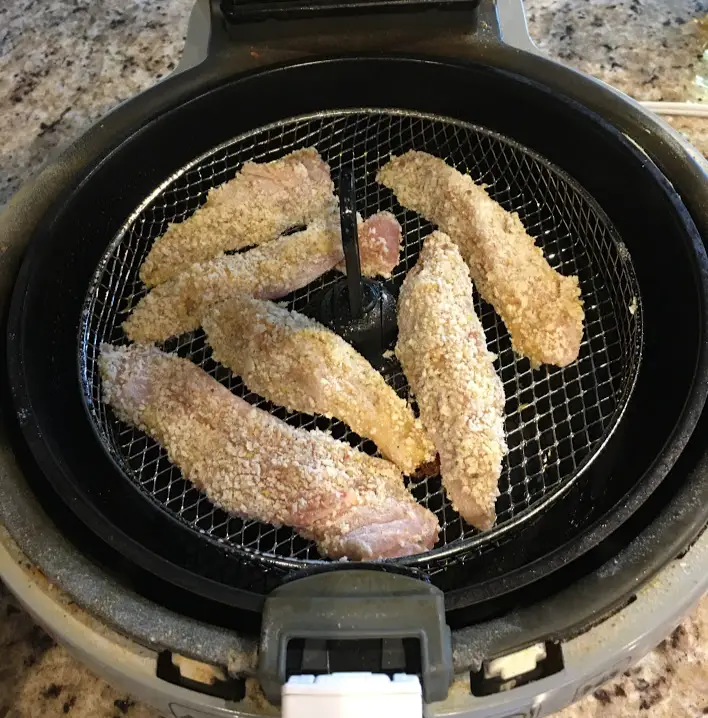 Super easy and tasty Low Carb Fried Fish recipe (for diabetics)
Baking on a baking sheet vs a wire rack.
Whether you use a baking sheet without a wire rack or one with a wire rack, the taste of the chicken will be the same. The crispiness is where you will notice the difference.
Cooking on a wire rack will allow the air to circulate the chicken, resulting in a crispier chicken strip, when it is finished baking.
When you take the chicken out of the oven, it also cools faster. This means that the chicken does not continue to cook as long as it does if it were sitting directly on the pan.
I have found that a sheet pan with a sturdy wire rack works best when using the oven method. Choose a wire rack that has a grid as opposed to a lengthwise wire surface, as it is more versatile when making other similar recipes.
Another great use for the sheet pan and wire rack combination is for broiling and also for draining greasy food. I use mine for bacon as well. I line the bottom with foil and cook the bacon on it in the oven and when I am done, I can just wait for the bacon grease to solidify and throw it all away. Such an easy cleanup!
Follow us on Pinterest for more great diabetic-friendly recipes and tips on living with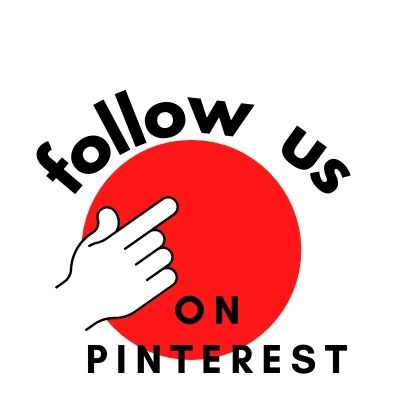 Nutritional Information for Low carb Chicken strips
Nutritional information is based on 6 servings for this recipe.
Per serving: KCals 292, Total Carb 7gr, dietary fibre 1 gr, Sugars 0gr.
Dipping sauce for your low carb chicken strips
You can purchase many options for dipping sauces, such as sugar-free barbecue, sugar-free ketchup, sugar-free honey mustard, and sugar-free ranch sauce or you could make your own.
My family and I prefer my simple homemade sugar-free dipping sauce. I use it for many recipes as it goes well with many other types of meat and even deep-fried vegetables.
Recipe for sugar-free dipping sauce
Here is a quick and easy sugar-free dipping sauce, that goes great with your Low Carb Chicken Strips.
Sugar-free Classic Dipping Sauce
This Classic Sugar-free dipping sauce goes great with chicken strips, deep fried pickeles or chicken wings.
Ingredients  
1/2

cup

mayonnaise

2

tsp

yellow mustard

1/2

tsp

garlic plus seasoning

1/2

tsp

onion salt

1/4

tsp

smoked paprika

1

packet

Splenda sweetener
Instructions 
In a small mixing bowl, add all the ingredients.

Using a whisk, mix well until thoroughly combined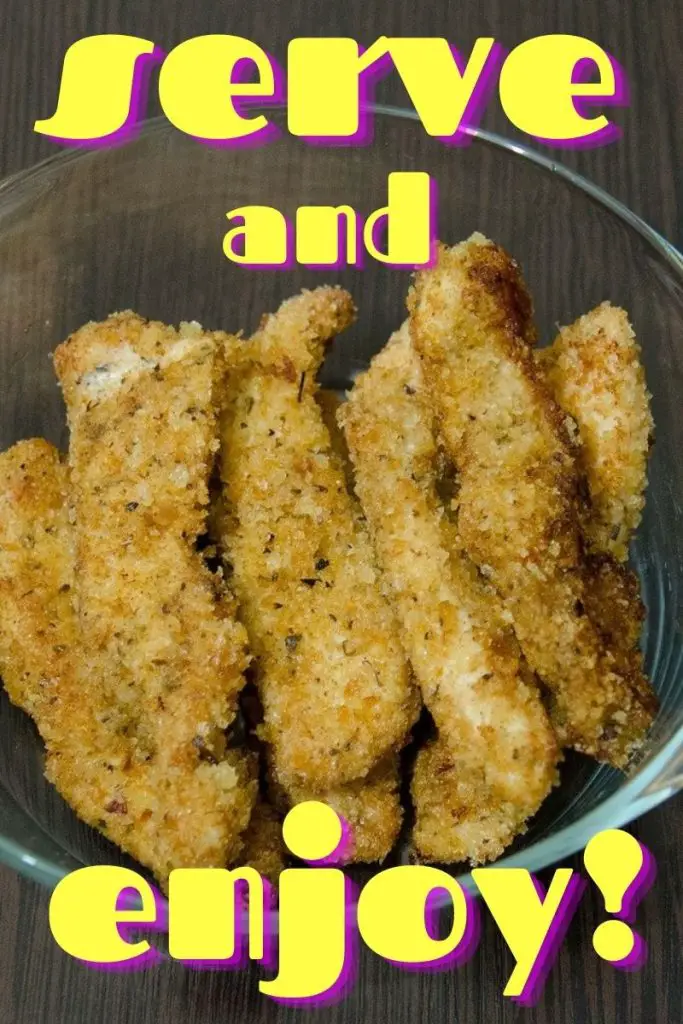 Thank you for visiting The Naked Diabetic, where we are simplifying diabetic life.
Disclaimer: This post contains affiliate links. We receive a small commission when purchases are made through our links.