This website may contain affiliate links. When a purchase is made through our links, The Naked Diabetic may receive a commission, at no cost to you.
If you love pizza, you will definitely love this. This easy to make Low Carb Pizza Casserole is super tasty contains noodles and is diabetic friendly! Just when you thought you couldn't enjoy noodles!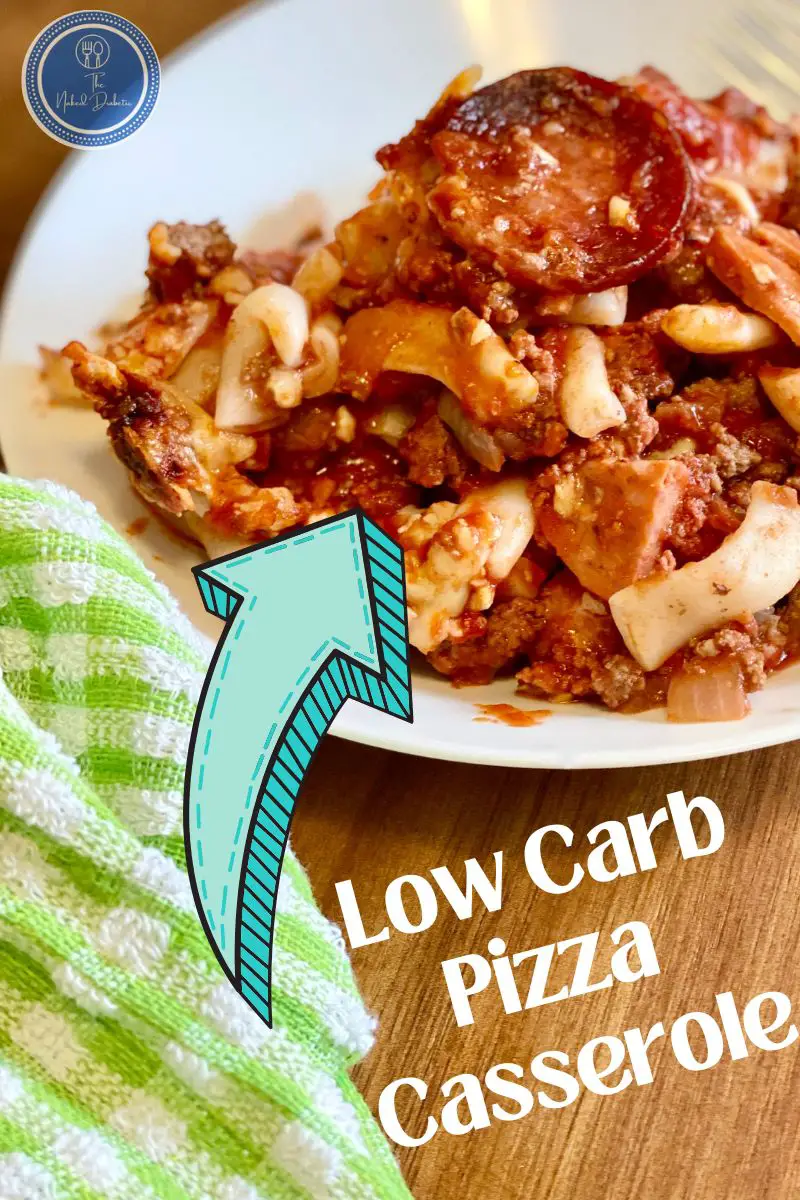 What is in this post?
Table of Contents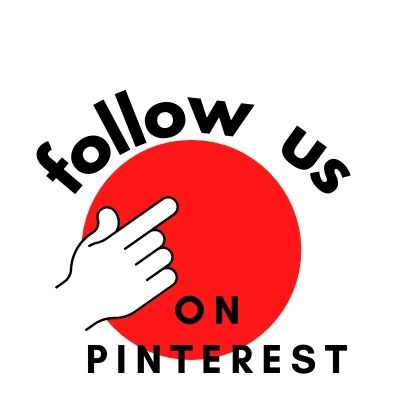 Recommended Kitchen Tools and Accessories.
Saute pan
Mixing Bowls
Measuring Cups
Measuring Spoons
Wooden Spoon or spatula
Grater
Cutting Board
Chef's Knife
Need Kitchen Accessories?

Shopping List of Ingredients
Konjac Penne Noodles (3 cups )
Lean Ground Beef – 1 lb
Canned Sliced Mushrooms (9-ounce can)
Pepperoni (1 pound sliced)
Onion- one large
Garlic – 3 cloves
Salt
Pepper
Tomato Sauce. (15-ounce can)
Mozzarella Cheese. (3 cups grated)
Need Diabetic Friendly Ingredients?

About the ingredients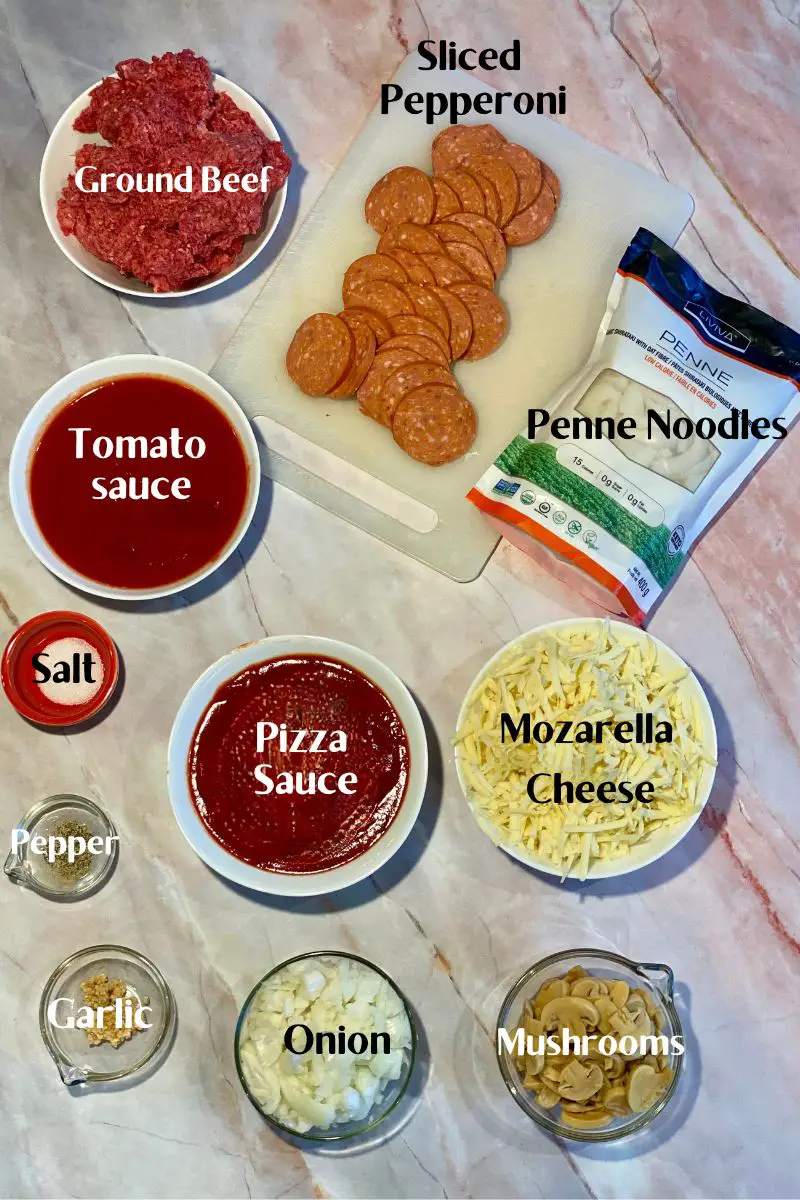 Shirataki (Konjac) Penne Noodles
These Low carb Shirataki Penne noodles are made from the root of the Konjac plant. These are a great diabetic-friendly low-carb substitute for regular noodles. They must be prepared properly or they will have a rubbery texture. The prep is the key to enjoying these noodles.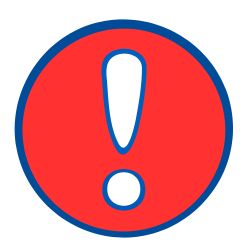 Shirataki Noodles can cause mild digestive issues in some people. They are made from the Koinjac plant root, a type of insoluble fibre that can cause gas and bloating.
Ground Beef
One of the main ingredients that provide the protein to this recipe. The American Heart Association has certified extra lean ground beef as a part of a healthy diet. Choose low-fat or extra-lean ground beef, for a more heart-healthy option. Check out substitution recommendations for dietary restrictions.
Pepperoni
A popular pizza topping that gives it a pizza taste and added protein. Pepperoni is made from pork or a beef and pork mixture, similar to sausage
Tomato Sauce
Adds flavour and moisture to the casserole. Shirataki noodles and ground beef can sometimes absorb liquid. Adding the tomato sauce can help to keep the casserole moist and tasty.
Pizza Sauce
We use our low-carb pizza sauce so that we can keep the carbs low. This adds the necessary classic pizza taste.
Mushrooms
A popular pizza topping, that is healthy, low-carb and adds flavour.
Salt
Salt is a necessary flavour enhancer in most recipes and our low-carb pizza casserole is no exception. The salt enhances flavour, colour and texture.
Ground Black Pepper
The ground black pepper adds flavour and a dash of heat. The pepper compliments the salt in adding flavour.
Garlic
Garlic is another flavour ingredient. It is a traditional ingredient in Italian recipes, including pizza. You can use jarred minced garlic, but the best flavour comes from fresh minced garlic. Garlic can also help to mask other less desirable flavours and bitterness in some recipes. There are about a dozen types of garlic available. We are using the most common white garlic bulbs that you find in your local supermarket.
Onion
Onions provide extra flavour and enhance texture. There are many types of onions. In this recipe, we are using a standard cooking onion, which is also usually the cheapest. It is added to the ground beef, which helps to compliment the flavours of the beef.
Mozzarella Cheese
This is a must-have in our low carb pizza casserole recipe. The cheese provides flavour, but more than that, it gives us that traditionally gooey stringy cheese that pizza is known for,
Helpful Tips and FAQs
Preparing Shitaki Noodles
Shirataki noodles are a low-calorie and low-carb noodle, which is perfect for our diabetic low carb pizza casserole. Having said that, they are not exactly like real pasta noodle that is flour-based, but they can be tasty if you take the time to prepare them.
As I mentioned above, tit is best to take the time to prepare this type of noodle. If you don't prepare it properly it will end up rubbery and may not be the noodle texture you desire. It will still be quite safe to eat, but the texture and taste may put you off. If you skip any steps in our recipe, don't skip this one, for me this step is a make-it-or-break-it one!
Remove from packaging – Yes they stink! they can have a fishy smell., but we are going to fix that.
Rinse – Rince the noodles WELL, by running them for a few minutes under cold water. Dump them into a colander or sieve and make sure that they are all fully rinsed.
Boil – Bring water to a boil in a saucepan large enough to hold your noodles. Add a pinch of salt and your noodles. Boil them for about 3 to 5 minutes. Strain and rinse them again in a colander or sieve.
They are now ready to be used.
Substituting the Shirataki Noodles
There are no other comparable substitutions., If you wish to remove this ingredient, you could replace it with zucchini noodles or cauliflower chunks, but the end result will be totally different. It will be tasty, but different.
Substituting the ground beef or pepperoni
Feel free to substitute with the ground meat of your choice. Ground Chicken, Pork or Sausage work well. For vegetarians or vegans, use a ground meat product of your choice. Keep in mind that any substitutions will alter the final nutritional value.
For the pepperoni, substitute it with a topping of your choice. Ham, Bacon or chicken are excellent options.
Substituting the Mushrooms
Our low carb pizza casserole recipe can easily be made without the mushrooms. Just like a pizza, add the topping ingredients or take away the topping ingredients of your choice. Always keep in mind the carb counts when making substitutions.
Adding other ingredients
If you have a favourite topping that you like on your pizza, by all means, add it. Keep in mind that adding toppings such as pineapple can significantly increase the net carbs per serving.
me Suggested Low carb Pizza Toppings
Green pepper – chopped
Olives – sliced Green pr black
spinach
Cauliflower
Hot peppers
jalapenos
anchovies
Storing and freezing instructions.
This casserole freezes exceptionally well. Store it, after baking, in the freezer in an airtight container for up to 3 weeks.
For storing in the refrigerator, keep it in an airtight container for up to one week.
Using Canned Pizza Sauce
If you choose to use a canned pizza sauce instead of making our Sugar Free Pizza Sauce Recipe, opt for one that is sugar-free if possible. Be aware of changes to the final nutritional value.

How to Make the Low Carb Pizza Casserole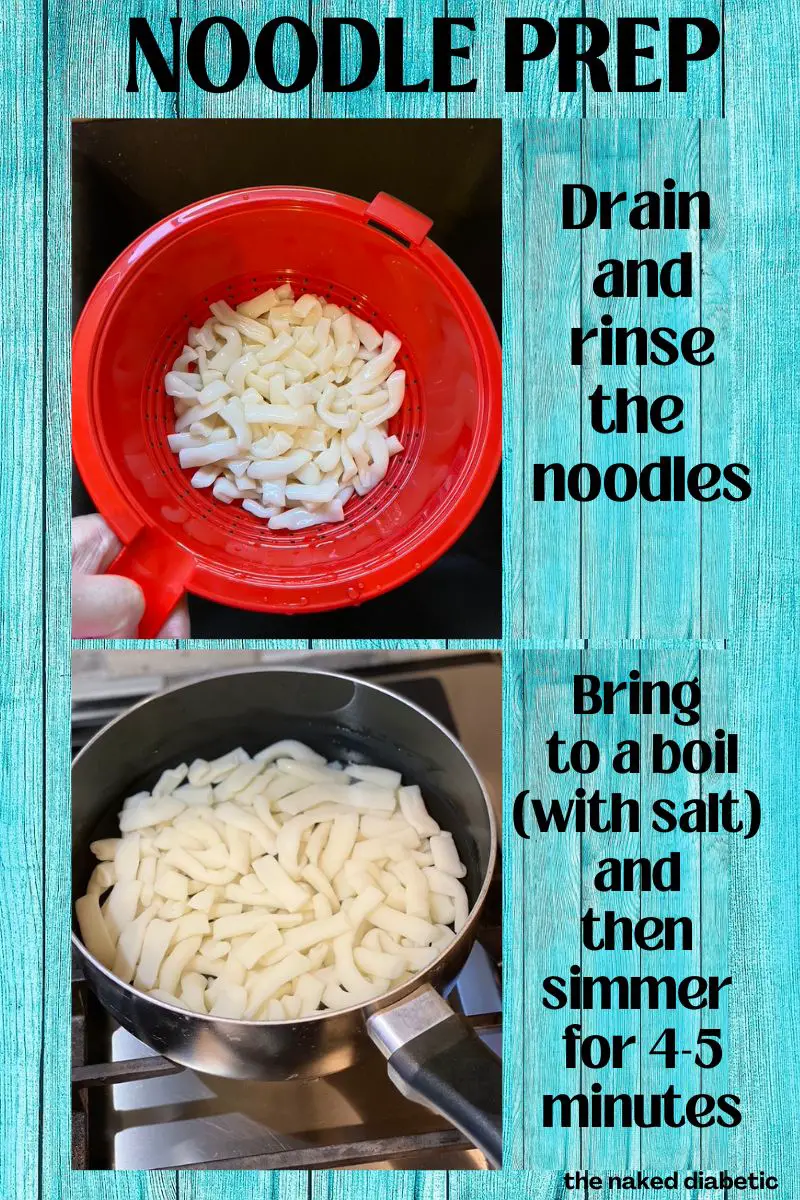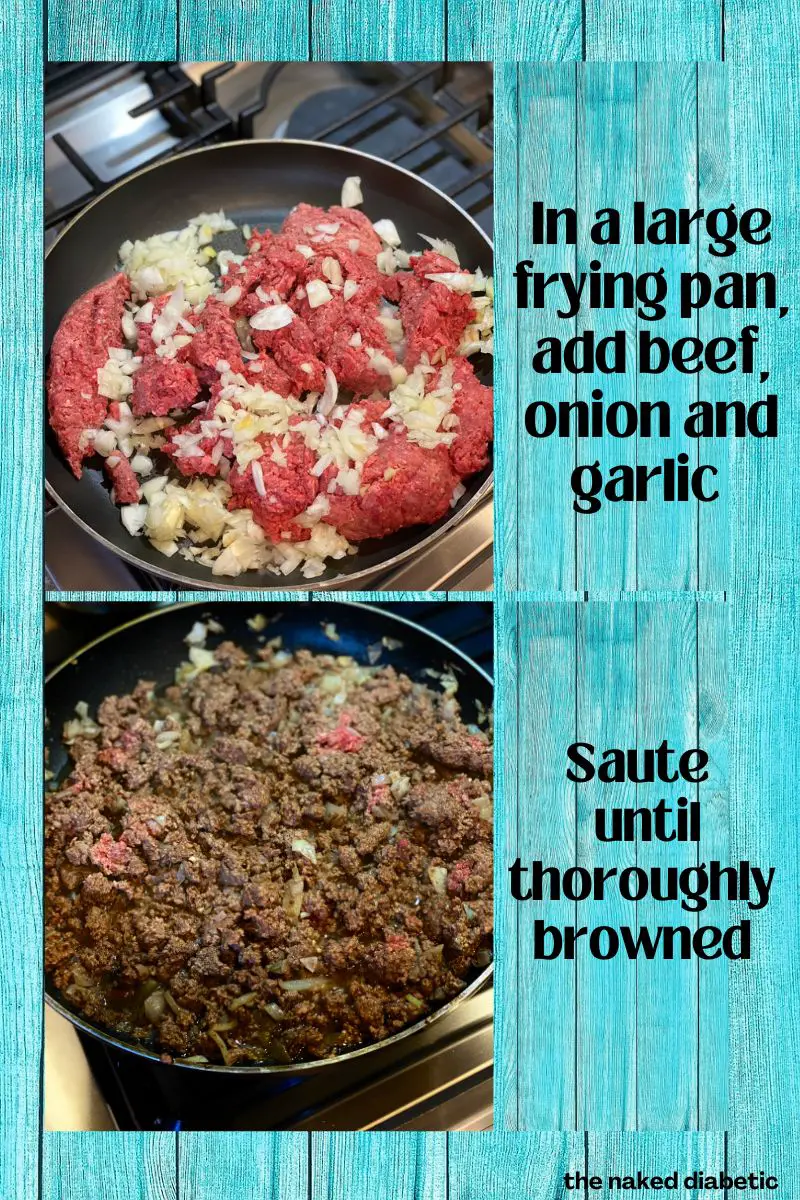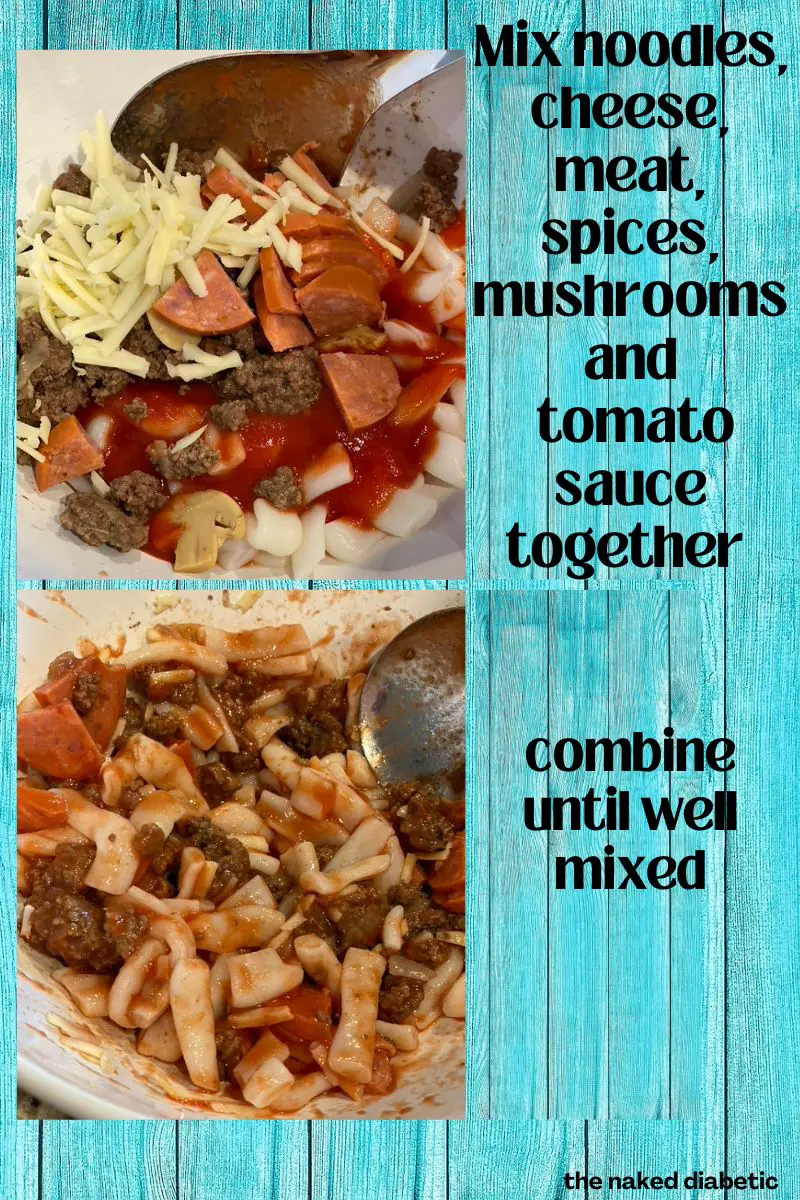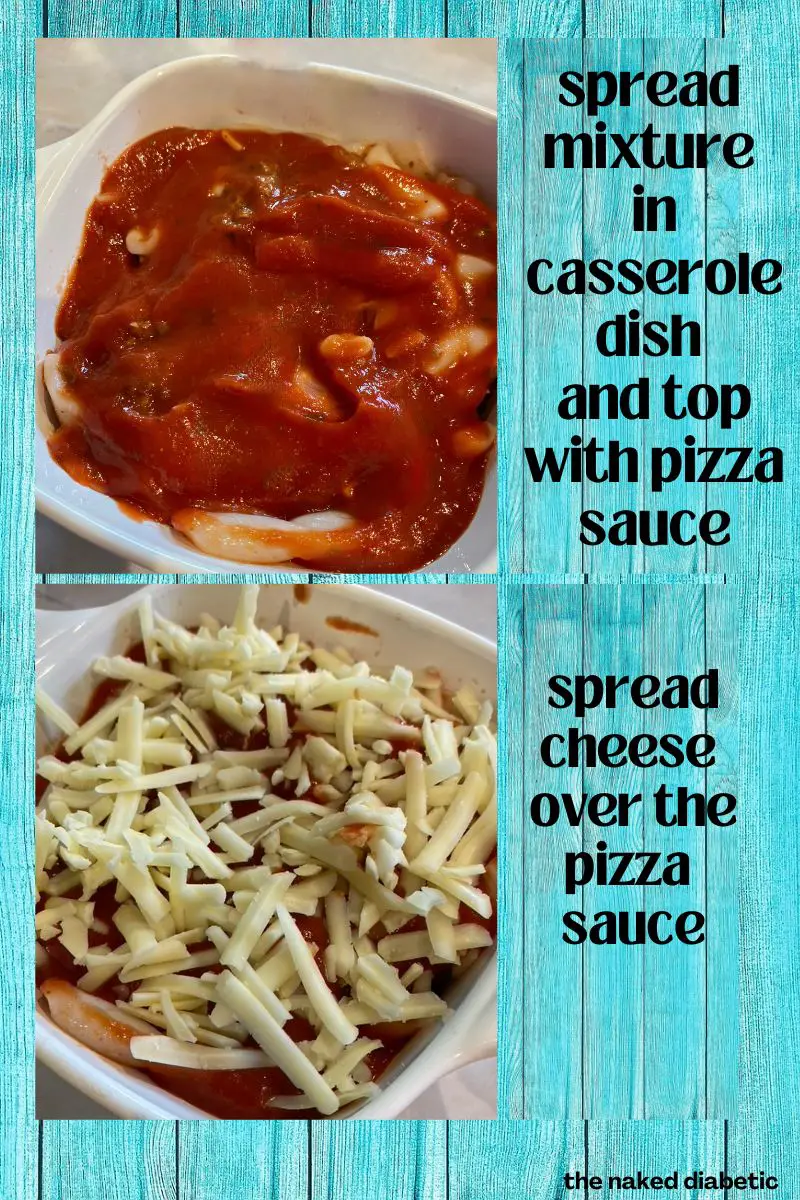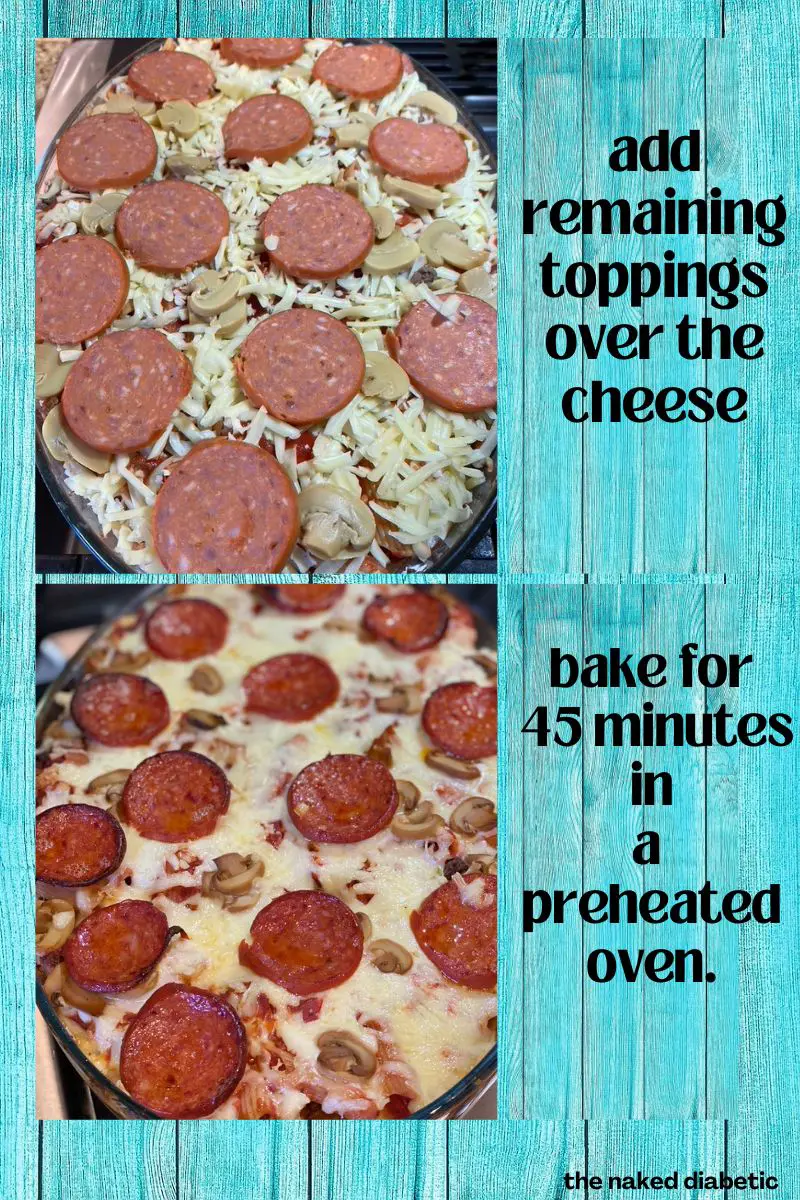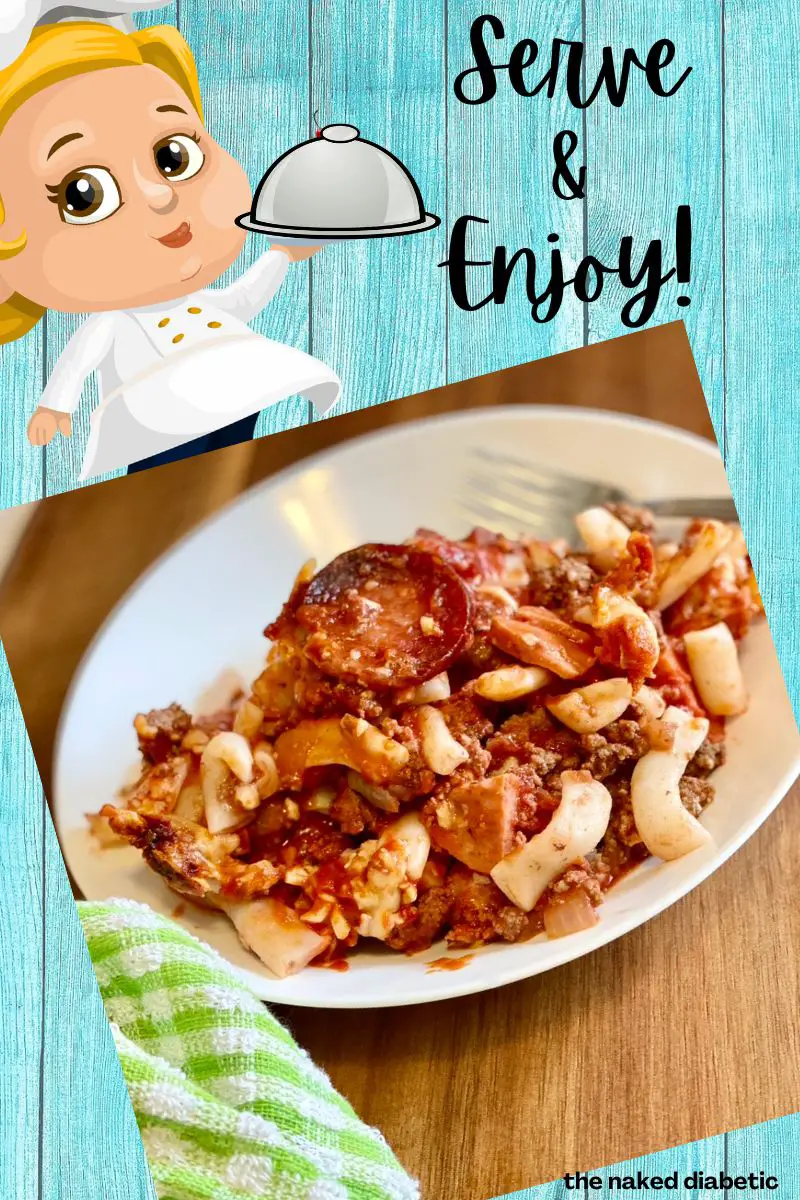 The Low carb Pizza Casserole Recipe
Diabetic Friendly Low Carb Pizza Casserole
An easy weeknight meal for the whole family that is low in carbs and high in flavour.
Ingredients  
1

pound

lean ground beef

1

large

Onion – Chopped

3

cloves

Garlic – minced

1

pound

pepperoni,- sliced

9

ounce

can of Sliced Mushrooms

3

cups

Shirataki Penne Noodles

1

tsp

Salt

½

tsp

Ground Black Pepper

3

cups

Mozzarella Cheese – grated

15

ounce

can of Tomato Sauce

1

cup

Sugar Free Pizza Sauce (link to recipe below)
Instructions 
Prepare the noodles
Drain and rinse the shirataki noodles under running water.

Fill a saucepan with clean water and add the noodles.

Bring to a boil and boil for 4 or 5 minutes.

Drain and rinse the noodles again and then set aside.
Remaining casserole
Preheat oven to

350

°F

(175 C)

In a large frying pan, brown the ground beef along with the onions and garlic.

In a large bowl, mix the ground beef noodles, salt and pepper, half of the mushrooms, half of the pepperoni, 1 cup of grated cheese and tomato sauce.

Pour into the casserole dish and spread out evenly.

Spread the sugar-free pizza sauce over the surface.

Spread the remaining grated cheese evenly over the pizza sauce.

Spread the remaining pepperoni and mushrooms over the cheese.

Bake in the oven for 45 minutes for up to an hour, until the cheese is bubbly and thoroughly melted.
Nutritional Information
The information provided below is approximate and relies on the use of the ingredients specified in the ingredients list.
Per Serving – This recipe is divided into 10 – servings.
Calories – 418
Total Fat – 26. gr
Saturated Fat – 9. gr
Total Carbs – 12 gr
Fibre – 4 gr
Net Carbs – 8 gr
Protein – 35 gr
Sodium – 1350 mg
Nutrition information is provided as a courtesy and is automatically calculated using an online nutrition calculator. We encourage you to calculate nutrition data with your specific brand ingredients as nutritional information can vary between brands

This website may contain affiliate links. When a purchase is made through our links, The Naked Diabetic may receive a commission, at no cost to you.