This website may contain affiliate links. When a purchase is made through our links, The Naked Diabetic may receive a commission, at no cost to you.
I think the Five Guys burger has got to be the best burger I've ever had. And it's bunless too. Talk about a treat for diabetics. Anytime you can find something delicious that is low carb and diabetic-friendly it is definitely a big score! I definitely approve of the Five Guys burger for diabetics. Its a great place yo go when you just want a night off from Diabetic-Friendkly Cooking.
Dining out when you have diabetes can be a challenge, especially at fast food restaurants. With the right information, you can be prepared and make healthy choices at just about any restaurant.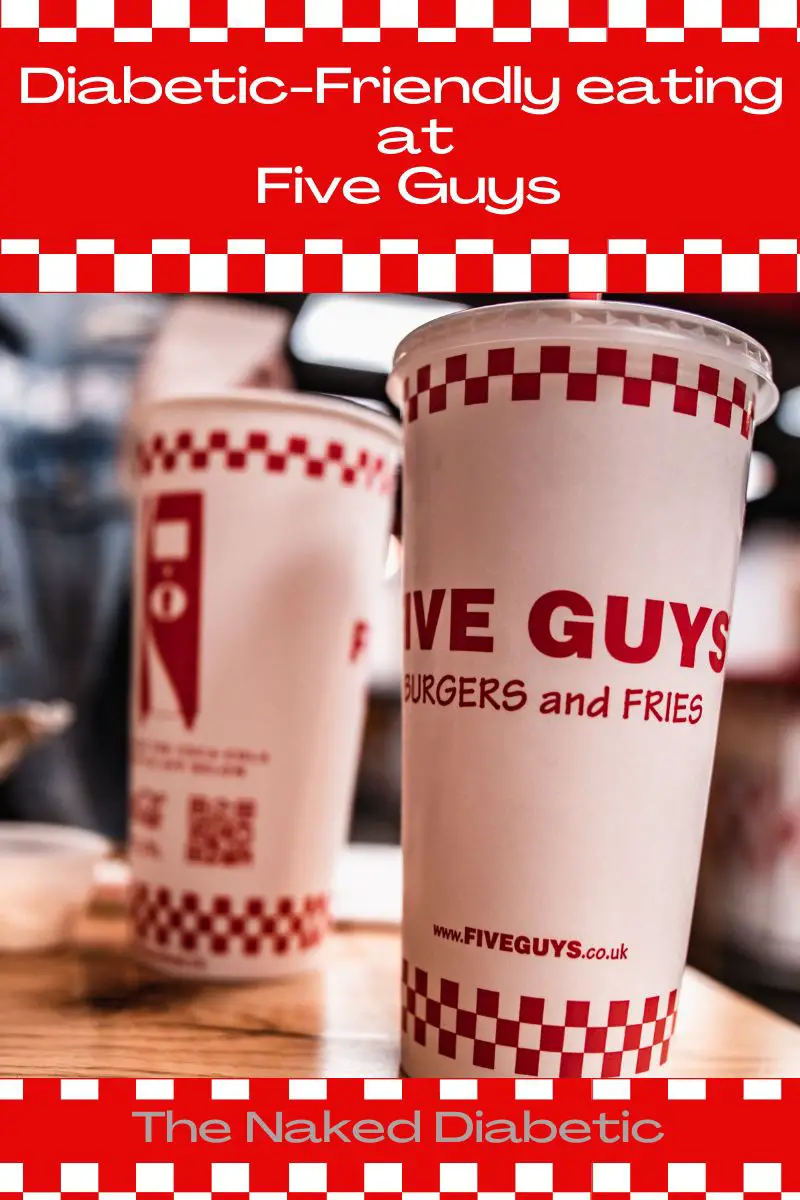 The Five Guys burger gets my vote and I visit them whenever I'm able.
Oh…, if you are a bacon lover – this is the only place I know that will make you a milkshake with bacon added! But it is definitely not for diabetics.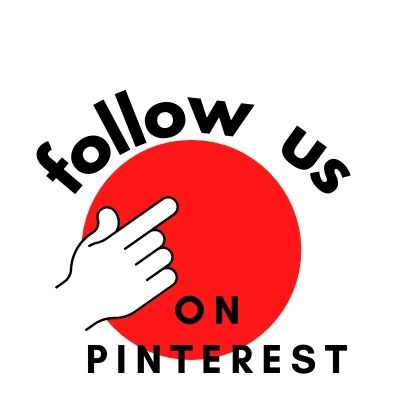 What sizes of bunless burgers can you get at Five Guys?
At Five Guys you can get two sizes,
The first is the little hamburger or the regular one. The Five Guys little burger is a single beef patty. It is approximately 3.3 ounces )according to their nutritional value)
I found the little one more than filling, especially after adding all the toppings.
The second size of burger at Five Guys is the regular hamburger. The regular hamburger is two patties as opposed to one.
They have a great selection of toppings – mayo, pickles, tomatoes, grilled onions, grilled mushrooms, jalapeno peppers, onions and of course the standard ketchup, mustard, relish and a variety of sauces.
TIP – ask for a double lettuce wrap.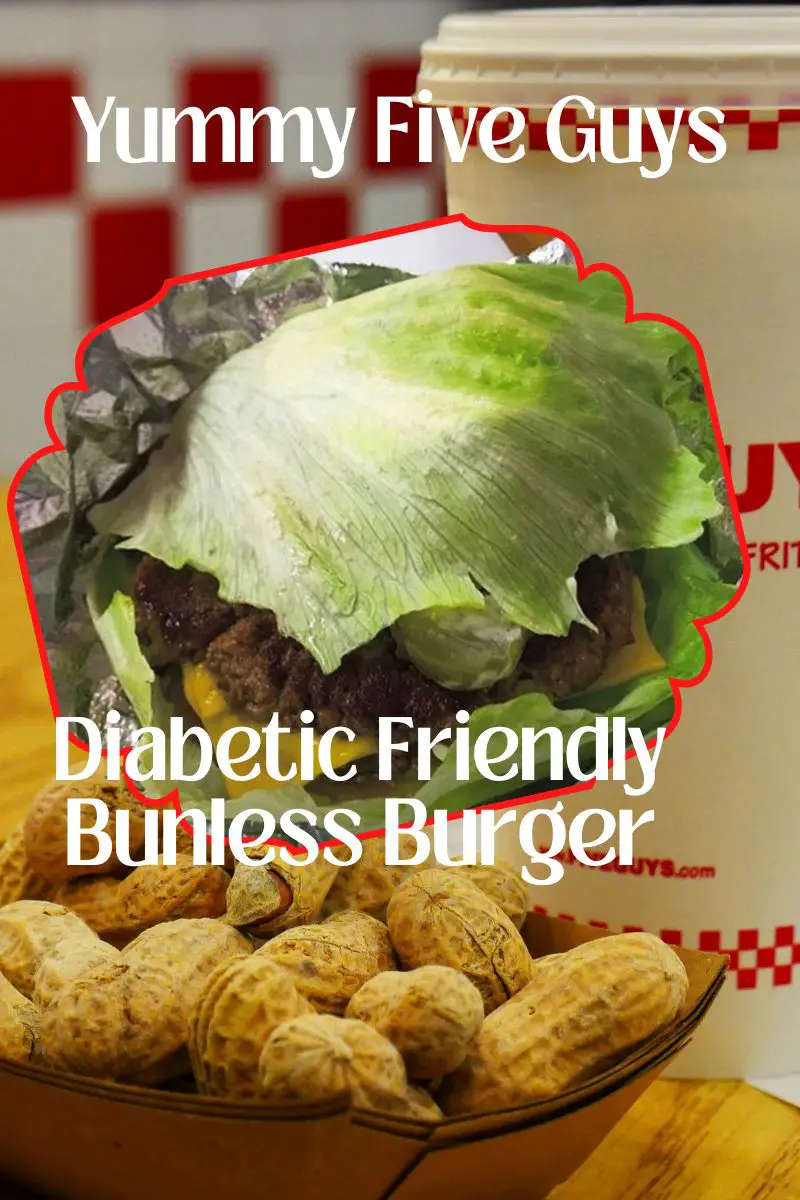 My burger with all the toppings came in at 330 calories. WOW, and I never felt deprived. My blood sugar never spiked because I kept my carbs lower by avoiding the bun.
With the bun vs without the bun for your Five Guys Burger!
The regular burger (two patties) with the bun is 700 calories and 39 g. carbs. (without toppings)
The Little burger with the bun is 480 calories and 39 carbs. (without toppings)
The regular (2 patties) bunless burger was 440 calories and 0 g. carbs. (without toppings)
The little (one patty) burger came in at 220 calories and less than 0g. carbs. (without toppings)
They refer to it as the little burger, but it's far from little.
The bunless burger is definitely the way to go if you are being strict about carb counting. It can't get any lower than 0.
You can also get a burger bowl too. It is a burger with toppings without the lettuce wrap. It sounds like I need to try that!
What about the hotdogs and other burgers?
Both hot dogs and their other burgers, such as the bacon cheeseburger and bacon burgers all are available bunless.
A bunless hotdog comes in at 240 Calories and 2 grams of carbs.
The hotdog was excellent. Again with all the toppings.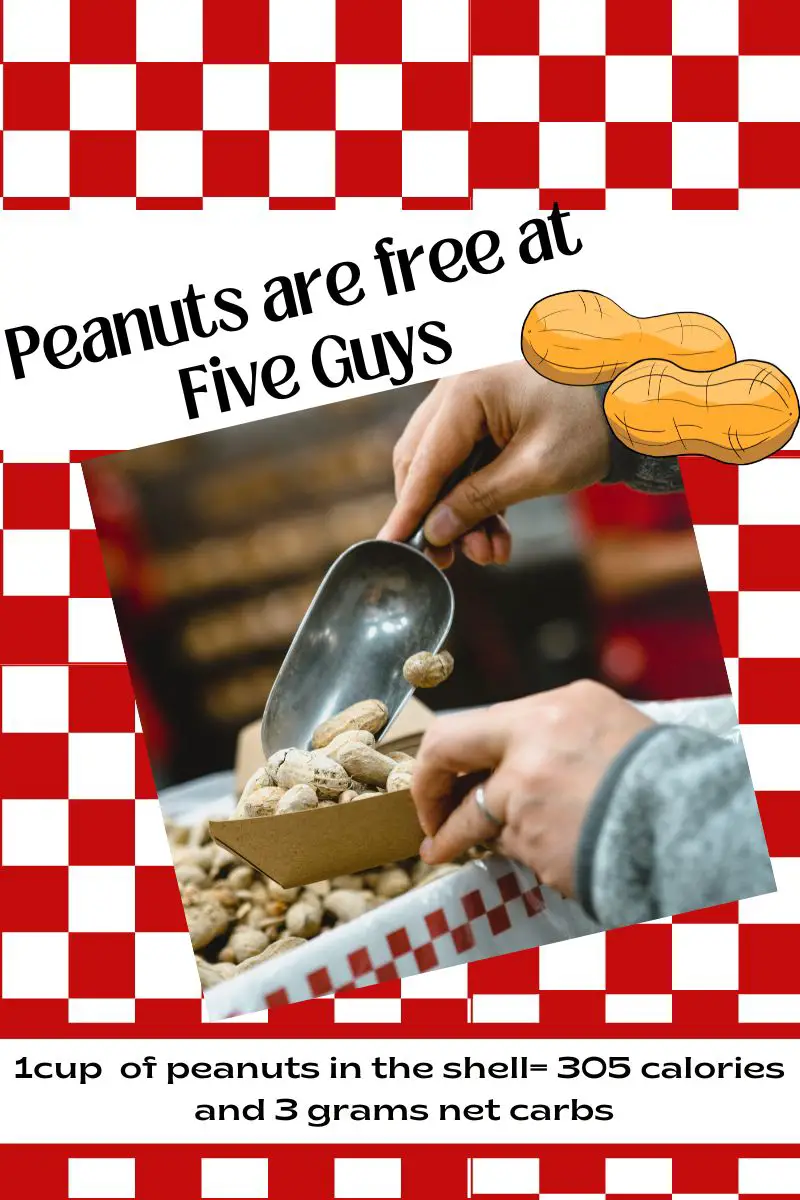 Things to Avoid at Five Guys for diabetics.
Just like eating at any fast food restaurant, some menu choices are loaded with carbs. The fo,allowing are a few menu choices we avoid when at Five Guys.
Milkshakes – This is a no brainer. All milkshakes are very high in carbs. The Five Guys ,milkshake is n exception. The Five Guys milkshake base has 874 calories and 84 grams of carbs. That is just the base, you then choose add-ons, such as chocolate or cherry, and even bacon. That can increase the carbs to over 100 grams for one milkshake.
French Fries – Fries are high in carbs no matter where you eat them. A small order of fries has 526 calories and 76 grams of carbs. The large French Froes has 1314 calories and 181 grams of carbs. I will definitely choose the peanuts.
The Bun – If you can go unless, that is the way to go. The bun has 240 calories and 38 grams of carbs. They do an awesome lettuce wrap, if you choose that option.
Five Guys doe provide a detailed nutritional information guide, allowing you to choose the best menu options for your dietary needs.
What kind of meat do Five guys use?
The hamburgers at Five Guys are 80 percent ground chuck and 20 percent ground sirloin.
Ground chuck is a pretty standard beef for hamburgers, as it has just the right amount of fat to make a great burger. The ground sirloin is a more expensive cut of meat and also has great flavourful.
The combination of the two cuts of ground beef is likely why their burgers are a cut above the others I've had.
Is Five Guys expensive?
Five Guys is a little more expensive if you compare it to Mcdonald's or Burger King, but there is no comp[arison in quality. Five Guys only uses fresh ingredients. Their meat is not frozen, so as a result, it is more expensive, not to mention using the better quality sirloin in their burgers.
It really is worth the extra cost as the taste and equality of your meal is so much better compared to other fast food.!
I'm not advertising for Five Guys, but when something is this good, I just had to share it. A big thumbs up for Five Guys!
EAT THIS TO AVOID THE FRIES ……..
Five Guys also has complimentary peanuts in the shell. so if you want to avoid the fries, they go great as a side and they are free.
What about the Sauces and Burger Toppings?
The highest carb burger topping is the BBQ sauce. it has 48 calories and 15 grams of carbs. Most of the burger toppings have little or less that one gram of carb.
Can I make a burger like Five Guys at home?
I've been working on this for a while. The answer is that you can, make one that is very close. Believe it or not, the hardest part for me is getting the burger to stay wrapped in lettuce., I really need to watch the next time I am there to see how they wrap them up.
when making your own, be sure to get the combinations of 80 percent ground chuck and 20 percent ground sirloin first. Then work the recipe the way you like it.
Thanks for visiting The Naked Diabetic, where we are simplifying diabetic life.
This website may contain affiliate links. When a purchase is made through our links, The Naked Diabetic may receive a commission, at no cost to you.